One Saturday I decided to make veggie tacos.  During the week I rarely make such a "fancy" lunch for Octavian and myself, but when the husband is home I make an exception. My child is wonderful, but there is no way he would put up with me cooking dinner AND lunch each day. Lunch usually consists of leftovers, mac n cheese (his fav), lots of fruit and other really easy meals to throw together.
When I was faced with the question of what to make for lunch, all I could think about was Mexican food.  It made sense, all week long that was the only food I really wanted. However, our fridge and pantry were stocked with food, and the menu had been planned for the week, so no Mexican food for me (i know, first world problems).
So there I stood, hands on hips, staring at all my food, meanwhile thinking only about Mexican food. I had a lovely butternut squash sitting on my kitchen counter and a big bag of spinach. Since butternut squash is always a good idea, I thought, tacos.
Black beans and butternut squash go together like peas and carrots, so black beans it would be. I didn't want to over-do it will the toppings (I usually do), so I decided to just drizzle these healthy ingredients with chipotle lime crema.
In general lunch is my smallest meal of the day, but I could not stop eating these tacos.  They were that amazing.
Times a million.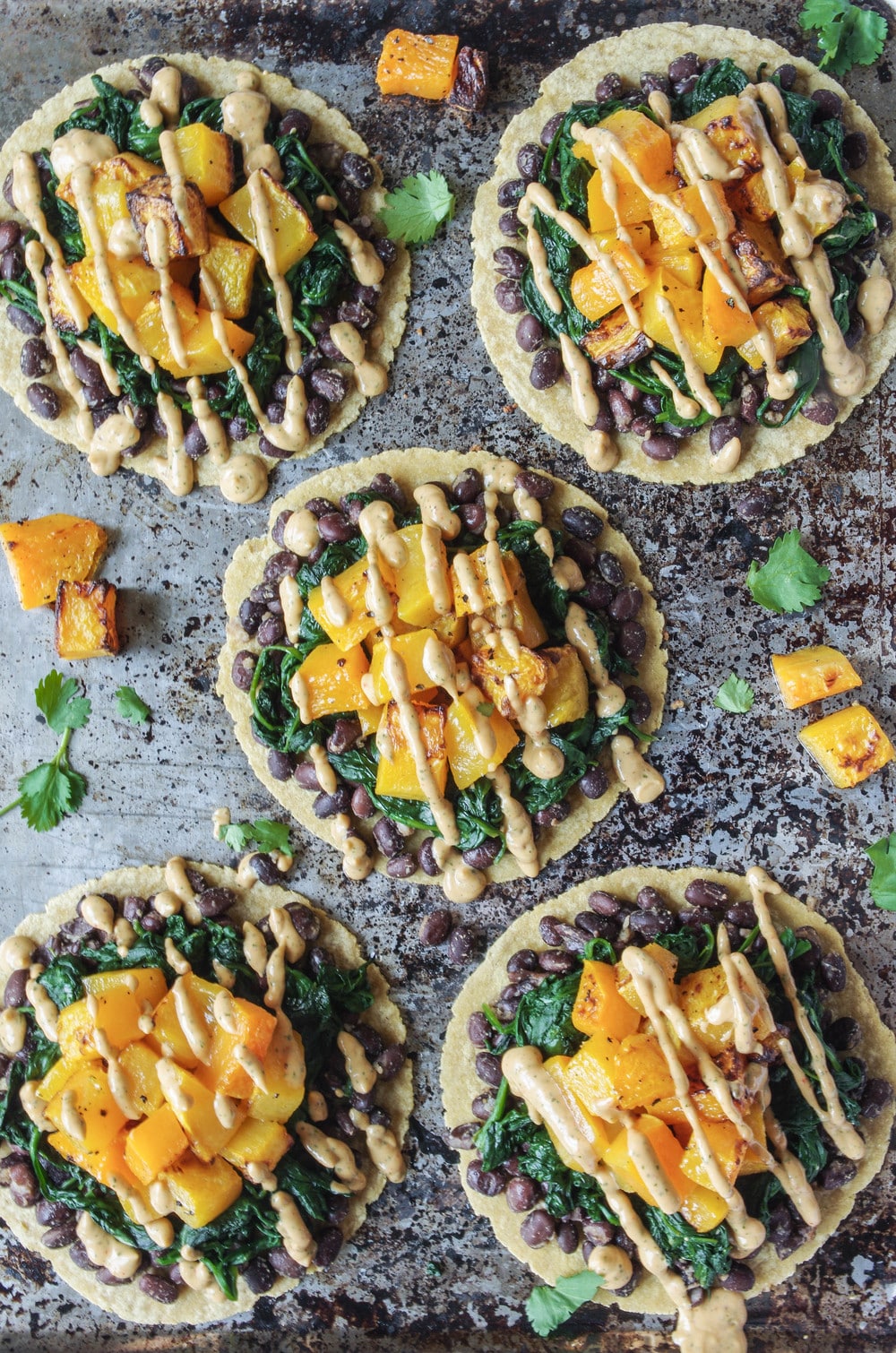 Butternut Squash and Black Bean Tostadas
Ingredients
for the squash
1

medium butternut squash

peeled, seeded and chopped into small cubes

1

Tbsp

olive oil

4

cloves

garlic

minced

salt

to taste
for the black beans
30

oz

black beans

2 cans, drained (not rinsed)

2

tsp.

ground cumin

5

cloves

garlic

minced

16

oz.

fresh spinach

this does not need to be measured exactly, feel free to make more if you really love spinach

10

corn tortillas
Instructions
First prepare the squash-  Preheat oven to 400 degrees F.  In a large bowl, toss the butternut squash with the olive oil, garlic and a pinch of salt and pepper.  Spread evenly over a large rimmed baking sheet and bake for approximately 25-35 minutes, or until squash is tender and just starting to brown at the edges.  Remove from the oven and set aside.

While the squash is baking, prepare your beans and spinach.

Over medium to low heat, empty the beans into a small pot along with the ground cumin and minced garlic.  Give it a good stir and continue to warm on low until heated through (this only takes a couple minutes), being careful not to burn.  When finished, turn off heat, cover and set aside.

Time to steam the spinach.  Add 1-2 Tbsp water to a large skillet over medium heat.  Add as much spinach as you can fit, sprinkle with a tiny bit of salt, give it a little stir and wait for the spinach to start wilting.  Add additional spinach as the spinach cooks down and makes more room.  Stir occasionally.  Cook on low until all your spinach is fully cooked.

Once everything is ready, prepare your tacos- tortilla, beans, spinach, roasted squash and chipotle lime crema.
Nutrition Facts
Butternut Squash and Black Bean Tostadas
Amount Per Serving
Calories 233
Calories from Fat 27
% Daily Value*
Total Fat 3g 5%
Sodium 53mg 2%
Potassium 895mg 26%
Total Carbohydrates 43g 14%
Protein 11g 22%
* Percent Daily Values are based on a 2000 calorie diet.
Enjoy!