This week, which started out GREAT, decided it would be hilarious to throw me a giant curveball and strike my child with croup.
Octavian's had croup before, but compared to this time, it was peanuts.
Even before getting a gym membership and utilizing the gym daycare, Octavian would get sick at least every 3 weeks; now it's pretty much all the time. I've been assured this is normal and that he is building up his immunity, but, you guys, he's had a pretty rough 5 months or so.
I should have known he was a wee bit sicker than usual when, on Sunday, he showed little interest in our favorite Sunday Funday activity down at the river.
Or, when he slept until 730am on Monday morning rather than his usual 6 or 630.
It became clear on Tuesday night that he needed to see a doctor when he couldn't sleep because he could not stop coughing. Fever, runny nose, cough, crying, it was the WORST night sleep we have ever endured together. He didn't want to lay down.
From 10pm to 430am we moved from the floor in his room (where I usually sleep), to "mommy daddy bed" (where I never sleep anymore) and the couch downstairs. He would cry out for me, not realizing I was sitting right next to him.
Like I said, hopeless and awful. I seriously considered the emergency room.
Thankfully, the doctor identified it as croup (duh! I should have known!), gave him a steroid injection and sent us on our merry way.
Last night was much better, thank goodness. I no longer feel like I am the walking dead or my skin is cracking off and Octavian has not cried once today!
Backtracking a bit to Sunday, the weather was perrrrfect nearly the entire day! It was cold and crisp but the sun was shining and warm enough to keep the cold away.
Normally quite the trekker, Octavian wanted nothing to do with using his legs. Instead, he would dramatically throw himself to the ground and scream until we picked him up or sit him in the stroller.
With a little encouragement from his Dad, he did do a little marching through some tall grass to find his missing owl (aka owl sippy cup which was actually a dinosaur and is a very long story). As soon as he realized that the owl was not going to be found, he was over being outdoors at all, walked over to me, looked up and said, "Mama, pick up!".
Ok.
Which was good timing anyway, because more rain was on the way.
With a sick kid in the house, it is my duty to make soup.
Ok, not really, but sorta.
I always loved tomato soup as a kid. Actually, I always loved tomato soup with a grilled cheese sandwich or some super buttery toasted bread. It was my favorite sick food right there with chicken noodle soup.
Now that I'm learning how easy it is to make some of these childhood canned soup favorites, that's just what I plan to do- make homemade. And homemade tomato soup is almost just as easy to make as opening a can and pouring it in a pot.
ANNNNND, it only requires FIVE main ingredients (you know, other than salt and pepper and olive oil and other ingredients you probably have sitting in your pantry). No scary hidden ingredients you can't pronounce.
Unfortunately, Octavian wouldn't try it, but I can't say I'm surprised. He doesn't care for marinara sauce, so I must have been crazy to think he would eat tomato soup. He did lick some of the butter off the toasted bread.
So, I finally settled and cooked him a steak. Yes, a steak. and, he ate it ALL! Clearly my child is not a soup-while-sick kind of child.
That's Ok, more soup for me.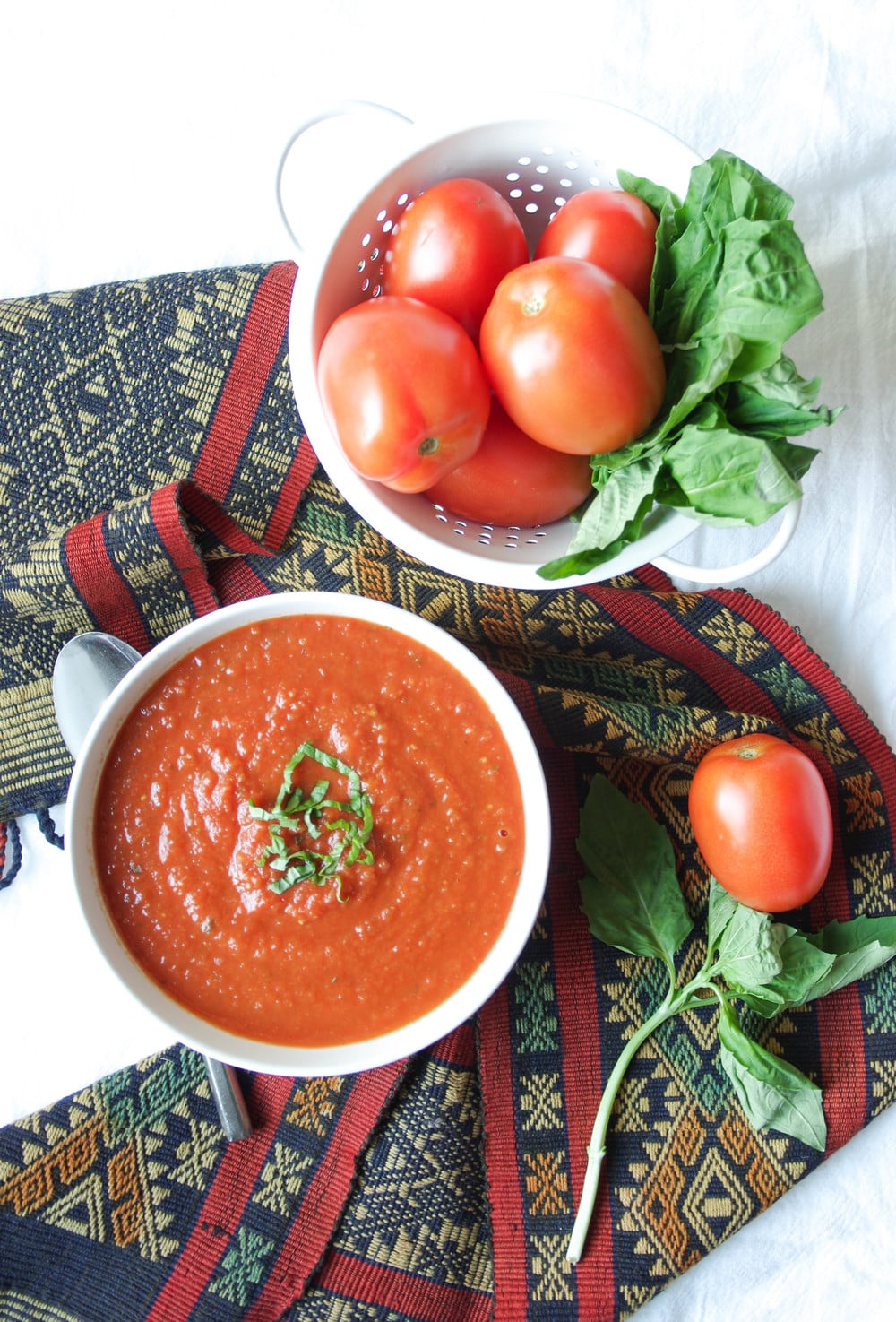 Easy Roasted Tomato Basil Soup
Prep Time: 10 minutes / Cook Time: 1 hour / Total Time: 1 hour 10 minutes
Ingredients
olive oil
salt and pepper
3 (28 oz) cans whole, peeled tomatoes (I used San Marzano), cut lengthwise and juices reserved
1 large yellow onion, chopped
6 cloves garlic, chopped
5 large leaves fresh basil plus more for garnish
3-4 cups chicken or vegetable broth (or water), plus more for a less thick soup
1 teaspoon granulated sugar (optional)
1-2 teaspoons red chili flakes (start with less, add more if desired)
Optional Garnishes-
Fresh basil
1-2 Tablespoons fresh cream
croutons or crackers
cheese
Instructions
Preheat oven to 425 degrees F.
Drain the tomatoes and reserve the liquid (important!). Cut the tomatoes lengthwise and arrange them in an even layer on a rimmed baking sheet. Drizzle olive oil over the tomatoes (approximately 2-3 Tablespoons for all) and sprinkle with salt and pepper. Roast tomatoes in preheated oven for approximately 30 minutes, turning the tomatoes once halfway through.
In a medium size Dutch oven or soup pot, heat 1 Tablespoon of olive oil over medium heat. When hot, add the onions and stir. Cook for approximately 3 minutes or until onions just start to turn soft, stirring frequently to prevent burning. Stir in the garlic and cook for an additional minute before adding the reserved tomato liquid, vegetable or chicken stock, sugar, and crushed red chili flakes.
Bring pot to a boil, reduce heat to low, and simmer, uncovered for approximately 15-20 minutes. Remove from heat and allow pot to cool for 5-10 minutes before pureéing in a food processor or blender*.
Return the pureéd soup to the pot, taste and add any additional seasoning you feel necessary. Reheat and serve. Garnish with fresh basil, cheese or favorite crackers.
Enjoy!