Warning: this will become your new favorite salad. You will take one bite and BAM! You're hooked. You'll fantasize about this salad as you sleep, as you work out, as you eat the usually delicious, but now boring, dinner you just spent an hour preparing. You'll even wish you were eating this salad as you clean up your toddlers "business" done in the backyard right next to the dogs "business" (I know, I gave birth to an animal).
My point, it is THAT good.
First, there's shrimp. I'm going to take a wild guess and just assume you wouldn't be here if you didn't like shrimp. After all, this is a shrimp salad, so there's going to be lots and lots of fat, fresh, yummy shrimp. You're welcome.
Then there's avocado. If I have learned on thing this past year it's to embrace the beautiful, buttery, creamy avocado fruit. Avocado and salad bowls are a match made in culinary heaven. Don't even think about skipping the avocado. Just don't.
Of course, with many salads you'll find crunchy healthy vegetables. Lettuce, cucumber, carrots and edamame. If you don't like vegetables or salads, don't worry, all of those good-for-you veggies are covered with the most DELICIOUS miso dressing. YOU GUYS, this dressing, I could drink it. Drizzled over the fresh shrimp and creamy avocado with all the veggie crunchiness, umm yep, excuse me while I go stuff me face.
Shrimp and Avocado Salad with Miso Dressing
Prep Time: 15 minutes / Cook Time: 5-8 minutes / Total Time: 15-20 minutes
Yield: 4 servings
Ingredients
1 tablespoon butter
1 pound raw shrimp, tails removed
5 cloves garlic, minced
1/2 teaspoon chili powder
1/2 teaspoon cayenne
2 avocados, pitted, peeled and cut into cubes
1 cucumber, sliced
1/2 cup shredded carrots
1/2 cup edamame
Approximately 6 cups chopped spinach or baby kale (or lettuce of choice)
Fresh cilantro, for serving
Peanuts, for topping
For the Dressing:
1 1-inch piece of fresh peeled ginger
3 tablespoons oil
4 tablespoons lime juice
2-3 tablespoons agave
2 tablespoons white miso
3 cloves garlic
1/2 teaspoon sesame oil
2 teaspoons soy sauce
salt + pepper, to taste
Instructions
Heat a large skillet and 1 tablespoon of butter over medium heat. Once hot, add raw shrimp and garlic. Stir. Sprinkle shrimp with chili powder and cayenne pepper. Continue to cook, stirring occasionally, until shrimp are no longer transparent and are golden on the outside, approximately 3 minutes each side.

Prepare the salad bowls. Divide lettuce, avocado, cucumber, carrots and edamame between your bowls (2 bowls for very large salads, or 4 bowls for lighter salads). Top with fresh cilantro and peanuts and last, the prepared shrimp.

Prepare the salad dressing- Place all of the salad dressing ingredients in the bowl of a food processor or high powered blender and process until smooth and creamy. Taste and add any additions you feel necessary (lime juice, agave, salt).

Pour the miso dressing over the salad, toss and serve immediately.
Enjoy!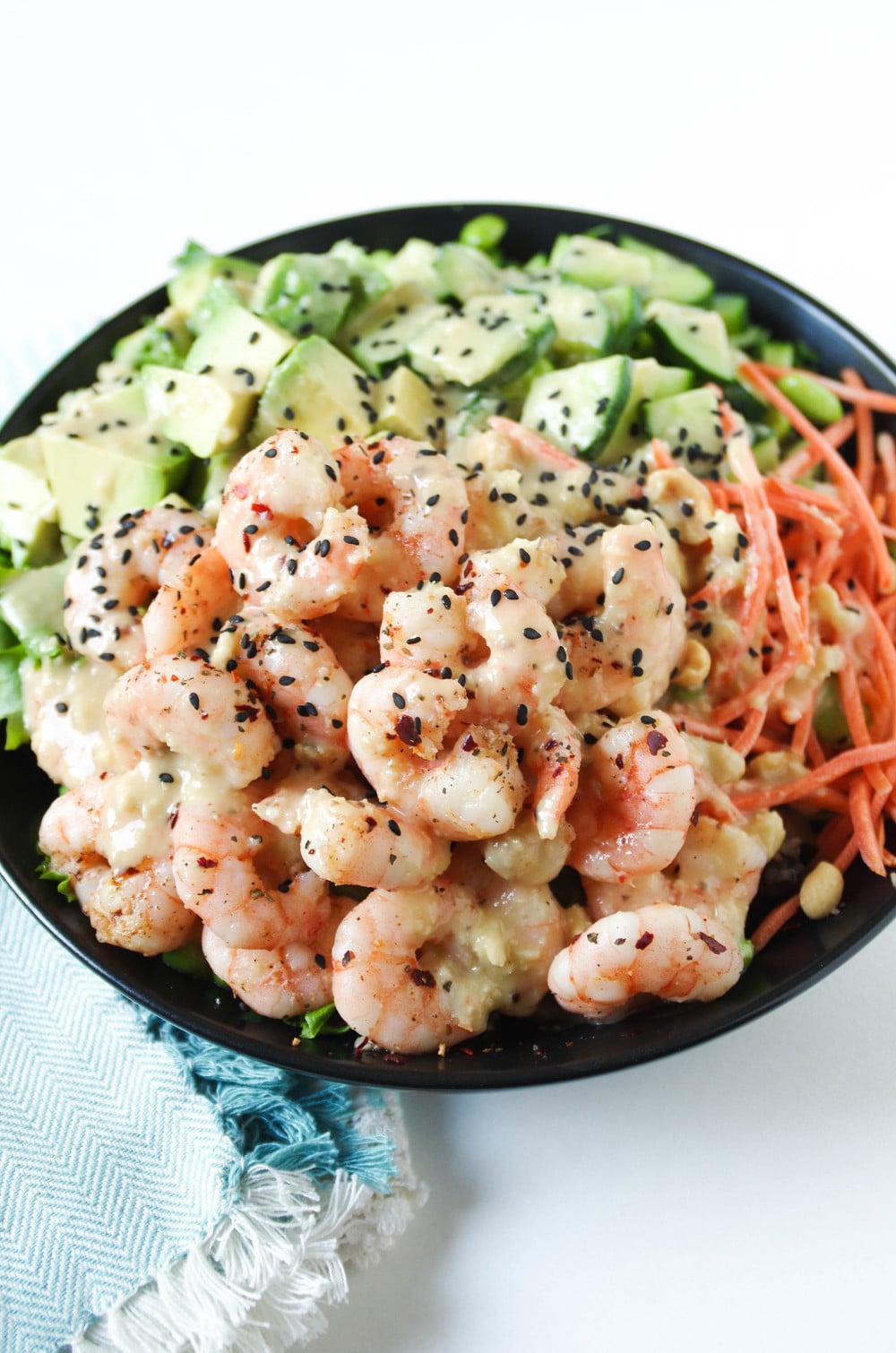 Recipe adapted from Pinch of Yum