Cioppino is a comforting San Franciscan seafood stew filled with shrimp, clams, mussels, white fish, and crab legs simmered in a rich broth made from tomatoes, white wine, and fish stock. A family favorite, enjoy this easy and delicious one-pot seafood stew for a special weeknight or holiday meal.
San Francisco Fish Stew
Cioppino, or San Franciso fisherman's stew, is my favorite stew recipe of all time. Hands down.
If this is your first time hearing about it, then you are in for a treat because it is absolutely delicious – assuming, of course, that you like seafood (more on that in a minute).
Traditionally served with toasted garlic bread or freshly sliced baguette, my favorite way to enjoy this recipe is over a scoop of buttery mashed potatoes.
A stew perfect for special occasions or holidays, Cioppino is easily one of the best things you will ever make.
What is Cioppino?
Cioppino (pronounced cho-pee-no) is an Italian-American dish originating in the 1880s from San Francisco.
Traditionally cioppino is prepared with the day's fresh catch. In San Francisco, this would include Dungeness crab, shrimp, sea scallops, squid, mussels, and fish commonly caught in the Pacific ocean. The seafood is then combined with a deeply flavorful broth made from tomatoes, fish stock, and white wine.
Its name, cioppino, comes from the word "ciuppin", the name of a soup with similar flavors but prepared with less tomato and with Mediterranean seafood from Liguria, Italy.
What's in Cioppino?
You can't have a seafood stew without any seafood, right?
Originating in San Francisco, California, authentic cioppino recipes contain fish and seafood from the Pacific Ocean. This includes,
Dungeness crab
Shrimp
Scallops
Squid
Calamari
Clams
Mussels
any fish found in the Pacific- halibut is a popular choice.
Feel free to keep your fisherman's stew simple by adding just a few different types of seafood (shrimp, halibut, and mussels, for example) or go all-out and get a little of each.
NOTE: I tried to keep this cioppino recipe as authentic as possible, but you'll notice that I added some salmon to the pot. While salmon is also found in the Pacific, it isn't as "popular" given that it isn't a white fish.
In addition to seafood, you're also going to need,
Olive oil
Onions and/or shallots
Red bell pepper
Fresh garlic
Dried Italian seasoning
Red pepper flakes (optional)
Tomato paste
Dry white wine
Crushed tomatoes
Bay leaf
Clam juice or Fish broth
What is the Difference Between Cioppino and Bouillabaisse?
The differences between Cioppino recipes and that of Bouillabaisse isn't much, but they're worth noting:
As we know, Cioppino is made with a rich and comforting tomato-based broth. It comes filled with local "catch of the day" seafood native to the west coast of California. Most of the shellfish is often served in the shell.
Bouillabaisse, on the other hand, is a hearty French stew, much like Cioppino, but is unique in that it contains saffron. The broth, while it contains some tomatoes, is not considered a true tomato-based broth. Other defining characteristics include the use of Provençal herbs and spices, local Mediterranean fish, potatoes, and fennel.
How to Make Cioppino
1. Cook the vegetables (mirepoix)
Sauté the onions and shallots in olive oil over medium-low heat. You don't really want to scorch or brown them, but instead, cook them slowly so that they're nice and soft- about 5 minutes or so. You'll then add the diced bell pepper and continue to cook, for an additional 5 minutes.
TIP

: other popular veggies include chopped leek or fennel bulb.
2. Add the wine and aromatics
Next comes the garlic, tomato paste, and finally the white wine. You really want each of these ingredients in your recipe (especially the wine), so unless you can't have them for dietary reasons, I don't recommend skipping them over.
First, add the garlic and sauté for a minute or so. Mix them up really well with the onions and shallots before adding the oregano, Italian seasoning, salt, pepper, and crushed red pepper.
Add the tomato paste. You'll have to really mix it around to get it all mixed up with the onions. Stir continuously for 1-2 minutes before adding the wine. At least two cups.
3. Add tomatoes (and lots of them)
Increase heat to high. Bring the wine to a simmer and add the crushed tomatoes, bay leaf, and fish/clam broth. Mix it all together, bring to a low boil, and cover. Simmer for approximately 25 minutes.
TIP

: Here, at this point, you have your Cioppino stock. If you want to freeze it, do so now.
4. Add your favorite seafood
Once the Cioppino stock has been made, you can start adding any and all the seafood you want.
Start with the clams and mussels. Add them to the pot, cover, and allow them to cook until shells have opened (approximately 5-10 minutes).
Next, add the calamari and white fish, cooking for 5 minutes before adding the scallops and the shrimp. Cover.
Cook for approximately 5-10 minutes.
Finally, add the crab legs. Since these are already cooked, you'll only need to cook until they are heated through.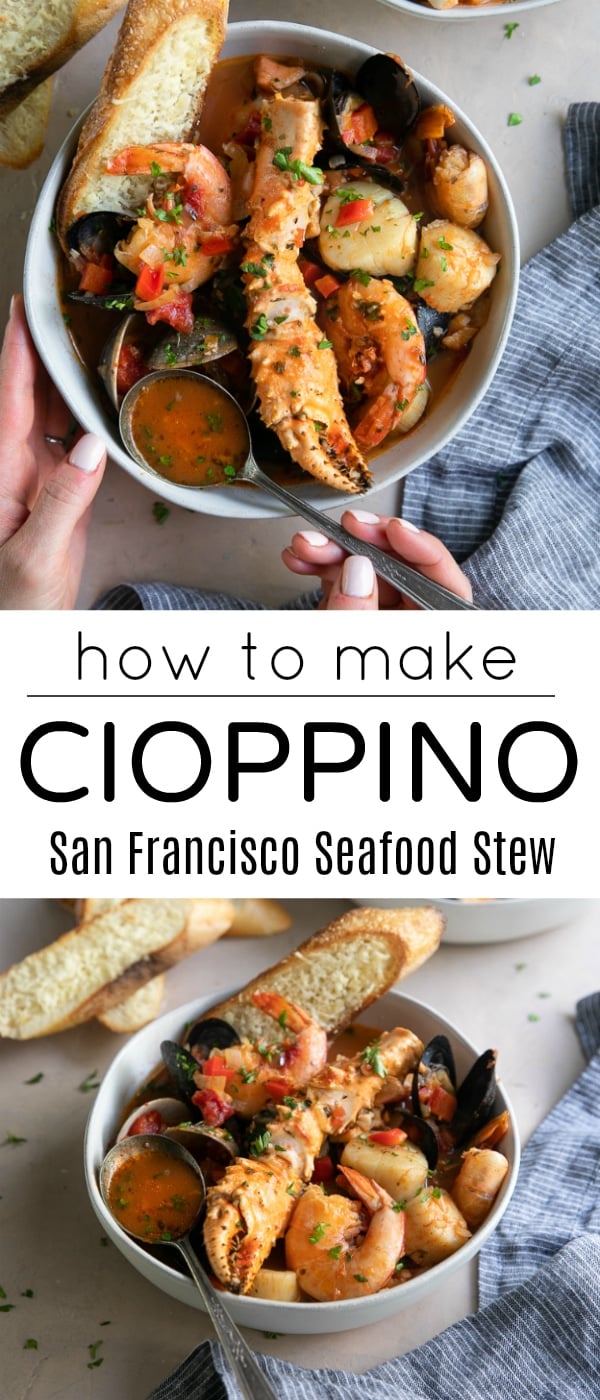 Cioppino: Leftovers and Storage
Are leftovers good the next day?
Yes! At least in my personal opinion. In fact, I find that cioppino tastes better the next day, or even two days later.
Some people will argue otherwise since fish, especially shrimp, tends to toughen up the longer it is cooked and yes, in the case of shrimp, this is most definitely true. However, I find that the overall flavor only gets better two, even three days later.
For best results, I recommend only adding what you plan to eat right away, at least when it comes to the shrimp and calamari. However, everything else? The fish, scallops, clams, mussels – all good. Yes, the fish will flake apart, but that's part of what makes the overall flavor of the broth that much richer the next day.
Always reheat to a boil before serving and enjoy within 4 days.
Can you freeze leftover Cioppino?
If you want to freeze this seafood stew, I highly recommend doing so before the addition of any seafood. Seafood that has been frozen, then cooked, then frozen, and then cooked again is not at its prime.
So, freeze this recipe? Yes! But only freeze the stock/broth without any of the added seafood.
More Stew Recipes,
Instant Pot Pork Green Chili Stew
Persian Pomegranate and Walnut Stew (Khoresht Fesenjan)
Easy 30 Minute Shrimp and Fish Stew
Norwegian Salt Cod Stew (Bacalao)
If you try cooking this Cioppino Recipe, please leave me a comment and let me know! I always love to hear your thoughts.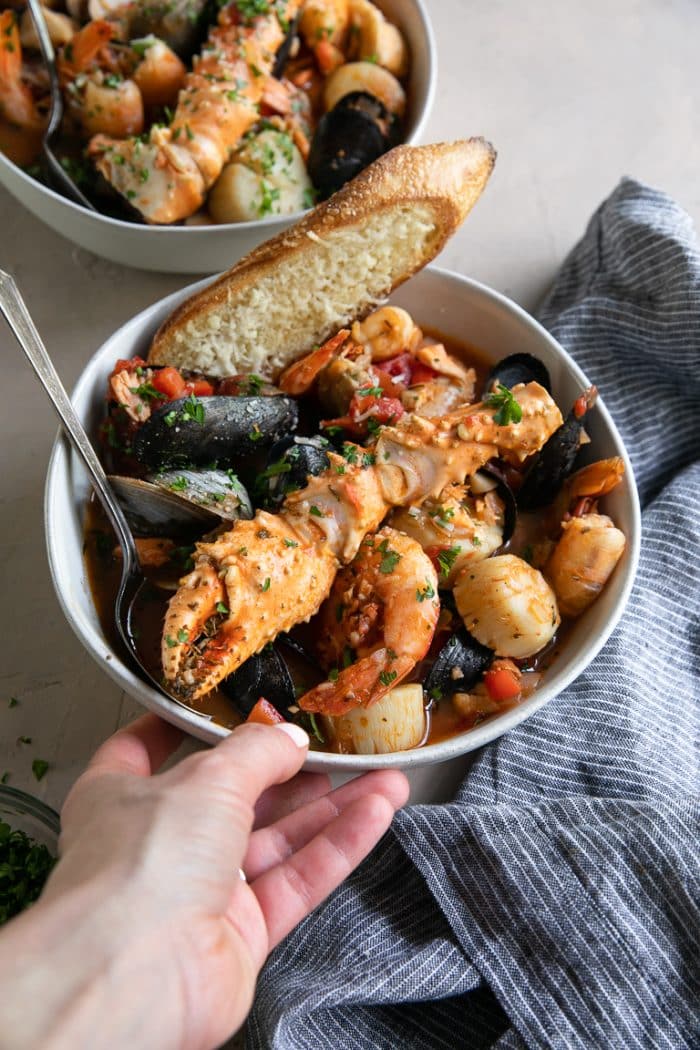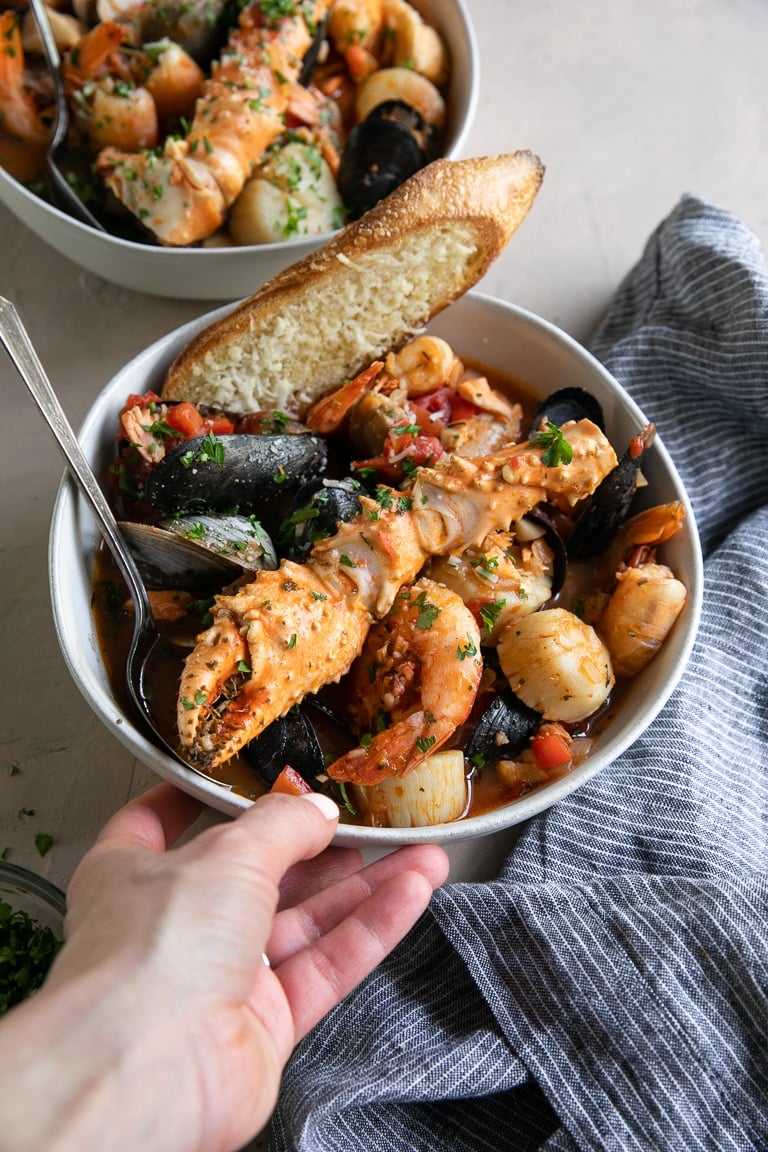 Cioppino Recipe (Seafood Stew)
Cioppino is a comforting San Franciscan seafood stew filled with shrimp, clams, mussels, white fish, and crab legs simmered in a rich broth made from tomatoes, white wine, and fish stock. A family favorite, enjoy this easy and delicious one-pot seafood stew recipe for a special weeknight or holiday meal.
Ingredients
2

tablespoon

olive oil

1

large onion

(chopped)

3

shallots

(chopped)

2

red bell peppers

(seeded and chopped)

6

cloves garlic

(chopped)

1

teaspoon

dried oregano

1

tablespoon

Italian seasoning

1

teaspoon

kosher salt

(plus more to taste)

1

teaspoon

black pepper

1

teaspoon

dry red pepper flakes

¼

cup

tomato paste

2

cups

dry white wine

1

(28 oz) can

crushed tomatoes

1

bay leaf

30

oz

clam juice or fish broth or seafood stock

1

lbs

mussels

(scrubbed, debearded)

1.5

lbs

littleneck clams

(scrubbed)

½

pound

calamari

1.5

lbs

halibut

(or other firm-fleshed fish fillets, cut into 2-inch pieces)

1

lb

salmon

½

lb

scallops

1

lb

uncooked large shrimp

(peeled and deveined)

1

lb

king crab legs

Fresh flat-leaf parsley

(chopped)
Instructions
Add the olive oil to a large heavy pot or Dutch oven set over medium heat. Add the onion and shallots and mix well to combine. Sauté for approximately 5 minutes, or until the onions start to soften and turn translucent. Stir often.

Stir in the diced bell pepper and continue to cook for 4-6 minutes, stirring often. 

Add the garlic and cook for 1-2 minutes, stirring continuously, before adding the dried oregano, Italian seasoning, salt, pepper, and crushed red pepper. Mix well to combine.

Mix the tomato paste with the cooked onions, stirring constantly to prevent burning. Allow the tomato paste to cook with the onions for 1-2 minutes.

Increase to high heat and add the white wine, crushed tomatoes, bay leaf, and fish/clam broth. Mix well and bring to a low boil. Cover and reduce heat to low. Simmer for approximately 25 minutes.

TIP: you may make this homemade tomato-based broth ahead of time. If you choose to make it ahead of time, stop cooking and store in the refrigerator before adding any type of seafood.

Still simmering, add the clams and mussels to the pot. Cover, and cook until the clams and mussels begin to open (approximately 5-10 minutes). Discard any clams and mussels that do not open. Add the calamari and fish and cook for 5 minutes, gently mixing to combine. Next, add the scallops and shrimp, and cook, covered, for 5 minutes. Last, but not least, add the crab legs to the pot and cook for 5 minutes, or until heated through.

Season with additional salt and pepper, to taste, and garnish with fresh parsley and parmesan cheese. Serve with crusty bread (including sourdough bread or French bread), or, mashed potatoes (not traditional, but amazing!) Enjoy!
Jessica's Notes
You will need an extra-large pot or Dutch oven. I love this one from Le Crueset or this (more economical) version from Calphalon. 
If you would like to freeze Cioppino, I recommend freezing the broth 

before

adding any fish or seafood.
This recipe stores well in the refrigerator for up to 3-4 days.
This is not a budget-friendly recipe. That said, it makes a huge pot of stew and will easily feed my husband and me for at least 4 nights. Save a few dollars and skip the fresh crab legs and jumbo sea scallops.
Try to purchase sustainably caught seafood. If you're unsure of the difference, ask your local fishmonger.
Fresh seafood will result in the best tasting seafood stew. If something doesn't look fresh, swap it for something else.
Traditional cioppino recipes are served with the crab legs and other seafood left in their shells. Serve with a large collecting bowl for all the shells and plenty of napkins.
If you prefer not to cook with white wine, substitute with additional fish broth or clam juice.
Not sure where to find fish and clam broth? You can find each of these pantry essentials at most major supermarkets in the canned tuna or seafood section. I don't have a preference, so in this case, I used one can of each clam and fish stock. You may also substitute with chicken or vegetable broth as a last resort.
Originally published Nov. 18, 2018
Nutritional Information
Calories:
462
kcal
|
Carbohydrates:
24
g
|
Protein:
53
g
|
Fat:
10
g
|
Saturated Fat:
1
g
|
Cholesterol:
300
mg
|
Sodium:
1557
mg
|
Potassium:
1275
mg
|
Fiber:
2
g
|
Sugar:
7
g
|
Vitamin A:
1475
IU
|
Vitamin C:
53.5
mg
|
Calcium:
160
mg
|
Iron:
4.7
mg
(Nutrition information provided is an estimate and will vary based on cooking methods and specific brands of ingredients used.)