These Ginger Molasses Cookies are both Soft and Chewy!
Cookies are my sweet-of-choice. Actually, cookies and cake, but cookies are a lot easier to make, so I generally eat way more cookies than cake. Back in college, when I lived in San Jose and commuted home on the Highway 17 bus from Santa Cruz, I would stop at New Leaf Market and pick up one of their giant cookies to eat on the ride home. It was my light at the end of the tunnel to help me power through labs and lectures about physics or Chemistry or some other prereq class I had absolutely no interest in taking.
I can honestly say cookies helped me get through college. Sadly, they did not increase my GPA, but they did make me feel a little happier, and that's pretty awesome, too.
No surprise, I still love cookies; and while I no longer eat a cookie the size of my head every day, I still bake them often. I typically favor cookies of the chocolate chip variety, but today I wanted to make something different.
Soft and chewy cookies are my f-a-v-o-r-i-t-e. A little crunch every once in awhile isn't so bad, but I will almost always pick the softies. With Christmas right around the corner, I wanted to make ginger molasses cookies. Molasses feels like the holidays, so it only seemed appropriate to make them at least once before the season was gone.
You guys, the texture of these cookies are so soft and so chewy, you know, cookie-texture perfection. They are also sweet and perfectly spiced thanks to the dark and rich molasses and the combination of cinnamon, ginger and cloves.
You can add a little crunch to your cookies by rolling them in turbinado sugar before baking; however, I skipped that step as I felt they were sweet enough. Which brings me to my next point, these are not healthy cookies. Not at all. I cook healthy and make substitutions whenever possible, but sometimes I forget about all that and just enjoy.
So, today I enjoyed.
And it was worth every last crumb.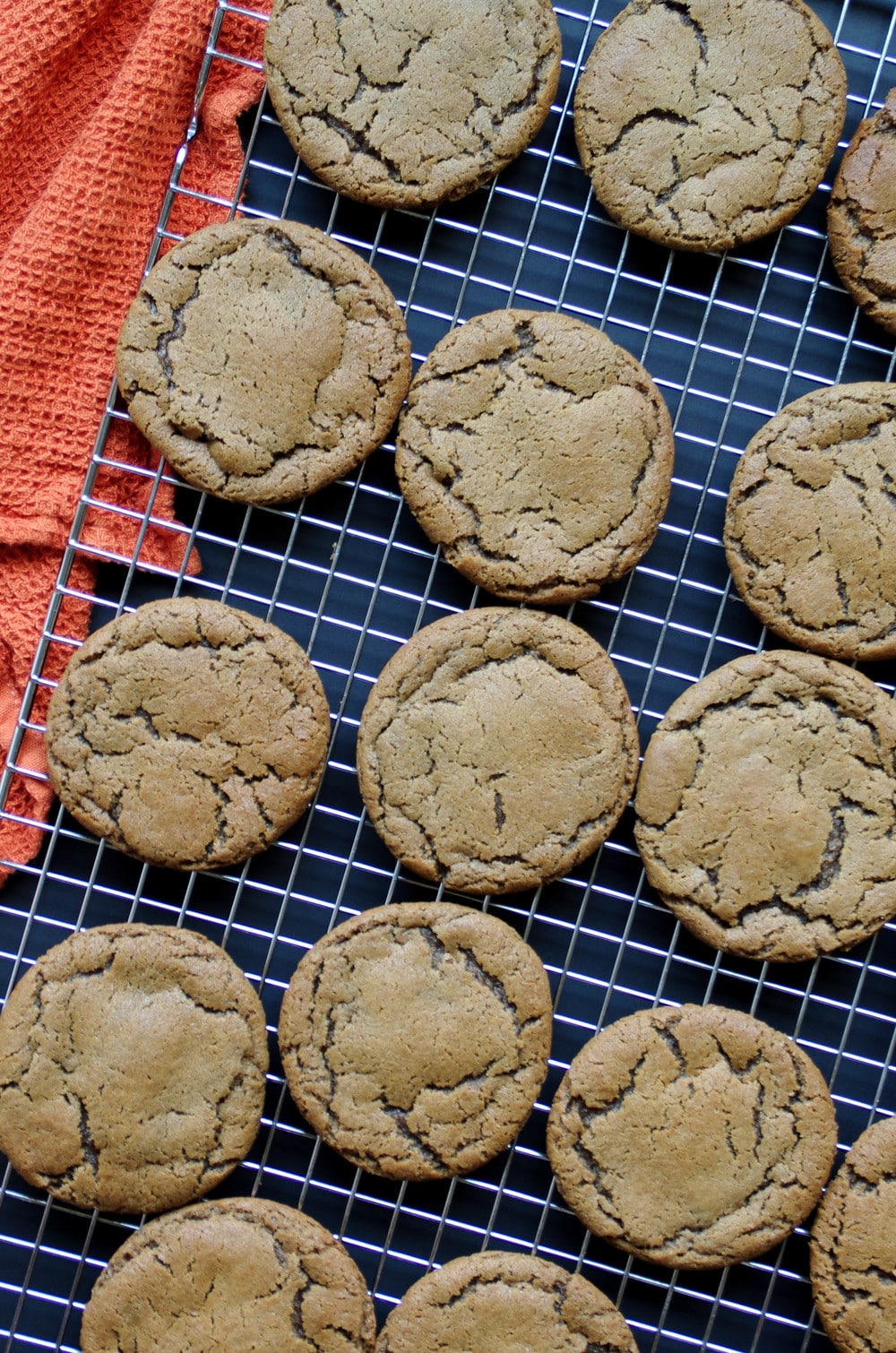 Ginger Molasses Cookies
These Ginger Molasses Cookies are both Soft and Chewy!
Instructions
Preheat oven to 375 degrees F.

In a large bowl, whisk together the flour, baking soda, cinnamon, ginger, cloves and salt.  Set aside.

In the bowl of an electric stand mixer, beat the butter and sugar on medium until light and fluffy (approximately 2-3 minutes), making sure to scrape the sides of the bowl once or twice.  Add in the eggs and molasses and continue to beat on medium-low until fully incorporated.  Slowly add the flour and spice mixture and beat on low until just combined.

Cover and refrigerate dough for at least 30 minutes to 1 hour, otherwise your cookies will be difficult to roll into balls and flatten completely while baking.

Roll the dough in the palm of your hand, each approximately 1-inch in diameter.  Gently transfer to a cookie sheet, placed at least 1-inch apart.  Bake for 8-12 minutes, or until the tops of the cookies start to crack.  Remove from the oven and allow them to cool for 2-3 minutes before transferring to a wire cooling rack.

Serve immediately or store in an airtight container for up to 1 week.
Nutritional Information
Calories:
215
kcal
|
Carbohydrates:
30
g
|
Protein:
2
g
|
Fat:
9
g
|
Saturated Fat:
5
g
|
Cholesterol:
35
mg
|
Sodium:
311
mg
|
Potassium:
108
mg
|
Fiber:
0
g
|
Sugar:
17
g
|
Vitamin A:
300
IU
|
Calcium:
20
mg
|
Iron:
1.1
mg
(Nutrition information provided is an estimate and will vary based on cooking methods and specific brands of ingredients used.)