This recipe for Buffalo Turkey Meatballs has been sponsored by Foster Farms Organic Ground Turkey. As always, all thoughts and opinions are my own.
Proof that eating healthy can be both delicious and achievable, these BUFFALO TURKEY MEATBALLS are the perfect dinner solution for any night of the week and make delicious meal prep bowls to help power you through the week.
Buffalo Turkey Meatballs are just one of many buffalo sauce recipes here on The Forked Spoon and include other favorites such as The Best Buffalo Chicken Dip, Easy Buffalo Cauliflower, and Instant Pot Buffalo Chicken Quinoa Bowls.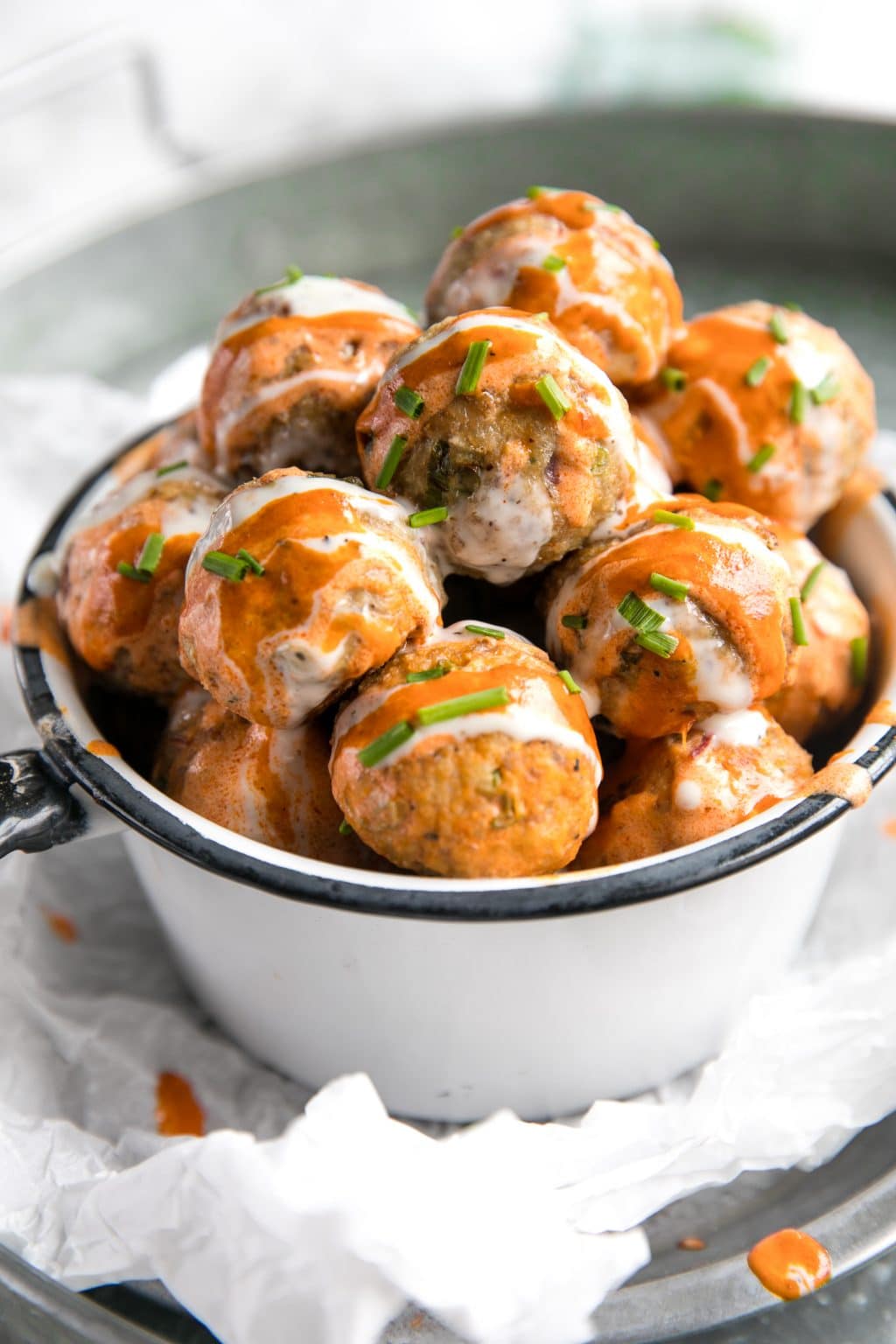 Keeping to my word that Buffalo sauce is my favorite, I have another totally amazing Buffalo sauce recipe for you guys today. I am really excited about these Buffalo Turkey Meatballs with Meal Prep Bowls, and I'm going to tell you all about why.
WHY THESE BUFFALO TURKEY MEATBALLS ARE THE BEST
For starters, they're healthy. I know, what? Meatballs aren't healthy!
Wrong. So wrong.
How then can meatballs be healthy? Well, most meatballs are made with ground beef which is higher in fat and cholesterol and all that other good stuff (just kidding!). I actually don't care for ground beef all the much, but I'll save that post for another day. Anyway, these buffalo turkey meatballs are made with Foster Farms Certified Organic Ground Turkey. Ground turkey is a personal favorite thanks to its versatility- you can literally put it in anything from pasta dishes to soup, eggs, pizza, and, of course, tacos.
Let's just say we eat a lot of ground turkey around here.
WHY YOU NEED THESE BUFFALO TURKEY MEATBALLS IN YOUR LIFE.
They're actually healthy. Remember how I mentioned that they're made with ground turkey rather than ground beef? Yep.
The Buffalo Sauce. Yes, that's actually been healthified, too!
They taste great with/on/in everything! Buffalo Turkey Meatballs to the rescue! (no seriously)
But really, these Buffalo Turkey Meatballs, my friends. You need them in your life.
As mentioned above, I made a couple of modifications to the Buffalo Sauce. If you're not purchasing a favorite pre-made buffalo sauce, you will have to make your own. I'm going to be honest- when I first started making recipes with buffalo sauce I was totally confused by this. I really don't understand what made it so confusing for me, but alas, there I was. Anyway, you will need Frank's Red Sauce. It's basically what you use if you're not buying premade stuff. Just trust me on this. Usually, Frank's is mixed with a bunch of butter and the result is the magical, beautiful Buffalo Sauce of your dreams.
Well, since we all know how much I love my sauce, I knew I needed to health it up a bit. The magic ingredient? Greek yogurt!
You guys, the result is just as delicious, just as magical, and just as addicting.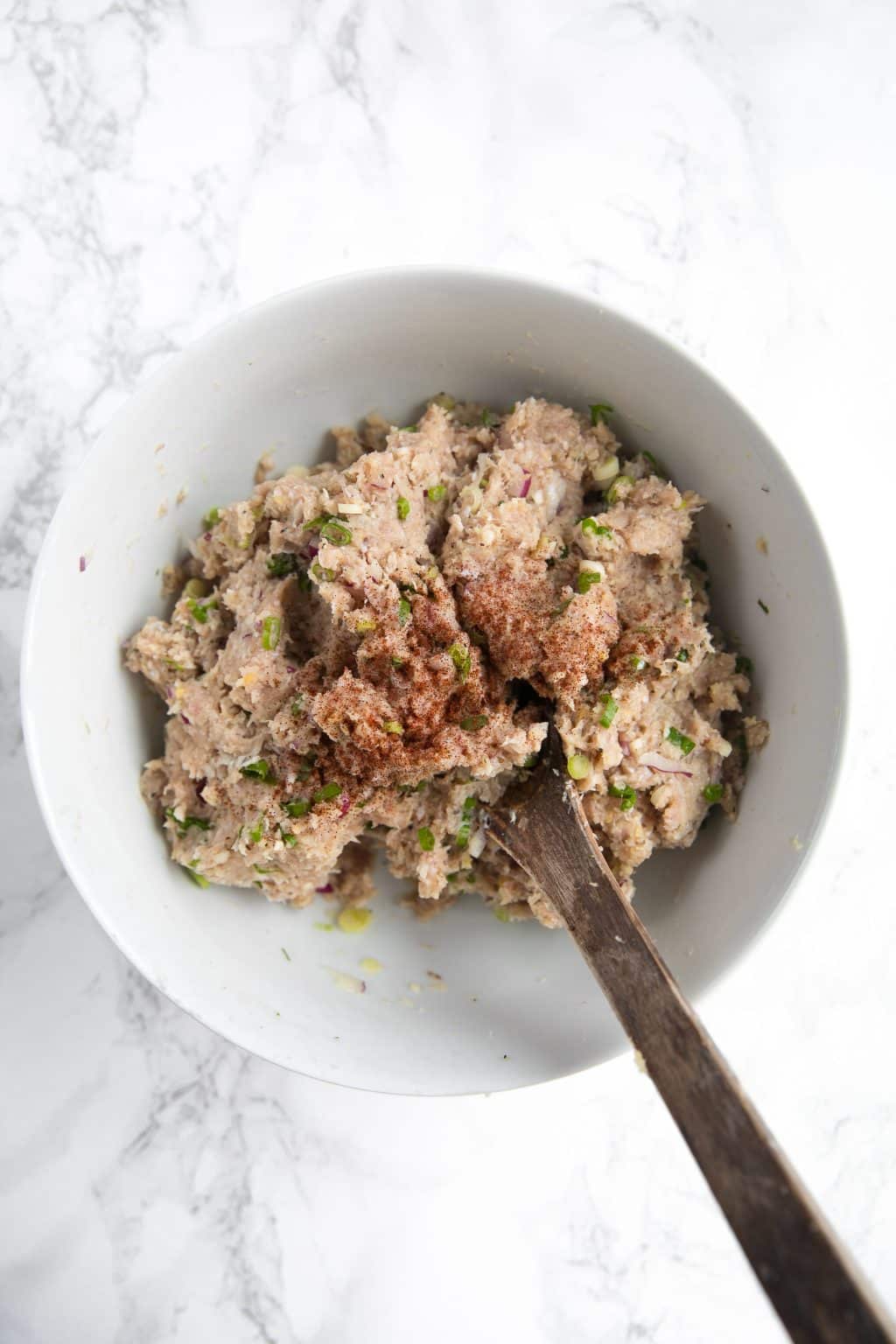 BUFFALO TURKEY MEATBALL INGREDIENTS
ground turkey
panko breadcrumbs
eggs
garlic
red onion
Italian seasoning
onion powder
green onion
BUFFALO SAUCE INGREDIENTS
There's only 3!
Frank's Red Hot Sauce
Greek yogurt
butter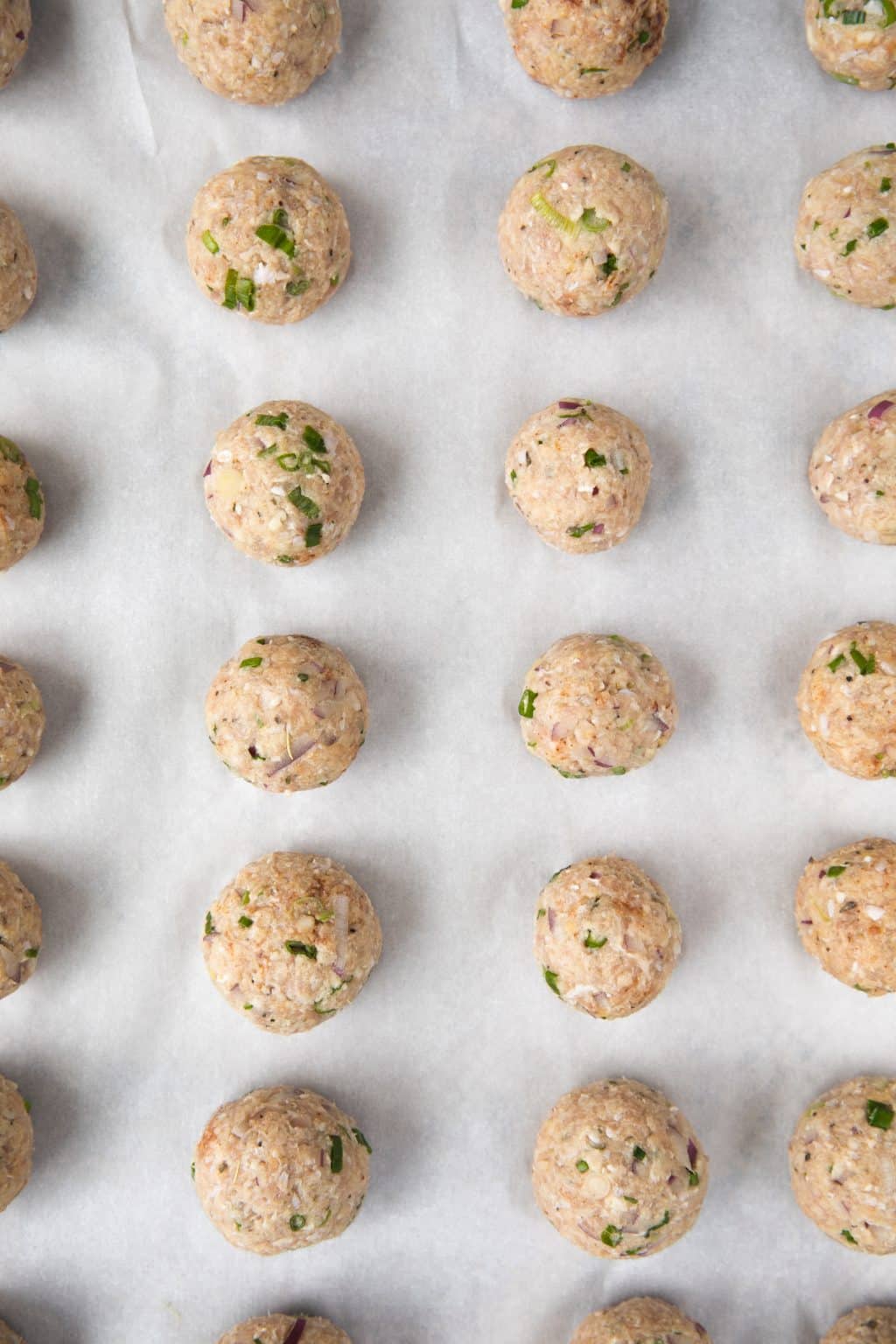 So, if I am going to constantly purchase, cook with, feed my family, and write about a product, I have to really love it.
What about Foster Farms Organic Ground Turkey is so great?
Foster Farms Organic Ground Turkey is raised in the Central Valley of California (aka home).
It is USDA Certified Organic.
All Foster Farms Organic turkeys are raised 100% natural with NO antibiotics ever, NO GMO's, and NO added hormones or antibiotics.
These turkeys are lean. Ok, at least the ground turkey is lean. 93% to be exact.
Available all over CA, WA, and OR, not to mention more than 225 West Coast Stores.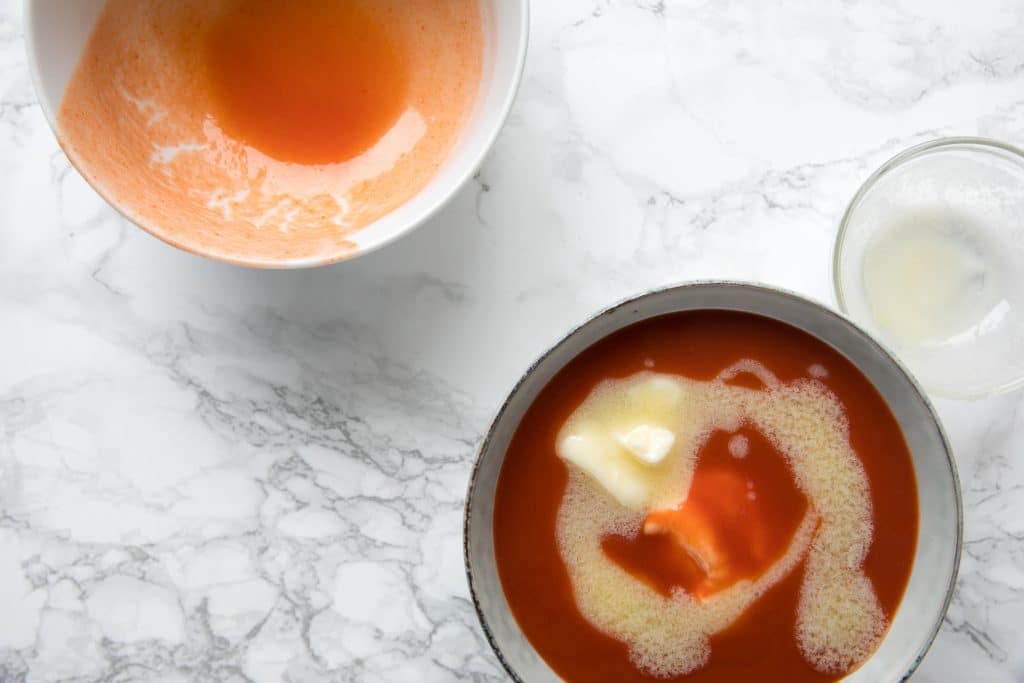 Ever wonder what it takes to be labeled "Organic"? In order to qualify as USDA Organic Ground Turkey, Foster Farms must meet a handful of very important and strict regulations.
To achieve USDA Organic Certification-
The land on which flocks are raised has been certified organic. This requires a 3-year transition during which time the land must be managed under organic conditions or lie fallow.
No use of genetically modified organisms (GMOs).
All flocks are raised WITHOUT the use of antibiotics or growth hormones.
Flocks have access to the outdoors. That said, the ranch houses in which they are raised must provide shade; clean, dry bedding; shelter; fresh air; clean drinking water; and direct sunlight.
The land is farmed without synthetic pesticides, herbicides, and fertilizers.
Turkeys are fed an organic, all-natural, vegetarian diet.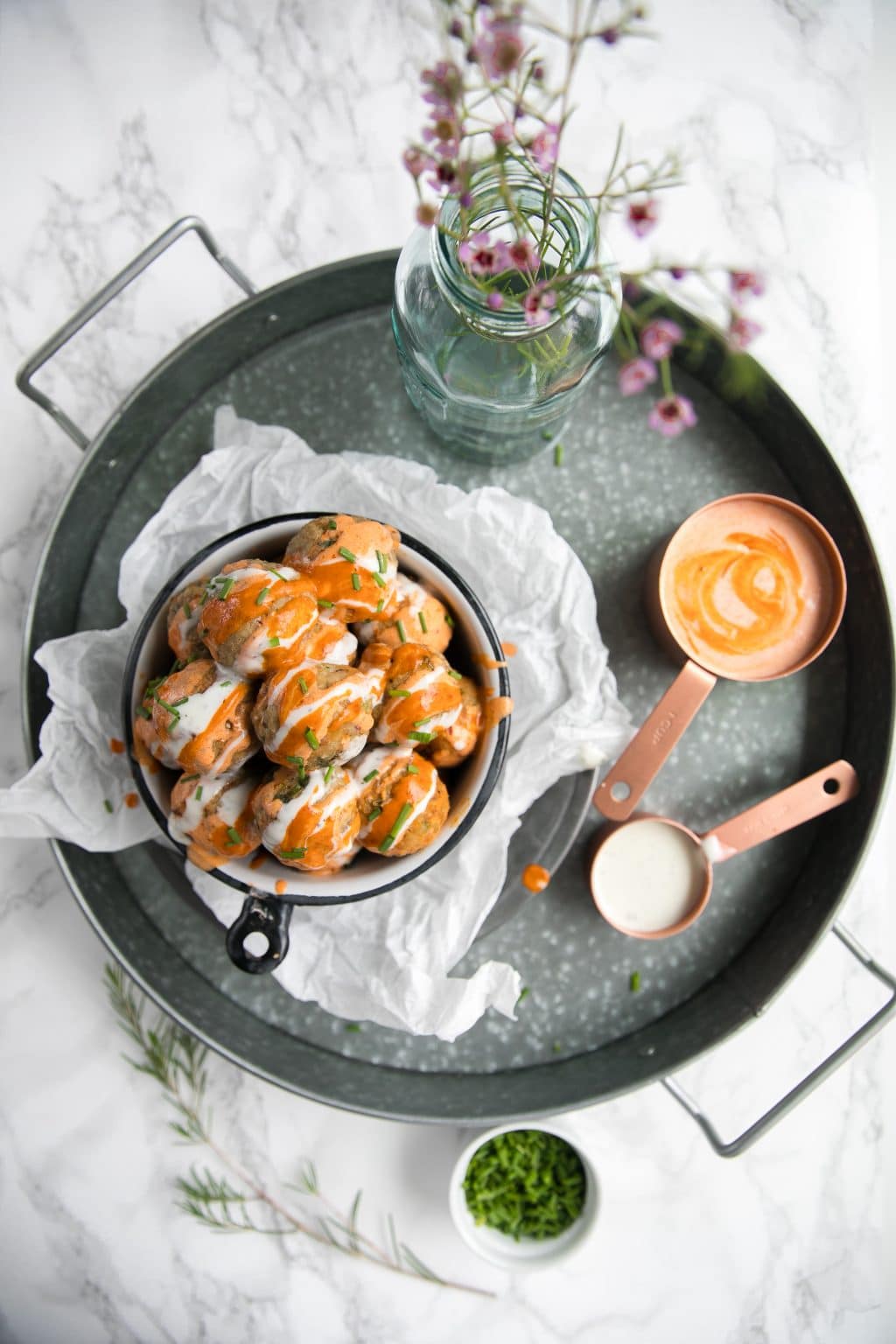 But there's a second surprise to these super amazing Buffalo Turkey Meatballs…
BUFFALO TURKEY MEATBALLS MAKE AWESOME MEAL PREP BOWLS
These Buffalo Turkey Meatballs are the PERFECT thing for Meal Prepping.
If you're like me and either skip lunch or end up grabbing something totally unhealthy, creating Meal Prep Bowls at the beginning of the week with leftovers is an awesome way to keep yourself on track. They help keep portions balanced and force you to eat what you have.
Fortunately, Buffalo Turkey Meatballs keep really well in the refrigerator all week and pair perfectly with just about anything from noodles, rice, quinoa or even, cooked spaghetti squash.
BUFFALO TURKEY MEATBALL MEAL PREP BOWL COMBINATIONS
Salad + Buffalo Turkey Meatballs + Cooked Spaghetti Squash (shown below)
Buffalo Turkey Meatballs + Rice + Roasted Veggies
Noodles (use your fav!) + Buffalo Turkey Meatballs + Roasted tomatoes
Four Tortillas + Buffalo Turkey Meatballs + Cabbage
Basically, Buffalo Turkey Meatballs + Meal Prep are made for each other.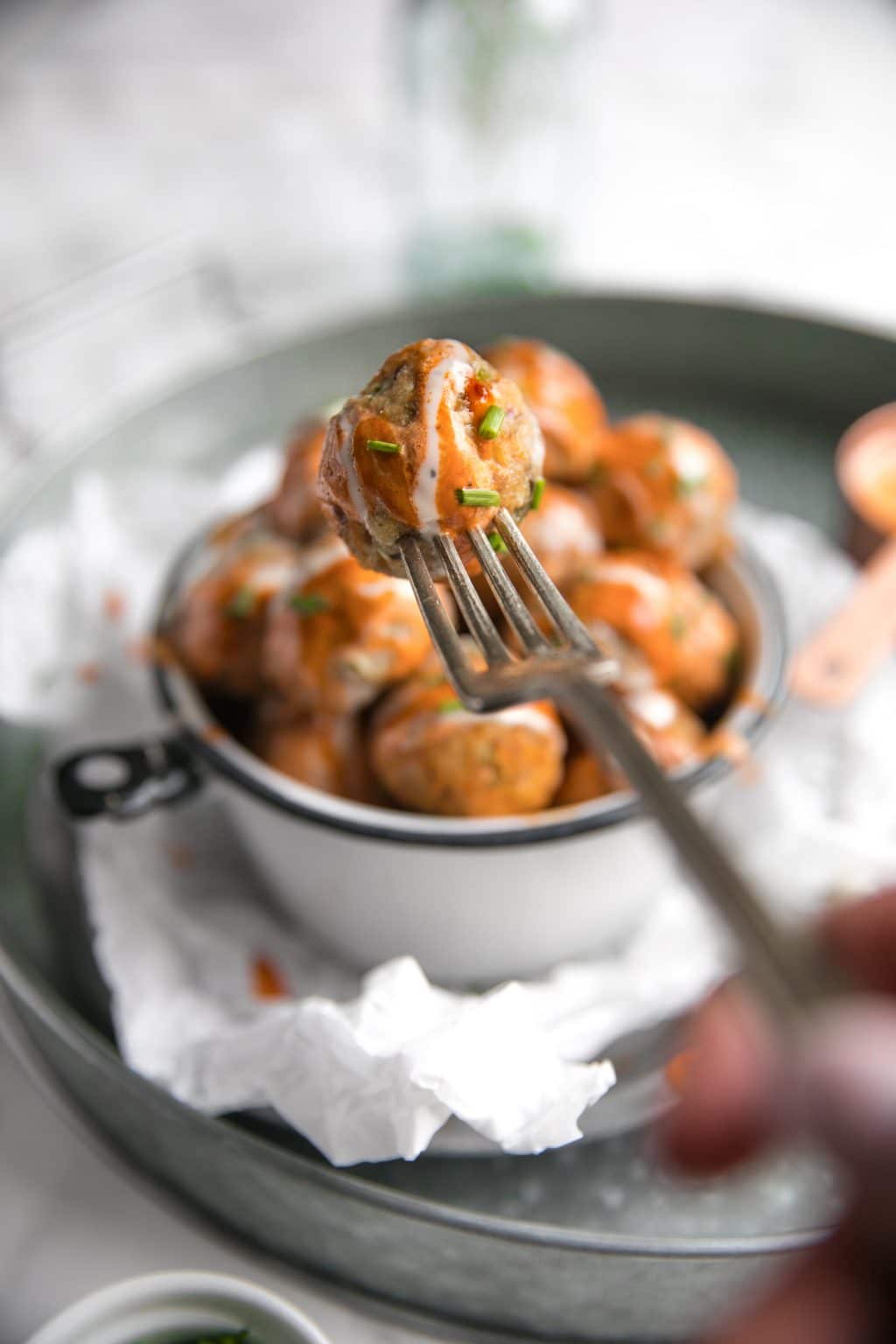 MUST HAVE TOOLS AND EQUIPMENT FOR ALL YOUR MEAL PREP IDEAS
Meal Prep Bowls: You will need something to store and hold all your delicious Buffalo Turkey Meatballs, right? These are my recommendations.
Other recommended items that will help make planning easier and help the environment!
If you love these Buffalo Turkey Meatballs, you may also enjoy these ground turkey recipe ideas-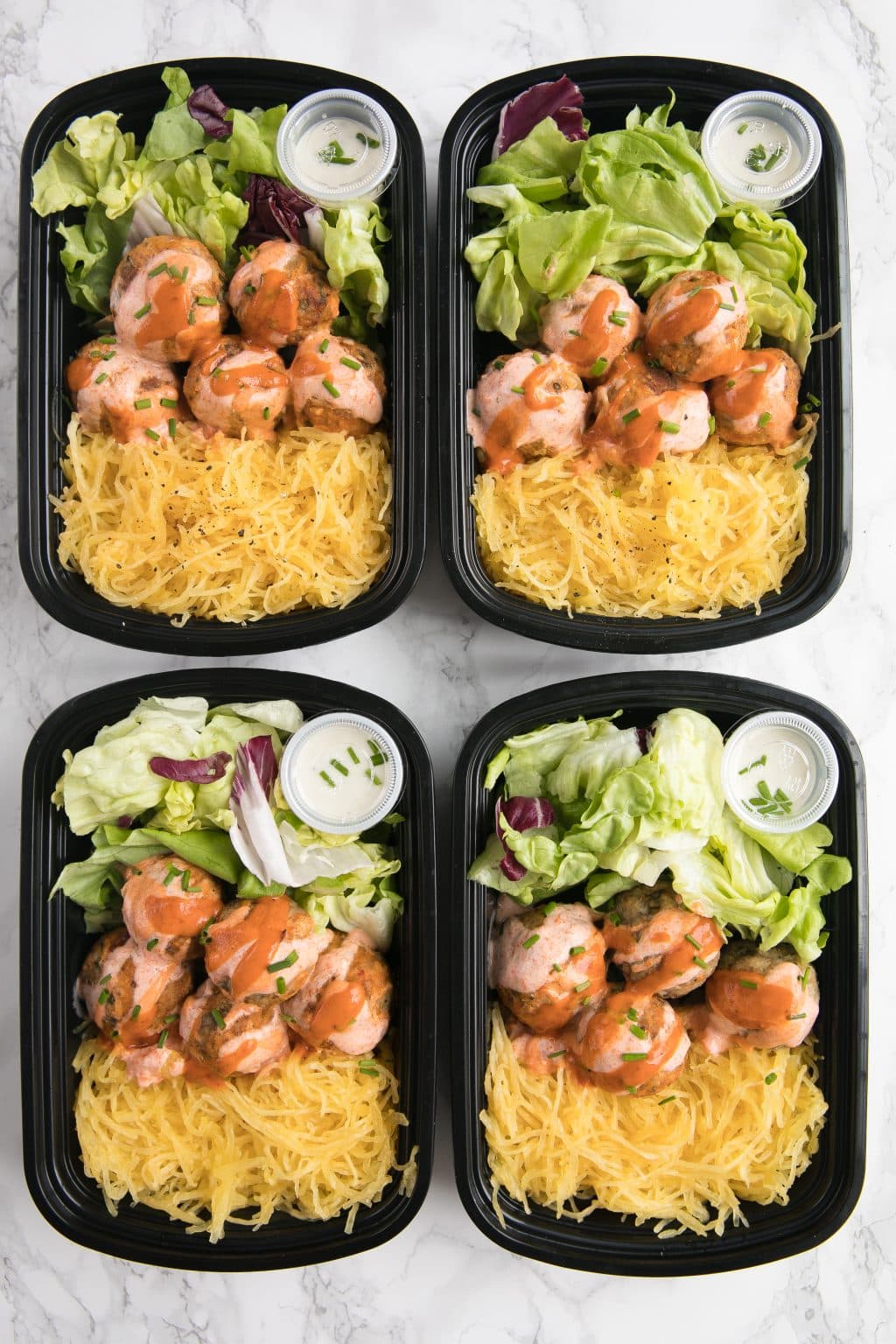 Buffalo Turkey Meatballs with Easy Meal Prep Bowls
These Buffalo Turkey Meatballs are the perfect dinner solution for any night of the week and make delicious meal prep bowls to help power you through the week. Made with simple ingredients like ground turkey instead of ground beef and Greek yogurt instead of mayonnaise, these little balls of flavor are guaranteed to be a family favorite- so make extra 😉

Ingredients
For the Buffalo Sauce
1

cup

Frank's Red Hot Sauce -

(or preferred pre-made buffalo sauce of choice)

½

cup

Greek Yogurt

4

tablespoon

butter

-

melted
Meal Prep Bowls
Cooked rice or spaghetti squash

Lettuce/cabbage

Carrot + Celery sticks

Ranch/Blue cheese dressing
Instructions
For the Meatballs
Preheat oven to 400 degrees F. Line a large baking sheet with parchment paper and set aside.


In a large bowl add the Foster Farms Organic Ground Turkey, Panko breadcrumbs, eggs, garlic, chopped red onion, salt, black pepper, Italian seasoning, onion powder, and green onions. Using clean hands (or a mixing spoon), work the ingredients together until fully combined.

Roll the combined ground turkey mixture together into approximately 1 1/2-inch meatballs. Repeat this process until all mixture has been used, creating approximately 32 meatballs.

Place meatballs onto the prepared baking sheet and bake for approximately 25 minutes, or until outside is golden, cooked and internal temperature registers 160 degrees.
For the Buffalo Sauce
In a medium bowl combine the hot sauce and melted butter. Once combined, stir in the Greek yogurt. Set aside in the refrigerator until ready to use.
Assembly + Meal Prep
Remove the meatballs from the oven and allow them to cool for 3-4 minutes before transferring to a large bowl. Gently toss to coat the meatballs with half the buffalo sauce mixture and garnish with fresh chopped chives, if desired. Serve with noodles, rice, or (shown here) spaghetti squash.

For the meal prep bowls- Add the desired amount of spaghetti squash, salad, and Buffalo Turkey Meatballs to reusable lunch containers. I added approximately 1 cup cooked spaghetti squash, 5 meatballs, and 1/2 cup salad. Drizzle the meatballs with additional Buffalo sauce and pack with a side of Ranch Dressing or Blue Cheese Dressing, if desired. In separate ziplock bags, pack a handful of carrot and celery sticks. Store all containers in the refrigerator until ready to enjoy.
Jessica's Notes
The Nutritional information per serving reflects one meatball with sauce only - not the rest of the sides for the meal prep.
INSTRUCTIONS on how to cook a spaghetti squash 🙂
For these meal prep bowls, I used these reusable meal prep containers with lids and these mini disposable cups with lids for the sauce. Please note- in an effort to reduce waste, I will be researching a more environmentally friendly option (especially when it comes to the sauce containers), but for now, these little plastic cups work fantastic.
Nutritional Information
Calories:
64
kcal
|
Carbohydrates:
2
g
|
Protein:
7
g
|
Fat:
2
g
|
Saturated Fat:
1
g
|
Cholesterol:
31
mg
|
Sodium:
356
mg
|
Potassium:
106
mg
|
Vitamin A:
90
IU
|
Vitamin C:
0.7
mg
|
Calcium:
15
mg
|
Iron:
0.5
mg
(Nutrition information provided is an estimate and will vary based on cooking methods and specific brands of ingredients used.)