Learn how to Roast Carrots and enjoy with a Lemon Tahini Sauce!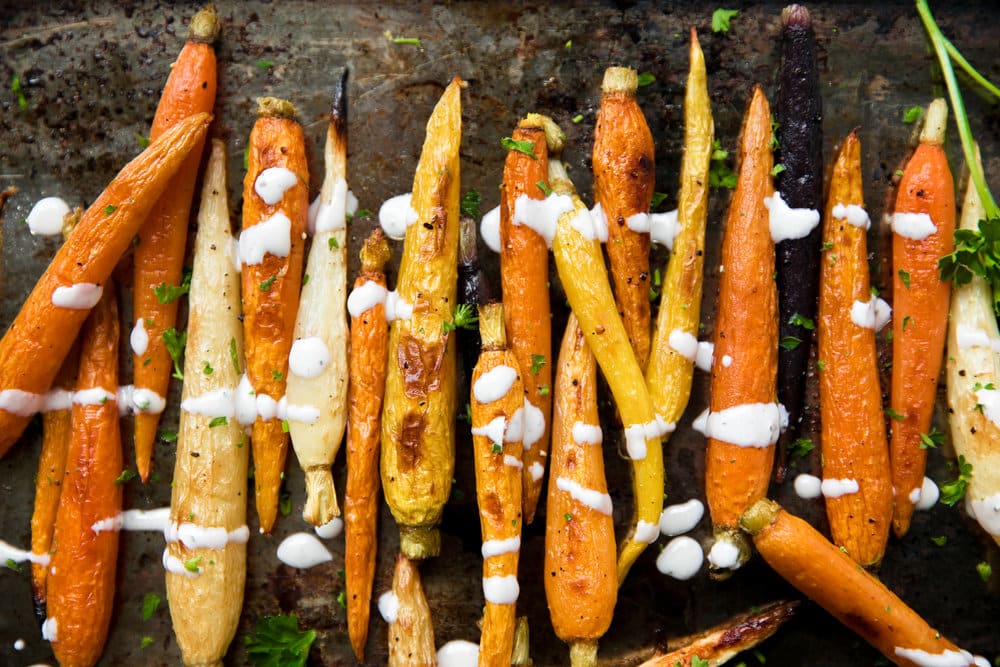 I never realized how awesome a vegetable the carrot is until I started roasting them in the oven.
Um, you guys, they're pretty amazing. Like, not even joking the smallest bit, amazing. First, thing? All you really need is some salt, pepper and olive oil (plus the oven, let's not forget that) and this root pretty much does the work for you. They don't require tons of prep work or crazy seasoning to actually taste edible.
Here's the second thing. Roasting carrots is what takes this already pretty cool (I guess…) vegetable to the next level. To the level of "Yep, I don't need a plate. I'm just gonna eat these bad boys like french fries right off the baking sheet."
And that's what I did. In fact, since discovering this super simple carrot cooking method, I do this frequently.
Sure, it may not be as "healthy" as steamed carrots, but whatever. I don't care.
Based on how you like your veggies, you may want to leave your carrots in the oven just a little longer to let them brown a little more. I'm not talking BURN the heck out of the carrots, but some nice browning on the top adds a really nice, sweet flavor.
Anyway, after roasting carrots with a little olive oil and salt and pepper for about 10 nights in a row, my dear husband finally asked, "Is this going to be one of those things you make for 6 months straight until you get sick of it and then we'll never eat carrots again?"
Of course I said no; but, you guys, he was definitely right. So, in order to continue eating my new favorite repeat food without hating it later, I knew I had to change them up; even just a little bit. I started with what I had in my refrigerator- tahini!
This super easy, super healthy tahini dip is made with yogurt, tahini, fresh garlic, lemon juice and parsley. Super simple stuff, you guys, and WAY healthier than french fries or any of that other stuff that gets dipped into sauce (yes, also delicious, but definitely not everyday delicious).
Also, as you can imagine, this is an amazing side dish to serve or bring for a holiday or party.
Can you guess what I'll be bringing this Easter?
Roasted Carrots with Lemon Tahini Sauce
Learn how to Roast Carrots and enjoy with a Lemon Tahini Sauce!
Instructions
Roast the carrots: Preheat oven to 400 degrees F and line a large baking sheet with parchment paper. Set aside. Depending on the type of carrots you are using, peel and cut each carrot down the middle lengthwise if necessary. Spread the carrots in an even layer over the prepared baking sheet. Drizzle with olive oil and sprinkle with salt and pepper. Carefully mix carrots in the olive oil so that they are evenly coated. Roast carrots in the middle rack for 25-30 minutes, or until fully cooked and starting to brown on the tops and edges.

Make the Sauce: Meanwhile, prepare the sauce by mixing together the yogurt, tahini, lemon juice, salt and pepper and garlic. Add a couple tablespoons of water, if needed, to reach desired consistency.

Remove carrots from the oven and drizzle with your prepared lemon tahini sauce. Sprinkle with parsley and serve immediately.
Nutritional Information
Calories:
225
kcal
|
Carbohydrates:
26
g
|
Protein:
6
g
|
Fat:
12
g
|
Saturated Fat:
1
g
|
Sodium:
457
mg
|
Potassium:
826
mg
|
Fiber:
7
g
|
Sugar:
11
g
|
Vitamin A:
37890
IU
|
Vitamin C:
20.4
mg
|
Calcium:
111
mg
|
Iron:
1.4
mg
(Nutrition information provided is an estimate and will vary based on cooking methods and specific brands of ingredients used.)