Butternut Squash, Zucchini, and Spinach Lasagna. One of my most popular recipes, this delicious vegetarian recipe is rich, creamy, packed with healthy vegetables and loved by even the pickiest of eaters! This Butternut Squash Lasagna is one you will want to make again and again!
Butternut squash recipes abound here on The Forked Spoon and include these reader favorites- Butternut Squash and Black Bean Tacos, Chicken, Cauliflower, and Butternut Squash Skillet Alfredo Pie, and Spicy Thai Pumpkin and Butternut Squash Ramen with Chicken.
This Butternut Squash, Zucchini, and Spinach Lasagna may very well go down as my all-time favorite recipe. It's rich, it's creamy, it's loaded with awesome flavor, and it's completely vegetarian.
This Butternut Squash Lasagna helped me love lasagna again.
INGREDIENTS IN THIS BUTTERNUT SQUASH LASAGNA RECIPE
This magical pan filled with roasted butternut squash, cheese and vegetables are pretty basic. So don't let the long list of ingredients and instructions scare you- there's nothing crazy going on.
Butternut squash
Ricotta cheese
Garlic
Milk
Spinach
…more ricotta
Mozzarella cheese
Fresh basil
Zucchini
No-boil lasagna noodles
…more mozzarella
Parmesan cheese
Salt, Pepper, and a teeny tiny bit of nutmeg
TIPS FOR MAKING THE BEST BUTTERNUT SQUASH, ZUCCHINI, AND SPINACH LASAGNA
You'll see in the recipe card that you may use either roasted butternut squash OR canned butternut squash. Truth be told, I have made this butternut squash lasagna recipe both ways and each method tastes wonderful. Anytime you use roasted anything (compared to jarred or steamed) it will have more flavor, and in the case of butternut squash, taste a little richer. If you have the extra time, roast it. If you don't, then used canned butternut squash (or pumpkin). My guess is that most people won't notice.
The cheese. This delicious lasagna simply oozes with cheese. After all, it's a lasagna and most lasagnas come with loads of cheese. Don't skimp on the cheese. If you're really worried, use half full-fat ricotta and half fat-free ricotta. But honestly, simply enjoy it for what it is because it is so good.
A ton of spinach does not go a long way. Whether you decide to use fresh spinach and steam it yourself, or purchase frozen spinach and thaw it before use, whatever amount you have probably isn't that much. In this case, allow your eyes to be bigger than your stomach.
Also…remove every last drop of excess water from the steamed/thawed spinach as you possibly can. Soggy lasagna is just not very good.
Cover the butternut squash lasagna in a foil tent for the first half of baking to avoid burning and drying out the top part of the lasagna.
On the flip side, set your oven to broil for 5 minutes before removing from the oven to get a perfectly golden, bubbly top.
To make this butternut squash lasagna gluten-free, swap out regular lasagna noodles for rice noodles.
Speaking of noodles, I highly suggest no-boil lasagna noodle sheets. It's one less moving part.
HOW DO YOU COOK BUTTERNUT SQUASH?
I wrote entire posts on how to cook butternut squash, acorn squash, and spaghetti squash. But, if you're just looking for an overview,
There are several different ways to cook butternut squash for this Butternut Squash, Zucchini, and Spinach Lasagna-
Generally speaking, however, when it comes to soups, stews, and lasagnas, I like to roast butternut squash. Why? Well, if I'm going to go through the work of cutting and peeling this giant squash, it needs to bring something more to the table than a can of the stuff would.
You can roast a butternut squash halved, skin on, seeds removed and brushed with olive oil, OR, you may peel, scoop, chop, and bake.
I like both methods.
In this particular butternut squash recipe, I chose the latter.
How to roast butternut squash
Set oven to 400 degrees F.
Peel, seed, and chop your butternut squash into equal size cubes.
Transfer butternut squash to a large baking sheet and drizzle with olive oil.
Bake for approximately 25 minutes.
Remove from the oven and eat!
jk…you're going to need those beauties.
IS THIS BUTTERNUT SQUASH LASAGNA HEALTHY?
This was the first question my husband asked when I served this Butternut Squash, Zucchini, and Spinach Lasagna recipe several years ago. Typically I serve healthy or healthy-ish meals, so he was probably trying to mentally prepare himself for my "healthified" lasagna creation.
Originally I wasn't sure how to answer his question, but then, after making this Butternut Squash Spinach Lasagna Recipe many times since, I have concluded that this vegetarian lasagna is neither healthy nor unhealthy.
In other words, I can't answer this question. Only you can.
For my body, this lasagna recipe provides loads of protein and vegetables, which makes it an absolute keeper.
Unlike traditional meat-filled lasagnas, this one is filled with additional cheese and vegetables, and instead of all the noodles, I halved the pasta and replaced them with zucchini noodles.
If, however, you are sensitive to dairy or simply trying to remove dairy from your diet, then it's probably best to avoid this dish.
EQUIPMENT NEEDED TO MAKE THIS BUTTERNUT SQUASH LASAGNA RECIPE
Fortunately, you don't need much to make this Butternut Squash and Spinach Lasagna, but you will need-
BUTTERNUT SQUASH LASAGNA VARIATIONS
There are all kinds of ways you can modify this recipe to make it your own. Here are some of my favorites I'm looking forward to testing.
Kale instead of spinach- if you do this, make sure to remove the woody stems and use the leaves only.
If you're a meat lover, add some ground Italian sausage (omg so good) or shredded chicken.
Mix up the cheese. Ever heard of 4 or 5 cheese pizza? yea, you can do that here too.
Incorporate other vegetables. Mushrooms would probably be my number one pick.
Top with your favorite marinara. Or, add marinara sauce between layers. I can't say for sure if everyone would like this, but it's my own personal favorite.
Skip pasta noodles altogether and use only zucchini noodles.
Add some chunks of roasted butternut squash for a more textured squash lasagna.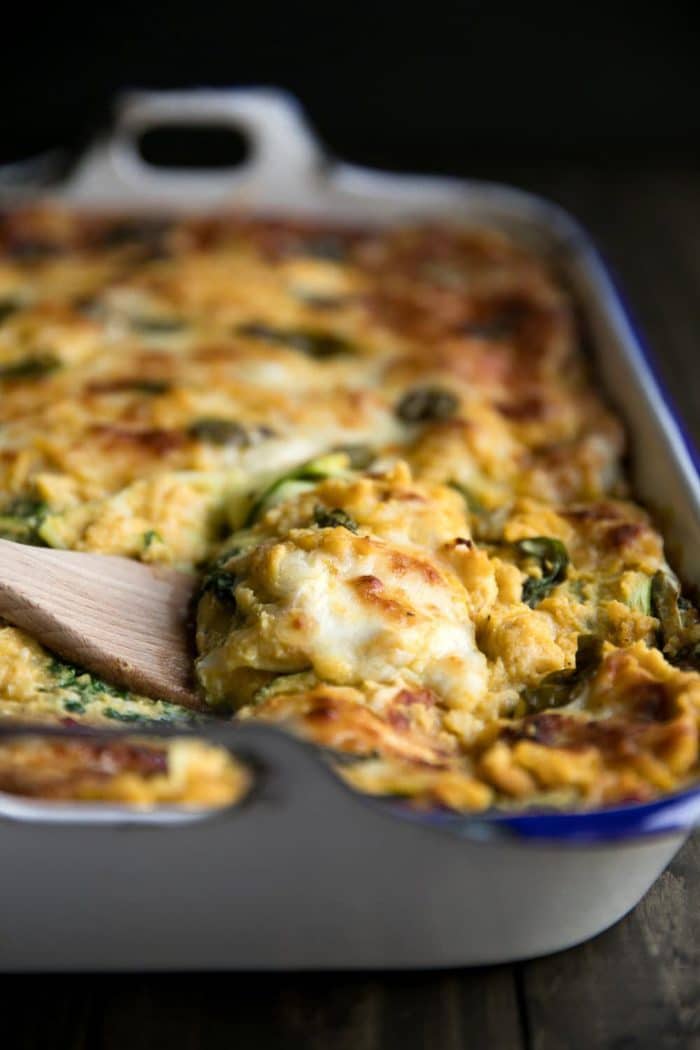 WHAT TO SERVE WITH BUTTERNUT SQUASH LASAGNA?
Personally, I like to just eat a big plate of this awesome lasagna. But, if you're planning to serve this to a party larger than one, here are some ideas to get you started.
CAN YOU FREEZE THIS BUTTERNUT SQUASH, ZUCCHINI, AND SPINACH LASAGNA?
I would be a big fat liar if I told you that this was a fast recipe thrown together in 10 minutes.
Butternut squash lasagna, as with most lasagna recipes, is a process. You'll probably have a messy kitchen…I know I know I'm so sorry.
BUT, it's 100% worth it.
My advice? Double the recipe and freeze the extra. This recipe freezes easily and reheats beautifully. Or, MEAL PREP!
This Butternut Squash, Zucchini, and Spinach Lasagna is the gift that keeps on giving…
If you try cooking this Butternut Squash Lasagna, please leave me a comment and let me know! I always love to hear your thoughts.
For more butternut squash recipes check out,
…and many many more.
DON'T FORGET TO PIN THIS BUTTERNUT SQUASH LASAGNA RECIPE TO PREPARE FOR FAMILY AND FRIENDS THIS HOLIDAY SEASON OR WHENEVER YOU FEEL LIKE ENJOYING A DELICIOUS BUTTERNUT SQUASH RECIPE.
REMEMBER TO SUBSCRIBE TO THE FORKED SPOON NEWSLETTER FOR FREE AND RECEIVE WEEKLY RECIPE NOTIFICATIONS DELIVERED STRAIGHT TO YOUR INBOX!
If you try a recipe, please share it using the hashtag #theforkedspoon or by tagging @theforkedspoon on
INSTAGRAM
! Follow The Forked Spoon on
FACEBOOK
|
INSTAGRAM
|
PINTEREST
|
TWITTER
for all of the latest recipes and updates.
BUTTERNUT SQUASH, ZUCCHINI, AND SPINACH LASAGNA
Made with layers of creamy butternut squash, zucchini noodles, no-bake noodles, cheese, spinach, and more butternut squash, this Butternut Squash, Zucchini, and Spinach Lasagna is the most delicious of all autumn comfort foods.
Tip- Double the recipe and make two! Freeze the second as it reheats beautifully.
Ingredients
BUTTERNUT SQUASH FILLING
Butternut squash puree

(from 1 large or two small roasted butternut squash or 3 cans)

1.5

cups

ricotta cheese

5

cloves

garlic

(minced)

1/2

cups

milk

(more if needed)

1/4

teaspoon

salt

(or more to taste)

1/4

teaspoon

nutmeg
SPINACH RICOTTA FILLING
48

ounce

frozen spinach

(thawed and squeezed of all extra water)

1.5

cups

ricotta cheese

1

cup

mozzarella cheese

1/4

cup

chopped basil

1/4

teaspoon

salt

Pepper
OTHER
3

zucchini

(sliced into 1/8" thick noodles)

10+

sheets

no-boil lasagna noodles

(or lasagna noodle of choice)

2

cups

shredded mozzarella cheese

1/2

cup

grated Parmesan cheese

(for the top)

Fresh basil

(for topping)
Instructions
Preheat oven to 375 degrees F
FOR THE BUTTERNUT SQUASH FILLING
Roast and puree your own butternut squash, (see how to here) or buy it canned from the market.  If neither are available to you, pureed pumpkin is another great option.

Place the cooked (or canned) butternut squash, ricotta, garlic, milk, salt + pepper, and nutmeg in the bowl of a large food processor. Puree until completely smooth.  Add more milk if needed- you want the butternut squash filling to be thick and creamy, but not runny. Season to taste.
FOR THE SPINACH RICOTTA MIX
Remove excess water from the thawed spinach; you can do this using a mesh wire strainer, cheesecloth, or tea cloth. Transfer the spinach to a large mixing bowl with the ricotta cheese, mozzarella, fresh chopped basil, salt and pepper.  Mix until fully combined.
PUTTING IT TOGETHER
Prepare your baking dish (I usually use a large, deep casserole dish, 12.38"L x 9.25"W x 2"H, but the one shown in the images is slightly larger).  Spray dish with non-stick cooking spray of choice.

Spread 1/3 of the butternut squash filling on the bottom of the dish.  Sprinkle with a thin layer of mozzarella cheese and cover with a single, non-overlapping layer of no-boil lasagna noodles (approx. 5). Gently spread half the spinach mixture over the noodles and sprinkle with mozzarella cheese. Top with a layer of sliced zucchini*

(REPEAT) Spread 1/3 of the butternut squash mixture over the sliced zucchini layer.  Sprinkle with a light layer of mozzarella cheese and top with a single, non-overlapping layer of no-boil lasagna noodles (approx. 5). Spread the second half of the spinach mixture on top of the lasagna noodles.  Top with mozzarella cheese and top with a layer of sliced zucchini.

Spread the remaining 1/3 of the butternut squash filling over the zucchini and sprinkle with grated Parmesan and mozzarella cheese. Sprinkle fresh basil leaves on top of the cheese.

Cover the baking dish with a large foil "tent" and bake for approximately 20-30 minutes. Remove the foil and continue to cook for an additional 15-20 minutes, or until the cheese is bubbly and golden.

Top with additional fresh basil, if desired.
Nutrition
Calories
414
kcal
|
Carbohydrates
32
g
|
Protein
27
g
|
Fat
20
g
|
Saturated Fat
11
g
|
Cholesterol
69
mg
|
Sodium
578
mg
|
Potassium
818
mg
|
Fiber
5
g
|
Sugar
4
g
|
Vitamin A
16725
IU
|
Vitamin C
18.6
mg
|
Calcium
586
mg
|
Iron
3.7
mg
(Nutrition information provided is an estimate and will vary based on cooking methods and specific brands of ingredients used.)
Did you Make this Recipe? Tag it Today!
Tag @theforkedspoon with hashtag #theforkedspoon and please leave your star rating in the comment section below.