Originating in Uruguay and Argentina, Chimichurri is made with a mixture of fresh minced parsley, garlic, red wine vinegar, oregano, and olive oil. Learn how to make this delicious and authentic 5-minute Chimichurri Recipe and enjoy with all your favorite fish, chicken, or steak recipes.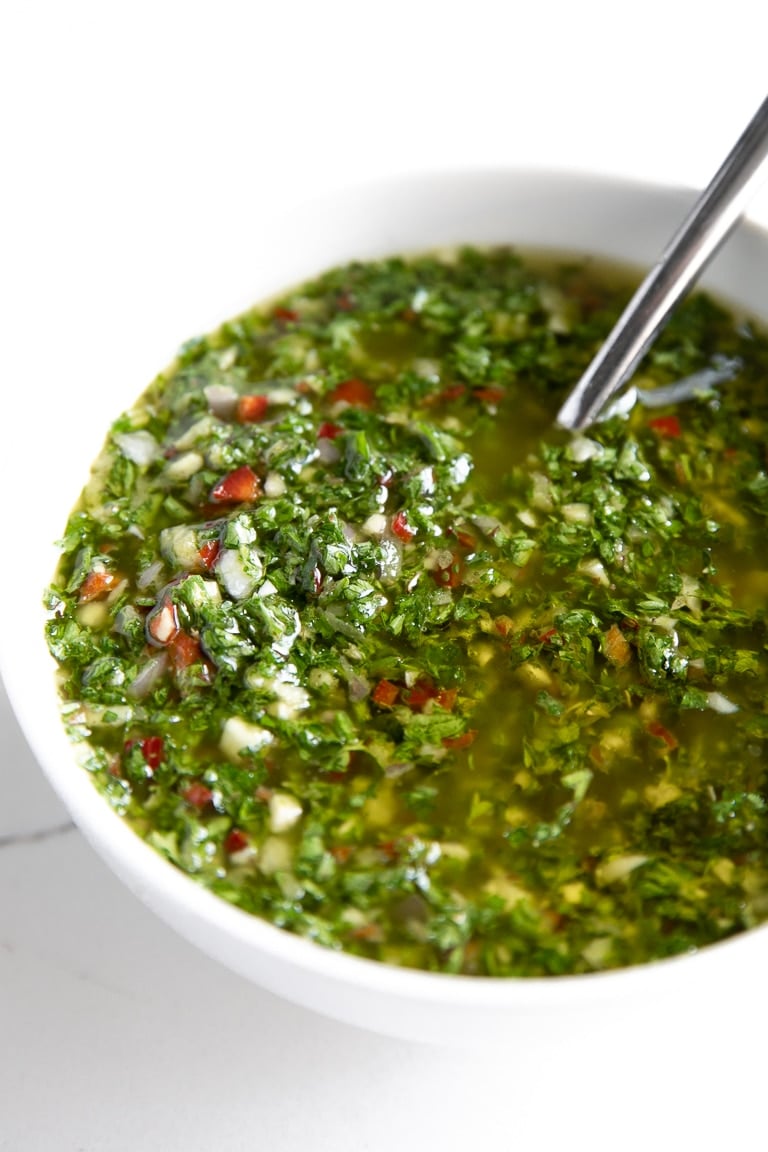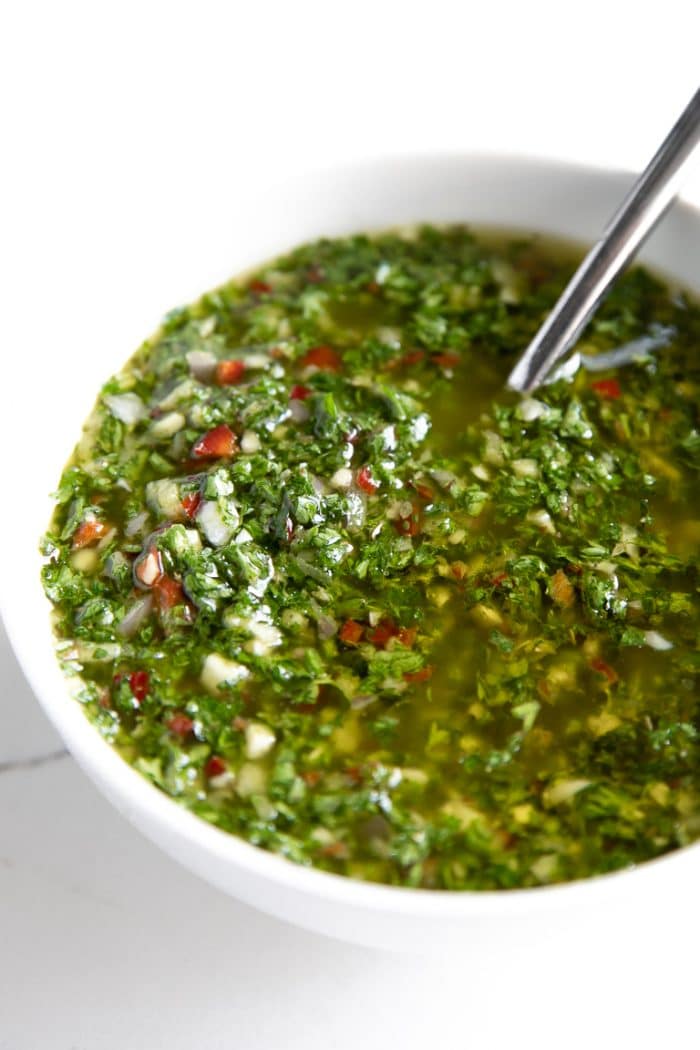 What is Chimichurri?
Originating in Argentina and Uruguay, Chimichurri Sauce is a condiment that is typically served brushed, basted, or spooned onto food as it cooks. It may also be served on the side or used as a marinade (because, trust me, best marinade ever).
Served at room temperature, this delicious green sauce is made from fresh parsley, garlic, oregano, red wine vinegar, olive oil, and red chili flakes and tastes delicious with chicken, steak, or drizzled over colorful veggie skewers. There is also a red chimichurri where tomato or red bell pepper is added.
Of course, there are several non-authentic versions of this condiment sweeping through the internet. Versions which include cilantro…and cumin…and lime juice. Although I'm sure that this version of chimichurri is delicious (because those are, after all, a few of my fav ingredients!), it is not authentic.
So, let's get started.
Ingredients in this Chimichurri
The ingredients needed to make this easy and delicious chimichurri sauce are surprisingly few.
Parsley – fresh parsley is an absolute must when it comes to chimichurri sauce. For best results, I try to remove as much of the stems as possible.
Garlic – I added four

fresh

peeled garlic cloves and found it to be the perfect amount. I do not recommend using store-bought garlic paste as the flavor is never quite as good. However, if that's all you can get your hands on, it's a better alternative than garlic powder (translation- garlic powder is best left out of this recipe).
Shallot (optional, not authentic) – I know I know, I said this was authentic and, really, it is. For the most part- minus the shallot. Feel free to add the shallot or leave it out. I have made this chimichurri recipe several times with and without and can't taste a huge difference either way.
Dried oregano – I know, somewhat confusing since I'm always all about fresh ingredients, but from what I've learned, dried oregano is the more popular choice.
Red (or white) wine vinegar – I personally prefer red wine vinegar, but either will do.
Red chili (or red chili flakes) – For a little heat. You don't want to add too much since chimichurri isn't meant to be mouth-on-fire hot, but a little adds some nice flavor.
Salt and pepper – to taste.
Extra virgin olive oil – the olive oil, like parsley, play a pretty role in the overall construction of chimichurri. As such, it's best to pick an olive oil that you think tastes good. Mixed olive oil blends or old olive oil that's been sitting on the counter for months and months may not be the best choice.
Is Chimichurri healthy?
Yes! in moderation. As with most condiments (like peanut butter or ranch dressing), it's never a good idea to eat the whole bottle or batch in one sitting. The same applies to this Chimichurri recipe. Although it is filled with healthy ingredients like parsley and garlic, the base is olive oil. All oil, no matter the source, is crazy high in energy (translation- high in calories), so it's best to enjoy in moderation.
That said, this delicious recipe is naturally low in carbs, sugar-free, and perfect for the following diets-
keto
gluten-free
paleo
whole30
dairy-free
lover of all foods


How to make Chimichurri Sauce?
One of the easiest condiments in the history of food, chimichurri takes just FIVE minutes and requires no cooking at all.
To help make your life a little easier, I do recommend using a food processor to get the parsley and garlic chopped super small.
Blend – Add everything except for the extra virgin olive oil to the bowl of a food processor. Process until finely minced (take care not to turn it into a thick paste from over processing).

Add the olive oil – Transfer the mixture to a clean bowl and pour the olive oil over the mixture. Gently mix to combine.

Rest – Time permitting, allow your Chimichurri to stand for 15 minutes allowing flavors to combine.

Serve – Serve with all your favorite recipes!
If you don't own a food processor, you can absolutely make this recipe without the help of any electronics. Simply chop everything into super small bits and mix with the olive oil.
What to serve with chimichurri?
Chimichurri was the traditional condiment to serve with steak. And it still is! You guys, ALL steak loves being topped with or marinated in chimichurri sauce. But that's not all…chicken, shrimp, and fish all love this chimichurri recipe, too!
But what about some less obvious foods,
Salad
Pasta
SOUP!
Pizza
Eggs (this is a personal favorite)
Rice!
There are so many fun and unique way to serve this delicious and flavorful sauce. Simply go crazy! Or keep it simple and enjoy this Baked Chimichurri Chicken or Chimichurri Steak Bites.
Can you make Chimichurri ahead of time?
Absolutely! Should you decide to make your chimichurri ahead of time, store it in an air-tight container with a thin layer of oil on top.
Now, some people say that chimichurri is best when enjoyed the day it is made, while others say it is better once the flavors have had the night to blend.
My opinion? Chimichurri tastes best the day you make it. The very best after it has hung out for 30 minutes or so, but certainly not a deal breaker. A night in the refrigerator doesn't make a huge difference except that the parsley tastes like it may have lost a little of its freshness (probably because it has).
Day three and day four chimichurri continues to lose its appeal, largely due to that parsley, so I recommend enjoying within 1-3 days.
Can you freeze chimichurri sauce?
I have heard that some people will freeze leftover chimichurri sauce in ice cube trays, but I have not tried this personally.
Should you give this a try, be sure to transfer the frozen chimichurri cubes to a ziplock bag once frozen and enjoy within 1-2 months. Thaw your desired number of cubes in the refrigerator.
Let me know if you give this a try! I would love to hear how it turns out.
Love Chimichurri? Check out,
If you try making this Chimichurri Sauce Recipe, please leave me a comment and let me know! I always love to hear your thoughts.
LOOKING FOR SOMETHING SPECIFIC? CLICK HERE TO SEARCH BY INGREDIENT
REMEMBER TO SUBSCRIBE TO THE FORKED SPOON NEWSLETTER FOR FREE AND RECEIVE WEEKLY RECIPE NOTIFICATIONS DELIVERED STRAIGHT TO YOUR INBOX!
If you try a recipe, please share it using the hashtag #theforkedspoon or by tagging @theforkedspoon on
INSTAGRAM
! Follow The Forked Spoon on
FACEBOOK
|
INSTAGRAM
|
PINTEREST
|
TWITTER
for all of the latest recipes and updates.
Chimichurri Recipe
Originating in Uruguay and Argentina, Chimichurri is made with a mixture of fresh minced parsley, garlic, red wine vinegar, oregano, and olive oil.
Ingredients
1/2

cup

chopped parsley

-

Flat Leaf

4

cloves

garlic

-

chopped

1

shallot

-

chopped

1

tsp

dried oregano

1

small

red chili

-

seeded and diced (or 2 tsp crushed red pepper)

3

tbsp

red wine vinegar

1

tsp

salt

1/2

tsp

fresh ground black pepper

2/3

cup

good-quality extra-virgin olive oil
Instructions
Add the chopped parsley, garlic, shallot, oregano, red chili (or crushed red pepper), red wine vinegar, salt, and pepper to the bowl of a food processor. Process until finely minced (take care not to turn it into a thick paste from over processing).

Transfer the mixture to a clean bowl and pour the olive oil over the mixture. Gently mix to combine. Allow the Chimichurri to stand for 15 minutes, time permitting.

Serve over your favorite grilled meats and vegetables or use as a marinade! Enjoy!
Jessica's Notes
If you prepare chimichurri ahead of time, keep stored in an air-tight container in the refrigerator until ready to use. Best if brought to room temperature before serving.
Nutrition
Calories:
166
kcal
|
Carbohydrates:
1
g
|
Protein:
0
g
|
Fat:
18
g
|
Saturated Fat:
2
g
|
Cholesterol:
0
mg
|
Sodium:
294
mg
|
Potassium:
44
mg
|
Fiber:
0
g
|
Sugar:
0
g
|
Vitamin A:
370
IU
|
Vitamin C:
13.5
mg
|
Calcium:
10
mg
|
Iron:
0.5
mg
(Nutrition information provided is an estimate and will vary based on cooking methods and specific brands of ingredients used.)
Did you Make this Recipe? Tag it Today!
Tag @theforkedspoon with hashtag #theforkedspoon and please leave your star rating in the comment section below.