Learn how to make this modern Shrimp Avocado Bruschetta recipe with a Balsamic Glaze.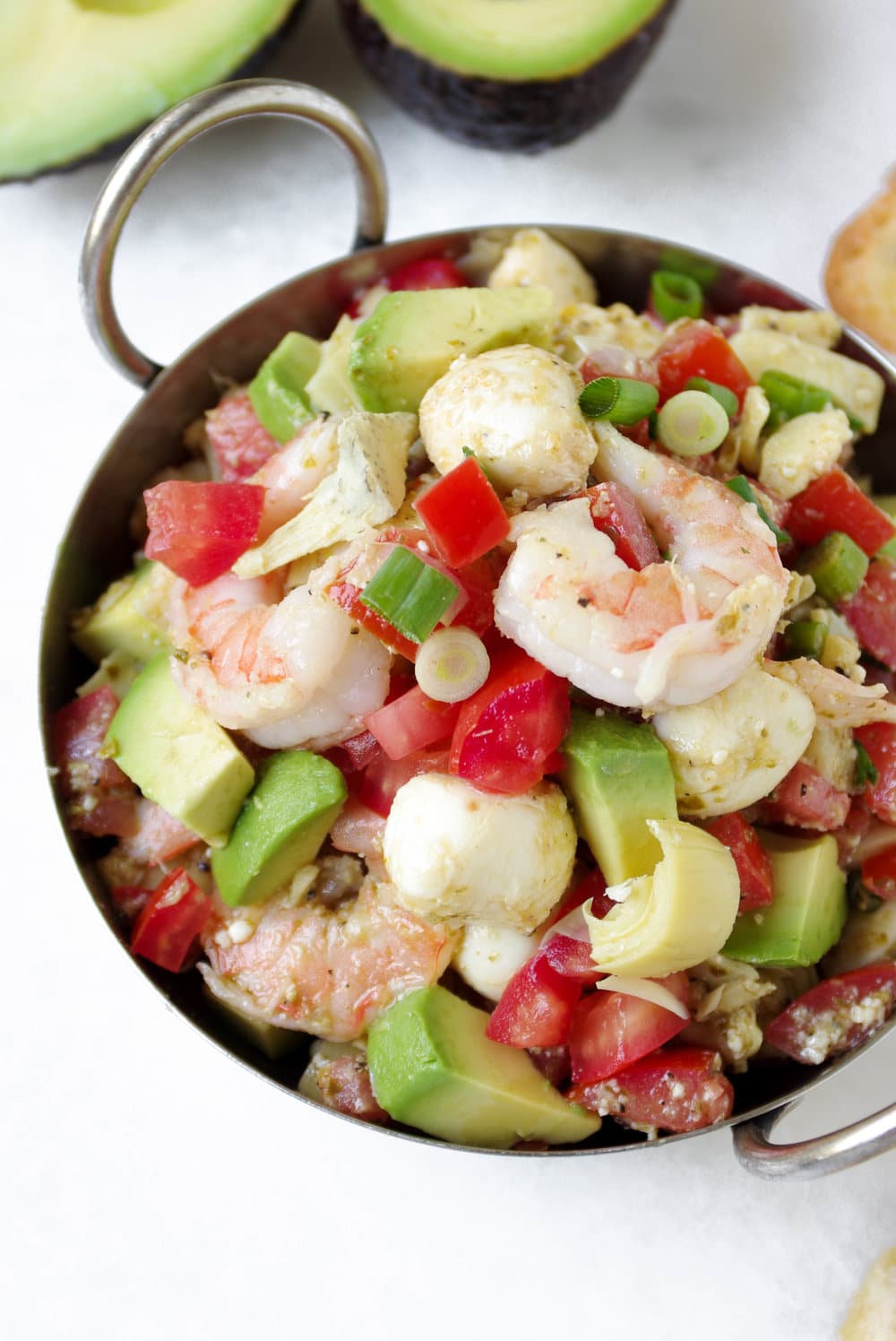 I mean, I get it, shadows can be legitimately scary. Especially those shadows you have fallen asleep looking at for the past 6 months without any fear of until this very second.
Octavian sleeps on, for lack of a better description, the bottom bunk bed (I have a full post with pictures of his big boy room just waiting to be published; it'll happen- one day). Thanks to his nightlight and the ladder going to the top bunk, a shadow is cast on the bed above our head.
Anyway, my kid doesn't like it.
I tried explaining shadows. I had him make a shadow with his arm. I had him touch the shadow. His solution?
Octavian: "We have to get Nana's two saws and saw it off."
My first thought was, of course my child's resolution involves a saw. And second, I am not at all surprised that he knows his nana has TWO saws, not just one. Most children, and by most I mean me as a child, just demand more light in the room.
Not my kid.
When I turn down his operation to destroy his bed, I explain that the only way to make the shadow go away is to turn off his night light. You guys, I expected some serious objection at this as he pretty much lost his sh*t the other night when his beloved bear nightlight needed a new lightbulb and was "at the doctor" for the night. The temporary nightlight simply would not do and I had to sing him Old Mc'Gardener for 45 minutes until he finally fell asleep (and yes, that is a real song in this house).
Anyway, my child wanted the light off. He wanted the door closed. He wanted no light coming in or out of his room (thank goodness for blackout curtains). Ten minutes later, he was asleep.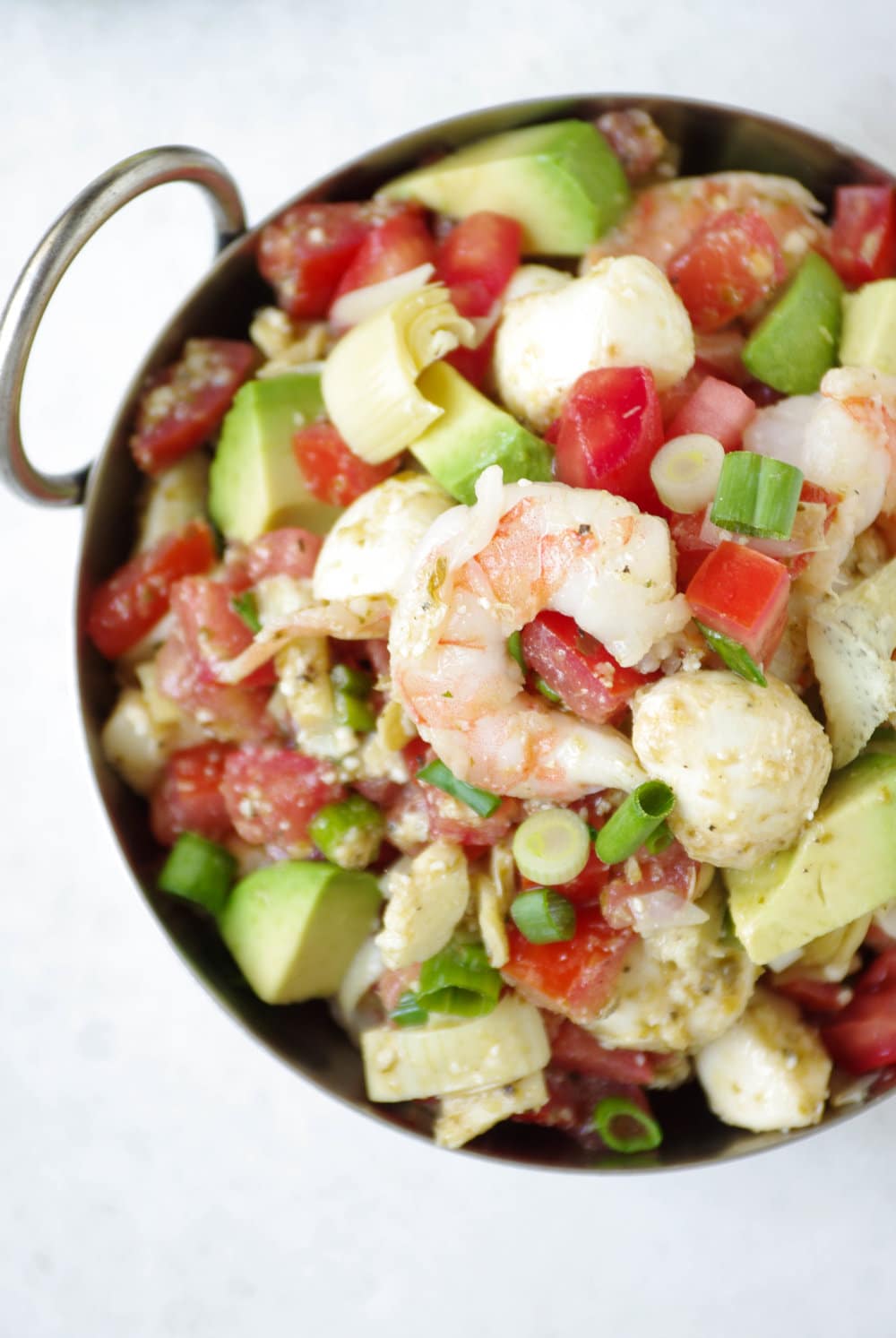 What does this have to do with Shrimp and Avocado Bruschetta?
Nothing. Not one thing.
But, Octavian's objection to shadows and light is fresh in my mind and a silly milestone I wanted to remember. It's just the first night of his new fear of the dark and it's already a total pain in the ass. That said, I'm pretty sure I slept on the floor or in the same bed as my Mom until I was in middle school and definitely, when sleeping solo, slept with every single light on until I was in fifth grade…so I get it.
But I'm not just here to tell you guys about my bedtime story.
I also have shrimp. and avocado. and a bunch of other really really yummy things mixed together to make the easiest bruschetta EVER!
I love all bruschetta, but this one is pretty special and just plain pretty to look at.
ps- the colors. hmmmm, something about them makes me think this would make the PERFECT appetizer for a certain popular holiday. Are you thinking what I'm thinking?
Shrimp Bruschetta
Shrimp Bruschetta over toasted baguette slices drizzled in a balsamic glaze is next-level delicious. It's a perfectly pretty and crowd-pleasing appetizer to serve on any special occasion – and comes together easily in about 35 minutes.
Ingredients
8

firm Roma tomatoes

-

seeded and diced

½

pound

cooked shrimp

-

peeled and sliced horizontally or into small chunks

3

green onions

-

chopped

8

ounces

baby mozzarella cheese balls

-

halved or quartered

15

oz

artichoke hearts -

one 15 oz can, liquid drained and chopped

2

cloves

garlic -

minced

salt + pepper

-

to taste

1

lemon juiced

2

tablespoon

good quality basil pesto

2

tablespoon

grated parmesan

-

more if desired

1

avocado

Balsamic glaze

-

for serving

1

French Baguette

-

sliced and toasted
Instructions
In a large bowl combine the seeded and diced tomatoes, chopped shrimp, green onion, quartered mozzarella balls, and chopped artichoke hearts.

In a smaller bowl whisk together the minced garlic, salt and pepper, lemon juice, pesto and grated parmesan cheese.

Carefully stir together the shrimp and tomato mixture with the pesto mixture. Cover and place in the refrigerator while toasting baguette slices.

Preheat oven to 375 degrees F. Slice baguette into 1/4 inch thick pieces and lay them in an even layer on a baking sheet or baking stone. Using a pastry brush, brush a small amount of olive oil on each side of each piece of bread. Bake for approximately 8-10 minutes, or until lightly golden. Remove from oven and transfer to a platter for serving.

When ready to serve, peel and chop the avocado into small cubes and add to shrimp mixture. Carefully spoon a small spoonful onto the top of each piece of toasted baguette and drizzle with balsamic glaze (if desired).
Nutritional Information
Calories:
105
kcal
|
Carbohydrates:
8
g
|
Protein:
5
g
|
Fat:
5
g
|
Saturated Fat:
1
g
|
Cholesterol:
27
mg
|
Sodium:
231
mg
|
Potassium:
112
mg
|
Fiber:
1
g
|
Sugar:
0
g
|
Vitamin A:
405
IU
|
Vitamin C:
8.6
mg
|
Calcium:
70
mg
|
Iron:
0.8
mg
(Nutrition information provided is an estimate and will vary based on cooking methods and specific brands of ingredients used.)