The perfect balance of sweet strawberries and sour rhubarb topped with easy homemade honey butter biscuits in this springtime favorite Strawberry Rhubarb Cobbler.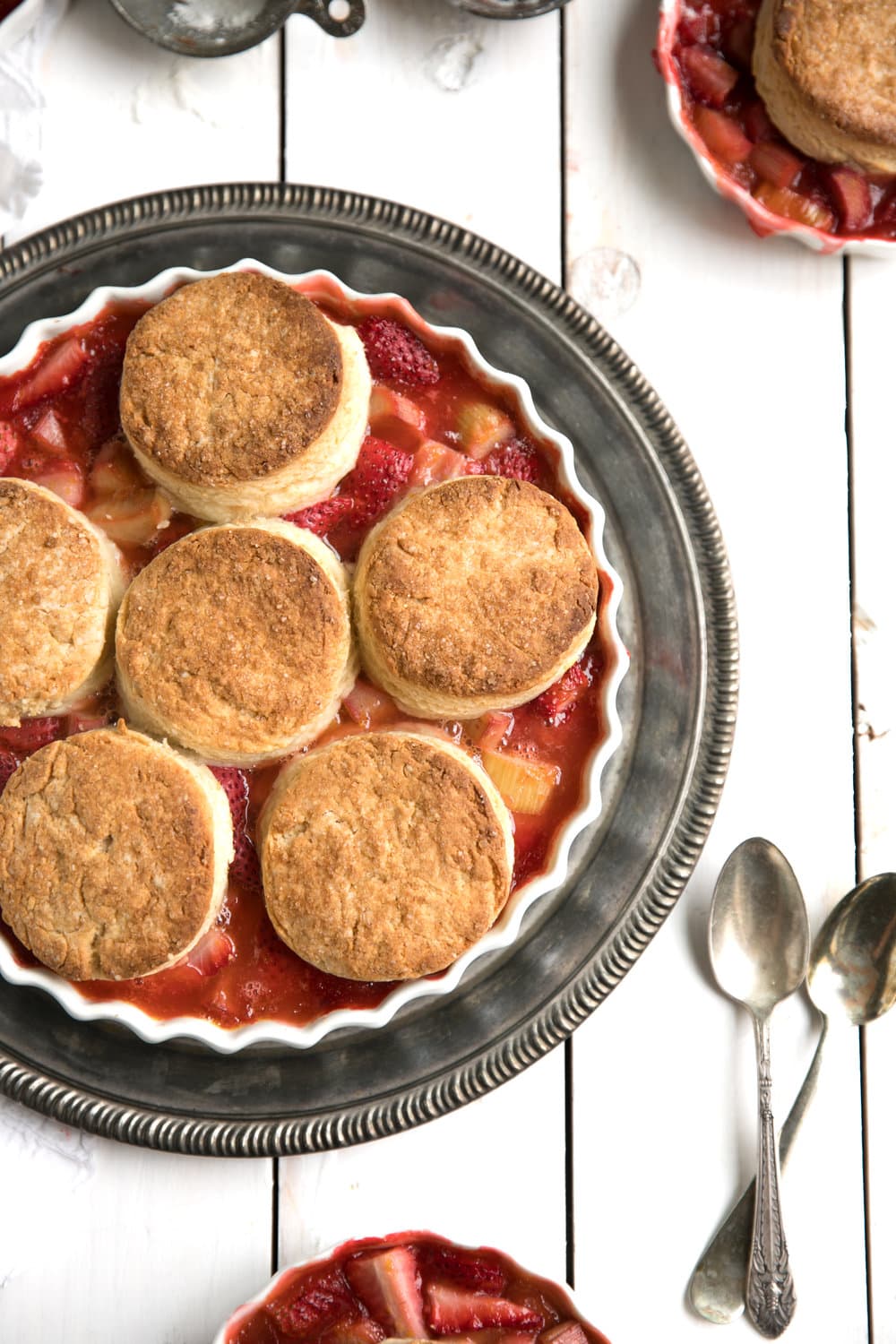 The last time I made a strawberry rhubarb pie I was not impressed. It was more than 7 years ago and my first time ever baking a pie. And it was under the guidance of my mother-in-law. Unlike present day, 7 years ago, she and I were strangers; each with the same goal to make one person happy- her son and my (then) boyfriend.
Visiting from the Bay Area, the hubs and I (who was just the bf at the time) were staying at her house for a couple nights. Knowing how much my husband loves all things strawberry rhubarb, I wanted to surprise him with his favorite. I came prepared with a recipe from the newly discovered blog Not Without Salt and really just needed a kitchen. And maybe some backup help if necessary.
But really, I just wanted to use her kitchen.
My dear, amazing, mother-in-law had a different idea. Blogs were a relatively new idea and, in her mind, the thought of following a recipe was just silly. While I fully agree with the recipe-following idea in most situations, I feel differently when applies to baking. I am less of a risk taker in the baking department; and 7 years ago? Oh man, I stuck to a recipe.
Long story short, before I knew it, the pie was baked and I played no part in the process.
My mother-in-law meant well. At this time I was deep in my studies for one class or another (probably biochem or ochem, or something equally exciting…seriously, though,I loved biochem) and she probably thought she was helping me. Because really, that's what my mother-in-law loves to do- help and take care of the people she loves in this world.
But I didn't know that yet.
I just saw the other woman in my boyfriend's life taking this special moment away from me.
wah, wah, wah, if I could go back and slap myself, I would.
So, I spent the rest of the day locked away bitter and upset and refused to ever make my husband pie again.
Nearly a decade later, there we were on Thursday a afternoon in my kitchen finding ourselves in nearly the same situation…but very very different.
This time I was doing the cooking and my mother-in-law was the toddler tamer 🙂 Using two recipes as guides, I made my own version of my husband's favorite dessert- a strawberry rhubarb cobbler with honey butter biscuits. And, unlike last time, this time I would be photographing and featuring this recipe on my very own food blog.
You guys, the world is crazy. Life is crazy. But, most important, this Strawberry Rhubarb Cobbler is crazy DELICIOUS.
So, we all ate our own mini strawberry rhubarb cobblers with ice cream after the wild child was asleep. This time all together and as happy as three people could be on a random Thursday evening.
Ok, now that I shared my life story with you, let me just say a few quick things about this awesomeness.
Please don't be intimidated by the word "homemade" before biscuits. Guys, these things are easy breezy. If I can pull them off, so can you.
Ice cream is always a good idea.
Strawberry rhubarb cobbler is way better than the pie version. just sayin'.
Strawberry Rhubarb Cobbler with Honey Butter Biscuits
The perfect balance of sweet strawberries and sour rhubarb topped with easy homemade honey butter biscuits in this springtime favorite Strawberry Rhubarb Cobbler.
Ingredients
FOR THE STRAWBERRY RHUBARB FILLING
2

pounds

Rhubarb

-

leafy ends removed and sliced into 1/2-inch pieces

2

pounds

Strawberries

-

hulled and quartered

1

cup

sugar

3

tablespoon

cornstarch

2

tablespoon

all-purpose flour

2

orange zested

2

orange juiced
FOR THE HONEY BUTTER BISCUITS
4

cups

all-purpose flour

3

teaspoon

baking powder

2

sticks

-

16 tablespoons cold salted butter, cut into small cubes

1

cup

buttermilk

½

cup

honey

2

tablespoon

butter

Coarse sugar for sprinkling

-

optional, but recommended
Instructions
Preheat oven to 375 degrees F.

In a large bowl gently mix together the rhubarb and strawberries with the sugar, cornstarch, all-purpose flour, orange zest and orange juice. Allow the mixture to macerate for 30 minutes, stirring every 5-10 minutes.

Meanwhile, prepare your casserole dish or baking dish by spraying with non-stick cooking spray. I used exactly what you see in the images and it fit perfectly- one 10.5 inch tart pan and three 5-inch mini tart dishes. If you do not have these exact dishes, that's ok, any casserole or baking dish will work. As long as the filling isn't overflowing and there is a little room for the mixture to bubble up, you'll be good 🙂

To prepare the biscuits, whisk together the flour and baking powder in a large bowl. Use a fork, pastry blender or your hands and add the butter pieces to the flour, mixing until course crumbles remain and all the butter has been broken up into the flour (I find it easiest to use my hands here). In a separate smaller bowl, whisk together the buttermilk with the honey and pour onto the flour. Use a rubber spatula to stir until just combined (or even just half way combined), resisting the urge to overmix.

Lay a big sheet of parchment paper out on a flat surface and, using your hands, gather the dough (it will be sticky) and transfer it to the parchment. Press the dough out until it is approximately 1/2-1 inch thick (it doesn't have to be perfect) and then cut the dough into rounds using a biscuit cutter.

Assemble the cobbler by transferring the filling to prepared baking dish. Top with desired number of biscuits*. Brush the biscuits with melted butter and sprinkle with sugar (not required but recommended).

Bake for approximately 25-35 minutes, or until biscuits are browned and filling has thickened and bubbling.

Remove from the oven and allow to cool for 5-10 minutes before serving.

Serve with vanilla ice cream or fresh whipped cream.

Enjoy!
Jessica's Notes
This is a double batch of biscuits. If you don't feel the need for extra, simply half the recipe. If you want extra biscuits (why not?) bake them on a lined baking sheet at 375 degrees for approximately 25 minutes.
Nutritional Information
Calories:
551
kcal
|
Carbohydrates:
112
g
|
Protein:
12
g
|
Fat:
6
g
|
Saturated Fat:
3
g
|
Cholesterol:
28
mg
|
Sodium:
86
mg
|
Potassium:
848
mg
|
Fiber:
6
g
|
Sugar:
52
g
|
Vitamin A:
320
IU
|
Vitamin C:
87.5
mg
|
Calcium:
234
mg
|
Iron:
4.1
mg
(Nutrition information provided is an estimate and will vary based on cooking methods and specific brands of ingredients used.)
If you love this Strawberry Rhubarb Cobbler, you may also enjoy-
No Churn Blackberry and Chocolate Chunk Ice Cream
Dark Cocoa Buttermilk Sheet Cake with Cream Cheese Frosting
Chocolate Covered Cheesecake Bites
Recipe inspired by Half Baked Harvest and The Pioneer Woman