Berry Chia Muffins are family-friendly and healthy!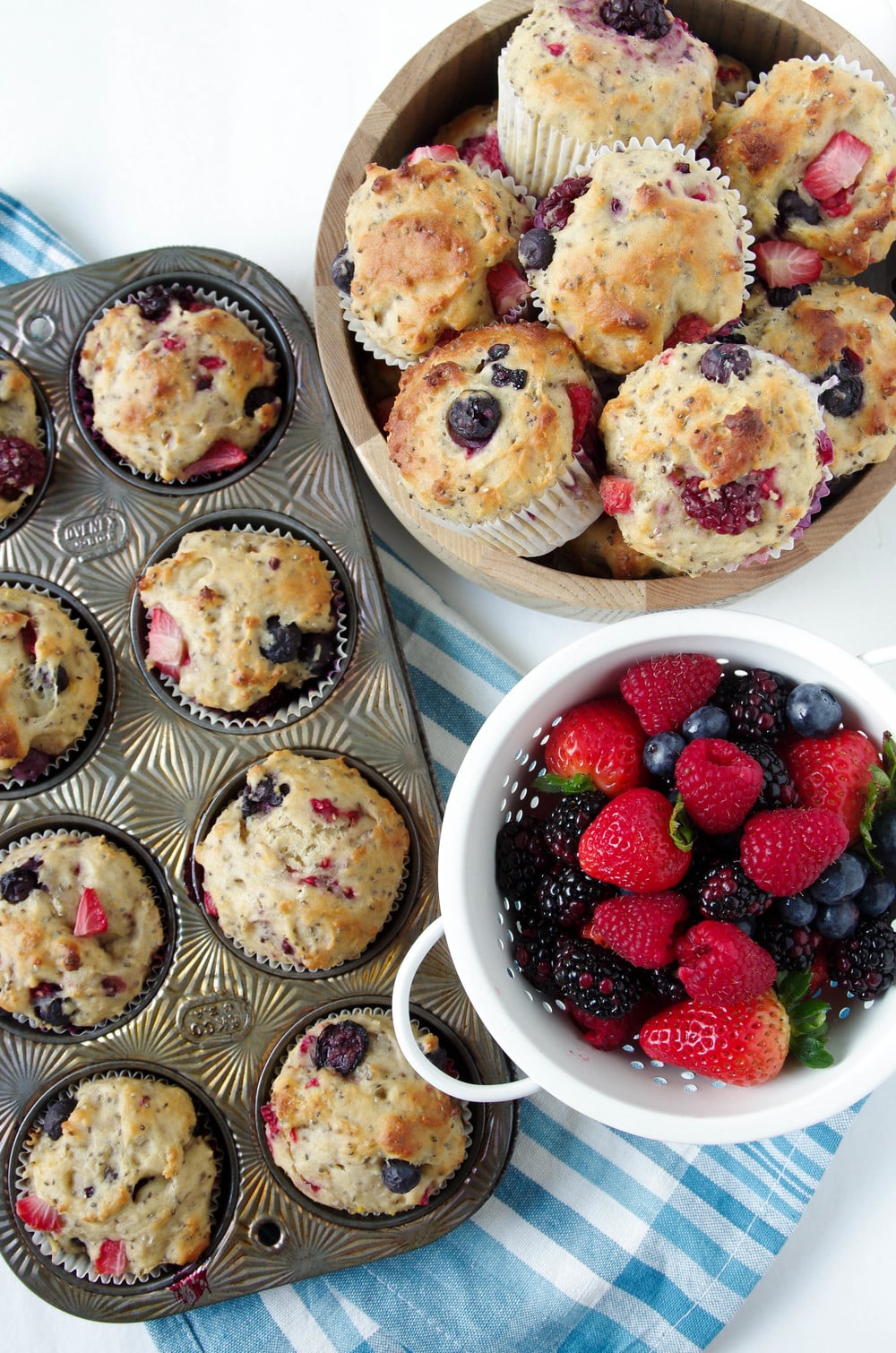 For the third afternoon in a row my child has fallen asleep for nap time with no problems at all. Five, maybe ten minutes, and he's out. I hate to admit when my husband is right, but this is one very very rare occasion where my husband offers some truly valuable parenting advice.
Shhhhh, don't tell him.
What was his advice? Don't read to him in his bed.
Let me explain this logic since we are both big advocates of reading to our child. Octavian sleeps with blackout curtains. As the name suggests, these curtains leave his room super dark and impossible to read a book without a reading light. Well, even the lowest reading light is too much stimulation for Octavian because after about five minutes he's up and ready to play. So now, rather than read to him in bed, we read downstairs first and head upstairs for sleep, and only sleep (of course when it's not sleepy time, he can play and be crazy in his room). Octavian now knows that when we get in bed, the lights are off and stay off. I lay with him and sing his favorite songs until he falls asleep. This is different from our previous bedtime routine when he was sleeping in a crib, and definitely not how I thought bedtime would go, but it works.
So, for now, I win.
To thank my husband, I baked these super berry chia muffins. My husband loves healthy food, especially healthy food that doesn't taste like it's trying too hard to be healthy. Add sweet strawberries, blueberries, blackberries and raspberries to that healthy food and he is one happy man.
Aside from the many many berries that make up these muffins, these golden beauties are also packed full of protein packed yogurt and healthy chia seeds.
The biggest win of all? Octavian LOVES these muffins which is a true miracle as my child is getting pickier and pickier with each passing day.
Super Berry Chia Muffins
Berry Chia Muffins are family freindly and healthy!
Instructions
Preheat oven to 375 degrees F. Spray muffin pan with nonstick cooking spray and set aside.

In a medium bowl whisk the egg and sugar for a minute or two. Add the yogurt, oil, honey, vanilla, cinnamon, lemon juice and lemon zest and whisk until fully combined.

In a separate large mixing bowl, whisk together the flour, baking powder, baking soda and salt.

Pour the wet ingredients into the dry ingredients and mix until most of the flour has been incorporated. If you see a little that isn't yet mixed, that's ok. Do not overmix or you will have very dense, not so fluffy muffins. The batter will be thick.

With a rubber spatula, gently fold in the chia seeds and berries.

Carefully spoon batter into muffin pan and bake for approximately 15 minutes, or until the tops are golden and a toothpick inserted into the center comes out clean.
Nutritional Information
Calories:
153
kcal
|
Carbohydrates:
24
g
|
Protein:
3
g
|
Fat:
4
g
|
Saturated Fat:
0
g
|
Cholesterol:
14
mg
|
Sodium:
93
mg
|
Potassium:
142
mg
|
Fiber:
1
g
|
Sugar:
10
g
|
Vitamin A:
30
IU
|
Vitamin C:
2.3
mg
|
Calcium:
81
mg
|
Iron:
1
mg
(Nutrition information provided is an estimate and will vary based on cooking methods and specific brands of ingredients used.)