Amazingly easy and delicious, these Blueberry Crumble Bars are the perfect amount of buttery crumble and sweet filling and are easily prepared year-round with fresh or frozen blueberries.
Buttery toppings and sweet pie fillings are a favorite dessert here at The Forked Spoon, including Easy Lemon Bars, Strawberry Rhubarb Cobbler with Honey Butter Biscuits, and Blackberry and Blueberry Galette with Rosemary.
I keep going back and forth on how to properly start a post for the most amazing Blueberry Crumble Bars you will ever make in your whole life. Do I start with small talk first? Or just start talking about the food?
Since most (translation- all) of you are here for the food, let's start there.
And with the basics.
Ingredients in these Easy Blueberry Crumb Bars
Sugar
Baking powder
All-purpose flour
Cold butter
Eggs
Lemons- juice, and zest
BLUEBERRIES
Cornstarch
Definitely not diet food, but that's ok. I mean, we're not here for diet food today.
As far as flour goes, I used all-purpose flour. It's like the white bread of flours and my personal preference for this particular recipe. That said, I suspect that these blueberry crumble bars would taste fantastic if you mixed the all-purpose flour with whole wheat flour or almond flour.

Fresh or Frozen Blueberries?
I have two answers to this question-
If you want the best, fresh, ripe blueberry flavor, then fresh in-season blueberries are ideal. You can't gauge taste and ripeness when you purchase frozen blueberries. That said, it's not always berry season.
Cost. Big, beautiful, ripe, in-season berries are expensive. So, unless they grow wild in your backyard, making a single sheet of Blueberry Crumble Bars or a couple of blueberry pies is expensive. For me, a person who already spends way too much on groceries, I am willing to compromise a teeny bit of flavor and use frozen berries.
So just in case you didn't catch that, these Blueberry Crumble Bars shown here are made with frozen blueberries.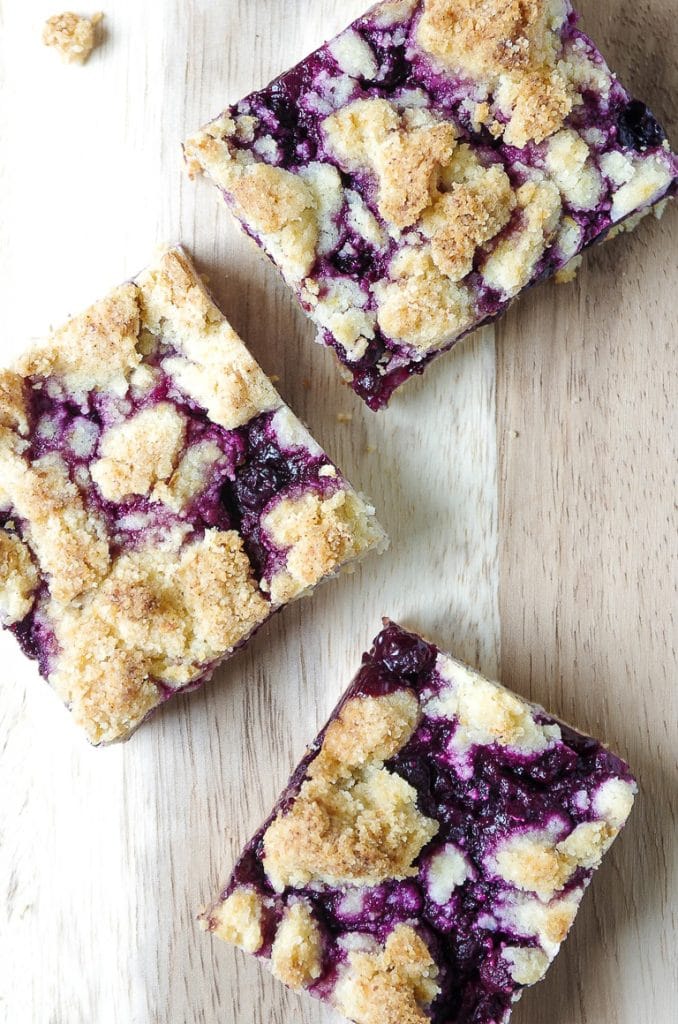 Why these Blueberry Crumble Bars are so Fantastic
They are, quite honestly, the easiest thing you will ever make.
They are super versatile. Meaning what exactly? If you don't have blueberries, use what you've got on hand or whatever's in season.
Blueberry crumb bars are easy to store and transport, which makes them the perfect party or potluck treat!
There is no need for fancy equipment when making these blueberry pie bars.
Which reminds me…pie is a thing of the past thanks to these beauties.
If you do plan to share your beautiful blueberry crumb bars with friends and family and you plan to get all prepped and ready ahead of time, I HIGHLY recommend hiding them from everyone in your house. Actually, in the case of these bars, it's just better to triple the recipe because unless you hate delicious blueberry pie, there is no way you'll be able to keep these from even yourself.
And I know this because this happened to me.
Usually, it's the husband's fault when treats go missing, but in the case of these sweet and buttery bars, well… that was all me.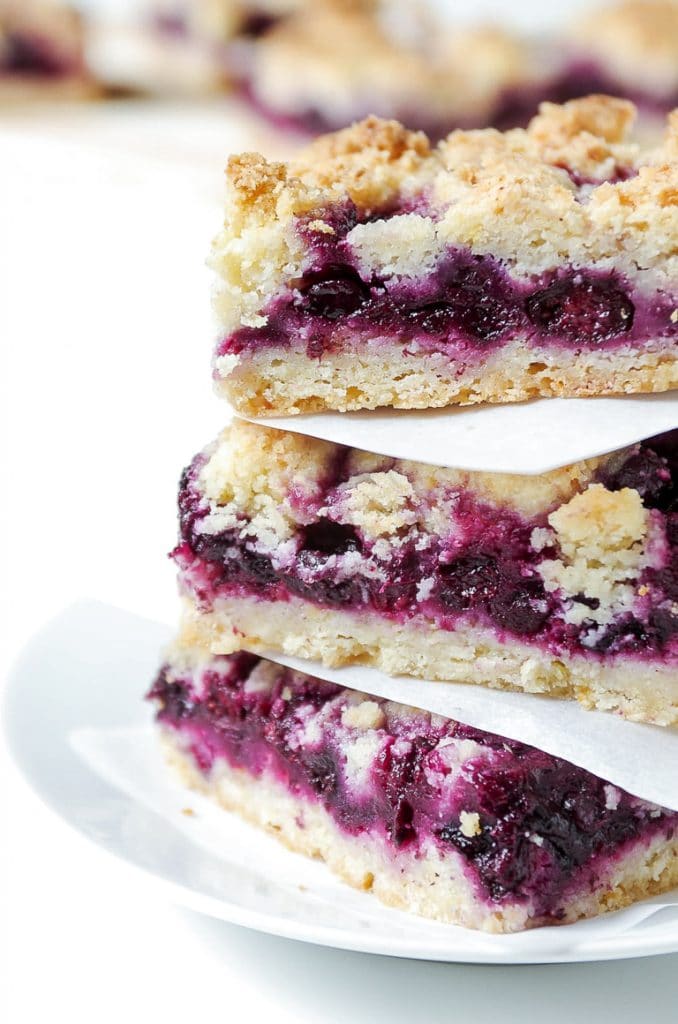 Equipment needed to make these Easy Blueberry Crumb Bars
Are you ready for this super long list?
Mixing bowls
Parchment paper
A 9×13-inch pan. I used this 9 x 13-inch pan and love love love it. Yes, the glue is a pain in the you-know-what to remove, but it does eventually come off.
If you love these bars, you may also enjoy
Blueberry Scones with Lemon Glaze
>FIND MORE DESSERT RECIPES HERE<<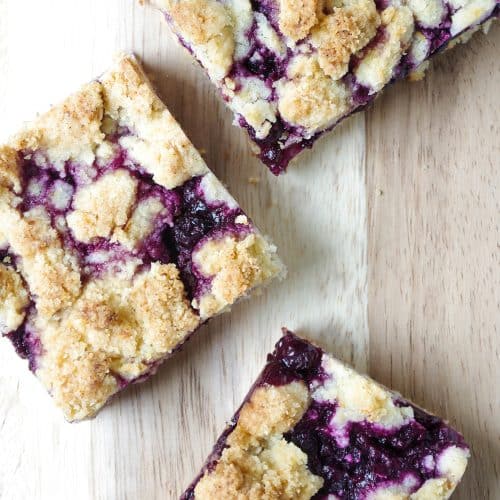 Blueberry Crumble Bars
Amazingly easy and delicious, these Blueberry Crumble Bars are the perfect amount of buttery crumble and sweet filling and are easily prepared year-round with fresh or frozen blueberries.
Instructions
Preheat oven to 375 degrees F and grease a 9x13 inch baking pan (I also lined my pan with parchment paper for easy transfer and cutting).

In a large bowl, mix together the 3 cups of flour, 1 cup of sugar and baking powder. Mix in salt and lemon zest. Using a large fork or pastry cutter, blend the butter and egg into the flour (you could also do this is a food processor, but be careful to slowly pulse until just incorporated). The dough will be very crumbly. Transfer half the dough to your prepared pan and pat firmly until crust is uniform.

In a separate bowl, stir together the 1/2 cup sugar, cornstarch, and lemon juice. Mix in the blueberries. Transfer the blueberry mixture over the top of the prepared crust. Finally, crumble remaining dough over the top of the berry layer.

Bake in preheated oven for approximately 45 minutes, or until top is slightly brown. Remove from the oven and allow bars to cool completely before cutting into squares, or, better yet, store in the refrigerator for a few hours before serving (it makes slicing a breeze and, in my opinion, they are best cold).
Nutritional Information
Calories:
195
kcal
|
Carbohydrates:
29
g
|
Protein:
2
g
|
Fat:
8
g
|
Saturated Fat:
4
g
|
Cholesterol:
27
mg
|
Sodium:
53
mg
|
Potassium:
68
mg
|
Fiber:
1
g
|
Sugar:
15
g
|
Vitamin A:
265
IU
|
Vitamin C:
4.6
mg
|
Calcium:
17
mg
|
Iron:
0.9
mg
(Nutrition information provided is an estimate and will vary based on cooking methods and specific brands of ingredients used.)