Arroz Caldo is a comforting and delicious Filipino chicken and rice porridge made by cooking glutinous rice in homemade chicken stock until thick and creamy. Seasoned with fresh aromatics like garlic and ginger and garnished with toasted garlic, hard-boiled eggs, and scallions, Arroz Caldo is a classic comfort food promised to warm you from the inside out.
What is Arroz Caldo?
Arroz caldo, or Aroskaldo, is a type of Filipino rice and chicken porridge, or gruel. Although the name for this hearty rice dish is derived from the Spanish word arroz ("rice") and caldo ("broth"), its origins come from the congee introduced by Chinese-Filipino migrants.
Arroz caldo is a type of lugaw, the Filipino version of Congee.
Lugaw, a generic term to describe any rice gruel or porridge served throughout the Philippines includes a variety of dishes and ranges from sweet to savory.
Arroz caldo is a type of savory lugaw made with glutinous rice cooked in water and chicken broth and heavily infused with onions, garlic, ginger, and fish sauce. A popular breakfast food, arroz caldo is most often served in individual serving bowls with a variety of toppings including hard-boiled eggs, chopped scallions, toasted garlic, and calamansi (the Philippine lime).
Ingredients in Chicken Arroz Caldo
Glutinous rice
Medium-grain white rice
Chicken
Water
Vegetable oil
Fresh garlic
Fresh ginger
Onion
Fish sauce
Green onions
Hard-boiled eggs
What type of rice should you use?
While traditional arroz caldo recipes use glutinous rice, you are free to use most types of white rice (do not use enriched rice or minute rice). In this recipe, I used 1 cup of glutinous rice (labeled as "sushi rice" on most US packaging here in the states) and 1 cup of medium-grain Calrose rice. It's important to note that shorter grained rice will require more cooking liquid when compared to long-grain rice like jasmine or basmati rice. For example, if you make this recipe using only Jasmine rice, start with 12 cups of cooking liquid rather than 16 cups.
Can I use store-bought chicken broth and shredded rotisserie chicken?
Absolutely. Feel free to use leftover rotisserie chicken, shredded chicken breasts or chicken thighs, homemade stock, or store-bought stuff. The great thing about making your own, however, is that it is much more affordable (especially when we're talking about such large quantities of chicken broth). If you do purchase store-bought chicken stock, purchase reduced-sodium as you don't want to end up with an overly salty pot of porridge.
I don't like fish sauce – do I have to add it?
The fish sauce is optional, however it is one ingredient that makes arroz caldo unique from many of the other congee recipes. If you choose not to add fish sauce, season with additional salt, to taste.
I've had arroz caldo before and it was yellow – why isn't this recipe?
Many arroz caldo recipes are a characteristic yellow color due to the addition of kasubha (or safflower), saffron, or turmeric. Safflower is the most common addition. I did not have any safflower or saffron on hand at the time of making this recipe and I did not wish to compromise by adding turmeric.
Can I use powdered ginger and garlic?
Well, yes. But don't.
How to Make Arroz Caldo (Filipino Chicken Rice Porridge)
You are going to need a very large pot to make this recipe as it makes a generous amount of this rice soup.
1. Soak your rice.
Yep, you want to do this. Try to give it at least an hour. 30 minutes is better than nothing. Add the rice to a large bowl filled with plenty of cold water – there's no need to cover or refrigerate.
2. Prepare the chicken and chicken stock.
Now, the best thing about this is that you will be making homemade chicken stock and poaching your chicken at the same time. It takes approximately 45-60 minutes, so the same amount of time that rice needs to soak.
Simply transfer your chicken (whole or chopped into pieces) to a large pot. Fill with at least 16 cups of water and bring to a boil. Reduce heat and simmer, covered, for about an hour, or until the chicken is cooked through. Once the chicken is fully cooked, remove to a plate to cool and leave the homemade broth in the pot until ready to use. Once the chicken is cool enough to handle shred or chop into small pieces.
This step may be done up to 2 days ahead of time.
3. Toast the sliced garlic.
Slice approximately 5-6 large garlic cloves. This garlic isn't going directly into the arroz caldo, but will instead be used as a garnish on top, so again, this may also be done ahead of time.
Heat the vegetable oil (canola oil, peanut oil, or sunflower oil) in a large pot or Dutch oven (you will be using this pot to cook your arroz caldo, so make sure it's a big one). Add the sliced garlic and toast until golden brown. Remove to a plate lined with paper towels.
4. Start the arroz caldo – sauté the aromatics.
In the same pot used to toast the sliced garlic, add the diced onion and cook over medium heat for about 5 minutes. Then add the fresh garlic and ginger, cooking for an additional minute or two.
5. Toast the rice and add fish sauce.
Rinse and drain your rice really well. Add the rice to the aromatics and toast for 2-3 minutes. Don't forget to stir often as the rice likes to burn to the bottom of the pot if it just sits there. Stir in the fish sauce.
6. Cook.
Add at least 12-15 cups of homemade chicken broth and mix well to combine with the rice and aromatics. Bring to a boil over high heat, then immediately reduce heat to a simmer. Cover your pot with a lid half-way (to prevent the arroz caldo from overflowing out the sides). Stir occasionally for approximately 30-45 minutes, or until thickened. Add additional liquid to thin, or continue cooking to thicken.
Optional– add half or all of the shredded chicken directly to the pot now or save half (or all) to use as a garnish.
7. Garnish and Serve.
Ladle generous spoonfuls of hot Arroz Caldo among bowls and garnish with your favorite toppings and condiments including,
hard-boiled eggs
chopped green onions
toasted garlic
ground black pepper
shredded chicken
Storing and Reheating
As it cools, your pot of arroz caldo will continue to thicken as the grains of rice continue to soak up any excess water or broth. This is normal, just as noodles would soak up the additional liquid in chicken soup.
To store leftovers, transfer to a large container with a tight-fitting lid. Keep stored in the refrigerator until ready to enjoy again, up to 3-4 days.
To reheat, simply place the desired amount of arroz cald in a bowl or saucepot with a small amount of boiling water and reheat in the microwave or stovetop until heated through.
More Rice Recipes,
Thai Mango Sticky Rice Recipe (Khao Niaow Ma Muang)
Easy Dirty Rice Recipe (Cajun Rice)
Easy Fried Rice Recipe; How to Make Perfect Fried Rice
Easy Spanish Rice Recipe (Saffron Rice)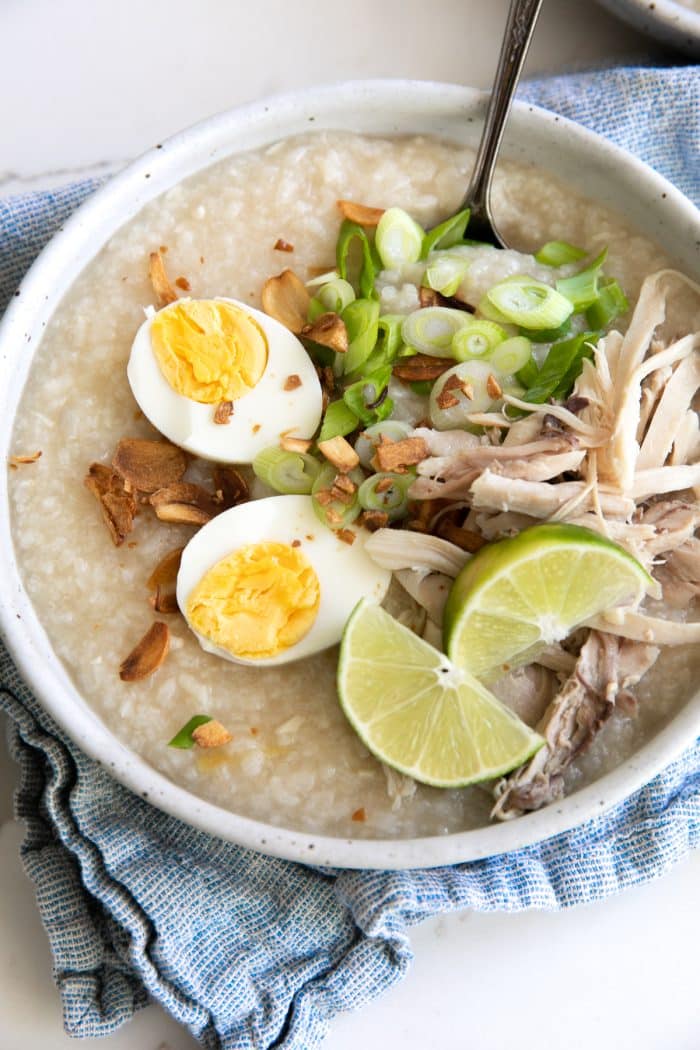 Arroz Caldo Recipe (Filipino Chicken and Rice Porridge)
For best results, use short-grain glutinous sticky rice (often labeled "sushi rice" here in the US) or medium-grain white Calrose rice. Despite its name, "glutinous rice" is naturally gluten-free.
Ingredients
1

cup

glutinous rice

-

(such as sushi rice)

1

cup

medium-grain Calrose rice

-

(may substitute with Jasmine rice)

1

(4-5 pound)

whole chicken

16

cups

water

4

tablespoon

vegetable oil

12

cloves

garlic -

(see notes)

2

medium

onions

-

minced

5

cm piece

fresh ginger

-

peeled and julienned

3

tablespoon

fish sauce -

plus more to taste

4

scallions

-

(approximately 1 cup) chopped

8

hard-boiled eggs

-

peeled and halved

lime wedges

-

to garnish, if desired
Instructions
Soak the rice. Transfer both the uncooked glutinous sticky rice and the medium-grain rice (Calrose or Jasmine rice) to a large bowl and cover with cold water. Set aside to soak.

Prepare chicken stock. Transfer the chicken (whole or chopped into smaller pieces) to a large stockpot and fill with at least 12-15 cups of water, or enough water that the chicken is covered. Bring to a boil over medium-high heat. Once boiling, reduce heat to a simmer. Allow the chicken to cook for approximately 45-60 minutes, or until the thickest part of the chicken registers 160 degrees F with a digital meat thermometer (as the chicken simmers, use a large slotted spoon to skim any frothy scum from the surface). Once the chicken is cooked through, remove to a clean plate to cool. Leave the homemade chicken stock behind in the pot.

Fry the sliced garlic. After the chicken has been simmering for approximately 30-45 minutes, thinly slice 5-6 garlic cloves. Heat the vegetable oil (canola oil, peanut oil, or sunflower oil are all great options) in a large saucepan or Dutch oven over medium-high heat. Add the garlic and toast until golden brown. Use a slotted spoon to remove and transfer to a plate lined with paper towels to drain.

Sauté the aromatics. Return your saucepan or Dutch oven (with any leftover oil) to medium heat. Add the diced onions and cook, stirring occasionally, for 5-6 minutes, or until softened and translucent. Add the minced garlic and julienned ginger. Mix well to combine. Cook, stirring continuously, for 1-2 minutes, or until fragrant. Season with a pinch of salt.

Toast the rice and add the fish sauce. Rinse and drain the rice really well. Transfer the uncooked rice to the pot with the onions, garlic, and ginger. Toast the rice for 2-3 minutes, stirring often to prevent the rice from sticking or burning. Stir in the fish sauce, mixing well to combine.

Cook. Add approximately 16 cups of your homemade chicken broth to the pot (yes, you will need a large pot). Mix thoroughly to combine and bring to a boil. Once boiling, reduce heat to medium-low, and half-way cover your pot with a lid. Simmer, stirring occasionally, for 30-40 minutes, or until the rice has thickened and taken on a creamy consistency. Thin with additional chicken broth or water, as needed.

Shred the chicken. As the porridge cooks, shred your chicken, saving as much or as little skin as you'd like, and discarding all bones. You may add the chicken directly to the cooking rice, or divide among bowls.

Garnish and serve. Ladle generous spoonfuls of hot Arroz Caldo among bowls and garnish with hard-boiled eggs, chopped green onions, fried garlic, ground black pepper, and shredded chicken.
Jessica's Notes
Fish sauce may or may not be gluten-free. Always check the label if you're using a new product. If you prefer not to use fish sauce or you don't have any handy, substitute with salt, to taste.
I used a total of 12 cloves of garlic in this recipe - 6 were thinly sliced and toasted in oil while the other 6 were minced and added as an aromatic.
The chicken and homemade chicken broth may be made up to 2 days in advance. I recommend shredded your chicken while it is still warm, however, as it is considerably more effort once it is cold.
You may also make homemade broth using a mix of bone-in skin-on chicken thighs and legs. You may also include chicken breasts, but try not to simmer chicken breasts for longer than 30 minutes as they will start to dry out. For the best-tasting broth, include at least half bone-in skin-on chicken.
Nutritional Information
Calories:
554
kcal
|
Carbohydrates:
48
g
|
Protein:
29
g
|
Fat:
27
g
|
Saturated Fat:
11
g
|
Cholesterol:
258
mg
|
Sodium:
687
mg
|
Potassium:
377
mg
|
Fiber:
2
g
|
Sugar:
2
g
|
Vitamin A:
453
IU
|
Vitamin C:
6
mg
|
Calcium:
74
mg
|
Iron:
3
mg
(Nutrition information provided is an estimate and will vary based on cooking methods and specific brands of ingredients used.)