This is a sponsored conversation written by me and on behalf of 7UP®. The opinions and text are all mine.
Cinnamon liqueur, bourbon, tart cherry juice, fresh orange wedges and sweet bubbly 7UP mix together to make this Orange and cherry 7up spritzer; a delicious holiday cocktail guaranteed to warm you from the inside out.
The holidays are a pretty magical time of year. I use the term "magical" loosely here because this can mean many things to many people.
Some people start counting down for Christmas in July, while others subconsciously block out the date until it's Christmas Eve and they realize no gifts have been purchased or grocery shopping done. Some people buy all the presents and some people buy one. Then there are those people turn their house into a giant glowing fire hazard, while others string one set of twinkle lights in the bush and call it a day.
I have been on both sides of the holiday magic spectrum and I'm happy to say I think I finally fall somewhere in the middle.
That said, the holidays are still 100% my absolute favorite time of year. What's the most magical part of the holidays for you?
My list includes
twinkle lights. gosh, they're just the prettiest.
food.
playing Santa for my 4 year old and spoiling him rotten because he's an only child.
the smells- cinnamon, pine, turkey, pie, fresh cold air.
family- as long as the drama is checked at the door.
snow- yes, I am one of those that love the snow; but that's probably because I live in CA.
But really, it's the food and cocktails. Ok, and buying all the toys for my child (why is that, by the way? I'm always so good, but the holidays make me a crazy person).
Being a food blogger, I am frequently asked by friends and family to bring one or two of my favorite dishes and always asked to think up a festive and fun cocktail to enjoy either on Christmas day or any other day surrounding the holiday. Feeding my people is my favorite thing in the whole entire world, so naturally, I oblige.
When thinking about this year's cocktail I really wanted to make something that not only looked like a holiday drink but tasted like one, too.
So, I circled back to my list of things that make the holiday magical. Cinnamon immediately stood out (along with twinkle lights, but more on that in a bit).
The holiday season wouldn't be possible without cinnamon. Just think about all the foods, drinks and smells that are created thanks to this spice. Tons, you guys, tons.
With cinnamon in mind, I knew I needed cinnamon liqueur. Easy. Now, what to mix with the cinnamon liqueur? Bourbon. Bourbon reminds me of the winter months. I don't know why. It's a darker, richer alcohol; unlike gin, tequila or vodka which remind me of warmer summer months. Since I wanted the drink to be red, I knew I needed to add a red juice. Pomegranate or cherry juice were both great options, but I already had some tart cherry juice in my pantry, so I went with the cherry. Oranges and Christmas were practically made for each other (plus, orange and bourbon is a winning combo) so I decided to garnish each glass with an orange wedge.
If you're wondering when the sparkling part of the drink comes in, don't worry, I've saved the best for last.
The best part being 7UP.
7UP is one of my all-time forever favorite drink mixers. It's bubbly and sweet, but not overpowering. This way, I can still enjoy all the flavors of the cocktail, like cinnamon and cherry, rather than just sugar.
7UP has always been my favorite lemon-lime flavored soda and really does make the perfect holiday cocktail mixer.
Drink mixers aside, I have been drinking 7UP for almost as long as I can remember. In fact, some of my strongest memories drinking 7UP were when I was little and my mom would bring me a bottle of 7UP with saltine crackers whenever I would get sick. It's something I still do to this day (even when I was in Nepal trekking Annapurna and I became sick, 7UP was the only thing that made me feel better).
And, since I just love twinkle lights so much, well, you can see where my inspiration came from for this shoot 🙂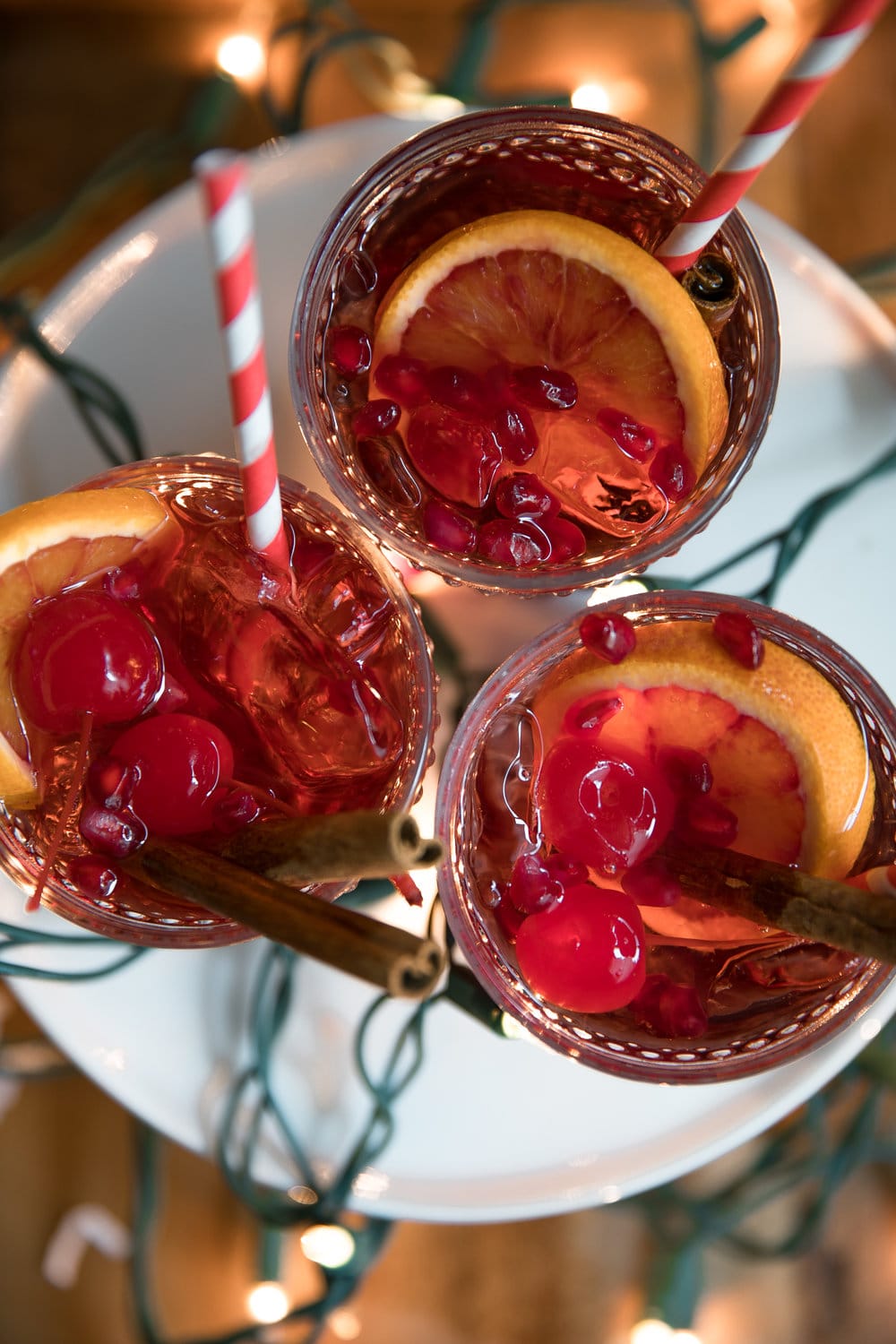 Cinnamon Spice Cherry 7UP® Spritzer
Cinnamon liqueur, bourbon, tart cherry juice, fresh orange wedges and sweet bubbly 7UP mix together to make this Orange and Cherry 7UP Spritzer; a delicious holiday cocktail guaranteed to warm you from the inside out.
Ingredients
Ice

2

fluid ounces

bourbon

½

fluid ounce

cinnamon liqueur

2

fluid ounces

tart cherry juice

4

fluid ounces

7UP

2

maraschino cherries

1

orange slice

1

tablespoon

pomegranate arils

1

cinnamon stick
Instructions
Fill glass with ice. Add the bourbon, cinnamon liqueur and cherry juice. Stir to combine (cinnamon sticks work really well here). Fill with 7UP and garnish with maraschino cherries, an orange slice, pomegranate arils and cinnamon stick.
Nutritional Information
Calories:
295
kcal
|
Carbohydrates:
35
g
|
Sodium:
18
mg
|
Potassium:
132
mg
|
Fiber:
3
g
|
Sugar:
29
g
|
Vitamin C:
8.4
mg
|
Calcium:
35
mg
|
Iron:
0.6
mg
(Nutrition information provided is an estimate and will vary based on cooking methods and specific brands of ingredients used.)
If you love this Cherry 7UP Spritzer, you may also enjoy-
Holiday Peppermint White Russian
Blackberry Cranberry Moscow Mule
Autumn Rosé Sangria with Apples and Pomegranates
Please drink responsibly! And only consume alcohol if you're above the age of 21!