This post is sponsored by Pernod Ricard, but the content and opinions expressed here are my own.
Delicious any time of year, this Cranberry Apple Cider Moscow Mule is light, crisp and refreshing; perfect for a night in with friends or a large family gathering.
Despite being of legal drinking age for a decade now, I have only recently started making my own cocktails at home. I was always so impressed when I would go to friends or families houses and they would offer me something to drink other than beer, wine or water.
Don't get me wrong, I am a fan of each of those (after all, I NEED one of those to survive); however, there is something very grown up about being served a drink in a cup or glass that actually matches the drink being served.
Very unlike my situation where I was still offering wine in a mason jar until last year.
As a result, I started to experiment making my very own mixed drinks and slowly started to collect the proper cups to match. For some, this may not seem important, however, as someone that entertains often and is no longer just out of college, it was time.
Over the past year I have learned this-
I don't need to know how to make all the drinks (after all, I'm not a bar)
Good quality alcohol is worth it
I prefer less sugary beverages
Copper cups are my favorite (they're sturdy and don't break)
The Moscow Mule is probably one of my fav drinks
There are a TON of different cocktails and mixed drinks out there. I am not a professional mixologist, I don't need to know how to make every single one. Instead, I'm learning slowly and, one day if I ever get time, I'll take a mixology class (not because I want to serve the best cocktails, but because making drinks is actually super fun!)
Another benefit of being a grown up is the ability to purchase quality alcohol. A decade ago my priority may have (absolutely) been much different. Now that I'll be providing the cocktails, and likely just enjoying one (rather than ten) drinks, I want to make sure I'm serving the good stuff.
And then there's the copper cups…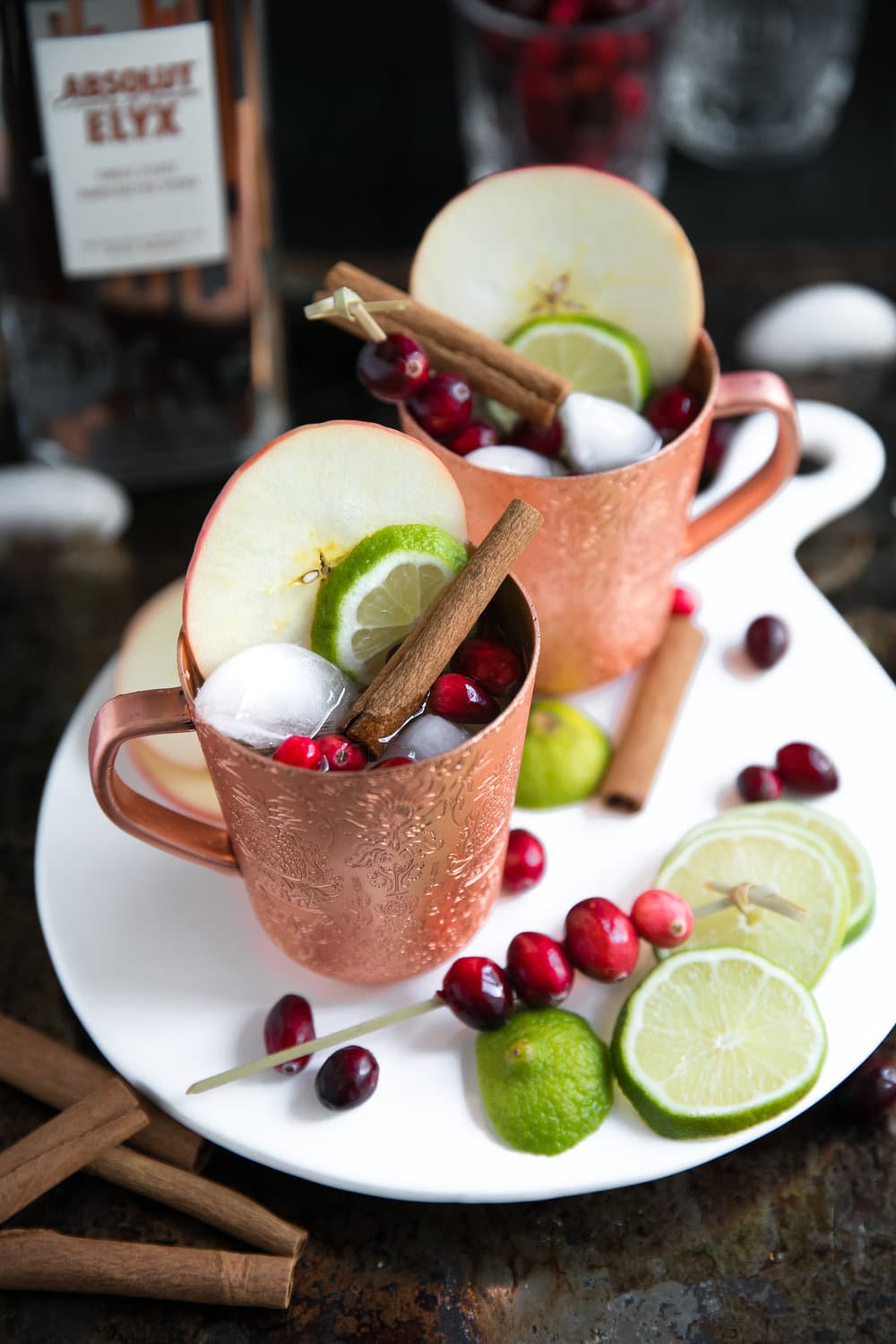 Copper mugs and cups are my fav! Why? Well, for starters, they look fancy without having to try hard. Second, they're sturdy. I don't feel like I'm holding a flimsy cup that will easily get knocked over. And finally, they don't break.
You guys, THEY DON'T BREAK!
This is a seriously amazing thing when I always have at least one child (plus a dog) running around the house looking for things to knock over and destroy. Besides, a spilled drink is bad enough, but glass? No thank you!
In fact, I love them so much that that's what everyone is getting for Christmas this year. Along with a recipe for my favorite Moscow Mule and a bottle of Vodka.
Wow, I just made all our lives so much easier…
Cranberry Apple Cider Moscow Mule
Ingredients
2

oz

Absolut Elyx Vodka

4

oz

ginger beer

4

oz

hard apple cider

1/2

lime

,

juiced

1

apple

,

sliced

fresh cranberries

,

for garnish

cinnamon sticks

,

for stirring
Instructions
Add 3-4 cubes of ice to an Absolut Copper Mule Cup. Carefully add the Absolut Elyx Vodka, ginger beer, hard apple cider and lime juice. Mix well with a stirring rod or cinnamon stick.

Garnish with fresh sliced apples and cranberries.

Nutrition
Nutrition Facts
Cranberry Apple Cider Moscow Mule
Amount Per Serving
Calories 221
% Daily Value*
Sodium 13mg 1%
Potassium 114mg 3%
Total Carbohydrates 22g 7%
* Percent Daily Values are based on a 2000 calorie diet.
Cheers!
Have fun and please drink responsibly!