Elderflower Grapefruit Gin and Tonic is a combination of sweet grapefruit juice, fragrant rosemary, and elderflower liqueur added to the classic gin and tonic resulting in a fresh, refreshing, and beautiful year-round cocktail.
Learn how to make a classic gin and tonic here.
Gin and tonics have always been my favorite. Come to think of it, I have so many memories sipping on gin and tonics (I swear I do not have a problem…and no I am not in denial) that the drink has transpired into a feeling of nostalgia. Does that even make sense? I mean, in my head it does? Anyway, let's just say this drink brings me way back.
Just like the song Ice Ice Baby is doing right now…
WHAT MAKES THE GIN AND TONIC SO GOOD?
It's stupid easy to make. What can I say, I'm lazy sometimes (most the time), and usually, when I'm ready for a cocktail I don't want to have to go through a million steps before I can actually start drinking.
Gin and tonics are light on the sugar. No, not sugar-free. However, compared to other cocktails, gin and tonics fall in the skinny range.
They're light and fresh…aka super refreshing.
I can drink a gin and tonic in the summer or winter. This cocktail does not discriminate.
What are your thoughts on the gin and tonic?
Recently, I was chatting with someone about my go-to cocktail and when I said that it was the gin and tonic they were a bit shocked. As if I was drinking an old person drink. So confusing, you guys. It's hard to keep up with these things. My takeaway? I drink what I like.
INGREDIENTS IN THIS ELDERFLOWER GRAPEFRUIT GIN AND TONIC
WHAT IS ELDERFLOWER LIQUEUR?
Have you ever heard of or seen an elderflower bush?
This delicate and aromatic liqueur is made from the pretty little white flowers that grow on the Elderflower bush. Often the blossoms are handpicked and the liqueur made without preservatives, so find a few favorite recipes and try to use this delightful beverage within 6 months.
WHAT DOES ELDERFLOWER LIQUEUR TASTE LIKE?
This is a tricky question to answer since I have a feeling everyone will have their own thoughts.
My thoughts, however, are that the taste is a little weird. But not a bad weird. A good weird (yes, this is possible).
It's almost like you're eating the smell of flowers. No, NOT like you're eating a bottle of nasty perfume or like you just walked into Bath and Body Works with your mouth wide open. THAT would be gross.
So, while it may taste a little like you're eating the smell of flowers, it's delightful and pleasant. Which, I realize, makes little sense, but actually makes all the sense.
Try it. You'll totally know what I'm talking about.
WHY ADD GRAPEFRUIT TO THIS GIN AND TONIC?
One (other) reason I love gin and tonics so much is thanks to their versatility. You really can do so many fun things to make a classic gin and tonic unique. Usually, gin and tonics use fresh limes as the citrus base. However, in the case of this Elderflower Grapefruit Gin and Tonic, I wanted to add a slightly sweeter citrus fruit. Grapefruit was the obvious choice.
Besides, grapefruit is just so darn pretty!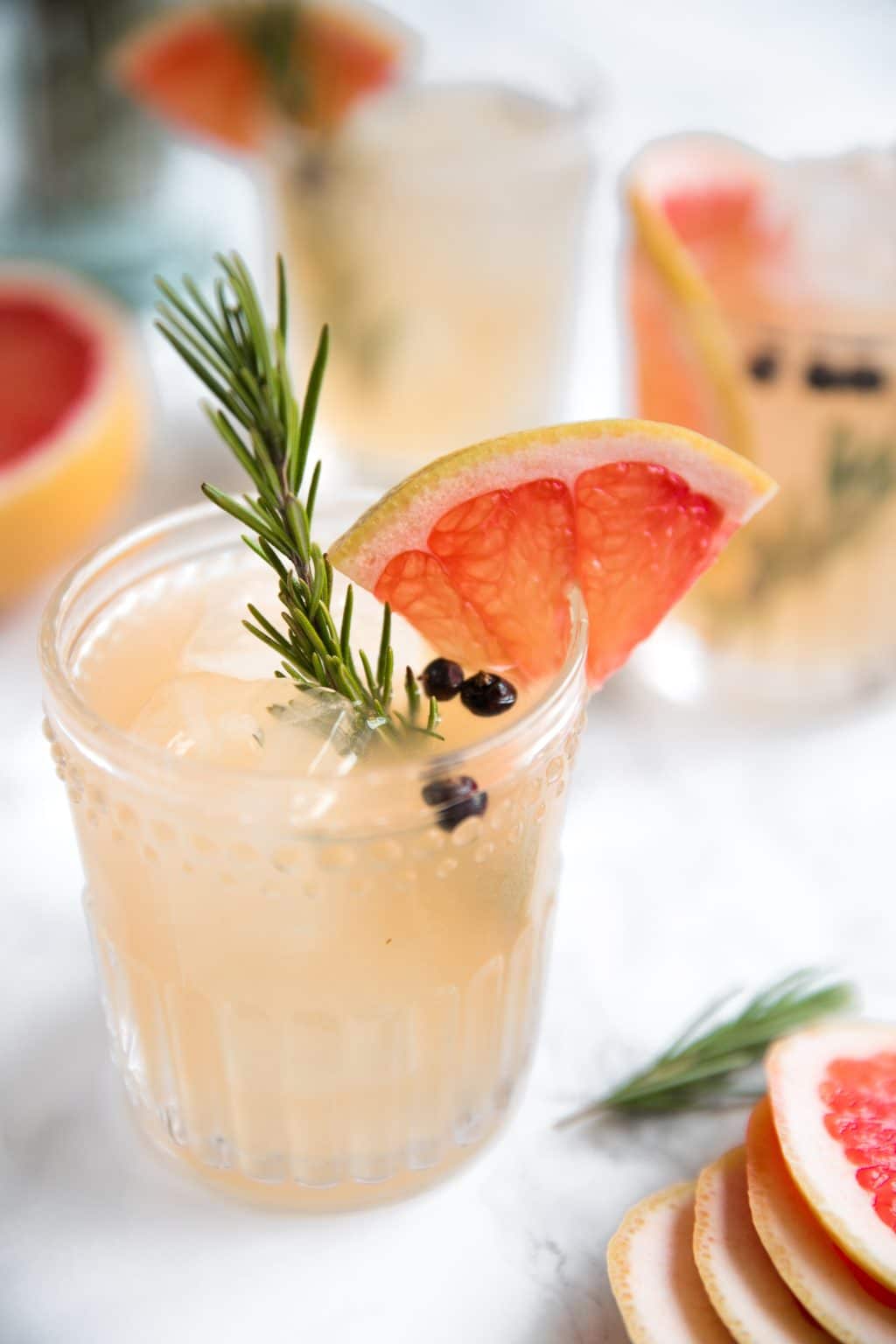 LOOKING FOR SOMETHING SPECIFIC? CLICK HERE TO SEARCH BY INGREDIENT
REMEMBER TO SUBSCRIBE TO THE FORKED SPOON NEWSLETTER FOR FREE AND RECEIVE WEEKLY RECIPE NOTIFICATIONS DELIVERED STRAIGHT TO YOUR INBOX!
Elderflower Grapefruit Gin and Tonic
Sweet pink grapefruit juice, fragrant rosemary, and Elderflower Liqueur are added to gin and tonic to make a fresh, refreshing, and fun Elderflower Grapefruit Gin and Tonic.
Ingredients
Ice

1 ½

fluid ounces

Gin

1

fluid ounce

Elderflower Liqueur

1

small sprig

fresh rosemary

1 ½

fluid ounces

fresh grapefruit juice

6

fluid ounces

Tonic water

Optional garnishes- juniper berries, rosemary, sliced grapefruit
Instructions
Fill a cocktail shaker with ice. Add the gin, Elderflower Liqueur, grapefruit juice and one small sprig of fresh rosemary. Seal the shaker and shake vigorously for at least 30 seconds.

Fill a highball glass or rocks glass (or mason jar) with ice. Pour the mixed Elderflower and gin over the ice and top off with tonic water. Garnish with juniper berries, fresh rosemary, or grapefruit wedges, if desired.
Nutritional Information
Calories:
279
kcal
|
Carbohydrates:
30
g
|
Sodium:
13
mg
|
Potassium:
68
mg
|
Sugar:
30
g
|
Vitamin C:
11.5
mg
|
Iron:
0.3
mg
(Nutrition information provided is an estimate and will vary based on cooking methods and specific brands of ingredients used.)