GINGER GARLIC NOODLE SOUP WITH BOK CHOY is a nutritious, comforting, and flu-fighting twenty-minute recipe made with homemade vegetarian broth, noodles, mushrooms, and baby bok choy. Easily make it your own by adding chicken, shrimp, spicy chilis, or other veggies.
The most popular recipe on my blog, this Bok Choy Soup remains a personal favorite thanks to its delicious simplicity. If you love simple soup and bok choy you may also enjoy Udon Noodle Soup with Bok Choy and Poached Egg.
Jump to Recipe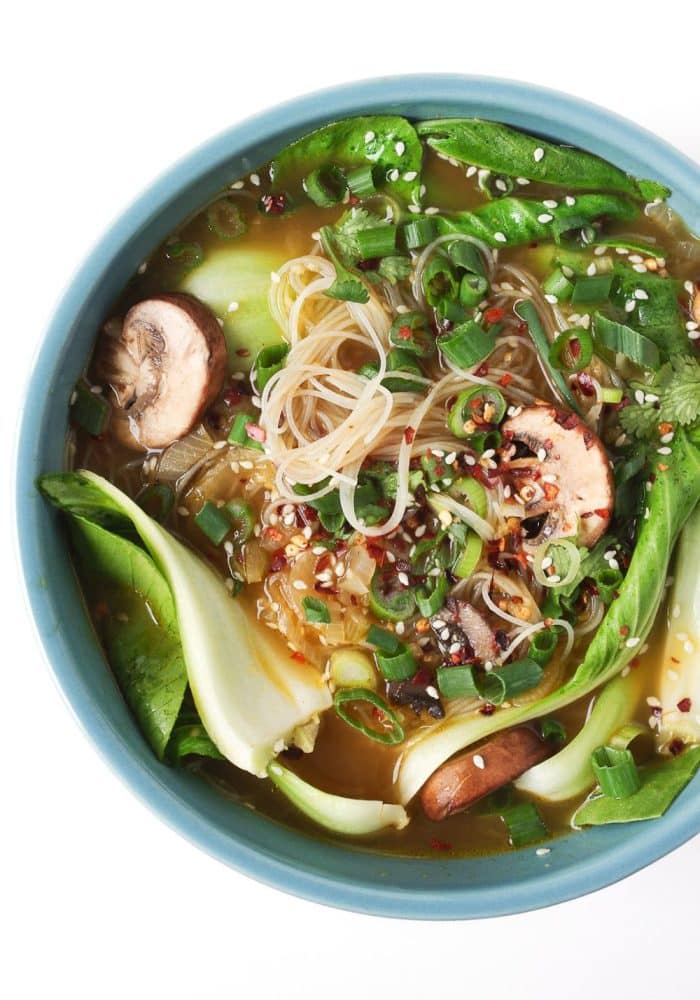 I have made a lot of soup in my life. Creamy soups, brothy soups, vegetable soups, and meaty soups. I've made them all. However, if I had to pick one soup to eat for the rest of my life it would be this Ginger Garlic Noodle Soup with Bok Choy.
Some of you may be wondering…why?
WHAT MAKES THIS GINGER GARLIC NOODLE SOUP WITH BOK CHOY SO GOOD?
The broth. As with most good soup, it's all about the broth. Often times (as with soups like Phở) achieving this wonderous broth can take HOURS. The broth in this Bok Choy Soup literally takes twenty minutes.  Thirty minutes tops.
 It tastes a lot like Phở. Ok, I know, this is basically the same as what I said above. But it deserves two points because it kinda blows in mind a little.
It's like chicken noodle soup…but better.
This Bok Choy Soup will fight your flu. Now, I can't claim that it will cure anything (I'm not a doctor), but things like ginger and garlic are there to help when you feel like crap.
INGREDIENTS IN THIS GINGER GARLIC NOODLE SOUP WITH BOK CHOY
Shallots and green onions (white AND green parts)
Ginger
Garlic
Chicken broth (or water to keep it vegetarian)
Soy sauce (or Tamari to keep it gluten-free)
Bok Choy
Mushrooms
Rice noodles
Star Anise
That's the basic overall list of what you need to make this awesome soup. You'll also need salt, pepper, and red chili flakes.
No idea where to buy star anise? Most major supermarkets sell this must-have spice, but just in case,
If you are one of those people who absolutely HATE star anise, simply substitute with cinnamon sticks. The flavor won't be quite the same, but it will still be delicious.
DIFFERENCE BETWEEN BOK CHOY AND BABY BOK CHOY
Since several of you have asked, I did a little research and this is what I have found.
Baby bok choy and Bok choy are basically the same thing.
The difference is that baby bok choy is harvested earlier producing smaller, more tender leaves.
This means that baby bok choy is much sweeter than bok choy and is often served directly in soups (oh HAY!) or even in salads.
Bok choy, on the other hand, is much heartier, perfect for longer cooking times as in stir-frys.
That said, this Ginger Garlic Noodle Soup with Bok Choy could technically handle either baby bok choy or bok choy. Just remember that bok choy will be slightly more bitter and less sweet.
WHAT READERS ARE SAYING ABOUT THIS GINGER GARLIC NOODLE SOUP WITH BOK CHOY
"This was a-mazing. A lot of flavour and very little prep and cooking time. Makes you feel warm inside. Tasty, delicious and satisfying, yet light. This seriously picked me up!" -Emma

"This really was delicious. I used ramen noodles from a pack, I think any kind of noodles, even angel hair pasta would work well. I love bok choy but don't usually buy it to fix just as a veggie. Now I have an excellent reason!" -Judith

"OMG! Thank you for this recipe, it is sooooo good! I couldn't help myself and had a second bowl." -Bonnie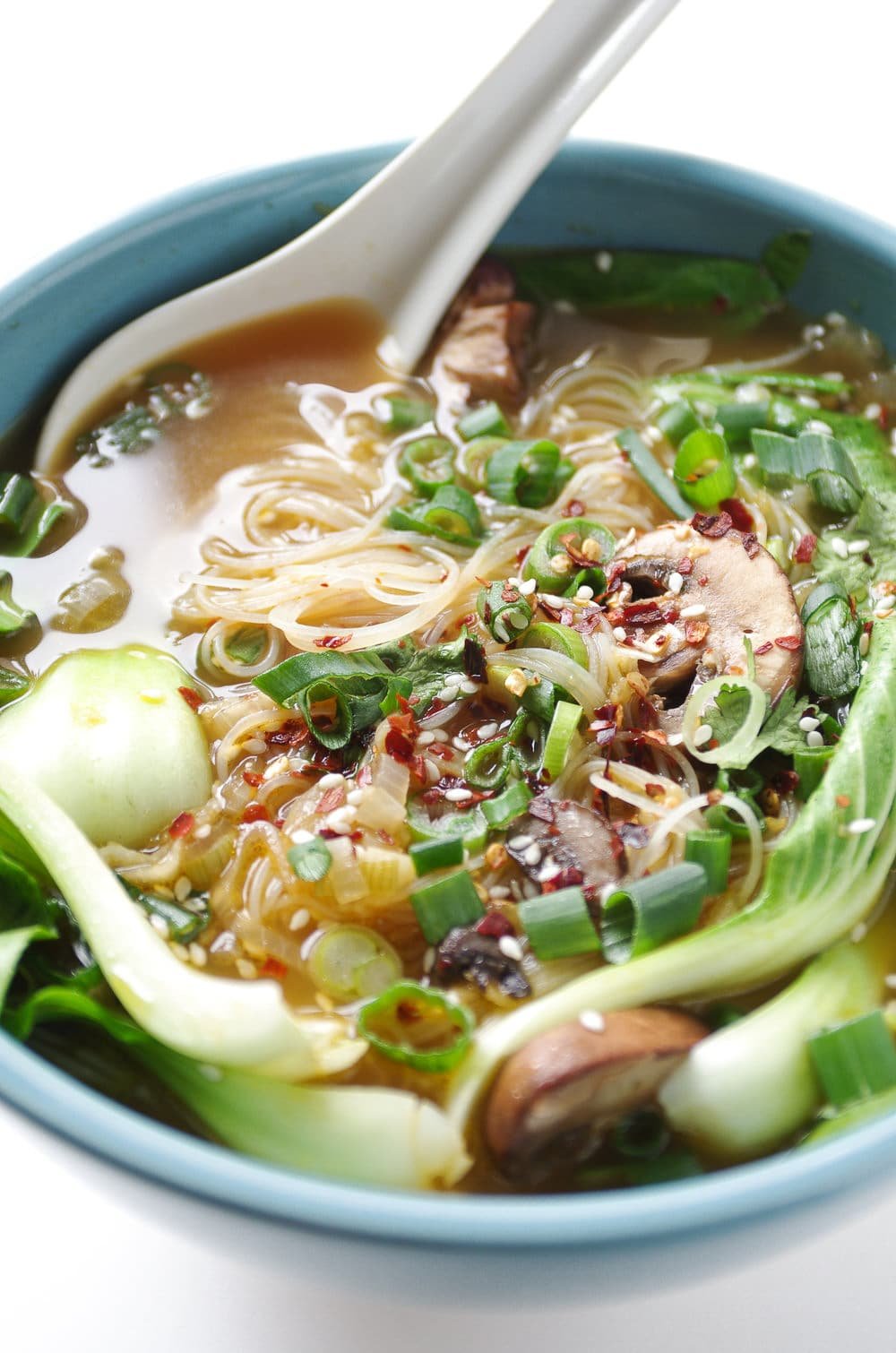 REMEMBER TO SUBSCRIBE TO THE FORKED SPOON NEWSLETTER FOR FREE AND RECEIVE WEEKLY RECIPE NOTIFICATIONS DELIVERED STRAIGHT TO YOUR INBOX!
If you try a recipe, please share it using the hashtag #theforkedspoon or by tagging @theforkedspoon on
INSTAGRAM
! Follow The Forked Spoon on
FACEBOOK
|
INSTAGRAM
|
PINTEREST
|
TWITTER
for all of the latest recipes and updates.
Ginger Garlic Noodle Soup with Bok Choy
Ginger Garlic Noodle Soup with Bok Choy is a nutritious, comforting, and flu-fighting twenty-minute recipe made with homemade vegetarian broth, noodles, mushrooms, and baby bok choy. Easily make it your own by adding chicken, shrimp, spicy chilis, or other veggies.
Course:
Main Course, Soup
Keyword:
bok choy soup, Ginger Garlic Soup, Noodle Soup, Soup with Bok Choy, Vegetarian Soup
Ingredients
1

tbsp

olive oil

3

shallots

diced

1

bunch

green onions

chopped and green and white parts divided

4

cloves

garlic

minced

2

tbsp

ginger

fresh, minced

5-6

cups

chicken broth

or water for vegetarian

2-3

whole

star anise

2

tbsp

soy sauce

10

ounces

crimini mushrooms

sliced

6

ounces

rice noodles

1-2

heads

bok choy

roughly chopped

Sesame seeds

for topping

Red pepper flakes

for topping
Instructions
Heat 1-2 tablespoons olive oil in a medium-sized stockpot over medium heat.

To the oil add the diced shallots and mix well. Cook over medium heat for 4-5 minutes, or until the shallots turn translucent and start to soften. Stir often.

Chop the end off of each green onion- dividing the white part from the green part. Chop and set aside the green part for topping. Meanwhile, finely chop the white part of each green onion.

Add the white part of the green onions, minced garlic, and ginger to the shallots and mix. Cook, stirring occasionally, for 1-2 minutes or until garlic and ginger is fragrant.

Carefully pour the chicken stock or water (or mix) to the pot and bring to a simmer. To the pot add the star anise and soy sauce. Cover and continue to simmer for 10 minutes.

Remove lid from the pot and carefully remove and discard each star anise from the soup.

Add the sliced mushrooms, rice noodles, and bok choy to the pot and simmer for 5-8 minutes, or until noodles and bok choy are tender. Season to taste.

Divide soup between bowls and garnish with sesame seeds, the green parts of green onions and red pepper flakes (if desired).
Recipe Video
Recipe Notes
Not everyone loves the taste of star anise. However, I find that it plays a crucial role in the flavor of the broth. That said, if you hate it or don't have any on hand, I have found cinnamon sticks to be a good substitute.
Need a little protein? Don't be shy about adding some chopped chicken or shrimp to the soup approximately 5 minutes before serving (assuming the chicken has been previously cooked).
Nutrition Facts
Ginger Garlic Noodle Soup with Bok Choy
Amount Per Serving
Calories 546
Calories from Fat 90
% Daily Value*
Total Fat 10g 15%
Sodium 3600mg 150%
Potassium 2438mg 70%
Total Carbohydrates 100g 33%
Protein 19g 38%
* Percent Daily Values are based on a 2000 calorie diet.
IF YOU LOVE THIS BOK CHOY SOUP, YOU MAY ALSO ENJOY THESE OTHER VEGETARIAN SOUP RECIPES-
Healthy Curried Kale and Cauliflower Turmeric Soup
Roasted Red Pepper and Tomato Soup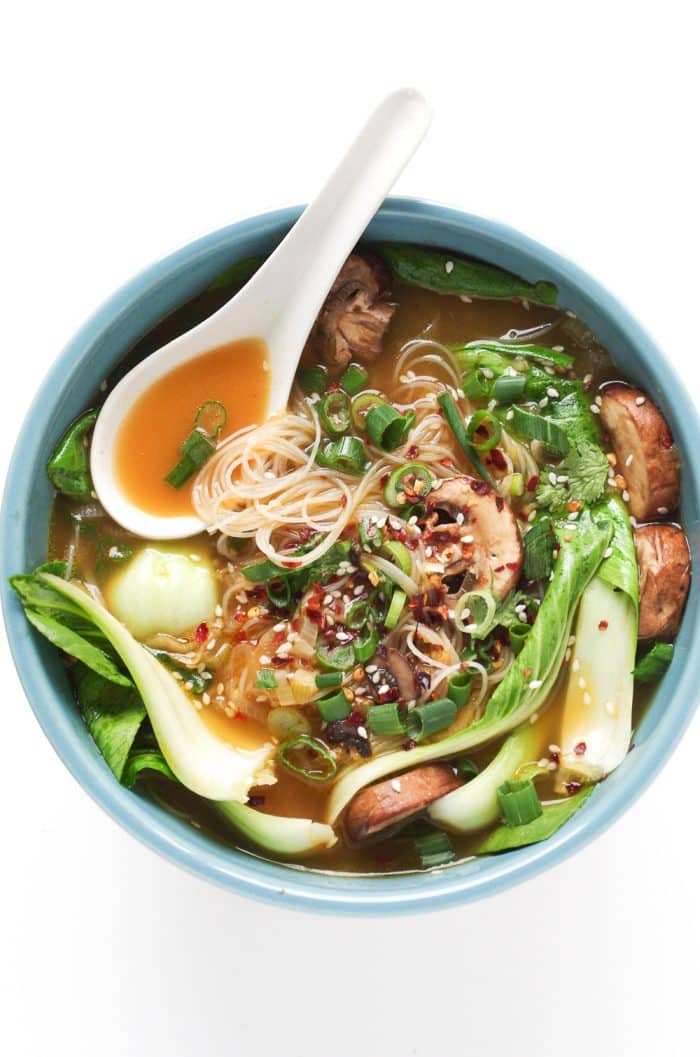 Originally posted on 01.29.2017
"It's a soup kind of weekend over at my house. Not because it's been rainy and cold; surprisingly, the weather has been quite the opposite. Yesterday was sunny, clear and warm. The perfect day for a long run outside with the dog while the two boys in my life spent the day fishing at a nearby lake.
My spirits, however, have been drowning. Even the sunshine hasn't helped this week. I am very familiar with this feeling; I have battled with depression in one form or another my entire life. But last week it caught me by surprise as I have absolutely nothing to feel down about.
At least I didn't until Saturday when I learned the news of my Grandfathers passing.
He was a good man and will be missed by so many. And although we did not see each other frequently, he in Iowa and I in California, when we did see each other, our conversations were substantial, uplifting, wise and full of love and respect (he and I did not always see eye-to-eye on politics or religion).
His death hit me hard.
So, yes, it's been a soup kind of weekend."