Few things are more comforting than a big pot of Homemade Chicken Noodle Soup. Made with homemade chicken broth and filled with healthy vegetables, shredded chicken, and loads of noodles, it's easy to enjoy this Chicken Noodle Soup Recipe all winter long!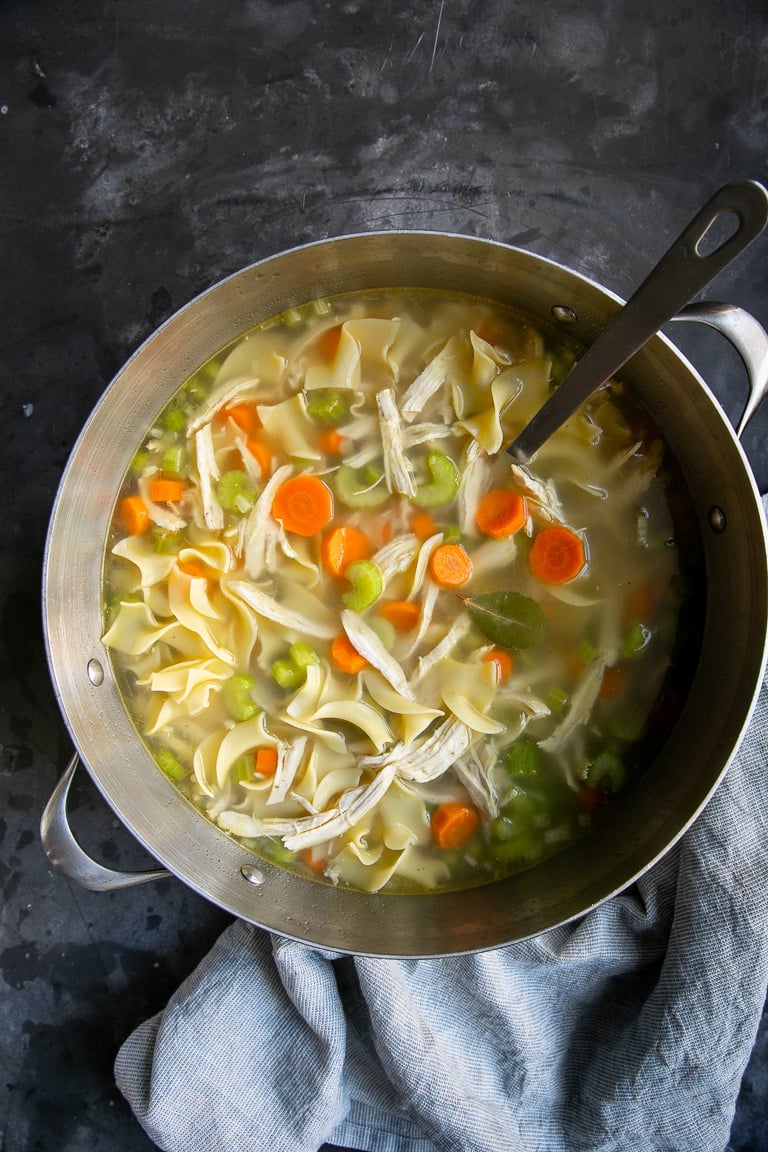 There are, quite literally, hundreds of different ways to make Chicken Noodle Soup. Like a big hug from mom (or grandma…or the dog), this is my version of the quintessential get well soon soup essential to surviving childhood…and the winter.
Chicken Noodle Soup Ingredients
Broth. Either homemade or store-bought, the key to any good Chicken Noodle Soup Recipe lies in the broth. Typically made from simmering chicken in water with fresh herbs or spices, traditional chicken broth for chicken noodle soup is clear and light.
Vegetables. Nearly every country has their own version of chicken noodle soup. As such, each version will look and taste a little different from the next. The most common vegetables, however, include a mixture of onion, celery, and carrots (also known as the mirepoix).
Herbs. Keep it simple or go wild, the herbs you choose to flavor your version of chicken noodle soup is entirely up to you. In this version, I left things super simple and only added a touch of fresh chopped parsley after the soup was finished cooking. Other popular herbs, dried or fresh, include oregano, rosemary, and thyme.
Noodles or other carbs. Egg noodles are the traditional noodle in American Chicken Noodle Soup as they have a higher egg to wheat ratio and, typically, hold up a little better in steaming bowls of hot chicken soup.
Chicken. Shredded or chopped, if you're preparing chicken soup I highly recommend adding some chicken.
How to make Chicken Noodle Soup
Good news, you guys! Making homemade chicken noodle soup is actually incredibly easy. Much more nutritious than the canned version, this chicken noodle soup recipe is made entirely from scratch.
Step 1. Make your chicken broth
Making homemade chicken stock can either be super easy or somewhat complex. The complex version, similar to making homemade bone broth, requires a whole lot of bones, blanching, roasting, and hours and hours of simmering. If you have the time, it's 100 percent worth the time and energy. However, if you're sick, or maybe you have a sick child who needs some soup right now, homemade bone broth just won't cut it.
Thankfully there's a super simple, still homemade chicken broth that takes just 45 minutes. The end result is a comforting broth and poached chicken perfect for shredding.
Gather the chicken you want to use to make the broth. Any chicken will work- breast, thigh, drumsticks, bone-in, skin-on- it's entirely up to you. I used 6 bone-in skinless chicken thighs and three chicken breasts for this recipe. I typically prefer white meat and less fatty broths. That said, I wanted a little dark meat and some fat. Find a balance that works for you.
Add the chicken to a large stockpot and cover with water. I listed that you should add 3 quarts of water, but really, just add enough water to fully submerge the chicken. You can always add additional water to the soup later if needed.
Add vegetable scraps if you have them. You'll notice that I have a few random pieces of carrot and celery in the pot below. Those were the scraps from the vegetables that I added to this chicken noodle soup that would have otherwise been tossed in the garbage.
Bring to a boil, cover, and simmer. Simmer for AT LEAST 30 minutes- 45 minutes to 1 hour is better.
Strain. You will need to strain the broth. To do this, remove the chicken pieces from the pot and set aside on a clean cutting board to cool. Grab a fine mesh strainer and strain broth into a large bowl or clean pot. Viola! Chicken broth ready for some chicken noodle soup.
Shred that chicken. As soon as the chicken is cool enough to handle, shred it or chop it up into small pieces. I prefer shredded chicken in my soup as I feel it has more surface area for the broth to absorb, but this is probably all part of my imagination.
What to serve with Chicken Noodle Soup
Buttered bread. Oh my word, is there really any other answer? Just big hunks of fresh buttered bread.
Cornbread. The sweetness from the cornbread is a nice contrast to the mellow chicken broth (with butter, of course).
Grilled cheese sandwich. I know, this is a tomato soup thing, but is it really?
Fluffy Biscuits. Again, along the same lines as the bread and cornbread. And yes, with butter.
Speaking of buttered bread and chicken noodle soup, my child who has never eaten ANY of the soups I have made, LOVED this soup. Maybe it's because he's getting older or maybe it's because I'm just that awesome (kidding!) whatever the reason, this is one soup recipe permanently stuck in my back pocket for all those sick, rainy days!
Can you freeze Homemade Chicken Noodle Soup?
Yes!
However, before you go and make three huge batches of this chicken noodle soup recipe and fill it with all the noodles, let me make a few recommendations so that your thawed soup will taste just as awesome as the original.
First and foremost, I do not recommend freezing this soup with the noodles. Cooked noodles, already on their way to soggy town, never freeze well. Unless, of course, you enjoy soggy, mushy pasta noodles. In that case, add all the noodles! But me personally? Thanks, but no thanks.
For best results, allow the soup (just the soup, not the noodles) to cool in the refrigerator completely before transferring to freezer-friendly containers or double-bag in freezer-friendly zip-lock bags. Remove most of the air, leaving just a small amount of space to allow the liquid to expand as it freezes.
To reheat, allow the soup to thaw in the fridge overnight, then transfer to a pot and cook until heated through. Once hot, decide if you want to add the pasta noodles directly to the soup or cook them separately.
But what about if you don't plan to freeze the leftovers? Enjoy within 5 days, thoroughly reheating each time.
If you try making this Homemade Chicken Noodle Soup Recipe, please leave me a comment and let me know! I always love to read your thoughts and feedback and would love to hear which vegetables you used to make this soup!
For more soup recipes check out,
DON'T FORGET TO PIN AND SHARE THIS EASY AND DELICIOUS CHICKEN NOODLE SOUP RECIPE TO ENJOY AND SERVE ALL WINTER LONG.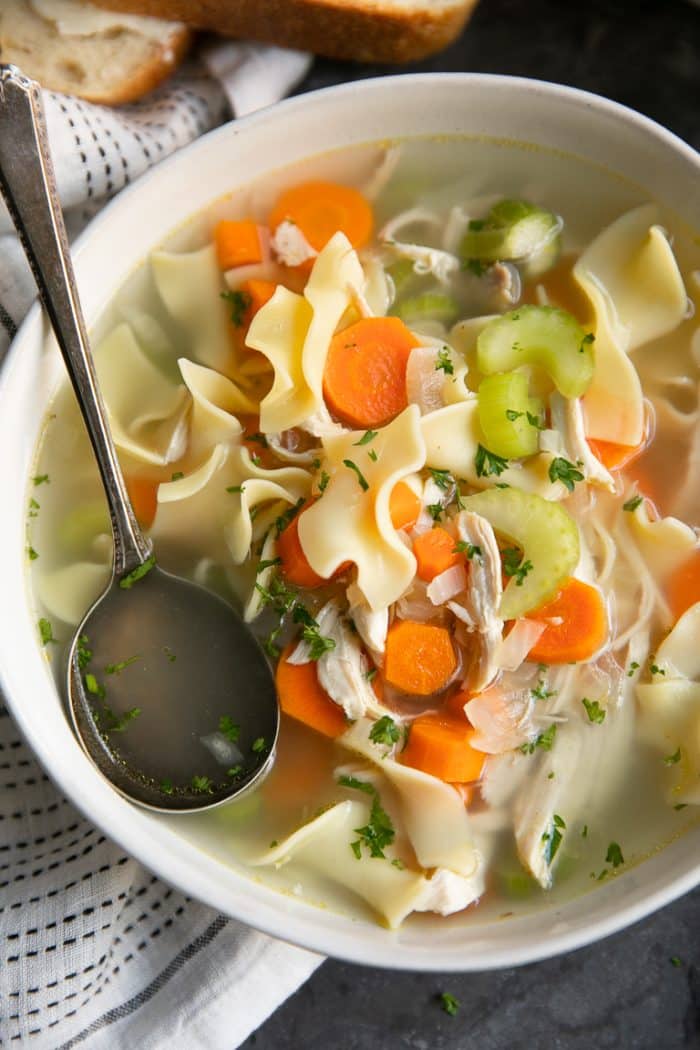 LOOKING FOR SOMETHING SPECIFIC? CLICK HERE TO SEARCH BY INGREDIENT
REMEMBER TO SUBSCRIBE TO THE FORKED SPOON NEWSLETTER FOR FREE AND RECEIVE WEEKLY RECIPE NOTIFICATIONS DELIVERED STRAIGHT TO YOUR INBOX!
If you try a recipe, please share it using the hashtag #theforkedspoon or by tagging @theforkedspoon on
INSTAGRAM
! Follow The Forked Spoon on
FACEBOOK
|
INSTAGRAM
|
PINTEREST
for all of the latest recipes and updates.
Homemade Chicken Noodle Soup Recipe
Few things are more comforting than a big pot of Homemade Chicken Noodle Soup. Made with homemade chicken broth and filled with healthy vegetables, shredded chicken, and loads of noodles, it's easy to enjoy this Chicken Noodle Soup Recipe winter long!
Ingredients
6

skinless chicken thighs

1.5

pounds

boneless skinless chicken breasts

3

quarts

water

1

tbsp

olive oil

2

yellow onions

(peeled and chopped)

5

large

carrots

(peeled and chopped)

3

stalks

celery

(chopped)

5

cloves

garlic

(minced)

2

tsp

salt

1

tsp

pepper

Juice from one lemon

2

bay leaves

12

ounces

wide egg noodles

(or other favorite noodles or pasta)

fresh chopped parsley

(to garnish)
Instructions
Prepare the broth. Add the chicken thighs and chicken breasts to a large stockpot. Add approximately 3 quarts of water to the pot and bring to a boil. Cover and reduce heat to low. Simmer for approximately 30-45 minutes.

Cook the vegetables. As the broth simmers, chop and cook the vegetables. Heat one tablespoon olive oil in a large pot or Dutch oven over medium heat. Add the onion and cook, stirring often, for 4-5 minutes or until the onions turn translucent. Add the carrots and celery to the onions and mix well to combine. Continue to cook over medium heat for 10-15 minutes, stirring often. In the last two minutes stir in the minced garlic, mixing well to combine.

Strain the broth. After the broth has finished simmering and the chicken has finished cooking, remove from heat. Carefully remove the chicken from the pot to a clean cutting board and strain the broth through a fine mesh strainer into the same pot as the vegetables. Shred the chicken.

Simmer the soup. Add the shredded chicken, salt, pepper, lemon juice, and bay leaves to the pot and return soup to a boil. Reduce heat to low and simmer for 30 minutes or until vegetables are fully cooked.

Cook the noodles. As the soup simmers bring a large pot of salted water to a boil and cook noodles according to package instructions. Drain, rinse and toss with olive oil. Set aside.

Serve. Add approximately 1 cup of prepared egg noodles to each bowl and ladle soup directly on top of the noodles. Garnish with fresh chopped parsley, if desired.
Jessica's Notes
Cut back on cook time and use store-bought chicken stock with shredded rotisserie chicken. Adjust seasoning as needed.
For a low carb version, serve this chicken noodle soup with spiralized zucchini instead of egg noodles.
Nutritional Information
Calories:
396
kcal
|
Carbohydrates:
34
g
|
Protein:
41
g
|
Fat:
9
g
|
Saturated Fat:
2
g
|
Cholesterol:
170
mg
|
Sodium:
802
mg
|
Potassium:
734
mg
|
Fiber:
2
g
|
Sugar:
2
g
|
Vitamin A:
1430
IU
|
Vitamin C:
4.4
mg
|
Calcium:
56
mg
|
Iron:
2
mg
(Nutrition information provided is an estimate and will vary based on cooking methods and specific brands of ingredients used.)