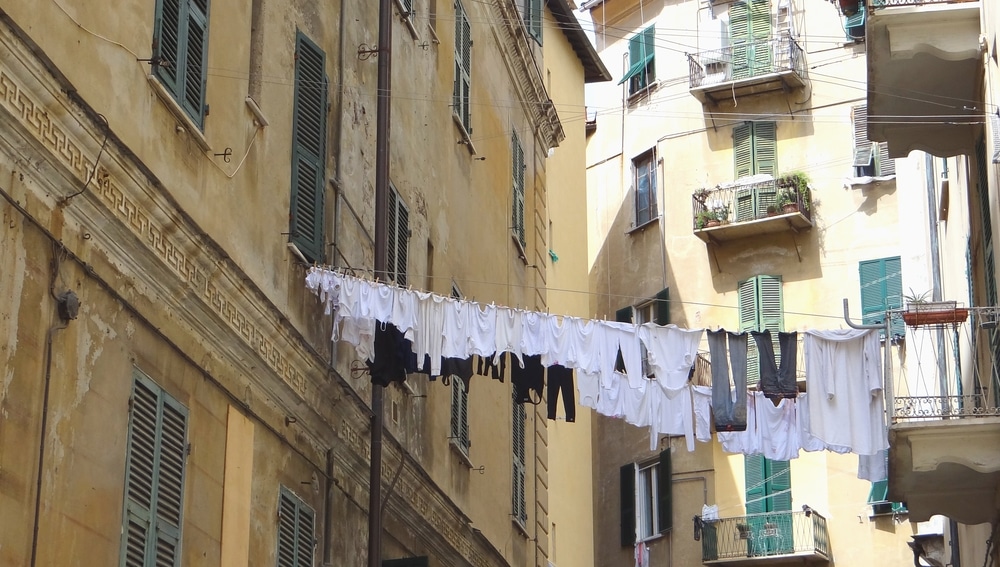 Kerrie and I arrived in La Spetzia after a short(ish) train ride from Verona. We arrived in the middle of the afternoon and trains into the five villages of Cinque Terre stopped at 6pm. Just like Verona, we picked a little hotel to stay at just outside of La Spetzia. However, unlike the unreliable bus system in Verona, getting a bus was easy- the only drawback was that it took 40 minutes to get from the train station in La Spetzia to where we were staying. Despite the time hassle of the bus, I was happy we stayed in this particular B&B. With just 3 rooms and communal bathrooms, it offered real-life Italian charm, plus it was run by the loveliest couple. Located in the hills outside of La Spetzia, we were fortunate enough to see a part of Italy not seen within the most popular tourist destinations (sadly, I did not take one photo of the hotel or surrounding area. It's amazing how, years later, my perspective on photography has changed).
After stopping in a little cafe for a coffee, we decided it would be best to head straight to the bus and hotel. After arriving, we thought it was time to eat a proper Italian meal. When we booked the hotel, it advertised that a pizza shop was just downstairs and was well-liked among the locals. My heart broke a little when we were told that it was closed that week. At that point in or trip, all I wanted was a glass (or 3) of wine and lots and lots of pizza. The sweet couple explained that there was only one other place to eat at nearby, and offered to give us a ride (because, again, we didn't want to pay the 10 euro for a taxi there). I can't remember the name of the restaurant, but it was a very local place with real Italian food. I ordered a beef ragu pasta, and even now, years later, the noodles were the best I had ever tried. It was delicious. My biggest regret (always) was not ordering more.
The next morning we woke up as early as possible to catch a bus to the train. We had one day to see all five villages of Cinque Terre. You might wonder- why didn't we just stay in one of the villages? Two reasons- Nothing was available, and if there was, it was WAY out of our budget. Accommodation in Europe, especially in high season, is very expensive.
The train system between the villages is super convenient and easy to navigate (even for me!). Trains run regularly and the length between villages is quite short. If you want to play a more active role in your transportation, hiking between villages is also an option. Kerrie and I hopped on the first train we could traveking from La Spetzia to Monterosso al Mare. Since time was of the essence, we didn't linger long in Monterosso. We walked along the long beach, and just kept walking. If we had allocated more time to Cinque Terre, I would have spent the entire afternoon sitting on that beach, but alas, I did not. I enjoyed the view, but was eager to move on to some of the villages further south. Kerrie and I decided it would be fun to hike…