This Fall Sangria Recipe is a delicious and refreshing white wine sangria made with autumn's most iconic flavors including sweet apple, pear, orange, and cinnamon.
Fall Apple Cider Sangria
Before the start of every season, I like to make a list of recipes I want to test and share here at The Forked Spoon. I often come to a conclusion about which recipes I'm actually going to make thanks to a mix of research, trends (yes, there's such a thing), reader suggestions, and lastly, what sounds good to me.
Sangria, I have come to learn, are one of my favorite types of cocktails to share here, so it only makes sense that I usher in the start of this beautiful fall season with an equally beautiful (and super delicious) fall sangria made with all the very best fall flavors and fall fruits.
I should warn you that this pear and apple fall sangria is hands down the best sangria I have ever made.
All the others – including my Halloween sangria, classic sangria, blueberry sangria, and rosé sangria – are amazing, but there is something extra special about the fall flavors in this one.
Ingredients
Fresh Pears
Fresh Apples
Fresh Oranges
White wine
Pear liqueur
Hard apple cider
Cinnamon sticks
Fresh rosemary
Basically, it's made with alcohol and fresh fruit that's been soaked in alcohol.
In other words, it's the perfect addition to your next Thanksgiving, Friendsgiving, or any other holiday party.
You're welcome.
How to Make Fall Sangria
Making sangria is EASY! That's actually one of my favorite parts about this amazing fruit and wine-based Spanish drink, it takes just five minutes to prepare and there are no fancy or complicated steps involved. All you need is some seasonal fruit, wine, and a little bit of brandy or liqueur.
Gather a large pitcher plus ingredients.
Chop fruit and transfer to the pitcher.
Add the alcohol and cinnamon sticks.
Give it a good stir.
Refrigerate for approximately one hour to chill.
Fill glasses with ice and use a large wooden spoon to scoop fruit from the pitcher. Fill glasses with the sangria.
Garnish with a sprig of fresh rosemary, if desired.
What is Pear Liqueur and What Are Possible Substitutions?
So now that we know how to make this autumn sangria, and we know the ingredients it takes to get the job done, how many of you are wondering where to get the pear liqueur or if it's even necessary?
Great questions!
First off, when I originally planned to make this fall cocktail I had not planned on using pear liqueur. However, off to the market and to the liqueur aisle I went. I was planning to purchase brandy…or whiskey. I was undecided. Anyway, I was stopped in my tracks when I saw the tall skinny bottle of Pear Liqueur made by Clear Creek Distillery.
I know that sangria recipes love a good liqueur so I didn't think twice.
You guys, this pear liqueur is some of the tastiest liqueur I have ever had and comes highly recommended (totally not sponsored- Clear Creek Distillery has no idea who I am).
That said, if you can't get your hands on this particular liqueur, possible substitutions include,
Apple liqueur
Apple brandy
Pear brandy
Also note, any type of liqueur is sweeter than brandy. If you like your cocktails extra sweet, you may want to add a couple of tablespoons of simple syrup, or a cup of orange juice or apple juice.
Tips + Tricks
Here's what I've learned after making many many batches of sangria.
Use a wine you know you'll love. This does not mean it needs to be a top-shelf wine. A $4 bottle of wine would work amazing, just make sure you like it. If you have no idea what you like, that's ok, too. Go for a dry(er) white wine (Sauvignon Blanc, Pinot Grigio, Chardonnay) and pick a bottle that fits your budget. One thing I have learned over the years? More expensive does not (always) mean it will taste better.
This fall sangria does not like mushy, over-ripe pears. It also doesn't like pears that are as hard as rocks. Purchase pears that are ripe, yet firm. Otherwise, they will dissolve into a chalky mess.
Allow this fall sangria to chill for at least 30 minutes to one hour in the refrigerator before serving. However, it's best to enjoy it within 24 hours. The fruit will start to brown and pears just don't hold up well.
Add your favorite seasonal fruit. Pomegranate seeds and cranberries would make amazing additions.
Too much alcohol? Lighten it up with a splash of club soda, soda water, or non-alcoholic sparkling apple cider.
More Delicious Cocktail Recipes to Try,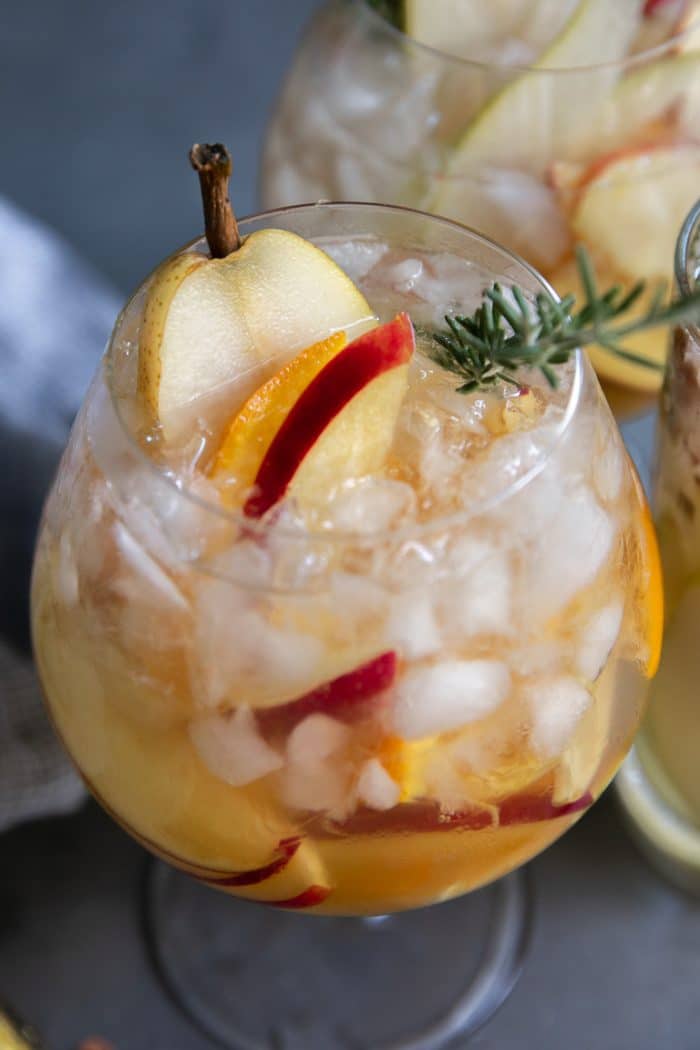 Have you tried making this Fall Sangria Recipe?
Tell me about it in the comments below! I always love to hear your thoughts. And tag me #theforkedspoon on Instagram if you've made any of my recipes, I always love to see what you're cooking in the kitchen.
Fall Sangria Recipe
Pear and Apple Fall Sangria Recipe- filled with fall's most iconic flavors, this delicious and refreshing white wine fall sangria is filled with sweet apples, pears, oranges, and cinnamon.
Ingredients
2

apples

-

cored and thinly sliced

2

pears

-

cored and thinly sliced

1

orange

-

sliced and cut into quarters

1

bottle

white wine

-

750ml of Pinot Grigio, Sauvignon Blanc, or Chardonnay

1

cup

pear liqueur

1 (12 ounce)

bottle

hard apple cider

3

cinnamon sticks

Ice

tonic water

-

optional

fresh rosemary

-

to garnish
Instructions
Add the apples, pears, and orange slices to a large pitcher followed by the white wine, pear liqueur, hard apple cider, and cinnamon sticks. Stir well to thoroughly combine the fruits with the alcohol.

Cover the pitcher with plastic wrap and transfer to the refrigerator to chill for at least 30 minutes.

When ready to serve, fill the desired number of glasses with ice and fill approximately three-quarters full with sangria. Using a large wooden spoon, gently scoop apple, pear, and orange slices from the pitcher into each glass. Garnish with a sprig of fresh rosemary and top off with tonic water, if desired. Enjoy!
Jessica's Notes
Originally published October 8, 2018
Nutritional Information
Calories:
357
kcal
|
Carbohydrates:
40
g
|
Protein:
0
g
|
Fat:
0
g
|
Saturated Fat:
0
g
|
Cholesterol:
0
mg
|
Sodium:
7
mg
|
Potassium:
269
mg
|
Fiber:
4
g
|
Sugar:
30
g
|
Vitamin A:
95
IU
|
Vitamin C:
17
mg
|
Calcium:
46
mg
|
Iron:
0.7
mg
(Nutrition information provided is an estimate and will vary based on cooking methods and specific brands of ingredients used.)