Easy, creamy, No-Churn Blackberry and Chocolate Chunk Ice Cream. Made with fresh blackberries, this easy summer recipe is the perfect homemade summer dessert.
Remember when I told you about that time last month that the fam and I went to Oregon for the Solar Eclipse and we discovered that big, beautiful blackberries grow wild on the side of the road? And that we then proceed to pick a bucket full of them to take home with us?
You do! You don't?
Don't worry. This Blackberry and Blueberry Galette with Rosemary may just jog your memory 🙂
Well, I also made this homemade (no-churn) blackberry chocolate chunk ice cream with those big, juicy blackberries. Unfortunately, somehow, in the middle of the chaos and busy that is my life, this beautiful creamy chocolaty ice cream got lost in the folders upon folders that make up my hard drive.
Until I remembered.
Ice cream…
Now, you guys, if you're expecting Tillamook quality creamy ice cream, you should probably just go but the Tillamook (so good, btw). Or, perhaps, try making homemade ice cream in an ice cream maker– I can't speak for the latter as I've never used one. However, I've heard great things and it's definitely on my Christmas list.
But I digress…
This ice cream takes a little more time and a little more patience, but the ingredients are real and simple and the flavor is phenomenal. If you love big chunks of chocolate and sweet berries, I'm fairly certain this may be your new favorite dessert.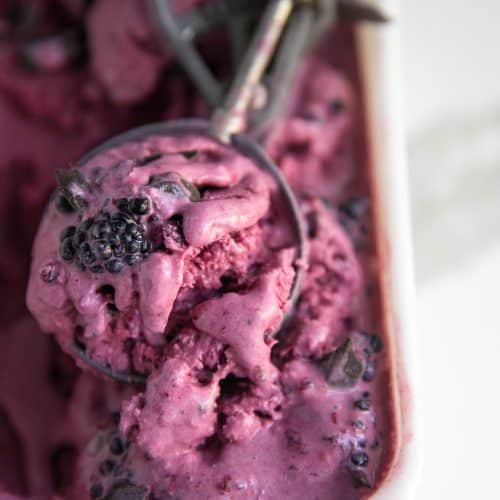 Easy No-Churn Blackberry and Chocolate Chunk Ice Cream
Easy, creamy, No-Churn Blackberry and Chocolate Chunk Ice Cream turns summer blackberries into an amazing dessert.
Ingredients
2.5

cups

fresh blackberries

⅓

cup

granulated sugar

1

lemon juiced

1.25

cups

heavy cream

¾

cup

whole milk

½

teaspoon

salt

5

large egg yolks*

½

cup

dark chocolate chunks

-

+ more for topping
Instructions
Heat a medium saucepan over medium-high heat. Add the blackberries and sugar and bring to a low simmer. Use a wooden spoon to crush the blackberries as they start to soften and release their juices.** Simmer for approximately 5 minutes, stirring frequently to prevent the sugars from burning.

To the pot stir in the lemon juice, heavy cream, milk and salt. Bring to a gentle simmer (not a boil!)

Have the egg yolks ready and waiting in a medium to large mixing bowl. Carefully whisk 1/3 cup of the warm cream and blackberry mixture in with the egg yolks, whisking constantly to prevent eggs from cooking. Repeat this process, 1/3 cup at a time, until approximately 2 cups of the cream and blackberry mixture have been mixed with the egg yolks. Do not rush this step 🙂 After two cups have been added, whisk in remaining cream and blackberry mixture and stir well.

Cover and chill the mixture in the refrigerator for 4 hours to overnight.

Once cool, pour the mixture into desired dish- brownie pan, bread pan, etc. and add the chocolate chunks.

Transfer to the freezer and, every 30 minutes or so, beat with an electric mixer until fluffy. Repeat this step 3-4 times (approximately 2 hours later), and sprinkle with remaining chocolate chunks and blackberries, if desired.

Cover and freeze until solid.
Jessica's Notes
**If you prefer your ice cream without blackberry seeds, strain the mixture before proceeding to step two. ***The first time I made this ice cream (and the ice cream you see in these photos) I did not do the extra steps to beat with an electric mixer (step 6). In both cases the ice cream came out delicious, however, you will get a creamier ice cream if you add the extra step rather than simply freezing.
Recipe inspired by Dessert for Two (amazing dessert blog! check it out!)
Nutritional Information
Calories:
592
kcal
|
Carbohydrates:
40
g
|
Protein:
9
g
|
Fat:
44
g
|
Saturated Fat:
25
g
|
Cholesterol:
351
mg
|
Sodium:
354
mg
|
Potassium:
442
mg
|
Fiber:
7
g
|
Sugar:
28
g
|
Vitamin A:
1685
IU
|
Vitamin C:
22.3
mg
|
Calcium:
171
mg
|
Iron:
3.8
mg
(Nutrition information provided is an estimate and will vary based on cooking methods and specific brands of ingredients used.)