This vegetarian Lentil Stew with Butternut Squash is bursting with chipotle spices!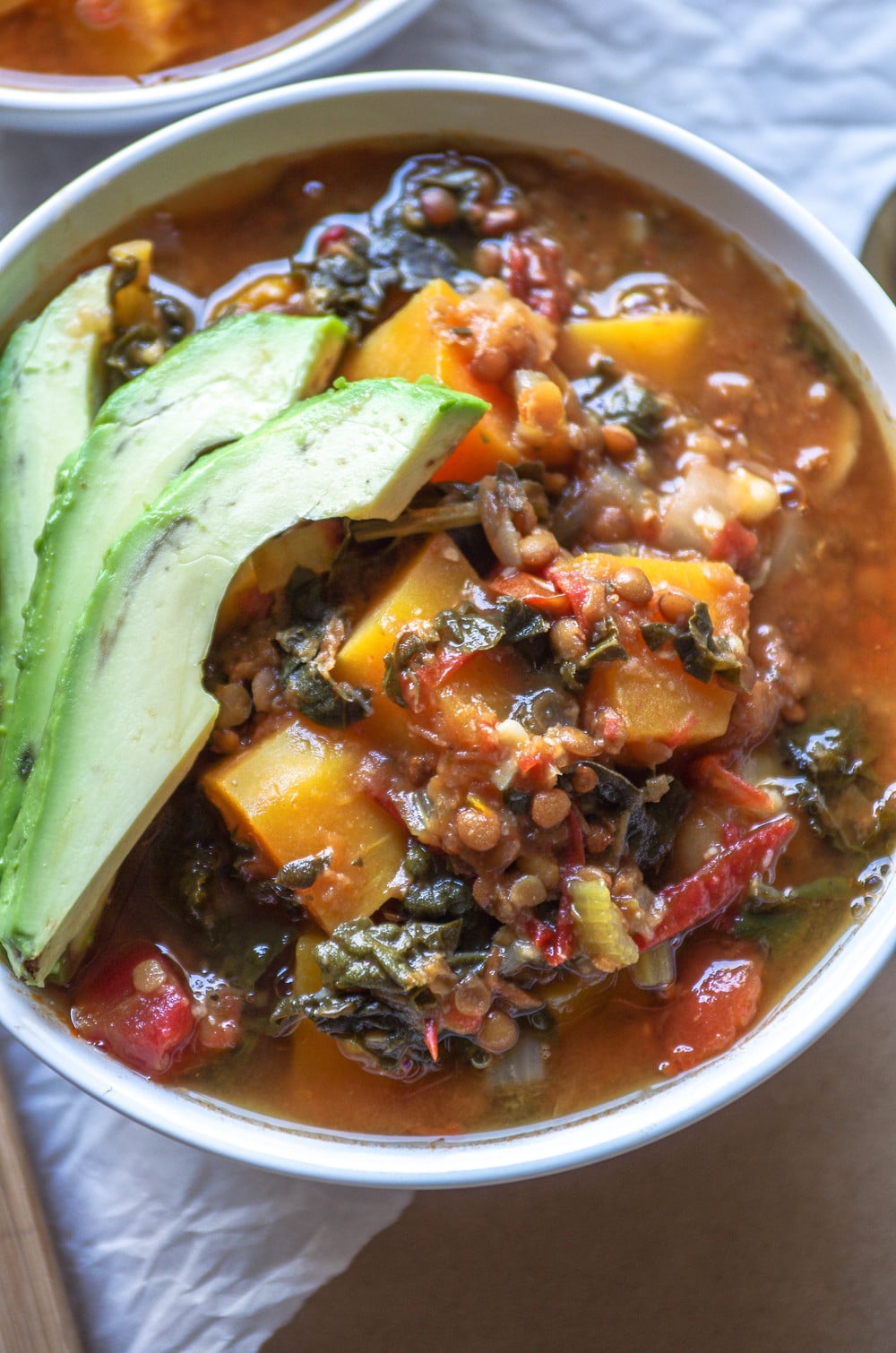 Do you ever love a food so much that you eat it all the time because there is just NO WAY you could EVER get sick of it? So you eat it over and over and OOOVERRR and suddenly, out of nowhere and for whatever crazy reason you're just over it.
Well, the over and over game is my favorite game EVER. Surprisingly, I haven't played this game for a while…
Wait, what's that you're shouting? Liar LIAR pants on FIRE!
You couldn't possibly mean the 13… oh wait, nope, 14… butternut squash recipes I've cooked up in less than four months, could you?! OH! That's exactly what you mean!
So you're wondering then (at least my husband is, since he was sick of it a long time ago), How could I possibly eat so much butternut squash? Why am I still playing games with this vegetable.
Well, you guys, I have NO IDEA. Even my own dear sister, as we discussed the Christmas menu and vegetable side dishes, said something along the lines of "yeah, your blog definitely has a lot of butternut squash recipes".
Ok, guys, note taken.
So, dear readers, this may be my last butternut squash recipe for a while. No, it's not because I've eaten one too many bites of this golden vegetable and can't handle the taste any longer. However, I would be really really sad if it ever came to that (I mean I can't even imagine!); instead I am taking active steps to prevent such a depressing day from ever even happening.
I know, so dramatic. Besides, I've moved on…
to lemons.
Don't get toooo excited, now.
Anyway, butternut squash overkill aside, it's dumping all over California right now (the sky and water, that is). I am happy for the rain, but OH MY GOD my child has been driving me insane. And his sleep? Where did my independent sleeper go? It doesn't help that I am such a pushover. I don't understand, I used to be so firm on the sleep training, but now? Let's just say I spend a lot of time pretending to sleep/sleeping on the floor next to his crib.
Like I said, pushover.
But enough about my sleep woes, I have a feeling a whole, separate post will be coming soon on that very subject. yay! (cue sarcasm)
So what does a stay-at-home slash work-from-home mom do when it's raining and her kid is driving her bonkers? I pull out my biggest pot and we make stew. Octavian loved it! Sadly, he won't touch it now that it's all cooked and looking delicious, but he did learn all about the veggies. Plus, it takes close to no time to throw together, perfect for a short toddler attention span.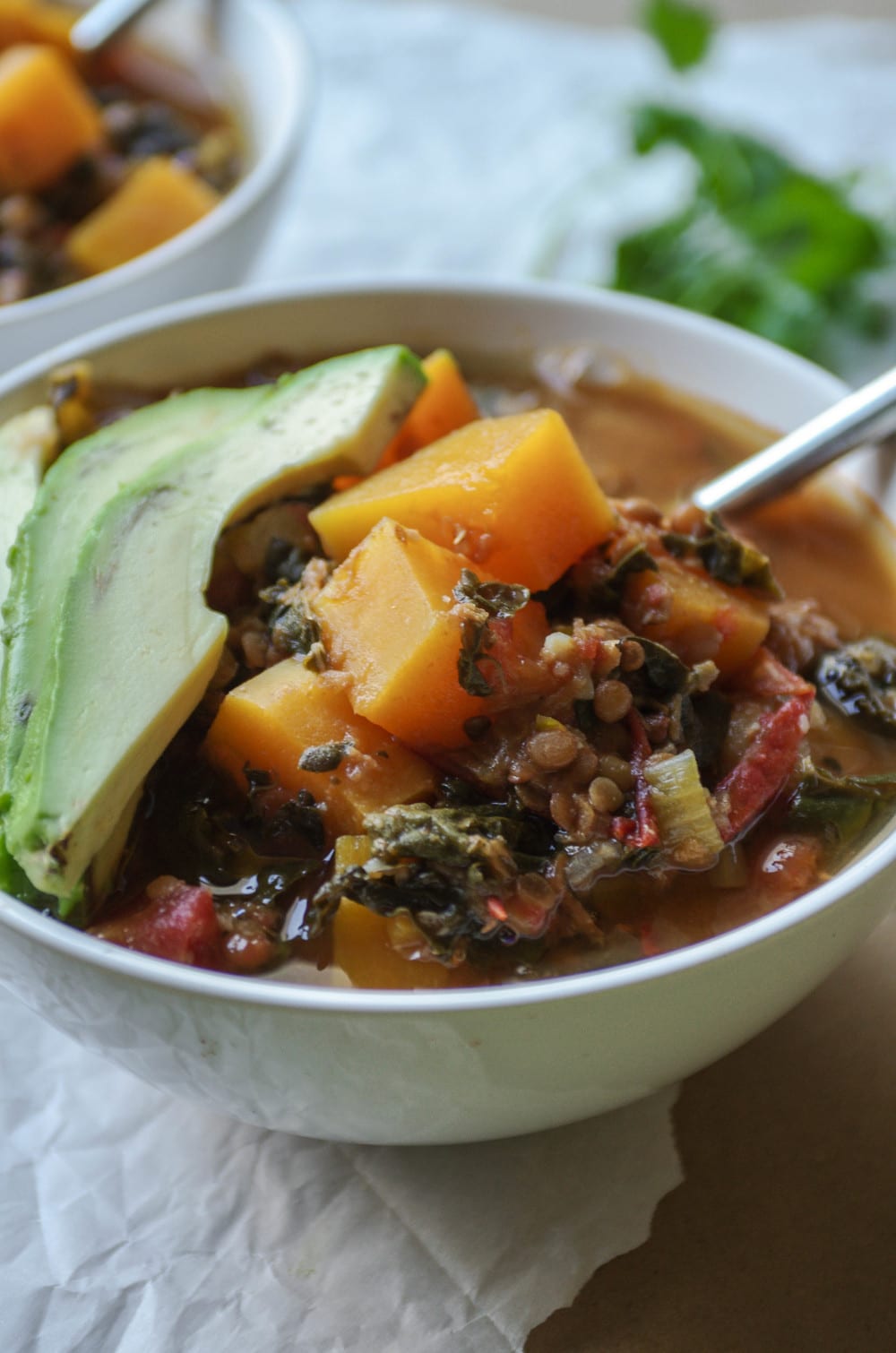 Lentil Stew with Butternut Squash
This vegetarian Lentil Stew with Butternut Squash is bursting with chipolte spices!
Ingredients
1

large yellow onion

(chopped)

8

cloves

garlic

(minced)

1

butternut squash

(peeled, seeded and chopped into small cubes)

3

stalks celery

(chopped)

4

large carrots

(chopped)

1

parsnip

(chopped)

2

pints

cherry tomatoes

(halved (this is optional, but I love fresh tomatoes))

10

oz

fresh kale

(rinsed and chopped)

8

cups

water

(plus more if needed)

2

cups

lentils

(soaked and rinsed thoroughly in cold water)

1

tsp

ground cumin

2

tsp

hot paprika

2

tsp

dried oregano

6

chipotle chilis in adobo sauce

(chopped (more or less depending on how much heat you like))

salt + pepper
Garnish with-
Sour cream

Avocado

Cilantro
Instructions
Heat 2 tablespoons of olive oil over medium to high heat in a large dutch oven or soup pot. Saute the onion for 2-3 minutes, or until just turning translucent.  Stir in the minced garlic and saute for an additional minute. Add the butternut squash, celery, carrots, parsnip and tomatoes. Mix well.  Sprinkle with salt and pepper and allow vegetables to cook for a few minutes before adding the remaining ingredients except for the lentils.

Bring the pot of vegetables to a boil and reduce heat to low. Add the lentils, mix well and cover. Allow the lentils and vegetables to cook for at least 1 hour to 1 hour and 30 minutes or until lentils and vegetables are fully cooked.

Remove from heat and garnish with sour cream, avocado, cilantro or hot sauce (or all of the above!).
Nutritional Information
Calories:
406
kcal
|
Carbohydrates:
79
g
|
Protein:
23
g
|
Fat:
2
g
|
Saturated Fat:
0
g
|
Cholesterol:
0
mg
|
Sodium:
458
mg
|
Potassium:
2130
mg
|
Fiber:
27
g
|
Sugar:
14
g
|
Vitamin A:
26400
IU
|
Vitamin C:
139.6
mg
|
Calcium:
271
mg
|
Iron:
9.3
mg
(Nutrition information provided is an estimate and will vary based on cooking methods and specific brands of ingredients used.)