Packed full of roasted spaghetti squash, kale, and juicy shredded chicken, this BBQ Chicken Spaghetti Squash Casserole is easy, cheesy, and the perfect low-carb dinner the whole family will enjoy!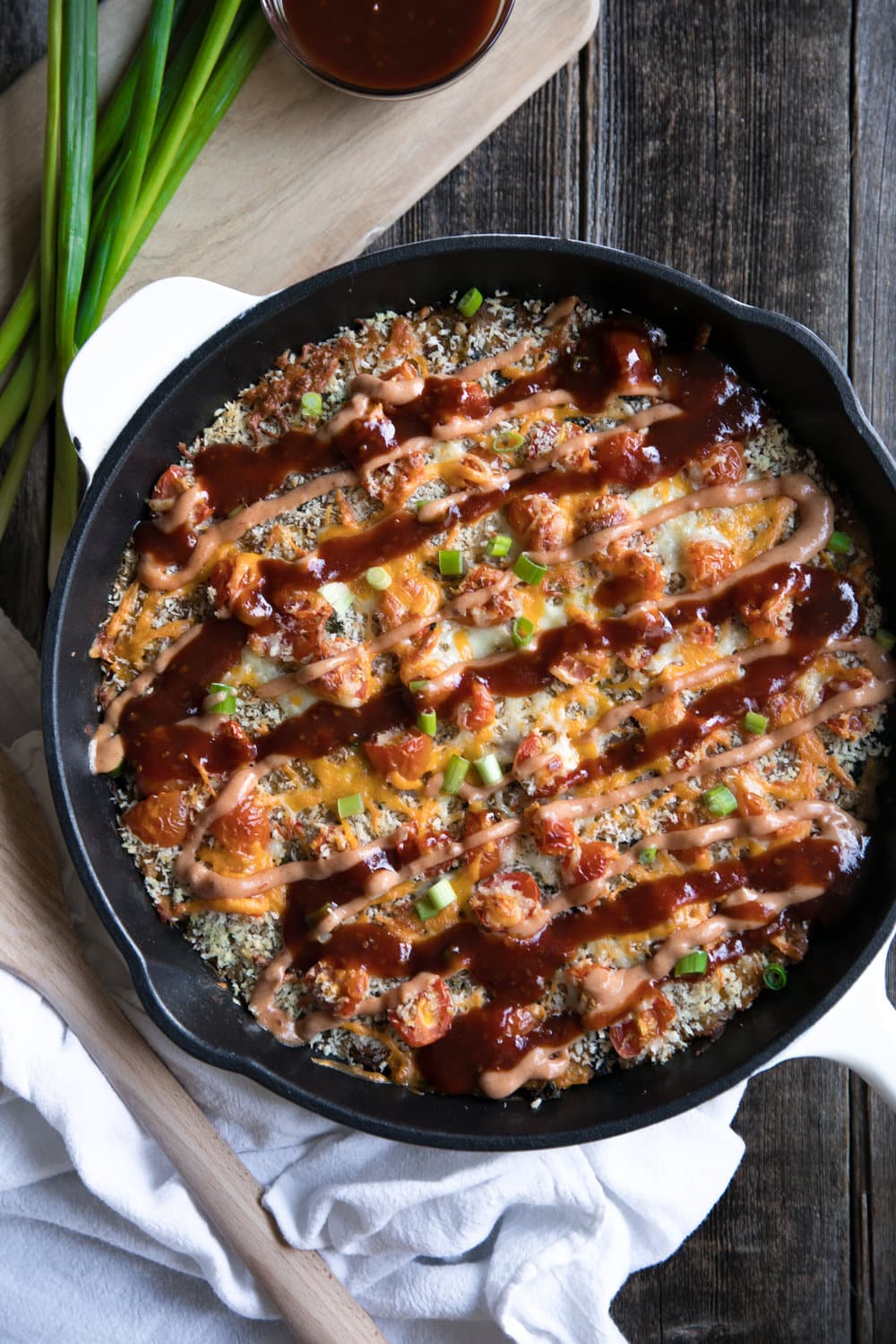 While grocery shopping a couple months ago I realized I hadn't cooked any spaghetti squash all winter. Obviously, this needed to be changed. So I picked up three of the biggest spaghetti squash I could get my hands on and tossed them in my shopping cart. Since I purchased these squash without a plan, the next obvious thing happened. They sat on my kitchen counter for weeks (ok, not weeks, but definitely more than 7 days). I could have easily roasted and tossed this amazing vegetable with butter and parm, but I've done that many many times already. I wanted to try something new.
After making this Shredded Brussels Sprout and Kale Salad with Lemon Vinaigrette, I now found myself with some leftover kale, Brussels sprouts and spaghetti squash that were at risk of going bad. Refusing to let anything go to waste, I let my stomach guide me.
I love bbq chicken pizza. It is one of my favorites. Tangy, sweet bbq sauce with rich buttery cheese, spicy red onion, fresh green onion and (if I'm making the pizza) bursting fresh cherry tomatoes. Pizza is also one of those things that, once I start eating, I can't stop. Kinda like cookies. So I decided I would steal all the flavors of bbq chicken pizza, put it in a skillet and cut out the carbs.
Totally worth it. And since working with dough isn't my favorite thing in the whole world, I will even go so far to say that this is even easier! But, my favorite part? It's totally loaded with veggies. For protein, I added ground chicken, but shredded chicken would taste just as great. If you're not a fan of eating meat, no worries! double the veggies or sub the chicken for tempeh. Given the bold flavor of the cheese and bbq sauce, there is a lot of flexibility with additions and subtractions in this healthy family dinner.
Learn more about how to cook squash from these helpful posts,
LOOKING FOR SOMETHING SPECIFIC? CLICK HERE TO SEARCH BY INGREDIENT
REMEMBER TO SUBSCRIBE TO THE FORKED SPOON NEWSLETTER FOR FREE AND RECEIVE WEEKLY RECIPE NOTIFICATIONS DELIVERED STRAIGHT TO YOUR INBOX!
If you try a recipe, please share it using the hashtag #theforkedspoon or by tagging @theforkedspoon on
INSTAGRAM
! Follow The Forked Spoon on
FACEBOOK
|
INSTAGRAM
|
PINTEREST
|
TWITTER
for all of the latest recipes and updates.
BBQ Chicken Spaghetti Squash Casserole with Kale
Packed full of roasted spaghetti squash, kale, and juicy shredded chicken, this BBQ Chicken Spaghetti Squash Casserole is easy, cheesy, and the perfect low-carb dinner the whole family will enjoy!
Ingredients
2

spaghetti squash

1

tablespoon

olive oil

1

red onion

,

diced

2

cups

shredded Brussels sprouts

2

cups

Tuscan kale

,

stems removed and finely chopped

1

cup

chopped green onions

salt + pepper

6

cloves

garlic

,

minced

1

pound

ground chicken

,

OR 2 cups cooked shredded chicken breasts

1/2

teaspoon

chili powder

1/4

teaspoon

cumin

1/4

teaspoon

paprika

1/2

teaspoon

red chili flakes,

more or less depending on heat tolerance

3/4

cup

Monterey Jack cheese

,

shredded + more for topping

1/3

cup

BBQ Sauce

,

I used TJ's Sriracha BBQ Sauce because it's my fave

1/3

cup

low-fat sour cream

,

or plain Green yogurt

1/4

cup

Panko bread crumbs
Instructions
Preheat oven to 400 degrees F. Line a large baking sheet with parchment paper.

Cut your squash in half horizontally and use a spoon to scoop out the seeds. Place it on a cookie sheet face down and bake until fork tender, approximately 45-60 minutes.

If using shredded chicken breast, fill a medium pot with water and bring to a boil. Once boiling, carefully add the chicken and return water to a boil. Remove from heat, cover pot with a lid and allow chicken to cook for 25-30 minutes, or until fully cooked.

Meanwhile, heat a large skillet over medium high heat. Add oil and red onion and sauté for 2-3 minutes, or until onion is fragrant. Add the shredded Brussels sprouts and sauté with the onions for 4-5 minutes, stirring frequently. Once the Brussels sprouts start to soften, mix in the chopped kale, green onion, salt + pepper and minced garlic. Cook until kale is wilted and cooked, stirring often.

Using a large wooden spoon, push the veggies to one side of the skillet. To the other side of the skillet add a little more olive oil. Add the ground chicken and sprinkle with chili powder, cumin, paprika and red chili flakes. Cook the ground chicken, stirring frequently, until nearly cooked.

Mix the meat with the veggies and continue to cook everything together until fully cooked.

NOTE: if you are using shredded chicken, skip the ground meat part and simply add the cooked shredded chicken to the cooked veggies. Add the spices and stir everything together to combine.

Once the squash is fully cooked and cooled slightly, use a fork and spoon to remove all the flesh. If your squash is especially watery, I recommend straining your squash in a fine mesh strainer to remove some of the liquid.

Transfer squash to the skillet with the other veggies and meat and mix to combine. Add the cheese, bbq sauce and sour cream to the skillet and stir to combine.

If your skillet is NOT oven safe, you will need to transfer squash to an oven-safe skillet or casserole dish, spraying with non-stick spray first. If your skillet is safe for oven use, use your large wooden spatula to flatten the surface of the casserole. Sprinkle the top with panko bread crumbs and additional cheese.

Bake at 400 degrees for 20 minutes. Then turn the oven to high broil and allow dish to cook for an additional 5-8 minutes, or until top is golden brown and bubbly.

Garnish with cilantro, fresh green onions and additional bbq sauce and sour cream, if desired.
Nutrition
Nutrition Facts
BBQ Chicken Spaghetti Squash Casserole with Kale
Amount Per Serving
Calories 567
Calories from Fat 216
% Daily Value*
Total Fat 24g 37%
Cholesterol 123mg 41%
Sodium 587mg 24%
Potassium 1689mg 48%
Total Carbohydrates 60g 20%
Protein 33g 66%
* Percent Daily Values are based on a 2000 calorie diet.