The Breville Barista Express is the gift that keeps giving to any household and its guests.
I sometimes wonder if I would make it out of bed or through the day if I didn't have coffee.
I did it while I was pregnant, so I know I can do it, but things were different then. When I was pregnant I didn't have a toddler. or a puppy. or have to get out of my pajamas if I didn't want to. So really, I had it quite easy. Too easy (what in the world did I do with all my free time?)
These days are a lot different. These days are filled with never-ending laundry piles and poo piles; dirty dishes, dirty diapers and dirty faces; playdates, gym dates and dog park dates; singing, teaching, reading and training; cooking, cooking, cooking and more cooking; and lots and lots of boo-boo kisses.
You guys, this is the good life.
But the good life is exhausting and this mama NEEDS coffee.
And weeks when your child is sick (like last week with hand, foot and mouth of all things!), a mama needs more than just a cup of regular boring coffee. I don't know about you guys, but I need a cup of STRONG wake-up mama juice. In fact, i'll probably need a few to get through the day.
1…2…3…4…5…6… shots of espresso should do the trick (not all at once. I'm not crazy).
The husband and I love our coffee. Coffee is our favorite part of our morning and my favorite post-gym pick-me-up and nap-time mama drink. One day it hit me, whoa, we drink a lot of coffee. The husband and I agreed it was time to procure a better espresso machine.
Then the question came, manual or automatic? I wanted automatic and he wanted a manual.
After lots of research (my husband is very thorough), we decided to give manual a try. My only requirements were that it had to have a built-in grinder, large water tank and he was responsible for maintenance. Oh yes, and it couldn't take up our entire kitchen counter space.
The Breville Barista Express was exactly what we were looking for.
Deal.
We've had this beautiful Breville Barista Express espresso making machine for a couple months now and we are IN LOVE with the coffee and the machine. It fits nicely on our kitchen counter without taking up too much space and is pretty to look at, too (always a bonus when a machine takes up permanent residence on your counters).
Is the Breville Barista Express easy to work?
Once you learn some new words (portafilter, tamper, etc.) and tweak a few magic settings like grind size and grind amount (don't worry, this took me and my husband a few test trials) along with how hard to tamp the fresh coffee grinds, you will be ready, SET, GOOOOO for fresh, creamy espresso every morning without any thought. It also has a built-in swivel steam wand to steam and foams your milk (no more microwave for me!)
In fact, just the other afternoon, the husband and I were out and away from our much-loved coffee machine when it came time for our afternoon coffee break. OH NO! what to do? To the nearest chain coffee shop we go (not to be named). It had been nearly two months since I had had any other fresh brewed espresso and I expected a latte on at least the same level as that which I brew at home.
You guys, it was so bad! SO BAD!
Now, I'm not a professional, but the coffee that comes out of the Breville Barista Express is legit. It's the real deal. AND I CAN HAVE IT ANYTIME I WANT (without spending $5 a cup).
And when guests come over, rather than offer them old coffee, wait to brew new, or microwave milk, I can serve them fresh coffee-shop quality (but better!) coffee in just a couple minutes.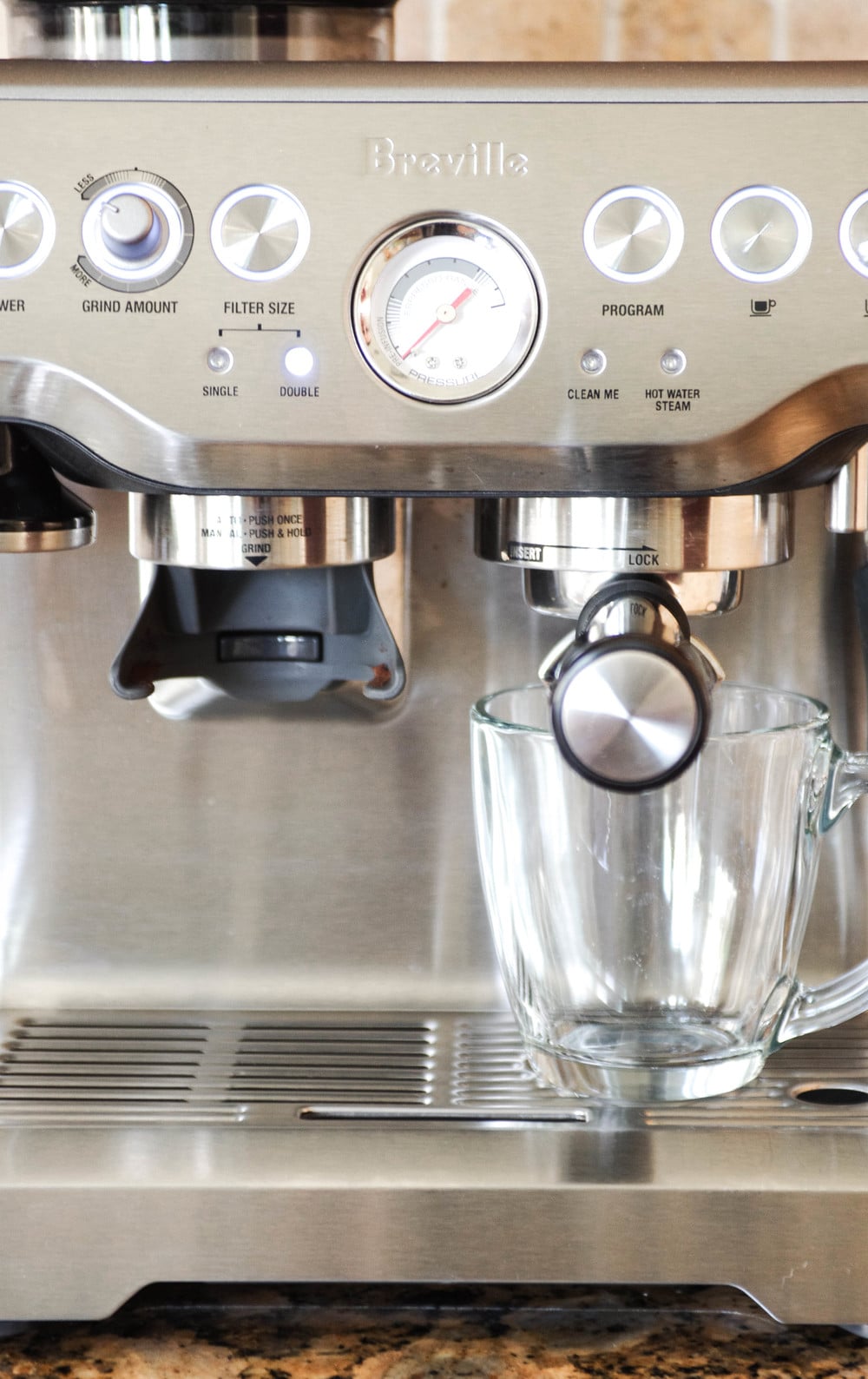 How is cleaning the Breville Barista Express?
Clean up is so easy even I can do it – I do all the cleaning so I didn't want to add one more thing to my list.
After all, coffee is there to help make the load feel lighter, not actually make the load heavier.
But seriously, it is so easy! The removable drip tray has a tray full indicator that reads "Empty Me!" so there is no guesswork involved in when to clean.
One other great feature that I LOVE about this brilliant gadget is hot/boiling water at just the turn of a dial. One less kitchen gadget taking up space and no more waiting for hot water. When you have a toddler (or husband) who wants his breakfast, and wants his breakfast NOW, this makes making oatmeal so easy you can do it with one hand (which is usually all I have).
After a thorough review, my husband and I both agree we love our Breville Barista Express and it is exactly what we were looking for. Perhaps one day (20 years from now) we'll invest in a more expensive automatic espresso machine, but I'm pretty convinced that automatic does not translate to better.
This post has been sponsored by Breville. All thoughts and opinions are my own.