When you can't decide if you want a chocolate bar or gooey chocolate brownies, there's always Chocolate Bark Brownies. The best of both worlds and perfect for any holiday.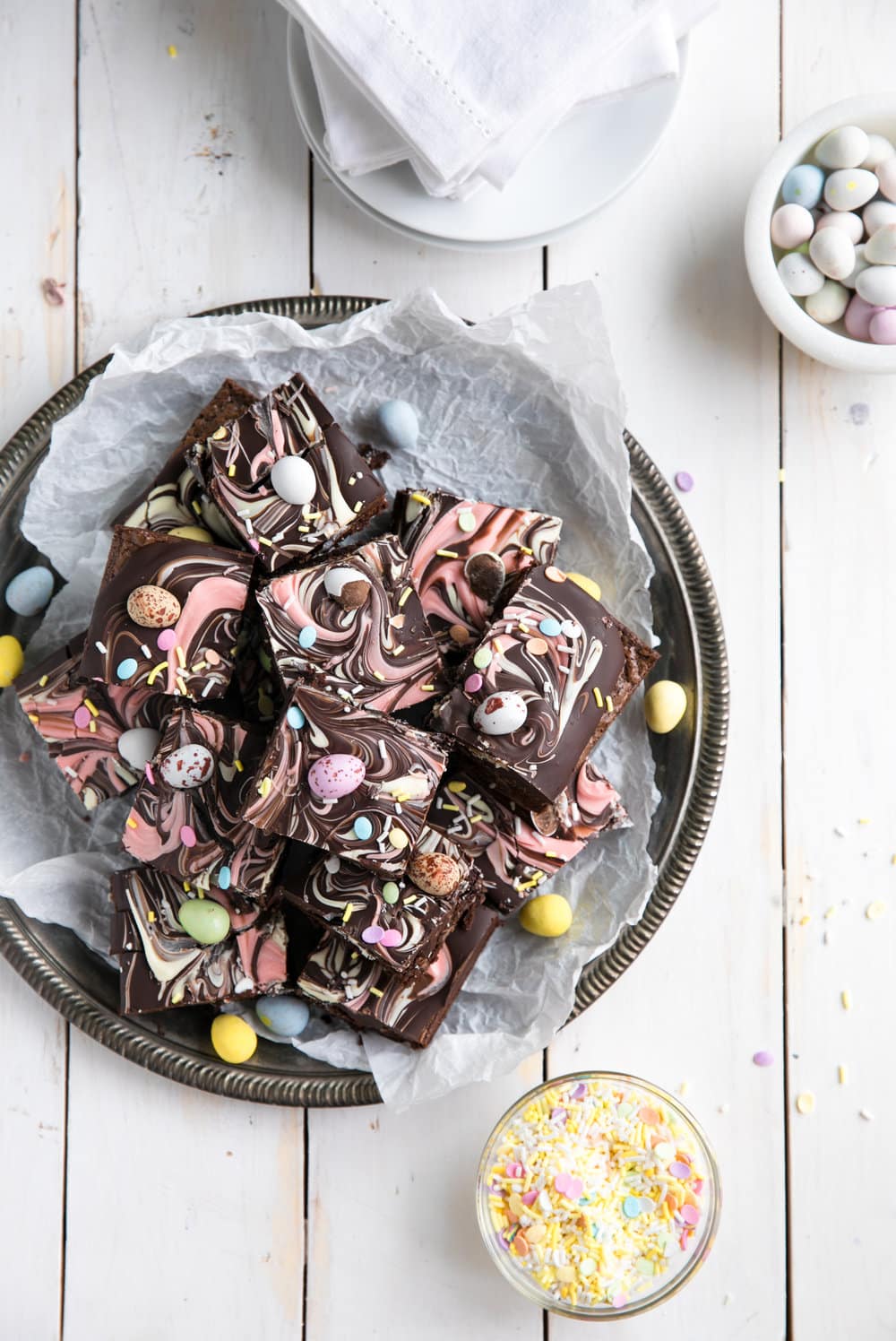 Hey! you guys! Since it's Monday, I made chocolate. But not just your average, regular chocolate. No way.
Mondays call for rich, gooey, decadent, and (obviously) delicious Chocolate Brownie Bars. Now, don't be fooled by the Easter decor on these brownies. I am not as prepared as these brownies make me out to be. I have no idea what we're doing for Easter and I definitely haven't registered us for the community egg hunt or decided if I'm going to wait in line to get a photo of my child with a giant scary white bunny. I should probably get on it, though, since my darling little sandbox pooper is all about Easter eggs. When I asked him what he wanted from the Easter bunny he said "Lots of eggies filled with special treats".
What Octavian means- eggs filled with m&m's. What I'll do- fill eggs with one m&m each.
Just kidding. Between me and his Nana, my child is spoiled rotten.
Although, side note, since we're on the topic of sweets and sugar. Octavian officially does not like cookies or cake or most chocolate (except m&m's apparently). We were at a bday party yesterday and my usually bread-hating child practically inhaled at least 5 pieces of pizza in less than 2 hours (I lost count). When he was offered a cupcake he hardly even came up for air from his pizza. Not even the neon blue frosting tempted him.
How is he my child??
I mean, I can easily eat a whole pizza, but cookies and cake?!? You all know about my cookie and cake obsession. It's real.
Anyway, these are not your average brownies. These are CHOCOLATE BARK BROWNIES. Yep, these brownies are covered in melted dark and white chocolate swirled together and cooled. Not only were they fun to make, they are so pretty to look at! I kept the topping simple with pretty Easter sprinkles and chocolate eggs, but seriously, you guys, don't be afraid to go crazy! Marshmallows, sour gummies, jelly beans, pretzels… the world is your oyster, my friends.
You may also enjoy these chocolate recipes:
Best Ever Browned Butter Chocolate Chip Cookies
Chocolate Chunk Almond Butter Oatmeal Cookies
Chocolate Covered Cheesecake Bites
Easter Brownies
Easter Brownies, adorned with swirls of pink and candy eggs, are the perfect festive treats to elevate any Easter celebration or springtime party.
Ingredients
For the Chocolate Bark
12

oz

quality dark chocolate

-

chopped

8

oz

quality white chocolate

-

chopped

sprinkles

chocolate easter eggs
Instructions
Prepare the Brownies
Preheat oven to 325 degrees F. Grease a 8x8 baking pan with butter or nonstick cooking spray.

In a large bowl whisk together the melted butter, cocoa and sugar until fully combined. Mix in eggs, one at a time, stirring after each addition. Add vanilla and mix. Using a rubber spatula, gently mix in 3/4 cup flour, salt and baking soda until flour is just combined (being careful not to overmix). In a small bowl, mix remaining 1 Tablespoon flour with chocolate chips and fold into brownie batter.

Spread the batter in the prepared 8x8 baking dish and bake for approximately 30-35 minutes, or until set. Remove from the oven and allow brownies to cool completely before adding melted chocolate.
Prepare the Chocolate
Add 1" of water to two medium saucepans or pots over low heat. Bring to a very gentle simmer- do not boil!

Place a heat-safe bowl on top of the pot so that the bottom of the bowl is not touching the water. The idea is that the steam generated from the water will slowly warm the bowl. That said do NOT allow stream to escape from the pot, if possible, as this is not good for the chocolate.

Add the chocolate to the bowl, the dark chocolate in one bowl and the white chocolate in the other, and gently stir with a wooden spoon or rubber spatula until chocolate is fully melted.

You can also melt the chocolate in the microwave (however, I've had very bad experience with this), by placing the chocolate in microwave safe bowls at 50% power for 30 second intervals, stirring after each.
Prepare
Pour the dark chocolate over the cooled brownies and gently use a spatula to spread to to the edge of the brownies.

Use a spoon to drop approximately 1 tablespoon of white chocolate onto the dark chocolate in approximately 4-5 evenly-spaced spots and use a sharp knife to gently swirl the dark and white chocolate together (be careful not to over mix). With the left over white chocolate, add 1-2 drops of red food coloring (start with less), until you get desired pink color. Repeat the same process with the pink chocolate.

While the chocolate is still wet, gently drop your favorite Easter decorations over the top. You can keep it as simple or as crazy as you like! Have fun!
Jessica's Notes
Yield: makes 1 8x8-inch pan, or 12-16 brownies
Nutritional Information
Calories:
398
kcal
|
Carbohydrates:
44
g
|
Protein:
4
g
|
Fat:
22
g
|
Saturated Fat:
13
g
|
Cholesterol:
41
mg
|
Sodium:
140
mg
|
Potassium:
247
mg
|
Fiber:
3
g
|
Sugar:
33
g
|
Vitamin A:
245
IU
|
Vitamin C:
0.2
mg
|
Calcium:
66
mg
|
Iron:
3.5
mg
(Nutrition information provided is an estimate and will vary based on cooking methods and specific brands of ingredients used.)