Fun, festive, and loved by all ages, these Chocolate Dipped Rice Krispie Treats are deliciously sweet and perfect for any holiday party!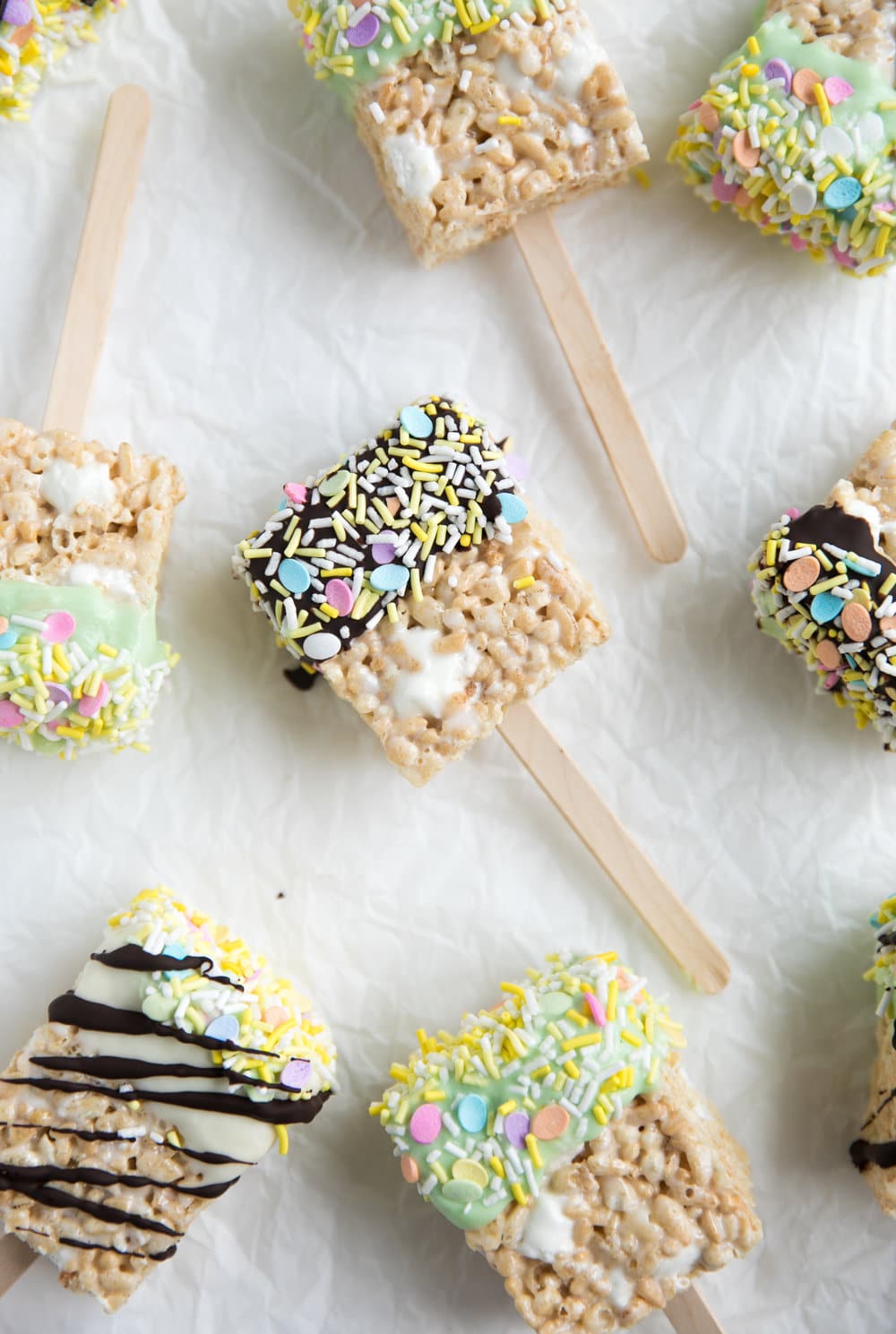 As with all Sunday afternoons, I sit (I know…I am actually sitting) and think to myself, wasn't it just Friday? what have I even done this weekend? why am i am sooooo tired?
The first two questions have answers-
Yes, it was just Friday. Two days ago. It feels like it was just two hours ago probably because you (meaning me) don't understand what it means to slow the f down. Which brings me to question two- what did I do this weekend? At risk of boring you guys with a list, I will try to keep it brief.
There was an afternoon wine tasting, garden tour, and lunch with two other lovely bloggers at Wente Vineyards yesterday, where I tasted wine before noon, threw back several cups of coffee after noon and ate enough delicious food to last me to now (and still feeling pretty full). My body is still confused. For all you Bay Area peeps out there, Livermore and its wineries (like Wente) are highly underrated, but oh so beautiful!
Apparently 6 hours solo with our feral child was too much for my husband so off to nana's he went for the night. It's a good thing my child loves his nana more than he loves me, otherwise I would seriously reconsider procreating with my husband again. (just kidding!) I have a million other reasons for that. Well, I got home, and together with my husband I decided, oh hey! let's redesign your blog! It'll be fun! While we're at it let's think of a new name for your blog!
If you've been here before, then you may notice things look a little different around here. I like it. This little space needed a change, I think. As for the new blog name? That's a work in progress. I have a tendency to be a little impulsive and I'd rather not on the new name.
I also decided to cook up these sweet treats, you know, just for fun. Easter is in ONE week. ONE! and these Chocolate Dipped Rice Krispie Treats are the sweetest treat ever (they also make awesome gifts). Since my husband finished the strawberry rhubarb cobbler last night (rude!), I needed to restock with some kind of dessert.
Aside from cooking, let's not forget the vacuuming, mopping, toilet scrubbing, window washing, laundry folding, photo editing and all those other things that make the world go round 🙂
Hmmm, maybe that third question had an answer, after all?
Chocolate Dipped Easter Rice Krispie Treats
Fun, festive, and loved by all ages, these Chocolate Dipped Rice Krispie Treats are deliciously sweet and perfect for any holiday party!
Ingredients
For the Rice Krispie Treats
8

tablespoon

butter

16

cups

marshmallows

-

divided

10

cups

rice cereal

½

teaspoon

salt
Instructions
For the Rice Krispie Treats
Line a 9x13 pan with foil and cooking spray, set aside.

Add butter to a large pot over low heat. Once butter is melted add in 12 cups of mini marshmallows and stir to mix with the butter. Continue to stir the marshmallows until fully melted.

Remove the marshmallows from heat. Sprinkle with the salt and pour in the cereal. Mix the marshmallows and cereal until just coated. Add the remaining 4 cups of mini marshmallows and stir to mix.

Transfer the Rice Krispie mixture into the prepared pan and, using a piece of parchment paper sprayed with nonstick spray, gently press mixture into the pan until it is spread evenly across the surface.

Allow the rice Krispie treats to cool completely before slicing into 20-24 evenly sized squares.
For the Chocolate
Add 1" of water to two medium saucepans or pots over low heat. Bring to a very gentle simmer- do not boil!

Place a heat-safe bowl on top of the pot so that the bottom of the bowl is not touching the water. The idea is that the steam generated from the water will slowly warm the bowl. That said do NOT allow steam to escape from the pot, if possible, as this is not good for the chocolate.

Add the chocolate to the bowl, the dark chocolate in one bowl and the white chocolate in the other, and gently stir with a wooden spoon or rubber spatula until chocolate is fully melted. Remove from heat.

You can also melt the chocolate in the microwave (however, I've had very bad experience with this), by placing the chocolate in microwave-safe bowls at 50% power for 30-second intervals, stirring after each.

If desired, divide the melted white chocolate into separate bowls depending on the number of colors desired, and add 1-2 drops of food coloring, stirring after each addition.
Assemble
Dip each rice Krispie treat square approximately half way into the melted chocolate of your choice (I did different combinations) and allow the excess chocolate to slowly drip off.

Allow chocolate to set for 1-2 minutes then gently dip into your favorite sprinkles or add sprinkles to the top (if you dip too soon, it becomes a big mess; but, if you wait too long, they won't stick).

Allow chocolate to fully set and serve.
Jessica's Notes
*Some say rice Krispie treats do not taste as good unless eaten they same day they were prepared. I have not found this to be true. However, I recommend wrapping each bar individually in plastic wrap. If you are planning on giving these as gifts, the chocolate does lose it's shine (sorry, I don't know the technical term), so I do recommend making these as close to the day you plan on serving or delivering as gifts.
Nutritional Information
Calories:
303
kcal
|
Carbohydrates:
54
g
|
Protein:
2
g
|
Fat:
9
g
|
Saturated Fat:
5
g
|
Cholesterol:
11
mg
|
Sodium:
130
mg
|
Potassium:
82
mg
|
Sugar:
34
g
|
Vitamin A:
125
IU
|
Calcium:
23
mg
|
Iron:
1.2
mg
(Nutrition information provided is an estimate and will vary based on cooking methods and specific brands of ingredients used.)
If you enjoy Chocolate Dipped Rice Krispie Treats, you may also enjoy these recipes-
Chocolate Bark Easter Brownies
Chocolate Covered Cheesecake Bites