Over the past few months I've tried to be better about planning weekend day trips. I'm always on the lookout for new parts of California to explore, but with a whimsical toddler (and a mama that's happy when her baby is happy…yes, this would be me) I try to keep weekend getaways within 100 miles of Sacramento. We're also a family that loves the outdoors, easy meals and comfortable clothing. When we do decide to get fancy, we'll be leaving that adorable mess above with grandma. If I didn't require sleep, we would probably live in a tent on the weekends, where Octavian would thrash around all over and on top of me at bedtime while Aaron sleeps like a baby beside us. Husbands, how do they do it?
Dillon Beach is considered part of Marin County and is located about three miles or so from Tomales Bay. From our house it is a little over 100 miles and just over two hours to get there.
Since Octavian usually naps from 12-2pm, we decided to leave the house at 1030am and stop at Costco for a sampler lunch. Being really healthy eaters 95% of the time, I consider these day trips mini family vacations. So, if Octavian wants to eat 10 sample bites of sausage or steak or cheese (or all of the above), well, why not? He's full, and we're all happy. After we've all had our fill and paid for the diapers that justified our lunch, off we go (for the record, we've done this twice now. it worked beautifully the first time and the second time the samples sucked and he refused all the food they were selling. finally Elmo saved the day with a little bribery- that Elmo, I tell ya, he's the best).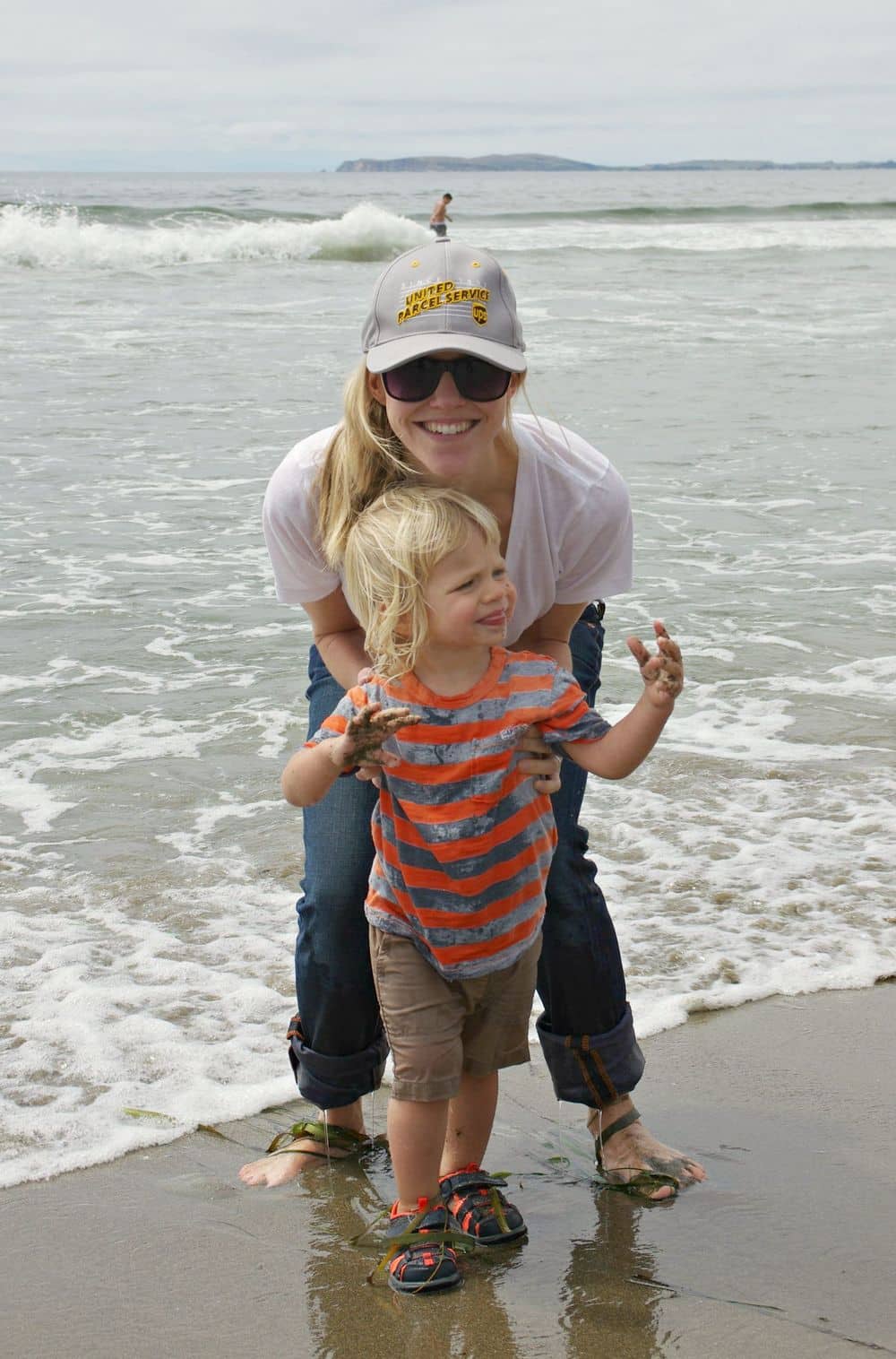 Of course, what would be a mini family vaca without some traffic? Thank the heavens it didn't happen when the sleeping dragon in the back seat was in the middle of a sleep cycle transition, so the ride remained peaceful. Two hours later we made it to Petaluma and unanimously agreed…Starbucks. now. I don't know about you guys, but it's amazing how exhausting driving is. Or, maybe it's because the 3 shots of espresso that I had at 10am needed a refill. Either way, when you know the next several hours are going to be spent chasing a toddler around at the beach, you better just go ahead and get that extra shot.
We didn't linger in Petaluma long, which was a bit unfortunate because the downtown is adorable. I can definitely envision it being a great spot for weekend brunch or drinks at night if you're still part of the younger crowd who can make it past 930pm without falling asleep.
35 minutes later we arrived at Dillon Beach. It was a beautiful summer day in Northern California. Initially I felt a bit out of place in my jeans and shirt (and no bathing suit), but, it was chilly. I am still quite impressed by all the people who managed to spend the day mostly naked. Octavian seems to never get cold, so he was happy as a clam playing in his diaper. Speaking of Octavian, my child has no fear when it comes to water. No hesitation or unease passes through his mind at all. In fact, i'm pretty sure all he thinks when he is around was is, how can I get all of my body in there as fast as possible? ahhh, yes! head first! Meanwhile, Aaron and I spent the next hour keeping our floundering fish from going belly up. And, we loved every second (yep, good call on that extra shot).
Octavian spent the next couple hours snacking on thawed frozen blueberries and smoked salmon, stealing balls and buckets from neighboring beachgoers, running in and out of the water and screaming "Kie Kie Kie" over and over as we sat and watched dads and sons try to fly their kites.
While I have been to the beach a million times in the past, this trip taught me a thing or two about packing for the beach with a toddler-
1. Bring a bucket! They had no showers to rinse off in. But, the bathroom did have a sink. Since Octavian would be going straight to sleep when we got home, I wanted to get as much sand off him as possible. The bucket would have come in handy! Also, he would have fun playing in the sand with it.
2. …and a bathing suit (you would think I had never been to the beach before)
3. Baby powder to help get the sand out of all the cracks and crevices (though, I've never officially tried this. have you? does it work?).
Octavian, however, learned the most important lesson of all that day- sand is not food.
We ended the day with some words with a friendly little cow that lived just outside a convenience store. I am sad to say, Octavian was not impressed. We had Lombardi's Deli for dinner which was so rushed and crazy that I still have no recollection of what I ate that night. I do remember it being good and Octavian loving my salad with raspberry vinaigrette, so I left feeling like I fulfilled my job for the day to get him to eat at least one green thing. Lombardi's isn't a sit and be served type place, but rather, order, pick up and sit whenever you can. It would have been the perfect place to grab some lunch and take to the beach. But, for me, at the end of the day, I really just wanted to sit and be served. It was also pretty expensive. But, it was getting late, the dragon in the backseat was hungry and our original dining choice, Lagunitas Brewing Co., did not have highchairs, so we had to find a backup fast.
After some rushed diaper changing in the bushes, we headed home for what would be a car ride from hell. But, Octavian fell asleep in his crib at home at 10pm, so I'd say it could have been much worse.
I learned one final thing that day- whenever possible, plan mini family vacation day trips for Saturday NOT Sunday. Why? Well, like any family trip, you will get home and feel like you need a vacation from the vacation you just had (but, you know, a relaxing one). Following up a full day trip with a Monday runs too much risk and mess to deal with bright and early while the husband runs off to work. For me, Saturday just sounds better.