Enjoy this plated Eggplant Bowl that is full middle eastern flavor with its Mint Cilantro Chutney.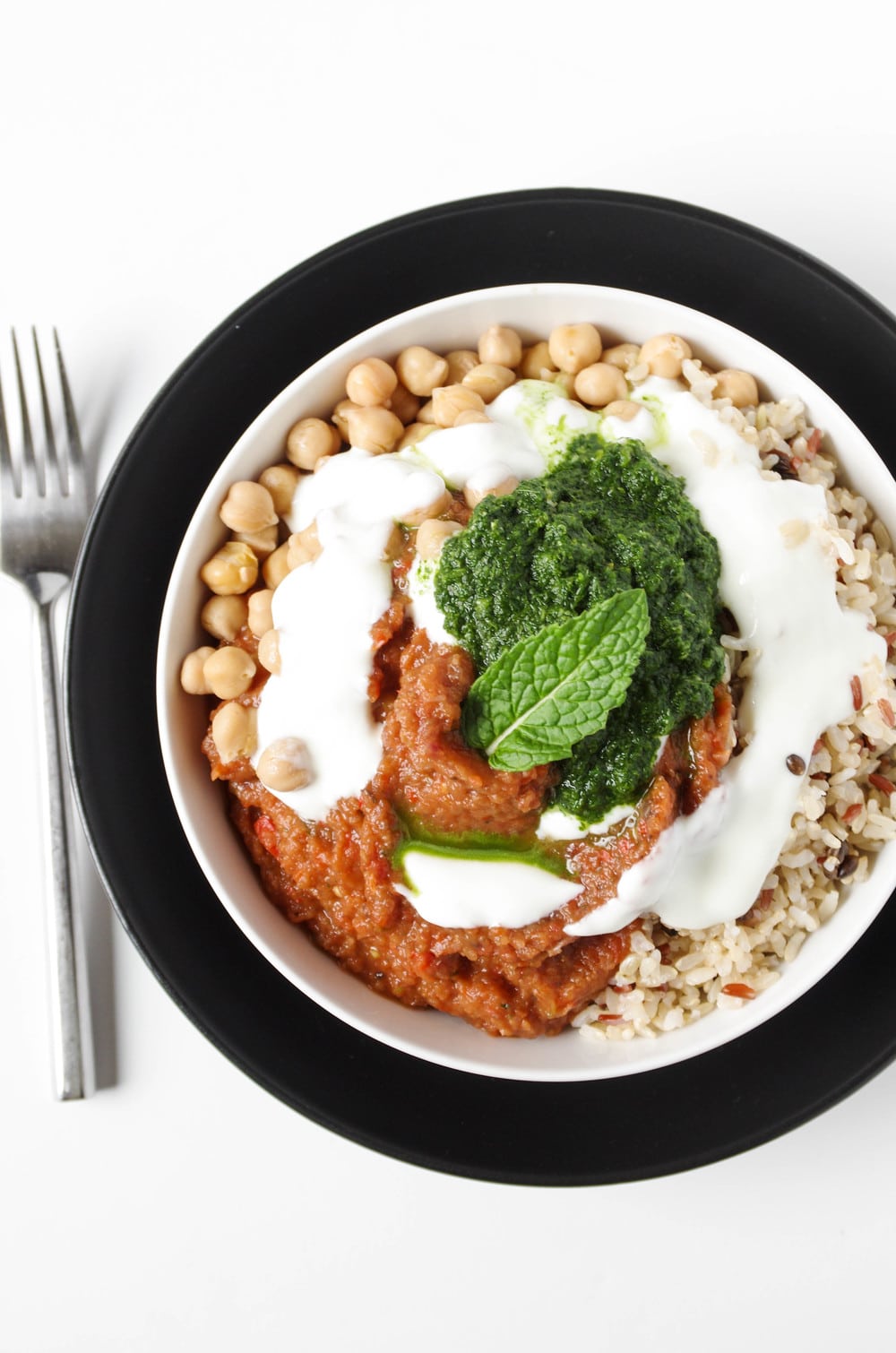 I am ALL about bowls right now. Buddha bowls, noodle bowls, salad bowls, basically, feed me my food in a bowl with a yummy sauce and I am happy. The moment I saw this vegetarian recipe highlighting eggplant and bell peppers, I knew it had to be made.
Here's the thing, eggplant isn't my favorite. In fact, confession- I can't stand the taste of eggplant cooked plain. My husband, on the other hand, LOVES the stuff. Grilled eggplant? His favorite.
BUT, prepare eggplant the right way and it quickly becomes one of my favorite veggies to cook and eat!
This delicious eggplant sauce is slowly simmered and full of eggplant, bell peppers, tomatoes, onion, garlic and spices. You'll love it, trust me. And it's healthy, which makes it that much better, which I didn't even know was possible.
So, there's an eggplant sauce, what else? Chutney! Must have chutney! When I think of chutney, I think of a condiment that packs tons of flavor. This chutney packs a punch in the best way possible. Lots of mint, cilantro and garlic. The chutney is key to this bowl, as is yogurt. Oh my gosh, you guys, you MUST have yogurt. Again, trust me. The mellow, cooling, and refreshing tang from the yogurt ties the flavors of the eggplant sauce and chutney together.
Now, all that's left is the base of the bowl. As with the original recipe, I prepared my favorite rice and added garbanzo beans. But, my lack of imagination doesn't mean you can't let your imagination run wild. Roasted asparagus, brussel sprouts, cauliflower and roasted carrots would all taste amazing. If you're looking for more protein, top with egg or grilled chicken.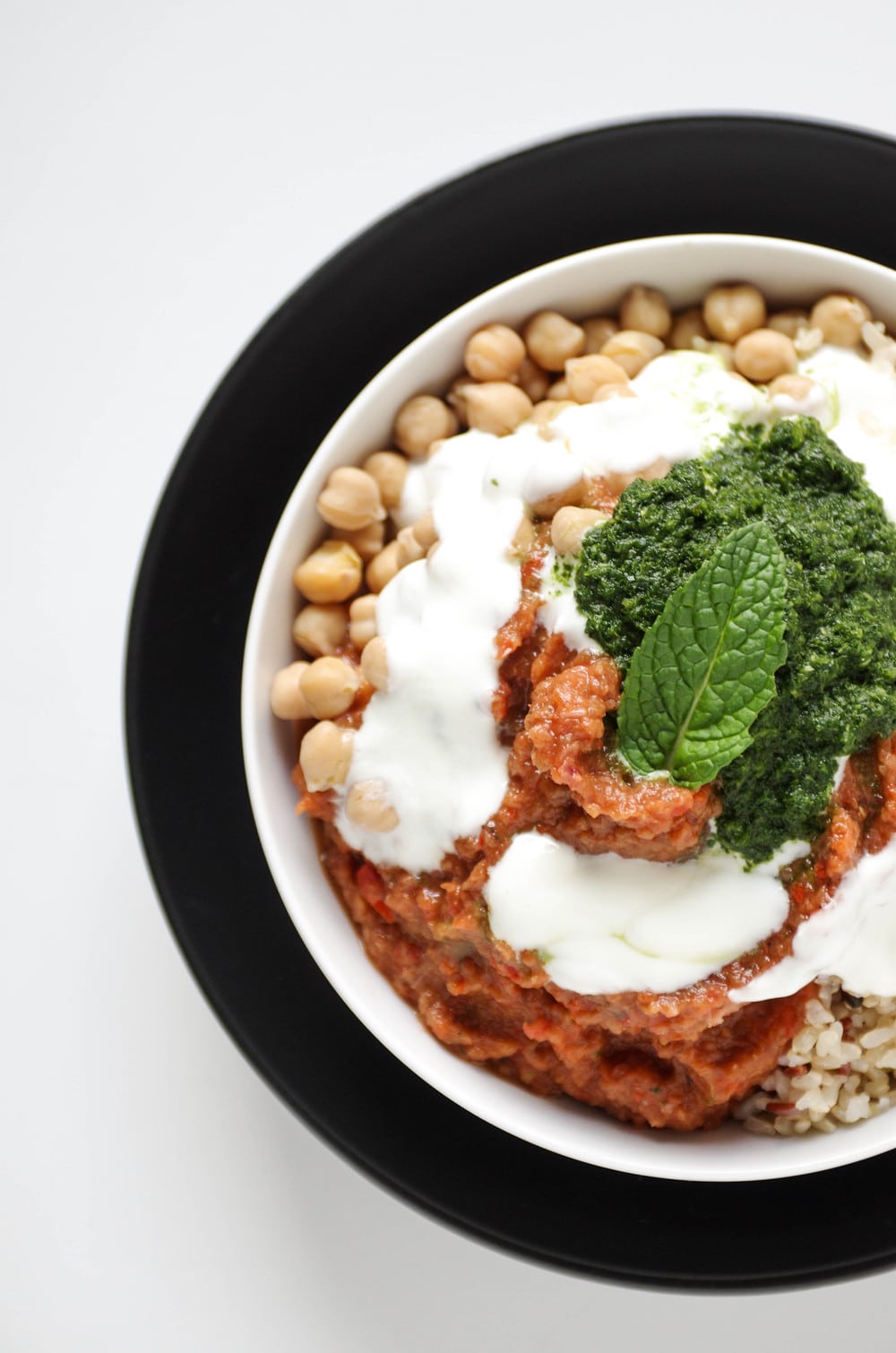 Eggplant Bowl with Mint + Cilantro Chutney
Enjoy this plated Eggplant Bowl that is full middle eastern flavor with its Mint Cilantro Chutney.
Ingredients
Eggplant and Red Pepper Sauce:
2

medium eggplants

nonstick cooking spray

1

large red onion

-

finely chopped

6

cloves

garlic

-

minced

2

red bell peppers

-

seeded and finely chopped

3

green onions

-

chopped

2-3

tablespoon

tomato paste

15

oz

diced tomatoes

-

one 15 oz can

1

teaspoon

paprika

½

teaspoon

cumin

1

teaspoon

red chili flakes -

more or less depending on how much heat you like

salt + pepper

-

to taste
Mint + Cilantro Chutney:
½

cup

fresh mint

-

packed

½

cup

fresh cilantro

-

packed

1

green onion

-

chopped

1

inch

piece fresh ginger

-

peeled and sliced

1

clove

garlic

2

tablespoon

apple cider vinegar

1

tablespoon

honey -

or sweetener or choice

salt

-

to taste
For Serving:
2

cups

cooked rice of choice

-

I used a rice medley from Trader Joe's

14

oz

garbanzo beans

-

one 14 oz can, drained and rinsed

Plain low-fat yogurt
Instructions
Preheat your broiler. Wash eggplant and slice into rounds that are approximately 1/4-inch thick. On a large work surface spread out paper towels and lay out sliced eggplant rounds in an even layer. Sprinkle with salt and allow the eggplant to sit for approximately 15 minutes to draw out moisture. When time is up, wipe excess liquid and salt with a paper towel.

Meanwhile, line a large baking sheet (I needed 2) with foil and spray with non-stick cooking spray. Cover with a single layer of sliced eggplant and broil each side for approximately 5-6 minutes or until the eggplant starts to brown. When first sheet of eggplant is finished, put in second sheet and repeat the same process.

When done, stack the eggplant rounds on top of each other (like a tower) and wrap them with foil. Allow eggplant tower packets to sit for at least 5 minutes or so. Open the foil and carefully (it will be hot!) peel off the eggplant skin. The skin should come off quite easily.

Over medium heat, heat 1 tablespoon olive in a large sauté pan. Add the red onions and sauté for a few minutes until they start to soften, stirring occasionally. Add the garlic and red pepper to the pan and mix well. Continue to cook for an additional 5 minutes. Increase heat to medium-high and add remaining ingredients to the pan: eggplant, green onion, tomato paste, diced tomatoes and juice, paprika, cumin and salt and pepper. Mix well. Cook for 3-4 minutes, stirring constantly, before turning off heat and transferring sauce to a blender or food processor. Pulse eggplant mixture until desired consistency is reached. Set aside.

In a food processor or high-speed blender prepare the chutney. Add all ingredients and blend until smooth; if you find that it is difficult to blend, add small amounts of water, 1 tablespoon at a time. Season to taste.

Prepare chutney by blending all ingredients with and immersion blender or food processor until smooth. If you find the ingredients are difficult to blend, add water, 1/2 tablespoon at a time, to thin out sauce. You may need to adjust the seasonings. To make the yogurt sauce, mix 1/2 cup yogurt with 1 tablespoon of the chutney.

Serve eggplant and pepper sauce and chutney over rice and chickpeas.
Nutritional Information
Calories:
433
kcal
|
Carbohydrates:
90
g
|
Protein:
13
g
|
Fat:
2
g
|
Saturated Fat:
0
g
|
Cholesterol:
0
mg
|
Sodium:
72
mg
|
Potassium:
981
mg
|
Fiber:
13
g
|
Sugar:
16
g
|
Vitamin A:
2050
IU
|
Vitamin C:
68.1
mg
|
Calcium:
113
mg
|
Iron:
4.4
mg
(Nutrition information provided is an estimate and will vary based on cooking methods and specific brands of ingredients used.)