Oh, hey there! Happy Wednesday!
(side note- whoa! It's Wednesday afternoon. Already. Wasn't it just Monday morning, like, .25 seconds ago?)
Since I am indeed correct, today is Wednesday, that means that today is National Watermelon Day! Who knew, a day just for watermelons? I didn't. At least not until yesterday when I say someone mentioned it on their Instagram page. I had literally just returned home from the market with TWO giant watermelons. It was fate.
Watermelon is one of my favorites, especially when I manage to pick out the sweetest, juiciest melon of the bunch. I've had pretty good luck this year picking out great watermelons and I'll be sad when they're gone (cold watermelon after a long run=heaven). I've always loved eating watermelon alone, chopped into big cubes, but, you guys, watermelon offers so much more. Add it to salads, make it into a salsa or simply blend into a refreshing drink, watermelon will always and forever be a classic symbol of summer.
So, today, I made a refreshing and SUPER healthy Watermelon Limeade. The ingredients couldn't get any simpler- watermelon, fresh lime juice, water and ice. Originally I planned to add a little sugar because, well, it seemed to be the expectation with homemade refreshments. However, after tasting it without sugar, I realized it would be crazy to add sugar. Yes, I love my sugar, but I love the taste of watermelon juice more. The lime and the watermelon are perfect complements to each other, and feel free to add more lime juice if needed.
Happy Watermelon Day, Everyone!
ps-Octavian went completely bonkers over his watermelon limeade and finished his AND half of mine. Good thing I bought those two watermelons 😉
You may also like: Mango, Watermelon and Corn Salad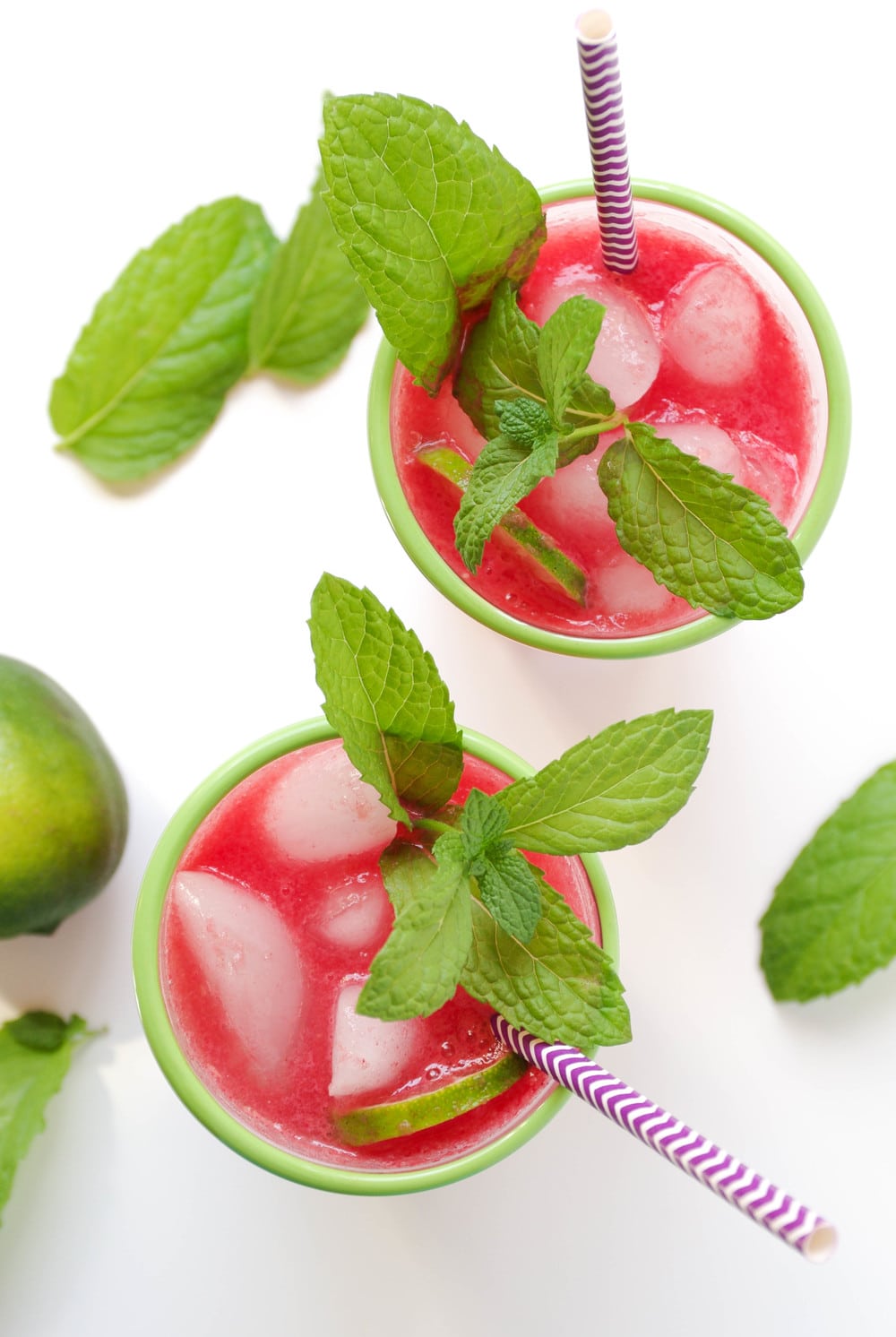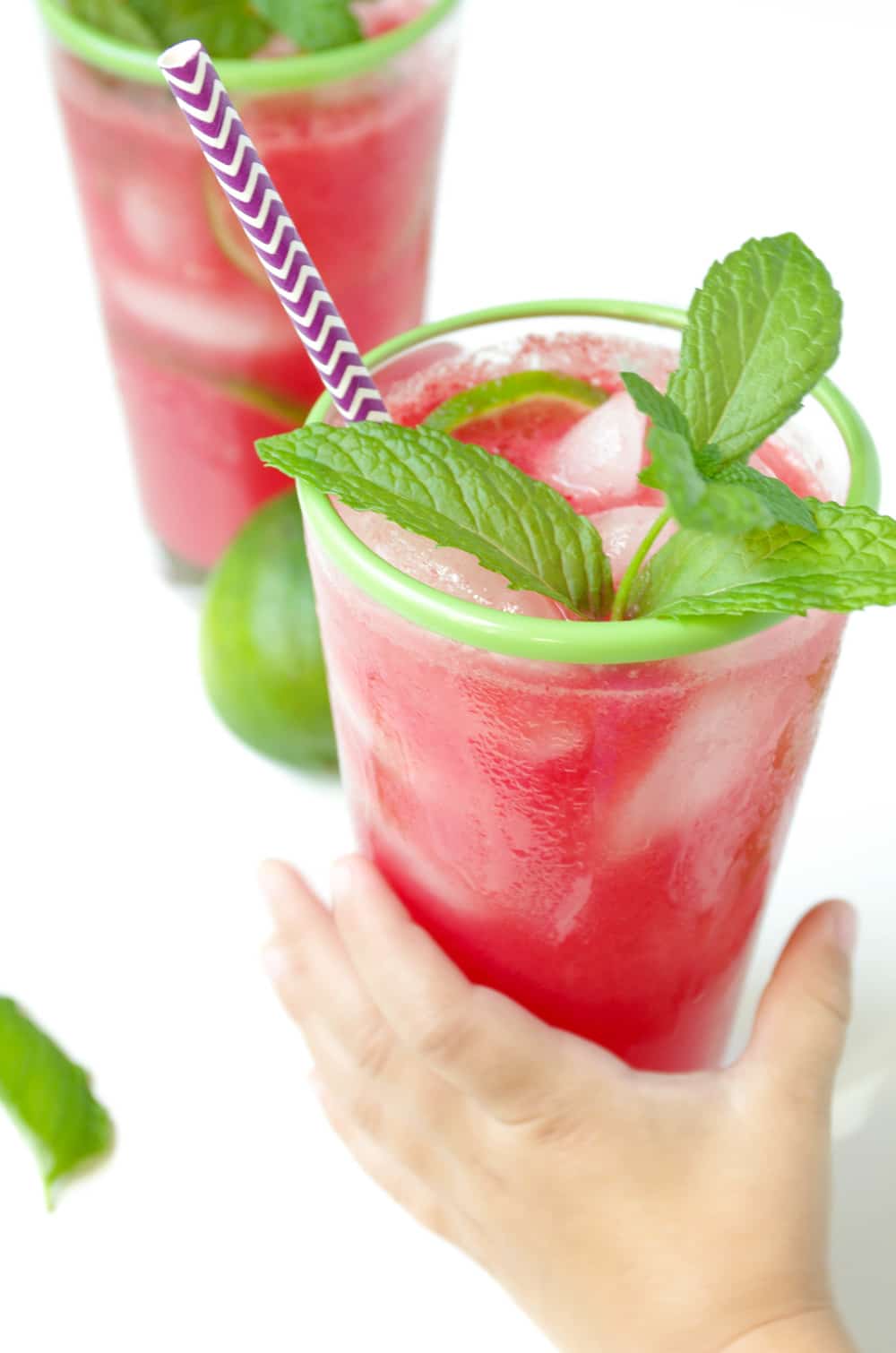 Ingredients
8

cups

watermelon

-

cubed

2

cups

water

2/3

cup

fresh lime juice

Lime slices

-

for garnish

Fresh mint

-

for garnish

Ice

*No sugar?
Instructions
Place watermelon cubes in a blender and process until completely blended. Strain half of the juice through a fine mesh sieve over a large bowl or container and discard the solids left over (you can strain the second half of juice; however, I prefer to leave some of the solids since that is the healthiest part for you). Pour watermelon juice into a large container and pour in fresh lime juice, water and ice cubes. Stir together and taste. Add more fresh lime juice if needed.
Notes
*With a sweet enough watermelon, I found it sweet enough without additional sugar; but if you prefer a sweeter juice you can, of course, add sugar. Start with 1/4 cup, stir until sugar dissolves completely, and taste. Add more if needed.
Nutrition
Nutrition Facts
Watermelon Limeade (with no sugar added)
Amount Per Serving
Calories 101
% Daily Value*
Fat 0g0%
Cholesterol 0mg0%
Sodium 10mg0%
Potassium 387mg11%
Carbohydrates 26g9%
Protein 2g4%
Vitamin A 1750IU35%
Vitamin C 36.7mg44%
Calcium 31mg3%
Iron 0.7mg4%
* Percent Daily Values are based on a 2000 calorie diet.
(Nutrition information provided is an estimate and will vary based on cooking methods and specific brands of ingredients used.)