These Pumpkin Banana Muffins are healthy, tasty, and kid-approved!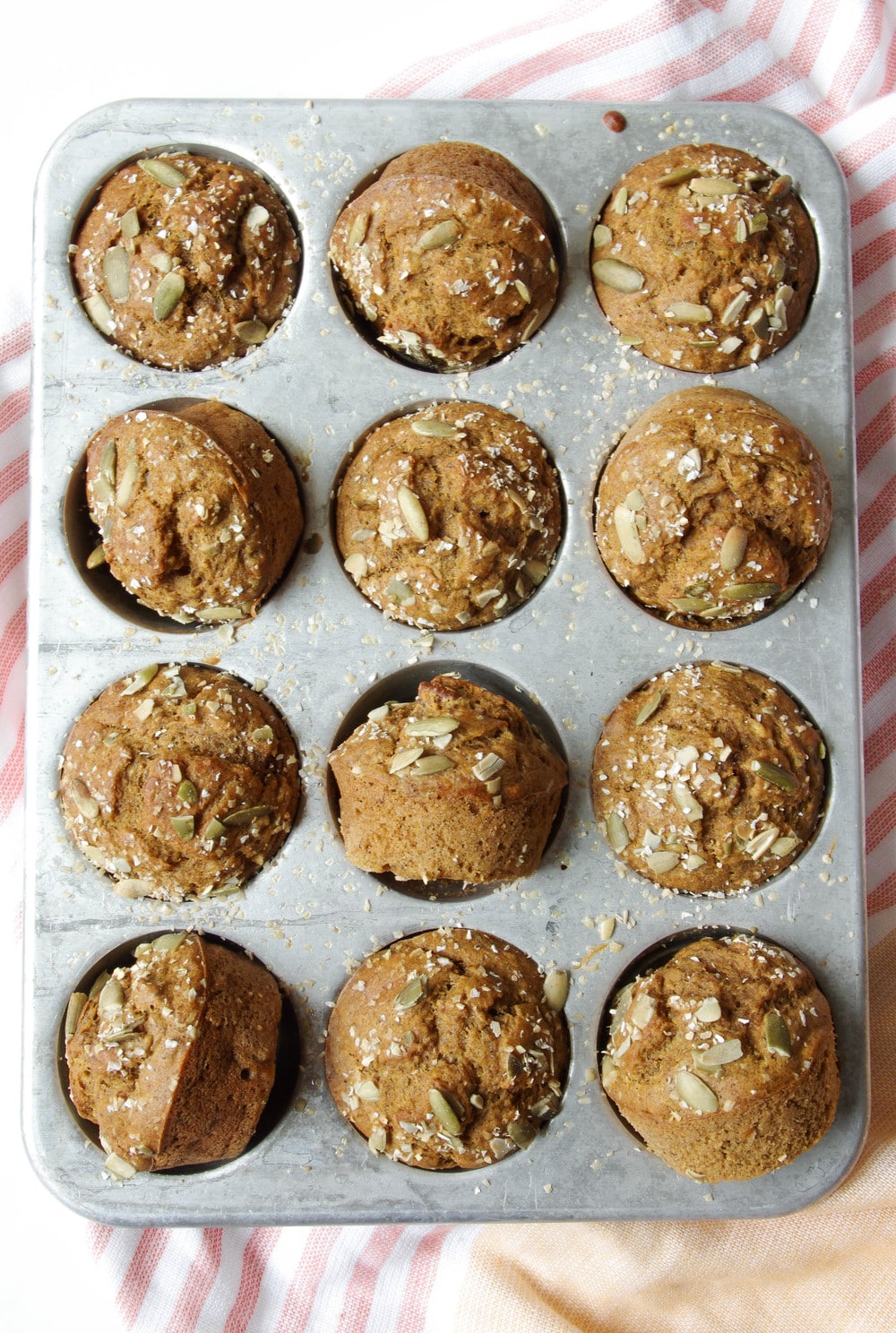 Hey, guys! Good morning (or nearly afternoon)!
Do you have anything fun planned for the weekend? Octavian was up bright and early this morning, so we decided to capitalize on his early rising by packing up the kids (and subsequently the house) and heading up to the mountains for a fun little snow day. I really should take a photo of our suv. Between the toddler, puppy and all the "stuff" that comes with them, we're bursting.
It wasn't too long ago that I looked at cars with the kid(s) and dog and thought to myself wow, those people are old.
You guys, I'm one of "those people". I love this stage in my life (it's my favorite yet), but seriously, where did the last decade go?
I turn 30 this July and I feel like I am going through a mid-life crisis. What are the signs and symptoms of a mid-life crisis? I should google it. Or, maybe I shouldn't.
Anywayyyy, the snow. We are on our way! I love the snow. Octavian loves the snow, too, as long as he has a shovel. He also woke up convinced that with the snow comes water fountains, so we may have stretched the truth a wee bit and said there would be a waterfall.
I also packed a big bag of these super healthy pumpkin banana muffins along for the ride (although, several are now in our tummies). These are one of my favorite muffins. Actually, I love these things so much I probably make a batch at least once every week or two.
They're like warm fluffy pillows of feel-good energy.
Low in fat and sweetened with only a teeny tiny bit of pure maple syrup, you can feel good about eating these at anytime of day. They're actually my favorite post-workout snack!
Kiddos like them, too! Unless their name is Octavian (ah! but, I did finally make a muffin recipe my picky child will eat. stay tuned. Every other kiddo has loved these!).
Healthy Banana Pumpkin Muffins
These Pumpkin Banana Muffins are healthy, tasty, and kid-approved!
Instructions
Preheat oven to 350 degrees F. Lightly spray muffin tray with non-stick cooking spray or line with muffin liners. Set aside.

In a medium sized mixing bowl whisk together the flours, ground flax/chia seed blend, baking soda, baking powder, salt, and ground cinnamon. Set aside.

In a separate larger mixing bowl, whisk together the wet ingredients: eggs, milk, maple syrup, butter or oil, vanilla extract, pumpkin puree and mashed banana.

Gently fold the dry ingredients into the wet ingredients, being careful not to overmix. Fold in the chopped nuts.

Divide the batter between 12 prepared baking cups and sprinkle with chopped nuts of choice. Bake for approximately 20 minutes, or until toothpick inserted into the center comes out clean.
Nutritional Information
Calories:
178
kcal
|
Carbohydrates:
20
g
|
Protein:
4
g
|
Fat:
9
g
|
Saturated Fat:
3
g
|
Cholesterol:
27
mg
|
Sodium:
133
mg
|
Potassium:
187
mg
|
Fiber:
2
g
|
Sugar:
5
g
|
Vitamin A:
1655
IU
|
Vitamin C:
1.3
mg
|
Calcium:
49
mg
|
Iron:
1.2
mg
(Nutrition information provided is an estimate and will vary based on cooking methods and specific brands of ingredients used.)