This Cauliflower Broccoli Soup is healthy and filled with roasted cauliflower and broccoli!
After two weeks of sickness, I think life around my house may be returning to normal.
Just this morning, Octavian woke up happy AND demanding breakfast. His new internal alarm seems to be set for 6am which, just two months earlier, would have made me cry; however, now that winter is coming to a close and I have had a couple nights sleep in my own bed, it hasn't been so bad.
I am not sure what has caused the sudden switch back to sleeping in his own bed. Of course, he's feeling better, but some of our bad sleeping habits started before the sickness.
One possibility is that I purchased him his very own pillow. He never really showed any interest, but oh my! he loves his pillow!
I have also started bribing him with m&m's (aka his "special treat"). We make a deal each night- if he sleeps in his own bed all night, then he gets a special treat in the morning. He even gets to pick the color he wants. I know one m&m won't work forever (although this is the only candy he ever gets) so I'm thinking of some other ideas, especially with the unavoidable big-boy bed transition in the near(ish) future.
The only other possibility is that he's playing me and it will all end tonight.
I'm gonna go with option c.
In other news, I'm obsessed with cauliflower.
Aside from this delicious roasted cauliflower + broccoli soup, I have eaten cauliflower fried "rice" three nights this week and currently have a purple, green and white cauliflower sitting in my refrigerator. Cauliflower is pretty hot right now, and not just because of pizza crust.
Cauliflower is what vegetable magic is made of and this soup is no exception.
As I've mentioned previously, I try to keep things healthy whenever possible. Thankfully I love vegetables, otherwise this would be much harder. We've all had creamy delicious broccoli, cauliflower or potato soup, but I've never eaten a non-cream based soup of this kind.
Today, this changed.
Aside from a small addition of cheese and an optional crumble of bacon pieces, this soup is all vegetable. But, you would never know, it is that yummy.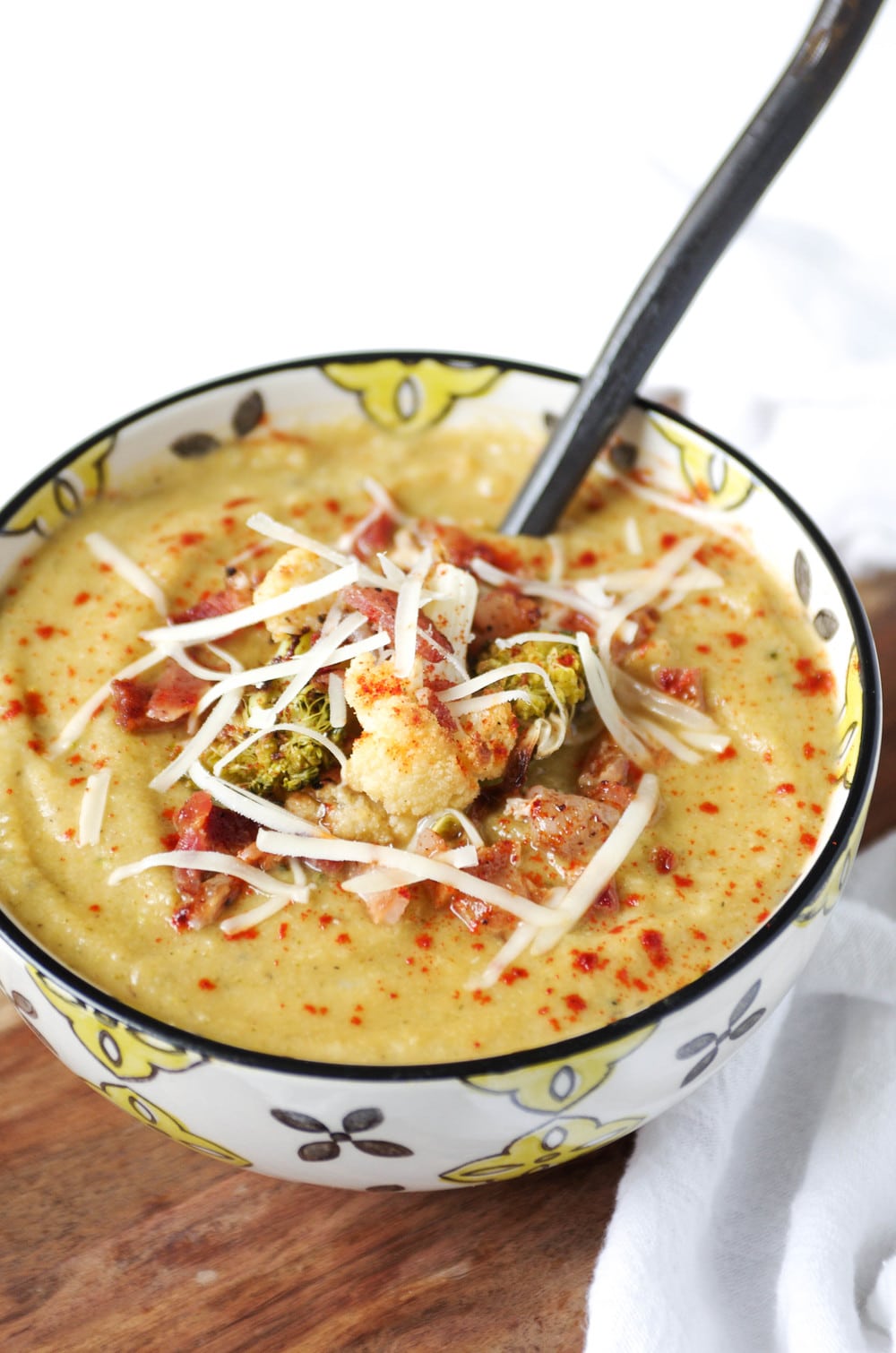 Healthy Roasted Cauliflower + Broccoli Soup
This Cauliflower Broccoli Soup is healthy and filled with roasted cauliflower and broccoli!
Ingredients
2

large heads of cauliflower

-

cut into small florets

2

large heads of broccoli

-

cut into small florets

salt + pepper

4

thick-cut slices of bacon

-

cut into small pieces

2

yellow onions

-

chopped

5

cloves

garlic

-

chopped

½

teaspoon

cayenne powder -

optional

1

small russet potato

-

cubed

7

cups

chicken or vegetable broth

-

start with less, add more if necessary

½

cup

sharp cheddar cheese

-

or cheese of choice, shredded (plus more for serving)

Freshly ground black pepper -

for serving
Instructions
Preheat oven to 450 degrees F. Spray two large baking sheets with non-stick cooking spray. In a large mixing bowl, toss cauliflower with 1-2 tablespoons olive oil and a generous pinch of salt and pepper. Spread cauliflower evenly over the two baking sheets. Roast for 20-25 minutes, or until fork tender and browning on top. Swap racks halfway during roasting for even cooking. Once cauliflower is done, repeat the same process with the broccoli. Remove and set aside approximately one-third of the roasted broccoli and cauliflower and set aside in a separate bowl.

Meanwhile, while broccoli and cauliflower are roasting, heat 1 teaspoon of olive oil in a large Dutch oven or stock pot. Add the bacon and cook over medium heat until bacon is cooked and crispy. Using a slotted spoon, transfer the cooked bacon pieces to a plate lined with a paper towel. Drain off all but 1-2 tablespoons of bacon fat.

In the same pot over medium-high heat, add the chopped onions. Stir and cook for approximately 5-7 minutes. Stir in the garlic, cayenne powder and chopped potato and cook for one minute more. Pour in the chicken or vegetable broth along with the remaining roasted cauliflower and broccoli and bring to a boil. Cover and reduce heat to medium-low. Simmer for approximately 20 minutes.

Ladle the broth and vegetables into a blender, pureé until smooth. You will need to do this in batches, only filling the blender approximately half way full and securing the lid of the blender with one hand to prevent steam from popping it off. Pour pureed soup back into the pot. Place the remaining roasted broccoli and cauliflower and pulse it a couple times in your blender or food processor. Scoop into the pot and stir. Reduce heat to low and stir in grated cheese. Taste for salt, crumble with bacon pieces (optional) and serve hot.
Nutritional Information
Calories:
267
kcal
|
Carbohydrates:
29
g
|
Protein:
17
g
|
Fat:
11
g
|
Saturated Fat:
4
g
|
Cholesterol:
19
mg
|
Sodium:
319
mg
|
Potassium:
1233
mg
|
Fiber:
7
g
|
Sugar:
6
g
|
Vitamin A:
1425
IU
|
Vitamin C:
203.5
mg
|
Calcium:
200
mg
|
Iron:
2.8
mg
(Nutrition information provided is an estimate and will vary based on cooking methods and specific brands of ingredients used.)