Learn how to make Chia Pudding Cups with healthy fruits like Mango, Peach and Kiwi!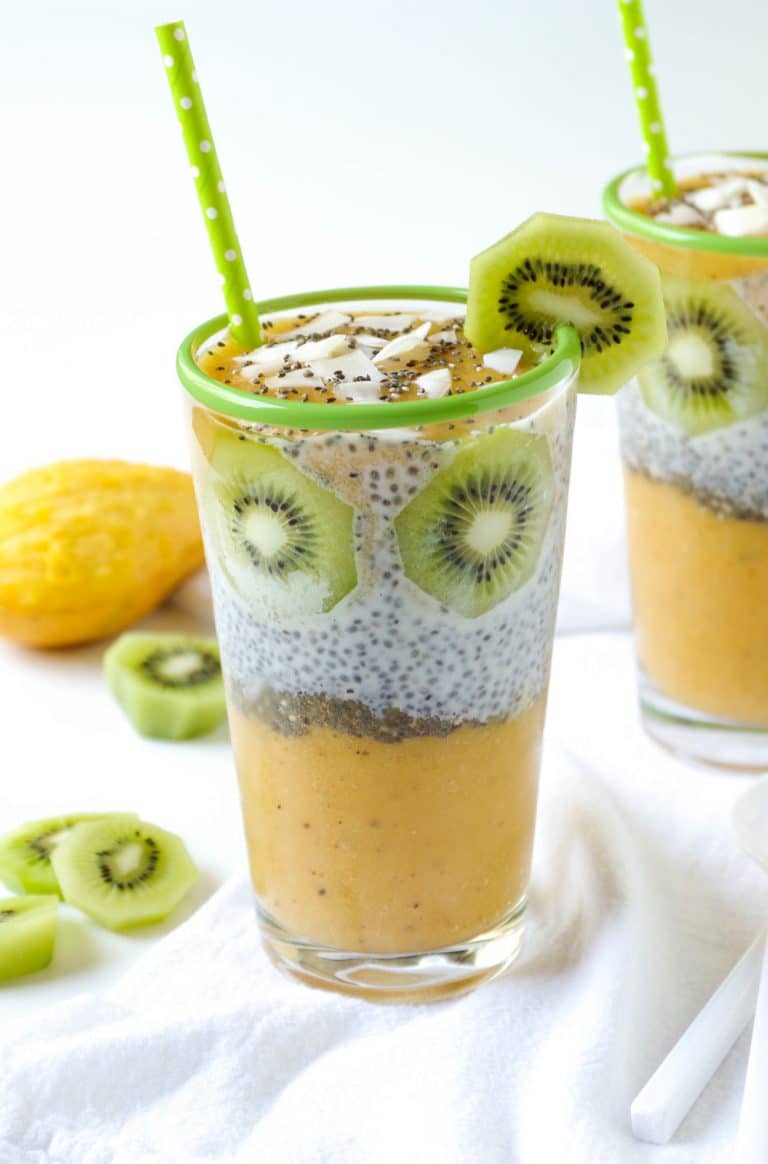 At 11pm on Friday night (way past my bedtime) my husband and I decided we wanted to go on a last minute camping trip to the beach for the weekend. Since it was going to be SO HOT in Sacramento, that meant perfect, beautiful beach weather. Camping with a toddler may not be the most relaxing weekend activity, but Summer is rapidly coming to a close which means one thing, winter is coming.
I love pumpkin and holiday lights, but that's about it. But, I digress…
So, we were all set to go camping. Actually, we were not at all ready to go, but mentally I was prepared, which is the hardest part; so yep, we were all ready. In fact, I was actually super excited (shh, don't tell my husband or he will think I'm always up for camping).
Well, the beach and camping never happened. Not even close. My kid decided to get sick with a random summer cold literally 1 hour after I made the mental switch to support the camping idea. I know this because I was woken by him blowing snot in my face while whimpering for a tissue.
So rather than sand between my toes (and, let's be realistic, every other crevice of my body) I've basically just had a weekend of snot. Octavian loves to blow his nose as hard as possible (yay! he can blow his nose), but does it without warning and without a tissue. You guys, the snot; the loads and loads of snot. When I'm not cleaning his face, I'm cleaning the house. I have been on a mission to get the baseboards clean, catch up with laundry AND let all the dog hair vacuumed from the carpet. Long story short, we've been using a broken vacuum for a long time and didn't know it (actually, I knew it, but my husband didn't want to admit that we needed to buy a new vacuum). Well, we have a new vacuum and all I want to do is clean!
Yep, my weekend in a nutshell. Productive, but boring.
To sweeten it up a bit, I made this easy Mango, Peach and Kiwi Chia Seed Pudding Smoothie. Octavian hasn't had much of an appetite, so I got creative and he LOVES when I make pretty drinks. These delicious cups can be eaten with a straw, a spoon or straight out of the glass which made him even happier.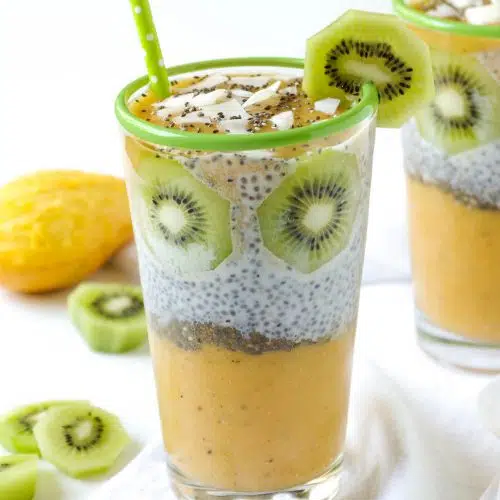 Mango, Peach + Kiwi Chia Seed Pudding Cups
Learn how to make Chia Pudding Cups with healthy fruits like Mango, Peach and Kiwi!
Ingredients
1/4

cups

chia seeds

1

tablespoon

honey

1

cup

milk

(cow, soy, almond)

1

kiwi

(sliced)
For the fruit puree:
1

cup

mango

(pitted and chopped)

2

peaches

(sliced)

1/2

cup

milk
Instructions
Combine chia seeds, honey and milk in a mason jar or container (with tight fitting lid) and stir/shake to fully mix. Fit with airtight lid and store in the refrigerator for at least 4-8 hours.

When chia pudding has thickened and is ready for serving, blend the mango and peaches with 1/2 cup milk in a blender or food processor until fully processed and you have a smooth puree.

Make alternating layers of the chia seed pudding and the mango peach puree until you reach the top of the glass. Carefully slide sliced kiwis down the side of the glass using your fingers, pressing the kiwi against the side of the glass so you can see it from the outside.

Garnish with chia seeds, coconut chips, a drizzle of honey and fresh chopped kiwi, if desired.
Nutritional Information
Calories:
333
kcal
|
Carbohydrates:
60
g
|
Protein:
12
g
|
Fat:
7
g
|
Saturated Fat:
0
g
|
Cholesterol:
3
mg
|
Sodium:
83
mg
|
Potassium:
938
mg
|
Fiber:
12
g
|
Sugar:
45
g
|
Vitamin A:
1795
IU
|
Vitamin C:
82.1
mg
|
Calcium:
392
mg
|
Iron:
2.3
mg
(Nutrition information provided is an estimate and will vary based on cooking methods and specific brands of ingredients used.)