Persian Cranberry Rice Pilaf is bursting with saffron flavors coupled with the tart of cranberries.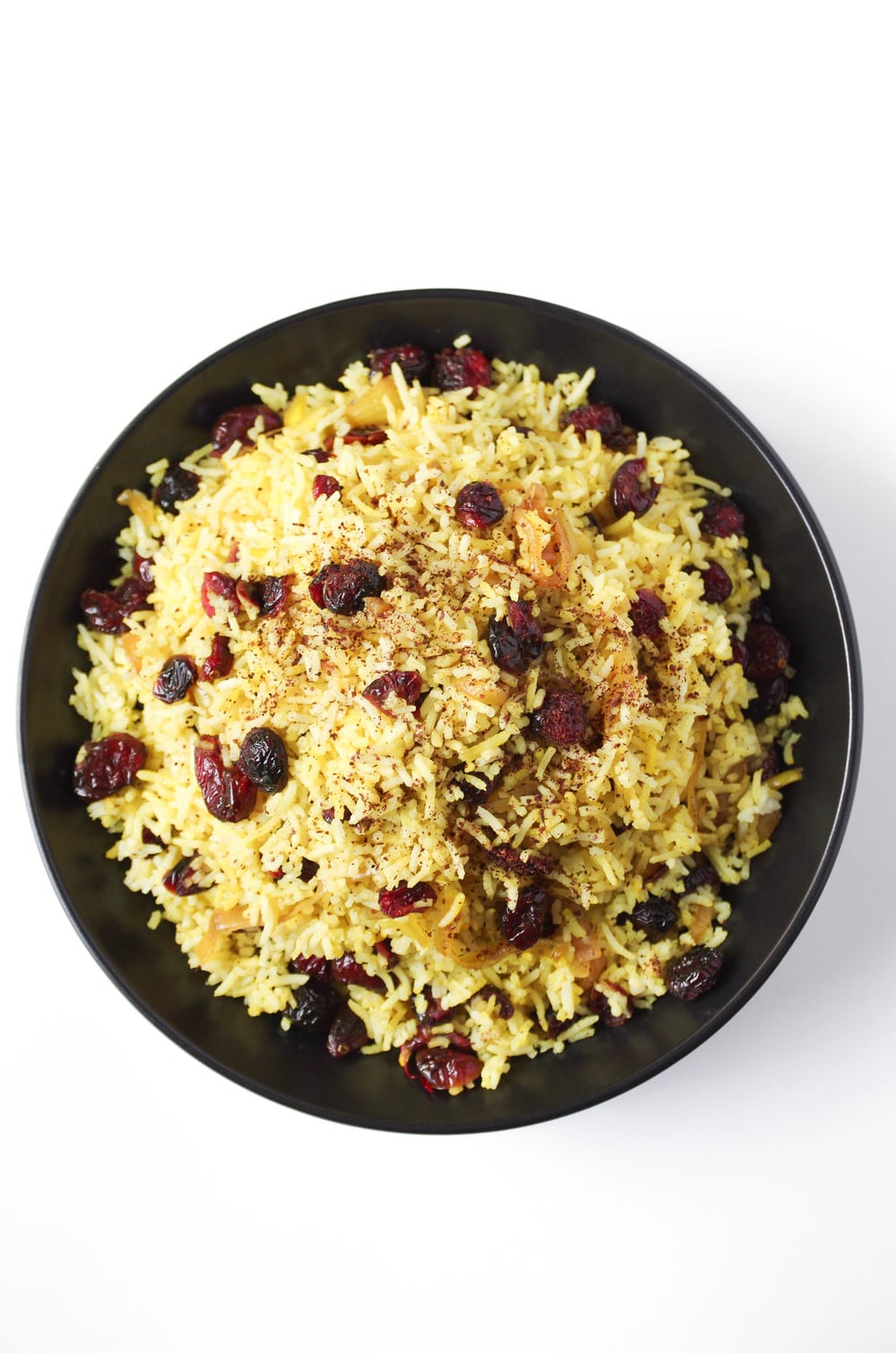 I grew up eating boxed rice with dinner- wild rice, rice pilaf or, my (then) favorite, rice-a-roni.
Over the years my attitude toward rice has changed. Most of this change came about after traveling through SE Asia and experiencing good rice. I also have my mother-in-law to thank for showing me that rice is much less scary to prepare than I previously thought (that it is possible to make rice that won't turn into a pile of mush).
Some of the best rice dishes I have ever eaten, however, have been from tiny hole-in-the-wall Persian, Israeli, Indian or Moroccan restaurants. They have the perfect texture and balance of spices. Sometimes the rice is left plain, cooked to perfection and other times onions, fruit or nuts are thrown in there to mix it up.
Either way, these places know how to do rice and I want to know how to do rice, too.
This recipe seemed like a good place to start.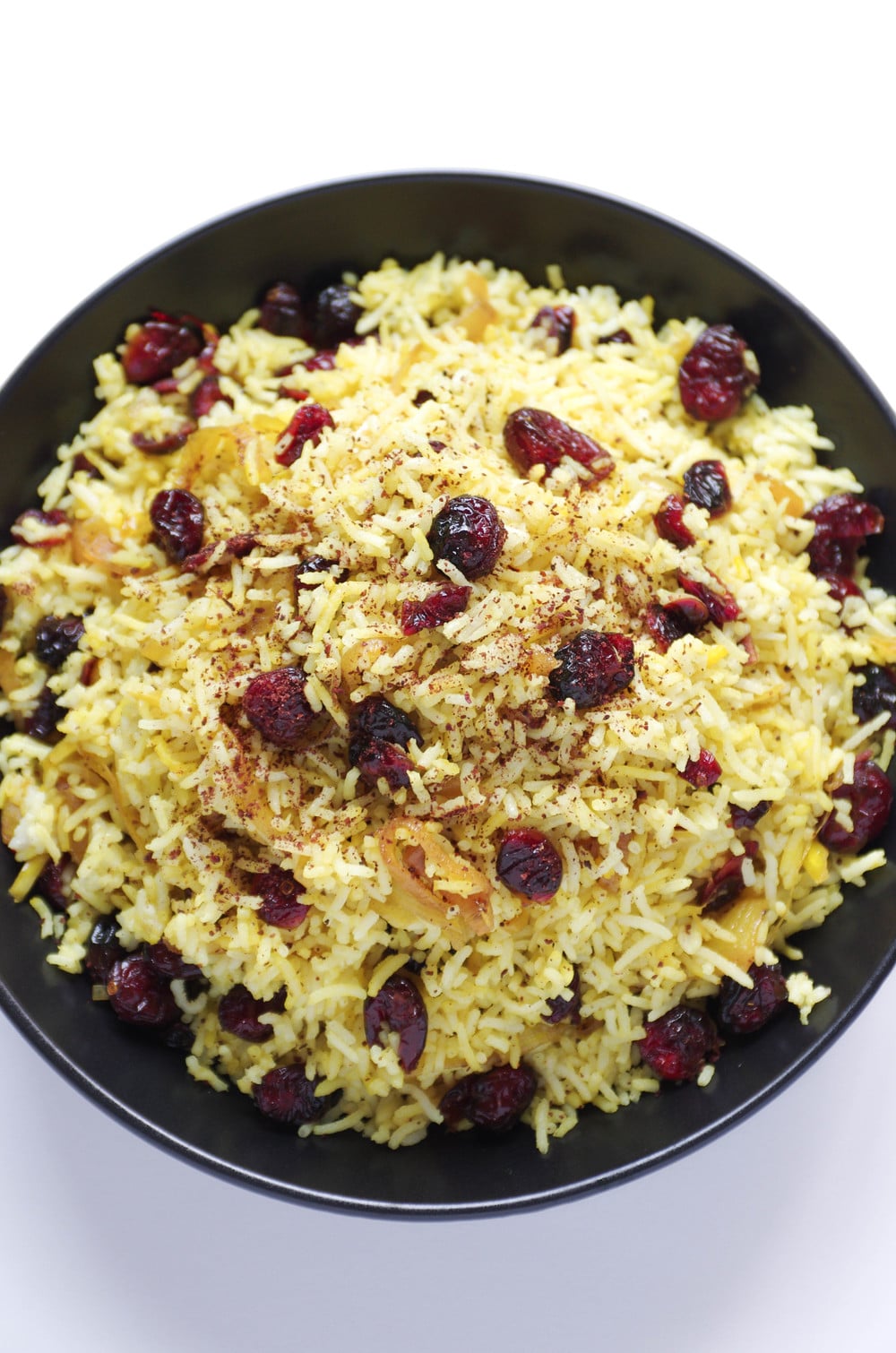 This is definitely a great starter rice recipe and it is so much better for you than the boxed stuff (just sayin').
Oh yeah, It's super easy to prepare, too. I PROMISE.
So what's in it?
The secret to the beautiful golden yellow of this rice is saffron. Saffron is a spice derived from the flower Crocus sativus. It's pricy, but the addition is well worth it. Besides, a little goes a long way.
Hidden among the yellow grains of rice are sauteéd shallots and a large yellow onion. If you love shallots and/or onion I highly recommend doubling the amount of one or both. Of course, not all of you love this vegetable as much as me, so I toned it down to avoid scaring you away. But, like I said, if you love 'em, add 'em.
Other notable spices for rices dishes are ground turmeric (which also helps give a pretty yellow hue) and sumac powder. My husband and I fell for Sumac years ago when we found the best little Persian restaurant right next to our house. Now, Sumac powder finds its way atop all our rice slash hummus slash kebab dishes (and if you're my husband, on many other things). You can find Sumac powder in any middle eastern market.
And finally, dried cranberries and slightly salty pistachios. Because you can never go wrong with a little added salty sweet. Plus, these two things just make the whole thing come alive.
(you will notice that there are no pistachios in the photos. someone (me) got a little too excited to take pictures that I forgot to add them until halfway through dinner. Although the rice is still delish without the nuts, I recommend adding them. #foodblogfail)
Persian Cranberry Rice Pilaf
Persian Cranberry Rice Pilaf is bursting with saffron flavors coupled with the tart of cranberries.
Ingredients
2

cups

Basmati rice

-

rinsed well

2

tablespoon

butter or ghee

6

shallots

-

sliced

1

yellow onion

-

chopped

3

cloves

garlic

-

minced

½

teaspoon

ground turmeric

2

teaspoon

sumac powder

1.5

cups

dried cranberries

¼

cup

granulated sugar

½

teaspoon

salt

¼

teaspoon

saffron

-

soaked in 2 tablespoons hot water for 10 minutes

1

tablespoon

olive oil

⅓

cup

salted pistachios

-

I forgot to add until halfway through eating. Add the nuts!
Instructions
Wash rice thoroughly in several changes of water and soak for at least 30 minutes.

Meanwhile, heat butter over medium heat in a large skillet. Add shallots and onions and sauté for 3-4 minutes or until they turn translucent and start to soften. Add the garlic, ground turmeric, sumac powder, cranberries and salt and mix well. Allow the cranberries to cook for a minute or two, then add the sugar and 3-4 tablespoons of water. Mix. Continue to cook the cranberries over medium heat until they have soaked up all the liquid, approximately 2-3 minutes. Turn off heat and set aside.

Fill a large pot with water and bring to a boil. Add the rice and cook over medium heat for approximately 6 minutes, or until rice is soft, but firm (you can test it by squishing a grain between your fingers). Drain the rice and rinse under cold water to stop cooking. Drain again.

Pour a tablespoon of olive oil into the base of the pot and add the rice. Pour the saffron water evenly over the rice. Top with the onion/cranberry mixture and wrap the lid of the pot with a thin kitchen towel and cover the pot.Turn the heat on high and cook for approximately 3-4 minutes, then turn the heat as low as it will go and continue to cook for an additional 10 minutes.

Remove from heat, mix and stir in the pistachios. Add additional salt to taste. Serve warm.
Nutritional Information
Calories:
2830
kcal
|
Carbohydrates:
546
g
|
Protein:
40
g
|
Fat:
60
g
|
Saturated Fat:
19
g
|
Cholesterol:
60
mg
|
Sodium:
1414
mg
|
Potassium:
1608
mg
|
Fiber:
25
g
|
Sugar:
188
g
|
Vitamin A:
805
IU
|
Vitamin C:
24.2
mg
|
Calcium:
263
mg
|
Iron:
8
mg
(Nutrition information provided is an estimate and will vary based on cooking methods and specific brands of ingredients used.)