Learn how to make Shrimp Enchiladas with this simple and tasty recipe!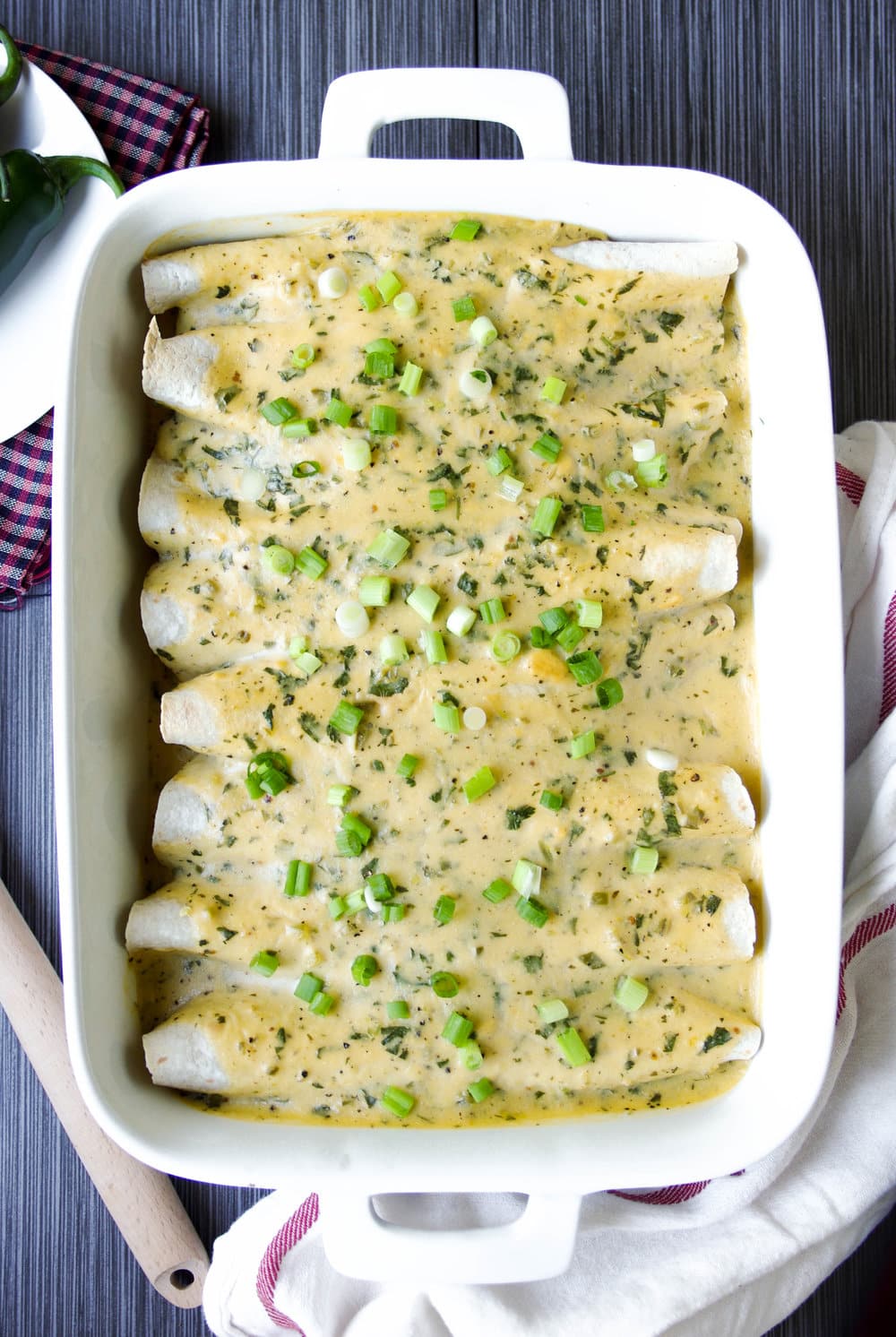 Well, hello! Merry Christmas and Happy Hanukkah!
I don't know about you guys, but I feel like I could sleep through this entire week and still wake up tired. The weekend was a blast, but whoa! I do not remember Christmas being so exhausting.
It must have been all the food. I'm still digesting.
My toddler, on the other hand, hardly ate a thing- way too much excitement for any of that. I even tried to bribe him with one of Santa's chocolate chip cookies and he completely turned up his nose. I have no idea how I gave birth to a cookie-hating kid. I mean, cookies are like a primary food group for me.
Santa made a visit to our house, so I guess that means my cheeky little child wasn't so naughty, after all. Next year I will let Santa do all the gift giving (and no more) because the three things my kid asked for – a stud finder, harmonica, and light-up drill set toy – were the only toys he really cared about. Wait, that's not true, he also loves the marble run that Santa surprised him with.
The 10 other toys and games purchased for him? Opened, ignored (for now) and will be used as rewards for good behavior since Santa ALSO brought him a reward chart.
As much fun as it was shopping for my 3-year-old, I am so super happy it's done. The holidays are exhausting (oh wait, I said that already…)
To take a break from traditional holiday flavor that many of us have been feasting on all weekend, today I have delicious Shrimp Enchiladas with Jalapeño Cream Sauce. Packed full of juicy shrimp and all kinds of sautéed vegetables, these enchiladas are more than just cheese and meat in a tortilla. Yes, there is the cheese and yes, there is the tortilla, but there is also onion, mushroom, cabbage, carrots, and spinach, which means happy tummies for veggie lovers.
And even though I love my cookies, I love my veggies even more.
These were a huge hit with my husband and Octavian ate about half the shrimp, so I guess that means they were a huge hit with him, too 🙂
Shrimp Enchiladas
Easy-to-make and so delicious, these amazing Shrimp Enchiladas are perfect for entertaining or weeknight dinners.
Ingredients
1

pound

large shrimp

-

peeled and deveined

2

tablespoon

olive oil -

divided

Salt and freshly ground black pepper

-

to taste

6

cloves

garlic -

minced

1

large onion

-

chopped

10

ounces

crimini mushrooms

-

sliced

10

ounces

shredded green cabbage

2

cups

shredded carrots

6

ounces

fresh baby spinach

2.5

tablespoon

chipotle peppers in adobo sauce

-

peppers diced (more equals more heat)

½

teaspoon

dried oregano

¼

teaspoon

dried parsley

½

teaspoon

cayenne pepper -

optional

12

flour, whole wheat, or corn tortillas

2

cups

shredded cheese

-

I used a mix of Monterey jack and Mexican mix
For the jalapeño cream sauce-
2

tablespoon

butter

2

tablespoon

all-purpose-flour

1.5

cups

cups chicken or vegetable broth

1

cup

low-fat sour cream

2

jalapeños

-

minced (seeds removed for less heat)

¾

cup

green enchilada sauce

½

teaspoon

garlic powder

Salt and freshly ground black pepper

-

to taste

½

cup

fresh cilantro

-

chopped small
Instructions
Preheat oven to 400 degrees F. Line a large baking sheet with parchment paper.

In a large mixing bowl, gently toss shrimp with 1 tablespoon olive oil, salt and pepper. Transfer shrimp to lined baking sheet, spreading them out into a single layer. Place baking sheet in the oven a roast until shrimp are just pink, firm and cooked through- approximately 6 minutes. Remove from the oven and allow shrimp to cool. Chop shrimp into bite size pieces.

Reduce oven temperature to 350 degrees F and spray a 9x13 baking dish with nonstick cooking spray.

Heat a large skillet or Dutch oven over medium high heat and add remaining tablespoon of oil. Add onion and garlic and stir. Cook the onions and garlic until the onions are translucent and starting to soften, approximately 5 minutes (stirring often). Add the mushrooms, cabbage, carrots, spinach, chopped chipotle peppers, adobo sauce, oregano, parsley and cayenne. Cook everything together, stirring occasionally, until the spinach has wilted, approximately 2-3 minutes. Carefully add shrimp to the skillet and mix everything together.

To make the jalapeño cream sauce- heat a large saucepan over medium heat. Add butter. When butter has melted, whisk in the flour until lightly brown, only 1-2 minutes. Whisking constantly, slowly whisk in the chicken stock and cook until completely incorporated (do this slowly and with constant stirring; this should insure that no clumps form). Stir in the sour cream, followed by the jalapeños and green enchilada sauce. Simmer on medium low until the sauce has thickened, approximately 2 minutes. Season with garlic powder, salt and pepper. Remove from heat and gently stir in the fresh chopped cilantro.

Assemble the enchiladas- Place a tortilla on a large flat surface. Spoon 1/3-1/2 cup of the shrimp mixture into the center and sprinkle the top with shredded cheese. Roll up the tortilla and transfer to the prepared baking dish, placing it seam side down. Repeat this process with the remaining tortillas and shrimp mixture until entire shrimp mixture has been used.

Pour half the jalapeño cream sauce evenly over the top of the enchiladas. Bake in the oven, covered, for approximately 20-25 minutes, or until golden and bubbly. Remove from the oven and serve with the remaining jalapeño cream sauce, fresh chopped cilantro and hot sauce (if desired).
Nutritional Information
Calories:
349
kcal
|
Carbohydrates:
31
g
|
Protein:
20
g
|
Fat:
15
g
|
Saturated Fat:
7
g
|
Cholesterol:
146
mg
|
Sodium:
1175
mg
|
Potassium:
550
mg
|
Fiber:
3
g
|
Sugar:
6
g
|
Vitamin A:
6580
IU
|
Vitamin C:
24.4
mg
|
Calcium:
299
mg
|
Iron:
3.4
mg
(Nutrition information provided is an estimate and will vary based on cooking methods and specific brands of ingredients used.)