This game-changing EASY SHRIMP AND AVOCADO SALAD WITH MISO DRESSING will forever change the way you think about salads. Made with big fat juicy shrimp, buttery avocado, crunchy greens and creamy miso dressing, you'll soon have a new 25-minute dinner favorite. Promise!
The biggest fan of Miso, you'll find all kinds of tasty recipes featuring this magical ingredient here on TFS including this 3 Bean Miso Chili with Spinach, Cucumber Salad with Easy Miso Dressing, and Ramen Glow Bowl with Miso Tahini Dressing.
I'm going to warn you guys. Only because I'm nice.
This will become your new favorite salad. You will take one bite and BAM! You're hooked. You will fantasize about this salad as you sleep, as you work out, as you eat the usually delicious, but now boring, dinner you just spent an hour preparing. You'll even wish you were eating this salad as you clean up your toddlers "business" done in the backyard right next to the dogs "business" (yes, you read that correctly).
My point is this salad…this beautiful shrimp and avocado salad is THAT GOOD.
But first, let's start with the basics.
INGREDIENTS IN THIS SHRIMP AND AVOCADO SALAD WITH MISO DRESSING
Shrimp (obvs)
Garlic
Spices like chili powder and cayenne powder for a little kick in the pants (this is optional)
ALL THE AVOCADO. jk. one half to one whole avocado per person should do.
Cucumber, carrots, greens. Gotta get that crrrunch!
Cilantro
Peanuts (only if you're not allergic, please).
You'll notice this list does not include anything about the magical miso dressing. Don't worry, that's coming up next.
So, first, there's shrimp. I'm going to take a wild guess and just assume you wouldn't be here if you didn't like shrimp. After all, this is a shrimp salad, so there's going to be lots and lots of fat, fresh, yummy shrimp. You're welcome.
Then there's avocado. If I have learned one thing, it's to embrace the beautiful, buttery, creamy avocado fruit. Avocado and salad bowls are a match made in culinary heaven. Don't even think about skipping the avocado. Just don't.
Of course, with many salads, you'll find crunchy healthy vegetables. This avocado salad embraces all the crunch with lettuce, cucumber, carrots, and edamame.
Before I tell you all about the miso dressing, I thought I should share a few things about what exactly miso is. I mean, where does it come from? What makes it so…magical?
WHAT IS MISO?
Miso is a thick, fermented paste which is achieved by treating a mixture of soybeans with koji. Koji is a mold (don't worry, cheese is as well) that's been cultivated from rice, barley or soybeans. For weeks, months, or sometimes even years, the enzymes in the koji (aka mold) team up with the microorganisms in the environment to break down the soybeans into fatty acids, simple sugars, and amino acids (aka stuff we need).
In short, miso is fermented soybeans.
WHERE DID MISO ORIGINATE?
Japan! Miso dates back hundreds and hundreds of years to Japan where the production of miso is considered an art form.
WHAT DOES MISO TASTE LIKE?
Miso is salty, complex, deeply rich, and varies greatly depending on the dish being prepared. For example, in the case of this Shrimp and Avocado Salad, the miso perfectly balances the strong flavors from the ginger and lime juice, generating a lovely, creamy, and (yes) salty, dressing.
The saltiness, however, is not the same type of salty as, say, table salt. The only explanation I can give for this is that Miso is not meant to be "salty" or is not meant to replace salt. Miso simple intensifies flavors and makes them more complex.
Plus, Miso can be used with just about everything! Yes, even desserts (recipe currently in the works!).
INGREDIENTS IN THE MISO DRESSING
White Miso
Ginger
Lime juice
Agave or honey
Garlic
Sesame oil
Soy Sauce
salt + pepper
For this fabulous Miso Dressing, I used White Miso Paste. Although miso comes in hundreds of varieties, you and I will probably only find two (maybe three) varieties in our regular old supermarket- white and red. Or, light and dark.
DIFFERENCE BETWEEN LIGHT AND DARK MISO
Light miso (or white miso): light miso is much sweeter and "mellow" tasting. White miso is perfect if you've never tried miso before and have no idea what it tastes like. Light miso has a higher amount of koji (remember the mold?) to soybeans and a shorter fermentation time.
Dark miso (or red or brown miso): opposite of light miso, dark miso has a longer fermentation time and is saltier. Depending on personal taste preference or the dish being prepared, you may or may not want the more intense flavor.
Finally, to make this dressing I blended everything together in a small food processor. Highly recommended to get the creamy, smooth consistency not just in this salad dressing, but any other homemade salad dressing. This is the one I use.
REMEMBER TO SUBSCRIBE TO THE FORKED SPOON NEWSLETTER FOR FREE AND RECEIVE WEEKLY RECIPE NOTIFICATIONS DELIVERED STRAIGHT TO YOUR INBOX!
If you try a recipe, please share it using the hashtag #theforkedspoon or by tagging @theforkedspoon on
INSTAGRAM
! Follow The Forked Spoon on
FACEBOOK
|
INSTAGRAM
|
PINTEREST
for all of the latest recipes and updates.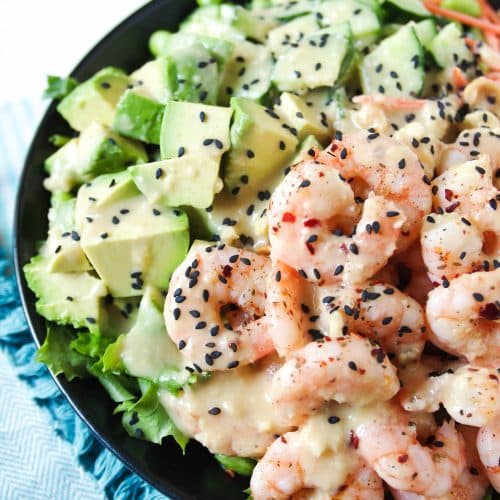 Shrimp and Avocado Salad with Miso Dressing
Made with big fat juicy shrimp, buttery avocado, crunchy greens and creamy miso dressing, this easy Shrimp and Avocado Salad with Miso Dressing will change the way you look at salads forever and only takes just 25 minutes to prepare!
Ingredients
1

tablespoon

butter

1

pound

raw shrimp

-

tails removed

5

cloves

garlic

-

minced

½

teaspoon

chili powder

½

teaspoon

cayenne

2

avocados

-

pitted, peeled and cut into cubes

1

cucumber

-

sliced

½

cup

shredded carrots

½

cup

edamame

6

cup

chopped spinach

-

or baby kale or lettuce of choice

Fresh cilantro

-

for serving

Peanuts

-

for topping
For the Dressing:
1

inch

piece of fresh peeled ginger

3

tablespoon

olive oil

4

tablespoon

lime juice

2

tablespoon

agave

2

tablespoon

white miso

3

cloves

garlic

½

teaspoon

sesame oil

2

teaspoon

soy sauce

salt + pepper

-

to taste
Instructions
Heat a large skillet and 1 tablespoon of butter over medium heat. Once hot, add raw shrimp and garlic. Stir. Sprinkle shrimp with chili powder and cayenne pepper. Continue to cook, stirring occasionally, until shrimp are no longer transparent and are golden on the outside, approximately 3 minutes each side.

Prepare the salad bowls. Divide lettuce, avocado, cucumber, carrots and edamame between your bowls (2 bowls for very large salads, or 4 bowls for lighter salads). Top with fresh cilantro and peanuts and last, the prepared shrimp.

Prepare the salad dressing- Place all of the salad dressing ingredients in the bowl of a food processor or high powered blender and process until smooth and creamy. Taste and add any additions you feel necessary (lime juice, agave, salt).

Pour the miso dressing over the salad, toss and serve immediately.
Nutritional Information
Calories:
512
kcal
|
Carbohydrates:
29
g
|
Protein:
31
g
|
Fat:
32
g
|
Saturated Fat:
5
g
|
Cholesterol:
293
mg
|
Sodium:
1452
mg
|
Potassium:
1126
mg
|
Fiber:
10
g
|
Sugar:
11
g
|
Vitamin A:
7360
IU
|
Vitamin C:
38.3
mg
|
Calcium:
265
mg
|
Iron:
5.2
mg
(Nutrition information provided is an estimate and will vary based on cooking methods and specific brands of ingredients used.)
IF YOU LOVE THIS EASY SHRIMP AND AVOCADO SALAD, YOU MAY ALSO ENJOY.
Tropical Shrimp Buddha Bowl with Pineapple Peanut Dressing
Easy Shrimp and Asparagus Stir Fry