Sparkling Passion Fruit and Pineapple Margaritas combine sparkly champagne, tequila, sweet pineapple, and passion fruit to make the very best fresh, fruity, and bubbly margarita recipe ever!
Margaritas are not only fun to drink, but also fun to make! Some of my favorite margarita recipes include these Classic Margaritas, Raspberry Rhubarb Margaritas, and Spicy Orange Margaritas.
Hey you guys! Guess what is literally right around the (metaphorical) corner?
CINCO DE MAYO!
Yes! I know! My favorite, too! I mean, tacos? check. Tequila? check. And, uhhh…yep, that's about it! Tacos and tequila!
No wonder it's my favorite.
To celebrate, I decided to come up with a drink answering the question- if you were a cocktail, which cocktail would you be?
I'll be honest, this question originally had me stumped. I love so many different drinks and cocktails. How could I possibly pick? But then I realized I was going about the question ALL WRONG. I wasn't supposed to pick my favorite cocktail. That's boring.
So I thought about it a little more…and a little more…and a little more. Then it just kinda happened.
CHAMPAGNE! Bubbly and crisp, but flat when left out for too long. HAY! That's me! And, of course, champagne can be either dry or sweet, which is also me. I'm human, after all, and sometimes my humor can run dry.
But wait, I can't be just champagne. That's not a cocktail.
Soooo, TEQUILA! Yes yes yes! Tequila is, shall we say, complex. Tequila has its good days and tequila has it's not so good days, or, depending who you ask, it may just be the quality of tequila you're drinking. That said, tequila is also strong and comforting. Some may say that tequila should also be taken in small doses, buuuuuut that's debatable. Basically, I'm a lot like tequila. Cool, comforting, maybe a little chatty.
Until you hurt someone I love. Then I'll knock you out.
TEQUILA, guys. Gotta love it.
So how in the world would I combine the two?
I mean, how would that work? Could it work?
I had no idea.
Just like myself, it made no sense, yet somehow the combination was MAGICAL. And delicious. And officially my new favorite cocktail.
No. I am not calling myself delicious or magical. My husband may say those things, but as far as the cocktail to human metaphorical comparisons, I have to draw the line somewhere.
So, in an attempt to keep this post from getting too crazy or weird, let's just say that, like these SPARKLING PASSION FRUIT AND PINEAPPLE MARGARITAS, I am a bit complex.
I am sweet, but not too sweet, tough yet comforting, and best not judged before really getting to know who I am.
So, WOW! That was deep.
I didn't mean for that to happen. Sorry, guys. Let's go back to tacos and tequila because…CINCO DE MAYO!
As I mentioned Cinco de Mayo is in just a few days. May 5th always marks, at least in my mind, the start of summer. And I can't think of a better drink to sip all summer long than these Sparkling Pineapple Margaritas with fresh passion fruit.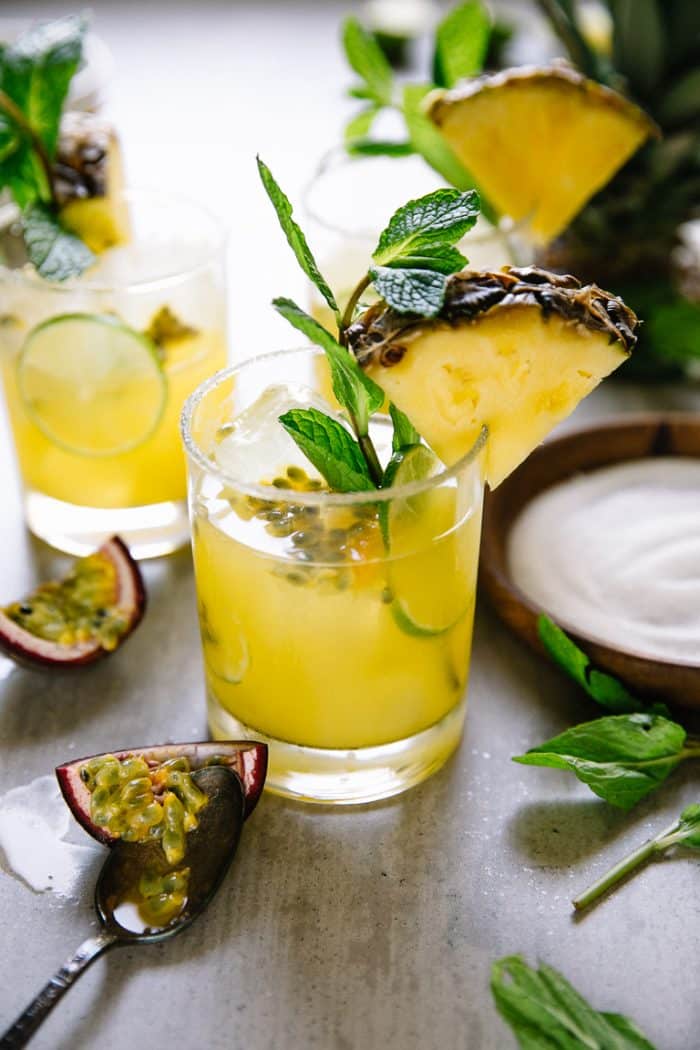 Easily made in a large batch, you can enjoy with or without the champagne.
But don't leave out the champagne. Unless you're allergic to carbonation, THEN MAYBE.
If you love these Sparkling Passion Fruit and Pineapple Margaritas, you may also enjoy
Sparkling Passion Fruit and Pineapple Margaritas
Fresh, fruity, and bubbly, these Sparkling Passion Fruit and Pineapple Margaritas Combine my love for sparkly champagne, all the tequila, and sweet passion fruit to make the very best margarita recipe ever!
Ingredients
1

cup

fresh pineapple

.5

cup

pineapple or passion fruit juice

1

cup

fresh lime juice

.5

cup

fresh lemon juice

Ice

1.5

cups

tequila

.5

cup

orange liqueur

.5

cup

passion fruit pulp

-

(approx. 4-5 passion fruit)

1

bottle

champagne

Mint, pineapple wedges, fresh lime

-

to garnish

2

tablespoon

salt

2

tablespoon

white or brown sugar
Instructions
Add the fresh pineapple, pineapple juice (or passion fruit juice if you can find it), lime juice, and fresh lemon juice to the bowl of a large blender. Process until combined. Strain mixture through a fine mesh strainer and transfer to a large pitcher filled with ice.

Add the tequila, orange liqueur, and passion fruit pulp to the pitcher and stir to combine.

In a small bowl combine the salt and the sugar. Run a lime wedge around the entire rim of the desired number of glasses and rim each glass with the salt and sugar mix.

Divide margarita mixture between 6-8 glasses filled with ice, leaving room to fill with champagne. When ready to serve, top with champagne and garnish with fresh mint, pineapple wedges, and fresh lime, if desired.
Nutritional Information
Calories:
318
kcal
|
Carbohydrates:
23
g
|
Protein:
1
g
|
Fat:
0
g
|
Saturated Fat:
0
g
|
Cholesterol:
0
mg
|
Sodium:
2343
mg
|
Potassium:
308
mg
|
Fiber:
2
g
|
Sugar:
15
g
|
Vitamin A:
285
IU
|
Vitamin C:
41
mg
|
Calcium:
25
mg
|
Iron:
1
mg
(Nutrition information provided is an estimate and will vary based on cooking methods and specific brands of ingredients used.)