Everything about this week has been slow moving (hence the silence over here on this blog). It's been slow moving mostly because I rung in the new year feeling like complete and total crap. I wish I could say that it is a simple side effect of drinking too much on New Year's Eve, but like the old lady I am, I was asleep on the couch by 10pm. My dear husband poured me a glass of champagne, I took two sips, felt like I was going to throw up, and then fell asleep. (no, I am not pregnant)
And actually, come to think of it, I think the whole crappiness started way before last weekend.
Of course, being the type-A go go go person that I am, I don't think I fully realized that I was sick until this week.
Wait, that's not true…I knew I wasn't well, but whenever I feel like I'm sick or super tired, I just keep going. I'm a mom, a wife and I work from home- what's rest? Truth be told, up until the past few days, I felt my best when I was taking a long run.
You guys, if you're not feeling well, don't do what I do.
Long story short- my chest started to hurt, my arms and legs were weak, my fingers were feeling numbness and I was feeling lots of nausea. All I could think was…my heart. You guys, I'm super healthy (aside from my cookie and pie addiction); there is NO reason why I should even think there is something wrong with my heart. However, thanks to a very unexpected stroke 2 years ago at 28 years old, I now play it super safe. An EKG and blood tests later, no heart attack or problems, but no answer to my chest pain (sooo, anyone? anyone? what could this beee?).
Being the stubborn go go go person that I am, I interpret this as a clean bill of health and haven't stopped; even if my pace is a little slower than I'd like.
To really slow things down, I made Split Pea Soup with a leftover Ham Bone from Christmas dinner. This soup reminds me of my mom. My mom used to make this soup whenever she could get her hands on a ham bone and it has been a forever favorite around our house. You guys, this soup is soup for the soul; a giant ray of sunshine on a rainy sad day (speaking of rain, northern CA is getting its first real rain in forever). It's also super duper easy to make and full of lots of veggies which are two of my favorite things.
If you're a leftover lover, you will love this soup as it is even better warmed up the next day 🙂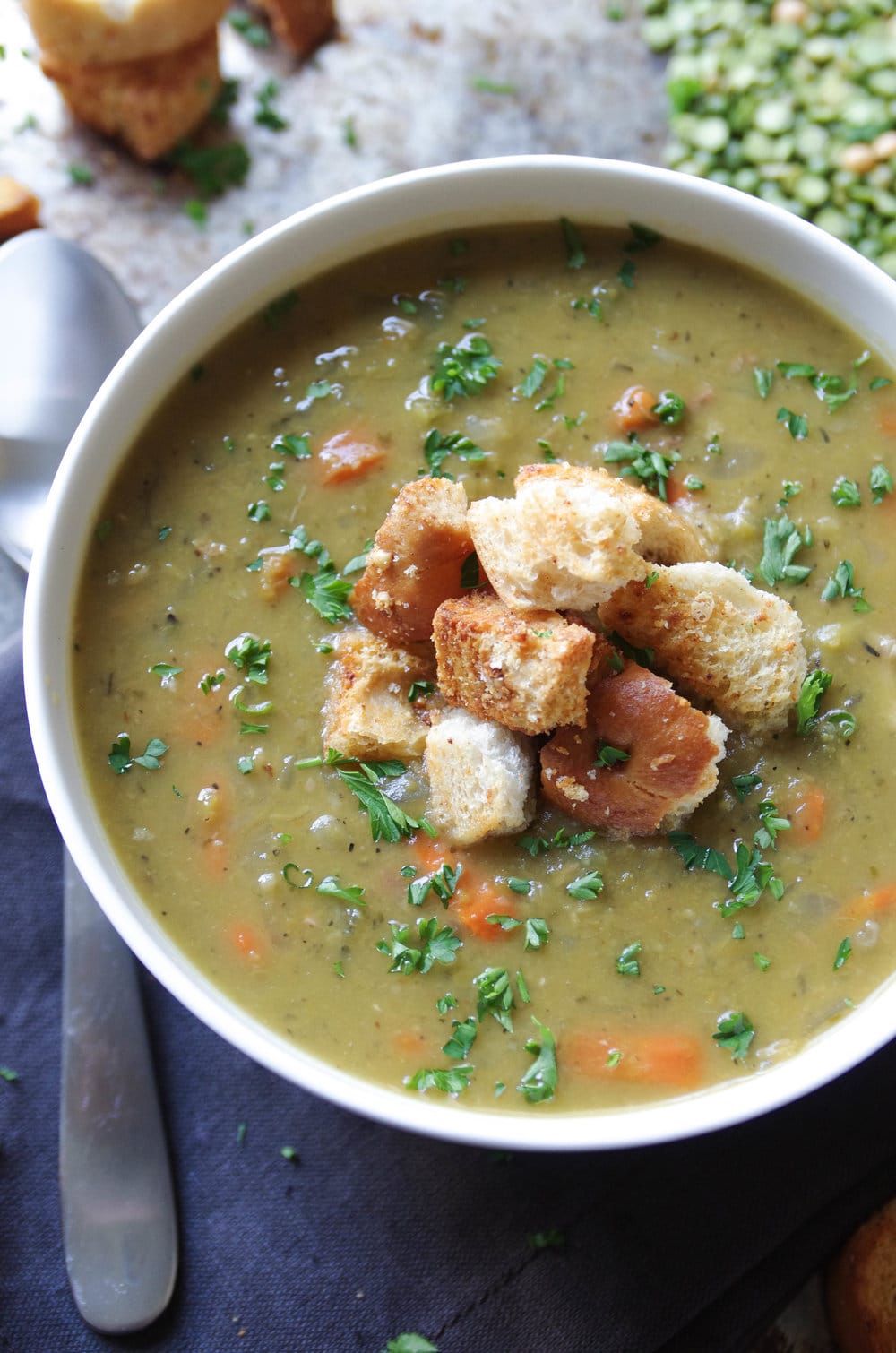 Split Pea Soup with Ham Bone
Cuisine:
American, Dutch, European
Ingredients
1

large ham bone with meat

leftover ham bone works best

10

cups

water

1

tablespoon

olive oil

2

yellow onions

chopped

4

large carrots

diced

4

stalks celery

diced

6

cloves

garlic

minced

2

bay leaves

2.5

cups

split green peas

rinsed well

1

teaspoon

thyme

salt + pepper

to taste

Fresh chopped parsley

for serving

Croutons

for serving

Tabasco sauce

for serving
Instructions
Place ham bone in a large soup pot. Add at least 10 cups of water (more if the ham bone is not fully submerged) and cover. Bring water to a boil over high heat. Once boiling, reduce heat to low and simmer for at least 1 hour**

After an hour or so, remove the ham bone from heat and strain the broth through a fine mesh strainer into a large bowl or pot. Place the ham bone on a large plate and allow time to cool before handling.

Meanwhile, heat a large pot or Dutch oven over medium high heat. Add oil and onions and mix to coat. Sauté for 2-3 minutes or just until the onions just start to soften. Mix in the carrots and celery and sauté for an additional 5 minutes, stirring occasionally. Add minced garlic and mix to combine.

Add bay leaves, green split peas, thyme and salt and pepper. Add 10-12 cups of broth (see note below) and stir. Bring soup to a boil, reduce heat to a low and cover. Simmer for at least 1-2 hours. As the soup cooks, cut off as much meat from the ham bone as possible and add to the pot.

After a couple hours, check the split peas. By this point, they should be cooked and soup should be thickening. However, as with most lentil or bean soups, they get better with age. If time permits, 3-4 hours cooking time is ideal and the soup is even better the following day.

When ready to eat, discard bay leaves and season to taste. Best served hot
Recipe Notes
**You can skip boiling the ham bone separately, and simply add the ham bone at the same time as the split peas; however, I like to make a separate ham broth and decide from there how much I want to include in the soup. Depending on how fatty your bone is, the broth may be very heavy; usually, in this case, i'll reserve half the broth for later use and substitute the other half with water or low-sodium beef broth.
Nutrition Facts
Split Pea Soup with Ham Bone
Amount Per Serving
Calories 305
Calories from Fat 27
% Daily Value*
Total Fat 3g 5%
Sodium 63mg 3%
Potassium 802mg 23%
Total Carbohydrates 44g 15%
Protein 18g 36%
* Percent Daily Values are based on a 2000 calorie diet.