Split Pea Soup is a classic wintertime soup recipe made with leftover ham, healthy veggies, and split peas. Super easy to make and packed with nourishing vitamins and minerals, fiber, and protein, the whole family will love this delicious and comforting split pea soup with ham.
Split Pea Soup with Ham Bone
A big pot filled with bubbling hot split pea soup is the perfect way to stretch leftover holiday ham just a little further. Where this soup lacks in looks, it more than makes up for in taste, as it is one of the most highly anticipated recipes that I make each year.
Split pea soup (or Snert to all my Dutch friends) is a family tradition at my house. Come the holiday season, my family always makes a holiday ham (or two!) for Christmas. Leftovers include this split pea soup and ham and bean soup.
What is Split Pea Soup
Split pea soup, or pea soup, is a soup made from dried peas, usually split peas. Found in countless variations, split pea soup may look green or yellow, come served with or without meat, and may be served thick or watery.
There are two versions of split pea soup that I know and love- the American version and the Dutch version.
American Split Pea Soup – Typically served as a smooth puree or a thinner, somewhat watery soup with visible chunks of split peas, ham, or other vegetables.
Netherlands Erwtensoep (Snert) – Snert is more like a thick stew and is made with different cuts of pork, celery, onions, carrots, and potato. Often, smoked sausage is added just before serving. It is traditionally served with dark rye bread.
Each version, the American and the Dutch, deserves its own post as they are so different. And, despite my heavy Dutch roots, I must admit that I prefer the watered-down American version of this delicious stew. My husband, on the other hand, prefers the Dutch version.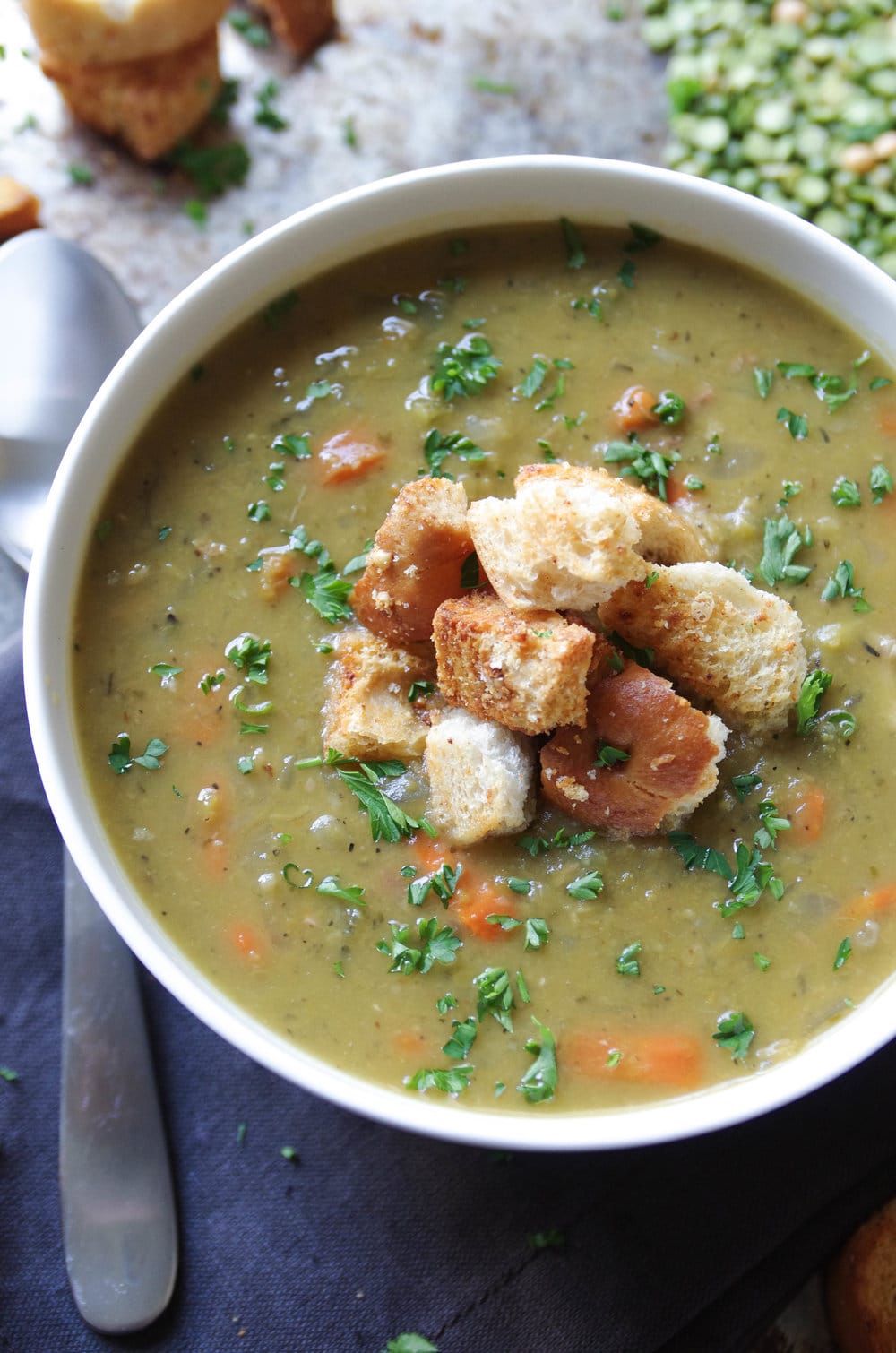 Recipe Tip
You may either pre-boil the leftover ham bone (as I did) or add the ham bone directly to the soup at the same time as the split peas. If I have an especially large ham bone, I like to boil the bone separately and divide the broth in half. This allows me to use it to make two separate recipes.
How to Make Split Pea Soup
First, place the ham bone in a large stockpot and cover it with cold water. Bring the water to a boil over high heat, then reduce the heat to low and simmer for about one hour. Remove the ham bone and strain the broth through a fine mesh strainer into a large, clean pot. Set the bone aside to cool.
Meanwhile, prepare the veggies. I like adding at least two medium onions, carrots, celery, and garlic. Feel free to add chopped leeks or potatoes, too. Cook the vegetables over medium-low heat for at least 10-15 minutes, stirring often. The idea is to soften and enhance their flavor.
Once the broth is ready, add the bay leaves, split peas, thyme, and approximately 10-12 cups of broth. You may season with a pinch of salt and pepper, but I recommend holding off on adding additional salt until closer to serving.
Remove as much meat from the pork bone as possible and add it back to the pot.
Allow the soup to simmer for at least 2 hours as the split peas will cook down and thicken over time. I do not puree my split pea soup with an immersion blender or stand blender as I prefer a somewhat chunkier soup.
Once the split peas have cooked fully, you may adjust the thickness and seasoning to your personal preference. The longer you simmer your soup, the thicker it will become. Should you find that your soup is too thick, simply add extra water or stock. Also, keep in mind that this type of soup thickens considerably as it cools.
What are Split Peas?
Split Peas are a type of field pea grown specifically for drying.
Split peas become split peas when the peas are hulled and then split in half either manually or by machine at the naturally occurring split in the seed's cotyledon. Grown in both yellow and green varieties, split peas are used in a variety of dishes, including soups, curries, and stews. Yellow split peas tend to be somewhat milder in flavor, while green split peas are sweeter.
Do split peas need to be soaked? No, like lentils, split peas do not need to be soaked. However, they need to be thoroughly rinsed and washed to remove any small stones or impurities that may have made their way past sorting.
Ham Bone Substitutions
There are several great alternatives to ham bone for this soup.
Ham hock: A large smoked ham hock (not raw) is a great way to sneak in that delicious smoky flavor without having to cook an entire ham first.
Diced ham: Cooked ham leftover from Christmas or Easter dinner (not sliced lunch meat) or chopped-up ham from a ham steak which is available year-round.
Sausage: Sausage is available everywhere for a reason- it adds flavor to everything! Smoked pork or chicken sausage would make a great addition!
Storage and Freezing
Even more delicious the next day, keep leftovers stored in an airtight container in the refrigerator for up to 3-4 days.
To freeze this split pea soup recipe, allow it to cool completely before dividing or transferring. Once cool, transfer to freezer-safe zip-lock bags or storage containers. Freeze for up to 4-6 months.
More Soup Recipes,
Split Pea Soup Recipe
Split Pea Soup is a classic leftover ham recipe and a personal family favorite.
Ingredients
1

ham bone with meat

-

leftover ham bone works best

10-12

cups

water

1

tablespoon

olive oil

2

yellow onions

-

chopped

6

large carrots

-

diced

4

celery stalks

-

diced

6

cloves

garlic -

minced

2.5

cups

dried split peas

-

rinsed well

1

teaspoon

dried thyme

salt + black pepper

-

to taste

Fresh chopped parsley

-

for serving

Croutons

-

for serving

Tabasco sauce -

for serving
Instructions
Boil the Ham Bone (optional). Place your ham bone in a large soup pot and cover it with enough water to fully submerge the ham bone. Cover the pot and bring water to a boil over high heat. Once boiling, reduce heat to low and simmer for at least 1 hour (see notes).

Remove the Ham Bone and Strain the Broth. After an hour or so, remove the ham bone from heat and strain the broth through a fine mesh strainer into a large, clean pot. Place the ham bone on a large plate and allow it to cool.

Cook the vegetables. Heat a large pot or Dutch oven over medium heat. Add the olive oil and the onions and mix to coat. Sauté for 3-4 minutes or just until the onions just start to soften. Mix in the chopped carrots and celery and sauté for an additional 8-10 minutes, stirring occasionally. Add the minced garlic and mix to combine.

Add the Split Peas. Add bay leaves, green split peas, thyme, salt, and pepper. Add 10-12 cups of prepared broth, or a mix of prepared broth plus low-sodium beef broth (see note below) and stir. Bring to a boil, reduce heat to a low, and cover.

Add meat to the soup. As the soup cooks, cut off as much meat from the ham bone as possible and add it to the pot. Add the bone back to the pot, as well.

Simmer the soup. The longer the soup cooks, the better. That said, allow at least 2 hours for the soup to simmer and cook, stirring occasionally. After two hours, the soup should be thickening. Add more broth, as needed.

Serve. When ready to eat, season with additional salt and pepper to taste and discard the bay leaves. Serve with croutons, if desired. Enjoy!
Jessica's Notes
You can skip boiling the ham bone separately, and simply add the ham bone at the same time as the split peas; however, I like to make a separate ham broth and decide from there how much I want to include in the soup. Depending on how fatty your bone is, the broth may be very heavy; usually, in this case, I'll reserve half the broth for later use and substitute the other half with water or low-sodium beef broth.
The soup will thicken as it cools. To reheat, add water to the soup until desired consistency is reached.
If you do not have a leftover ham bone, substitute it with two ham hocks.
Freeze leftovers in a gallon or quart-sized freezer-safe bag or another freezer-safe container. Allow it to thaw overnight in the refrigerator or at room temperature before reheating (never reheat in a plastic bag).
Nutritional Information
Calories:
305
kcal
|
Carbohydrates:
44
g
|
Protein:
18
g
|
Fat:
3
g
|
Saturated Fat:
0
g
|
Cholesterol:
0
mg
|
Sodium:
63
mg
|
Potassium:
802
mg
|
Fiber:
17
g
|
Sugar:
7
g
|
Vitamin A:
5290
IU
|
Vitamin C:
6.7
mg
|
Calcium:
78
mg
|
Iron:
3.1
mg
(Nutrition information provided is an estimate and will vary based on cooking methods and specific brands of ingredients used.)