Through my partnership with Bota Box, I'm celebrating all of life's outdoor adventures, big and small. As always, all thoughts and opinions are my own. Cheers!
I am super excited about todays post for two main reasons- nature and wine.
Let's start from the beginning…
Last weekend my husband and I thought it would be fun to surprise Octavian with a little trip to the ocean. Our wild child was born for the outdoors. The water, of all shapes, sizes, colors and temperatures, is his favorite. Being outdoor lovers ourselves, we have made it a priority to teach Octavian about the importance of treating Earth with love and respect. What better way than to get outdoors?
Lucky for us, Sacramento is only about 2ish hours from the Pacific and an equal distance to the (currently) snow-covered Sierra's. That means fun, year-round outdoor activities depending on what you're in the mood for. Due to the perfect spring weather, not too hot and not too cold, we decided on a trip to the ocean. After weeks hearing about all the amazing wildflowers down in Southern California, I was determined to find some blooms up north, too.
Within our day-trip driving range, Point Reyes was rumored to have the best. Located just north of San Francisco, Point Reyes National Seashore is loaded with protected and preserved hikes and trails for all skill levels. Although Point Reyes can often get busy on weekends, it never feels crowded or overrun with people.
To make our life easy, we decided to skip packing our own lunch and pick up sandwiches along the way. I always end up packing too much food, we only have glass Tupperware and I was lazy. Bust, mostly, I was lazy. But, there is one thing I did pack away in my backpack for our little ocean adventure- wine. Because what would be an ocean adventure without wine? Just kidding.
Ok, seriously, though, this is wine in a box and it's basically my new favorite product. Say hello to Bota Box!
Bota Box has earned 30 Gold Medals in competitions since 2011, as well as 35 "Best Buy" ratings from Wine Enthusiast magazine.
In other words, it tastes really good (and I've tasted them all!). Plus, its packaging is environmentally friendly.
100% recyclable packaging
BPA-BPS free wine bags
Creates 85% less landfill waste than traditional glass wine bottles
Created with 100% post-consumer fiber and printed with VOC-free inks on Kraft unbleached recycled paper.
Bota Box is committed to lessen the environmental impact of wine production and transportation through smart, alternative packaging.
You guys, I am in love with everything about this product. I already love a good wine, but toss it in some eco-friendly packaging that doesn't require a corkscrew or wineglasses and I may never look back.
Please note- you will probably see lots of cows while driving around Point Reyes. If you like cows as much as I do, this may make you very excited.
Seriously, I just tossed these Bota Minis in my back pack (unopened obvs) and saved them for our little picnic. Plus, these Bota Minis come in a variety of offerings- Pinot Grigio, Chardonnay, Sauvignon Blanc and Redvolution.
If you're worried these little Bota Minis just won't be big enough or you're looking to supply wine for a group, Bota Box also has big 3 liter boxes. Each 3 liter box holds 4 (750 ml) bottles of wine and comes in thirteen different offerings.
If you're thinking, ugh, there is no way I can drink that much wine before it will go bad, well, here's the best part- each box lasts up to 30 days! How? The Bota Box state of the art bag-in-box technology keeps wines fresh for up to four weeks after opening by preventing exposure to wine's enemy – air.
Each glass is as fresh as the first.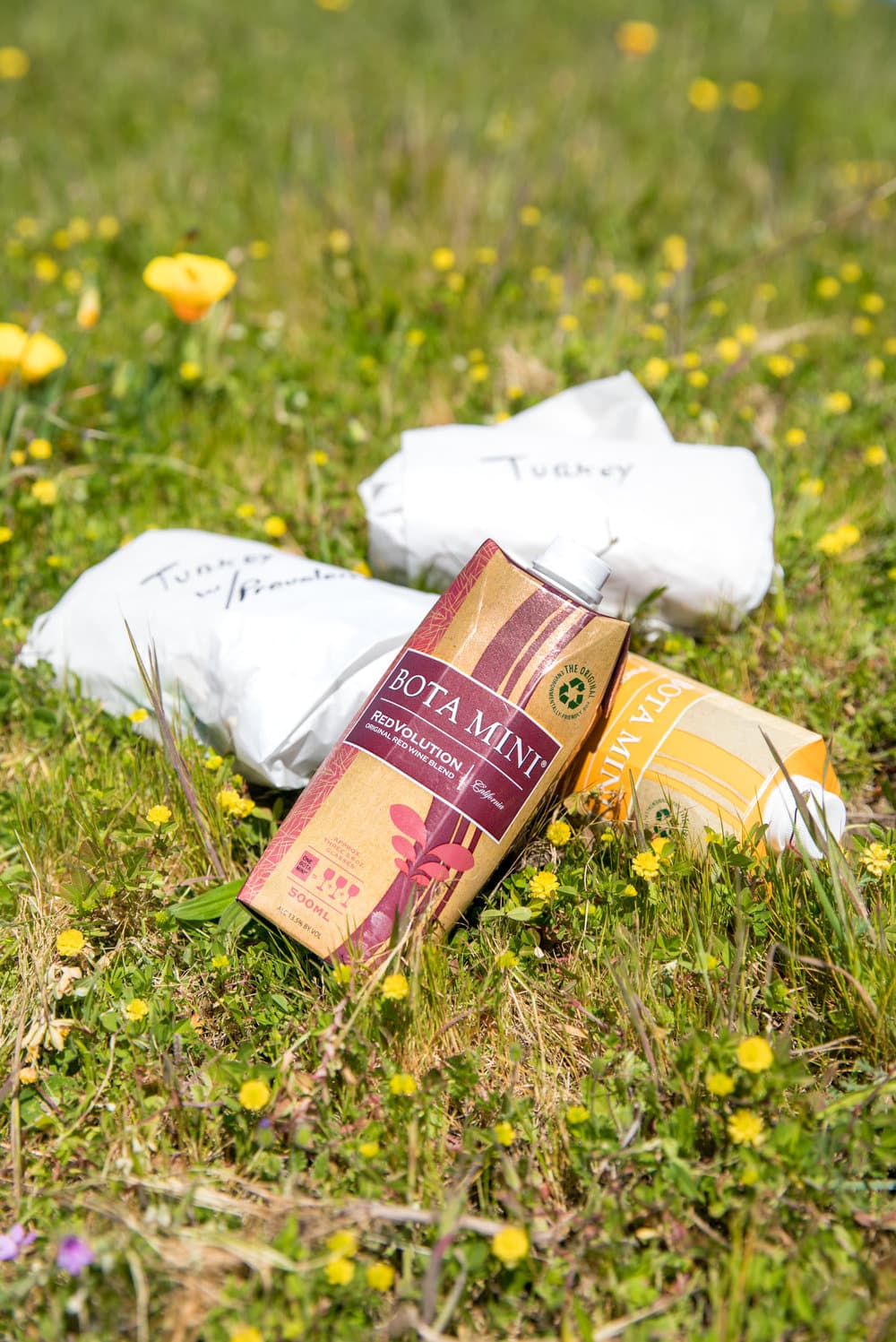 Put me in flowers, next to the ocean, in the sunshine, with or without wine (preferably with), and this is what you will see.
After Octavian took a little car nap and I had some time with the cows, we made it to Abbot's Lagoon. An easy, flat little hike, it's perfect for kiddos and wildflower hunting (although I think they were just starting to bloom when we were there).
As we got closer to the ocean we discovered that despite the beautiful weather and calm winds, the ocean was feeling something else. Last year, while we were camping up in Manchester State Park, the ocean there (same ocean, I know) was feeling the same way. Our child didn't understand why the ocean was so rough and wild. The next day, however, when we drove north, the ocean was nice and calm. There was even a little warm pool that remained as the tide receded. Anyway, to help clarify all this to our (then) 2 year old, we referred to the ocean as either angry or happy (you know, pretty basic stuff), and the little pool that remained for him to play in as a baby ocean.
What does that have to do with last weekend?
Well, it became clear fairly quickly that the ocean was feeling pretty angry that day. Since our little feral child has no fear, we typically like to avoid situations where he will probably put himself in danger. Thankfully, Abbott's Lagoon also had a giant sand dune for him to run around on. Being his first, real sand dune, it worked out to be an excellent distraction.
While all the other visitors had stopped, we explored. We continued walking and walking and walking. Soon, we could see no other people. This is what I love most about our little adventures together and one quality I love most about my husband. He never settles for what's in front of him. Octavian is the same way. They are both always looking to explore, uncover and learn about new places.
I like to think I have a little of that in me too.
Then my husband, who was way ahead of us up over a little hill, started shouting something. I had no idea. He shouted again,
I found a baby ocean! Come quick, there's a baby ocean!
Octavian, who was ready for a second nap suddenly took off and ran as hard and as fast as he could for the baby ocean.
Then he played until his little body literally could not play anymore.
Meanwhile, to the sounds of my laughing child and husband, I finally ate my lunch and sipped on what remained of my Bota Mini.
Best day ever.
Please, with all outdoor adventures, treat nature with kindness and respect and pack and take with you what you brought in. We share these spaces with some special friends (if you look closely, you may spot the deer in this photo). Thank you!