Baked Zucchini Fries are a fun, delicious, and much healthier alternative to fried potatoes and a perfect side dish or snack recipe. Super easy to make, thinly sliced zucchini is coated in flour, dipped in egg, and covered in a crunchy panko breadcrumb and parmesan mixture before being baked in the oven until tender on the inside and crunchy on the outside.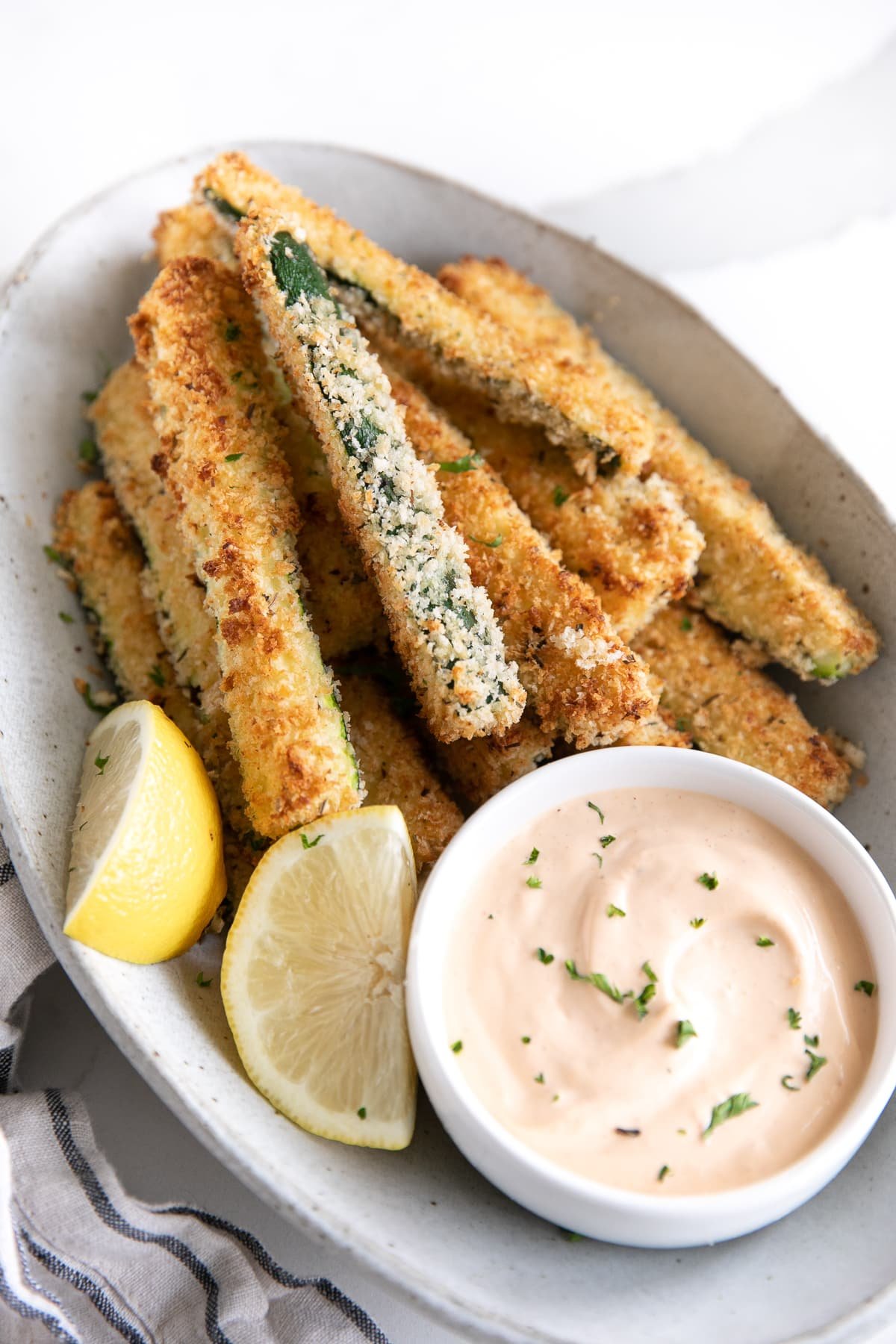 Oven Baked Zucchini Fries
It's not very often that I deviate from my favorite sauteed zucchini recipe whenever I have zucchini that needs to be used, but when I do, I make these baked zucchini fries (ok, and sometimes zucchini noodles).
Crispy, crunchy on the outside, and perfectly tender on the inside, these fun and flavorful zucchini fries are made with simple ingredients like panko breadcrumbs, parmesan cheese, flour, and Italian seasoning. Plus, my child actually eats them…with a smile on his face.
Serve these zucchini sticks with all of your favorite dipping sauces like marinara sauce, ranch dressing, chipotle mayo, or ketchup!
Recipe Tips
After you've sliced the zucchini into fries, pat them dry with paper towels. Zucchini is 94% water. They will start to condensate (or "sweat") after they've been sliced. This is normal, but not ideal when trying to get a crispy, crunchy coating.
Have everything prepared and in order before you start dredging and dipping.
Leave a little space between each zucchini fry.
You can bake the zucchini fries directly on a greased baking sheet (if you don't have a cooling rack), however, flip them halfway through cooking (so at about 10-12 minutes into cooking).
You'll want to eat these oven baked zucchini fries immediately. The longer they rest, the more water they'll release and the less fresh and crispy they'll taste.
Air Fryer Zucchini Fries
The same method of preparation applies when making air fryer zucchini fries, all that changes is where the cooking will take place.
Preheat your air fryer to 400°F (200°C) and spray the air fryer basket with nonstick spray.
Once your zucchini has been dredged in flour and coated in the panko mixture, transfer to the air fryer basket in a single, non-touching, layer.
Cook for 10-12 minutes, or until crispy. Repeat with any remaining zucchini fries.
How to Make Gluten-Free Baked Zucchini Fries
To make this recipe gluten-free, simply swap the all-purpose flour for gluten-free all-purpose flour or almond flour and look for gluten-free panko breadcrumbs. Preparation and cooking time stay the same.
Another alternative is to leave out the panko and flour completely, leaving you with low-carb and keto-friendly zucchini fries dipped only in egg and parmesan cheese.
Have you tried making this Baked Zucchini Recipe?
Tell me about it in the comments below! I always love to hear your thoughts. And tag me #theforkedspoon on Instagram if you've made any of my recipes, I always love to see what you're cooking in the kitchen.
Baked Zucchini Fries
Baked Zucchini Fries are a fun, delicious, and much healthier alternative to fried potatoes and a perfect side dish or snack recipe.
Instructions
Preheat oven to 425°F. Line a large rimmed baking sheet with aluminum foil. Place a cooling rack on top of the lined baking sheet and coat with nonstick cooking spray. Set aside.

Prepare the zucchini. The size of your zucchini will determine how many slices (or fries) each zucchini will yield. In general, one small to medium zucchini will yield 12-16 slices. After slicing pat dry with paper towels.

Transfer the panko breadcrumbs, grated parmesan cheese, Italian seasoning, garlic powder, ½ a teaspoon of salt, and about ¼ a teaspoon of black pepper to a shallow bowl or container. Mix well to combine.

In a separate bowl, combine the remaining salt and black pepper with the flour. Mix well.

Finally, in a third bowl, whisk together the large egg and egg white.

Working in batches or one at a time, dredge the zucchini in flour first, followed by egg, and finally the panko and parmesan mixture. You may need to press the zucchini gently with your fingers to help get the panko to stick.

Transfer each zucchini slice to the wire baking rack, making sure to leave a little space between each. Bake for 20-25 minutes, or until golden brown and tender-crisp.

This recipe is best served immediately.
Jessica's Notes
Leftovers: Allow zucchini fries to cool before placing them in an airtight container and in the refrigerator for up to 2 days.
To Reheat: For best results, reheat on a greased baking sheet in a preheated 400 degree F oven until crisp and heated through.
Nutritional Information
Calories:
297
kcal
|
Carbohydrates:
45
g
|
Protein:
15
g
|
Fat:
6
g
|
Saturated Fat:
3
g
|
Polyunsaturated Fat:
1
g
|
Monounsaturated Fat:
2
g
|
Trans Fat:
1
g
|
Cholesterol:
55
mg
|
Sodium:
987
mg
|
Potassium:
441
mg
|
Fiber:
3
g
|
Sugar:
5
g
|
Vitamin A:
411
IU
|
Vitamin C:
21
mg
|
Calcium:
230
mg
|
Iron:
4
mg
(Nutrition information provided is an estimate and will vary based on cooking methods and specific brands of ingredients used.)