Learn how to bake Bang Bang Cauliflower Tacos skinny style with this fun and flavorful recipe!
The weekend has arrived, and, like most weekends, I have a mile-long to-do list. Rather than dealing with this never-ending list we're going to go play at the river instead. Sacramento has finally cooled off a bit and today is suppose to see a high of just 88 degrees! Plus, I'm hoping to completely exhaust the kid and the dog.
Speaking of the kid…I have a problem.
My sweet, passive little boy has turned into a hitter. I don't know where he learned this behavior (it's not like my husband and I walk around hitting each other, obv) and I don't know how to address our hitting problem. This past week I have been told that he has hit (either teachers or other kids) every day except one day. For now, and until Kindergarten, the gym daycare is probably the only form of group childcare I will place him in. We go almost every day for 1-2 hours. The staff is trained, I know them, they know me, and, until this week, hitting has never been an issue.
The thing is this, time-outs don't work. Telling him "no" and firmly explaining why he shouldn't do what he wants to do doesn't work. Taking away his favorite toys and placing them on "time-out" doesn't work. He is SO strong-willed and stubborn, and yes, such a little a-hole sometimes.
I've asked other moms and several caretakers and no one has any advice or helpful words; I get it, it's not their problem. But surely I'm not the only Mom who has been through this? That it's not my poor parenting skills? That it's just a phase? Otherwise O may never get a little sibling…
On a lighter note, remember when I made this Skinny Baked Bang Bang Cauliflower? It was such a HUGE hit that I decided to kick things up a notch and turn this delicious side into a super healthy vegetarian dinner. Since we often throw leftovers into a tortilla with some fresh veggies, this "kicked up notch" was pretty easy for me. My go-to veggies included crunchy cabbage, sweet and juicy cherry tomatoes and, of course, cilantro and green onions (because a taco is NOT a taco without these two ingredients, plus they're my fave). If you're watching your carbs, you can swap the tortillas for large cabbage or lettuce leaves. Now, there is one little thing: no matter how you wrap 'em, don't forget the sauce. Just don't 🙂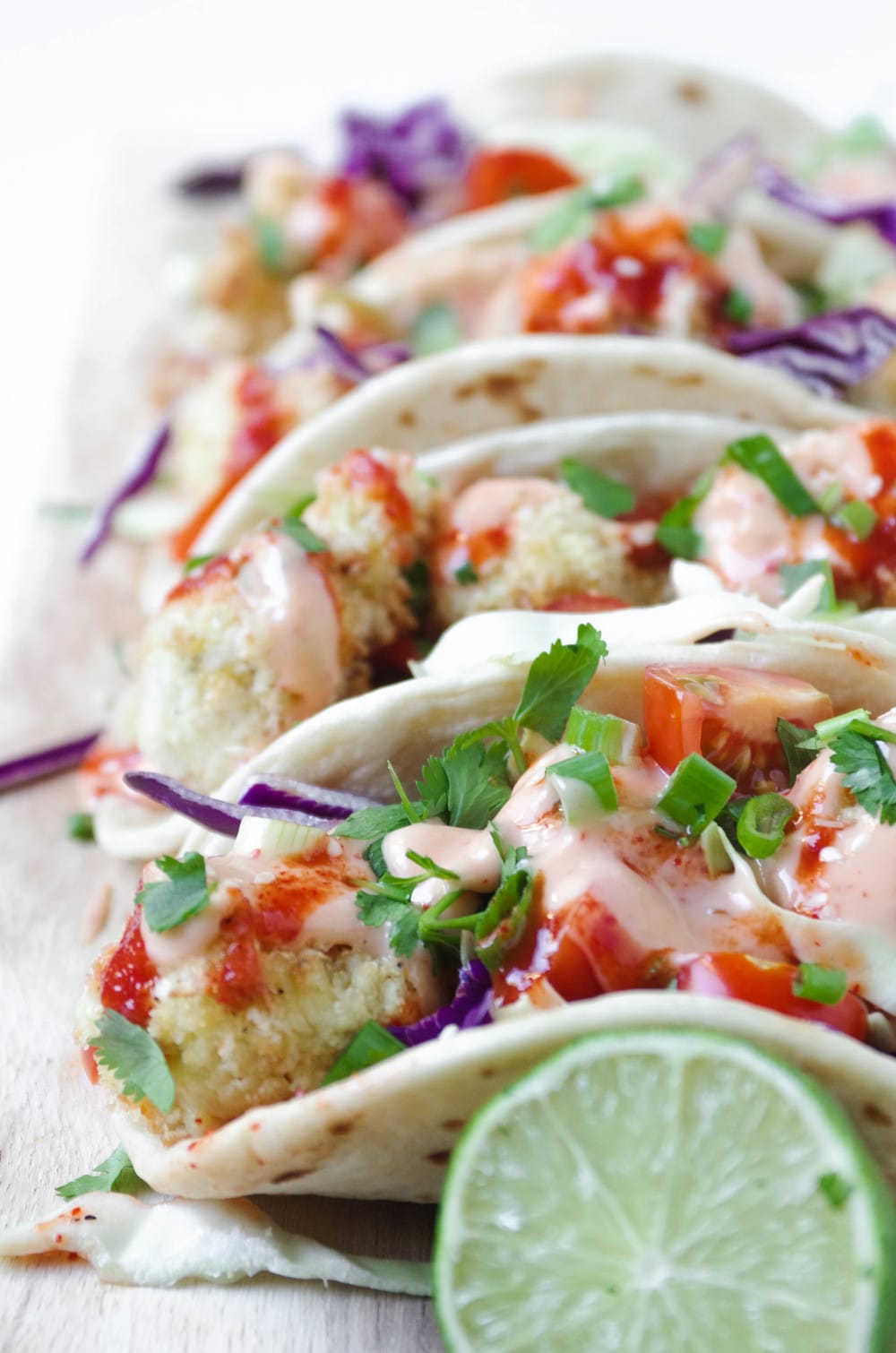 Cauliflower Tacos
Yummy vegetarian Cauliflower Tacos stuffed with crunchy cabbage, breaded and baked cauliflower florets, sweet cherry tomatoes, and drizzled with the creamy, tangy, delicious bang bang sauce.The perfect meat-free dinner the whole family will enjoy.
Ingredients
For the tacos:
Tortillas or flatbread

2

cups

green cabbage

-

shredded

1

cup

purple cabbage

-

shredded

10

ounces

cherry tomatoes

-

halved

Fresh chopped cilantro

Green onions

-

chopped

Sriracha -

for topping (optional)
Instructions
First prepare the cauliflower
Preheat oven to 400 degrees F. Line a large baking sheet with parchment paper and set aside.

Set up a station with 3 large bowls. In the first bowl sift together the brown rice flour and all purpose flour. In the second bowl, beat together the 3 eggs. Finally, in the last bowl add the panko bread crumbs with a generous pinch of salt and pepper.

Working in batches place some of the washed and still wet cauliflower in the flour bowl first. Toss to coat. Pick up the cauliflower (hands work best here) and shake off any excess flour. Gently place the coated cauliflower in the egg and toss to coat. Finally (again, hands work best), pick up the cauliflower and coat with the panko breadcrumbs.

Place each cauliflower floret on the prepared baking sheet in a single layer. Repeat until all cauliflower has been coated and prepared.

Place the prepared cauliflower in the oven and bake for 15 minutes, or until the tops are slightly golden. Remove, flip the cauliflower and continue to bake an additional 5-10 minutes, or until golden all over. Remove from the oven and allow to cool.

While the cauliflower cooks in the oven, prepare ingredients for the tacos- shred the cabbage, halve the tomatoes and chop the cilantro and green onions.

Finally, in a medium bowl, whisk together the ingredients for the sauce, and season to taste as needed. Store prepared sauce in the refrigerator until ready to serve.

Build your tacos 🙂 Start with a small layer of sauce followed by cabbage, bang bang cauliflower, more sauce, green onions and cilantro, tomatoes and (if you like things really spicy) extra Sriracha.
Nutritional Information
Calories:
566
kcal
|
Carbohydrates:
68
g
|
Protein:
13
g
|
Fat:
26
g
|
Saturated Fat:
4
g
|
Cholesterol:
134
mg
|
Sodium:
679
mg
|
Potassium:
560
mg
|
Fiber:
5
g
|
Sugar:
19
g
|
Vitamin A:
850
IU
|
Vitamin C:
57.6
mg
|
Calcium:
125
mg
|
Iron:
4.2
mg
(Nutrition information provided is an estimate and will vary based on cooking methods and specific brands of ingredients used.)