Roasted Butternut Squash Tacos with Chipotle Lime Crema is a fast, healthy, and delicious vegetarian meal perfect loved by even the pickiest of meat eaters. Made with black beans, sauteéd spinach, roasted butternut squash and creamy chipotle lime crema, this is a dinner you'll want to make over and over again.
Butternut Squash Recipes abound here at The Forked Spoon and include these other reader favorites, Butternut Squash, Zucchini, and Spinach Lasagna, Spicy Thai Pumpkin and Butternut Squash Ramen with Chicken, and Chicken with Mushrooms and Butternut Squash.
These butternut squash tacos, my friends, will literally knock your socks off. Naturally, people always talk about this food or that food being delicious, or yummy, or the best thing they've ever eaten- except me, I never do that- but this food, these Butternut Squash Tacos with Chipotle Lime Crema are all of that AND they will knock your socks off.
At least that's what happened to me.
Anyway, I originally posted this recipe way back in December 2015 and it remains one of my most beloved butternut squash recipes. I hope you enjoy it as much as I do.
INGREDIENTS IN THESE BUTTERNUT SQUASH TACOS WITH BLACK BEANS
Butternut squash
Olive oil
Garlic
Black beans
Ground cumin
salt & pepper
Spinach
Corn or Flour tortillas
Ingredients in the Chipotle Lime Crema–
Sour cream or Greek yogurt
Chipotle Chilies in Adobo sauce
Adobo sauce
Lime juice
Ground cumin
Cilantro
The ingredients are real, basic, and (almost) completely vegetarian (see notes on that below). Of course, you can add or subtract any spices you feel necessary.
WHY I LOVE THESE BUTTERNUT SQUASH TACOS
There are many reasons why I love these beautiful beautiful veggie filled tacos.
They are super healthy. So much spinach and butternut squash!
They are super easy to prepare.
See them in action in the video BELOW.
Kids love them, too! Just add some cheese.
…and maybe leave off the chipotle lime crema.
Fiber! yes, your body will thank you.
Easily customizable.
Meal prep perfection!
EASY MODIFICATIONS TO THIS BUTTERNUT SQUASH RECIPE
If you were to make these roasted butternut squash tacos, as is, they would be vegetarian, but not vegan. Additionally, depending on if you use corn or flour tortillas will determine if they are gluten-free. Simple modifications can easily turn this into both a vegan AND gluten-free friendly recipe.
To make these Butternut Squash Tacos Gluten-Free: pick a gluten-free tortilla. You guys, gluten-free tortilla options are everywhere these days, so you shouldn't have any problems tracking down a favorite.
To make them vegan: The tacos themselves are actually vegan. However, if you decide you want to smother your super healthy butternut squash tacos with super delicious Chipotle Lime Crema, then you'll have to make one very simple adjustment. Instead of dairy sour cream or Greek yogurt, use a vegan alternative. Sorry, guys, no homemade recipe for such a thing here (yet).
One other modification to note about this butternut squash taco recipe- Adjust the heat (or spice) level to suit your own preference. You'll notice that all of the heat comes from the Chipotle Lime Crema, so, if you are sensitive to spicy foods, add less chipotle chilies to start, adding more as needed.
Oh ya. No butternut squash? Use pumpkin or acorn squash instead!
CHECK OUT THESE OTHER BUTTERNUT SQUASH RECIPES
Spiced Butternut Squash Chia Pudding
Butternut Squash and Cauliflower Mac-n-Cheese
Easy 5 Ingredient Herb Roasted Butternut Squash with Pine Nuts
Apple Cinnamon Pork Chops with Butternut Squash
Black Bean Butternut Squash Soup
REMEMBER TO SUBSCRIBE TO THE FORKED SPOON NEWSLETTER FOR FREE AND RECEIVE WEEKLY RECIPE NOTIFICATIONS DELIVERED STRAIGHT TO YOUR INBOX!
If you try a recipe, please share it using the hashtag #theforkedspoon or by tagging @theforkedspoon on
INSTAGRAM
! Follow The Forked Spoon on
FACEBOOK
|
INSTAGRAM
|
PINTEREST
|
TWITTER
for all of the latest recipes and updates.
Roasted Butternut Squash Tacos with Chipotle Lime Crema
Roasted Butternut Squash Tacos with Chipotle Lime Crema is a fast, healthy, and delicious vegetarian meal perfect loved by even the pickiest of meat eaters. Made with black beans, sauteéd spinach, roasted butternut squash and creamy chipotle lime crema, this is a dinner you'll want to make over and over again.
Print Recipe
Pin Recipe
Rate Recipe
Ingredients
for the squash
1

medium butternut squash

-

peeled, seeded and chopped into small cubes

1

Tbsp

olive oil

4

cloves

garlic

-

minced

salt

-

to taste
for the black beans
30

oz

black beans -

2 cans, drained (not rinsed)

2

tsp.

ground cumin

5

cloves

garlic

-

minced

16

oz.

fresh spinach

-

this does not need to be measured exactly, feel free to make more if you really love spinach

10

corn tortillas
Instructions
First prepare the squash-  Preheat oven to 400 degrees F.  In a large bowl, toss the butternut squash with the olive oil, garlic and a pinch of salt and pepper.  Spread evenly over a large rimmed baking sheet and bake for approximately 25-35 minutes, or until squash is tender and just starting to brown at the edges.  Remove from the oven and set aside.

While the squash is baking, prepare your beans and spinach.

Over medium to low heat, empty the beans into a small pot along with the ground cumin and minced garlic.  Give it a good stir and continue to warm on low until heated through (this only takes a couple minutes), being careful not to burn.  When finished, turn off heat, cover and set aside.

Time to steam the spinach.  Add 1-2 Tbsp water to a large skillet over medium heat.  Add as much spinach as you can fit, sprinkle with a tiny bit of salt, give it a little stir and wait for the spinach to start wilting.  Add additional spinach as the spinach cooks down and makes more room.  Stir occasionally.  Cook on low until all your spinach is fully cooked.

Once everything is ready, prepare your tacos- tortilla, beans, spinach, roasted squash and chipotle lime crema.
Nutrition
Nutrition Facts
Roasted Butternut Squash Tacos with Chipotle Lime Crema
Amount Per Serving
Calories 388
Calories from Fat 45
% Daily Value*
Total Fat 5g 8%
Cholesterol 0mg 0%
Sodium 89mg 4%
Potassium 1493mg 43%
Total Carbohydrates 72g 24%
Protein 19g 38%
* Percent Daily Values are based on a 2000 calorie diet.
(Nutrition information provided is an estimate and will vary based on cooking methods and specific brands of ingredients used.)
IF YOU LOVE THESE ROASTED BUTTERNUT SQUASH TACOS, YOU MAY ALSO ENJOY
One Skillet Mexican Quinoa with Chipotle Lime Crema
Mexican Street Corn Tostadas with Chipotle Black Beans
5 Minute Homemade Pico de Gallo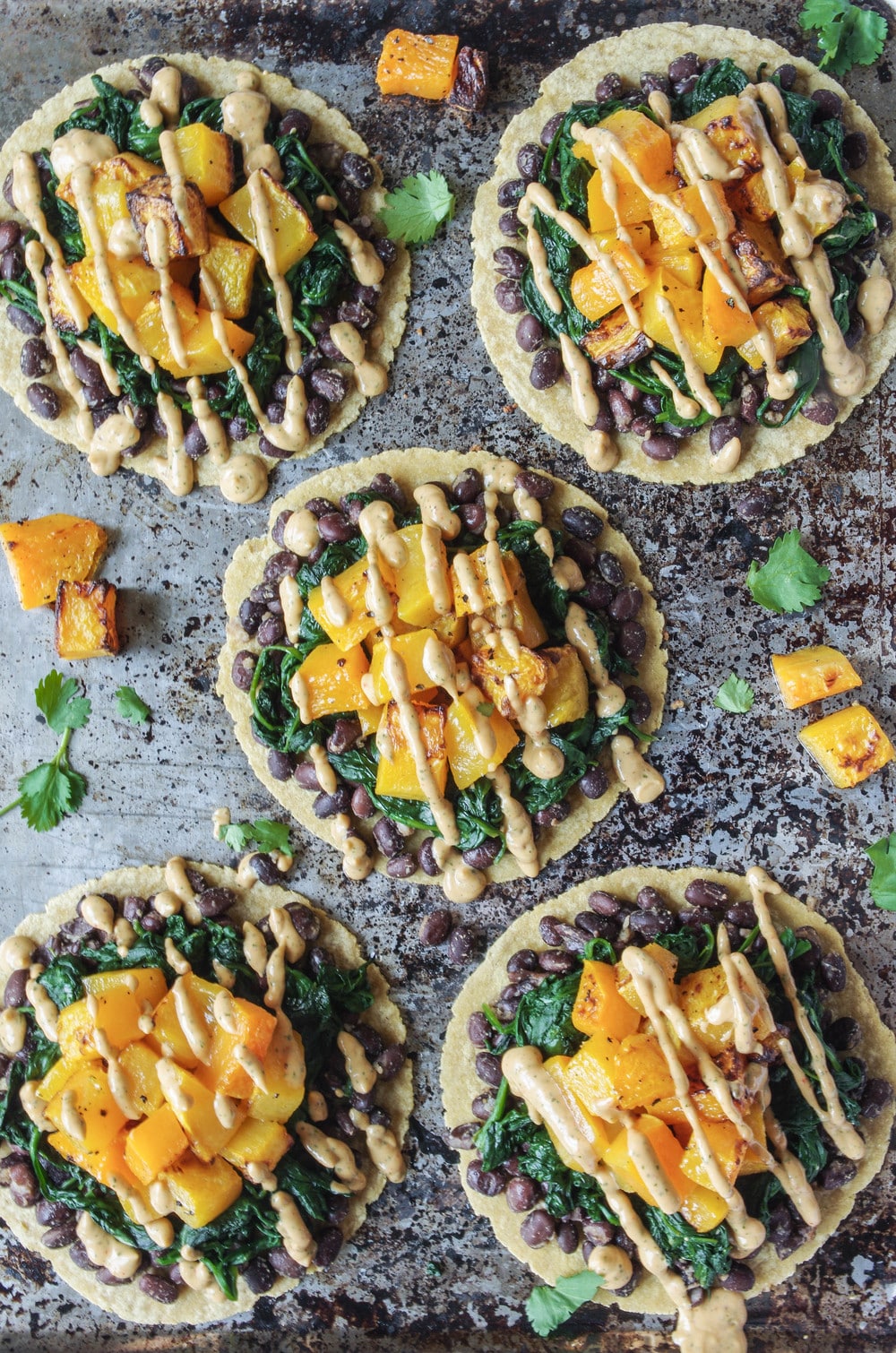 Original post-
One Saturday I decided to make veggie tacos. During the week I rarely make such a "fancy" lunch for Octavian and myself, but when the husband is home I make an exception. My child is wonderful, but there is no way he would put up with me cooking dinner AND lunch each day. Lunch usually consists of leftovers, mac n cheese (his fav), lots of fruit and other really easy meals to throw together.

When I was faced with the question of what to make for lunch, all I could think about was Mexican food. It made sense, all week long that was the only food I really wanted. However, our fridge and pantry were stocked with food, and the menu had been planned for the week, so no Mexican food for me (i know, first world problems).

So there I stood, hands on hips, staring at all my food, meanwhile thinking only about Mexican food. I had a lovely butternut squash sitting on my kitchen counter and a big bag of spinach. Since butternut squash is always a good idea, I thought, tacos.

Black beans and butternut squash go together like peas and carrots, so black beans it would be. I didn't want to over-do it will the toppings (I usually do), so I decided to just drizzle these healthy ingredients with chipotle lime crema.

In general lunch is my smallest meal of the day, but I could not stop eating these tacos. They were that amazing.

Times a million.