Learn how to make Blackberry Orange Muffins that have with Dark Chocolate chunks for good measure!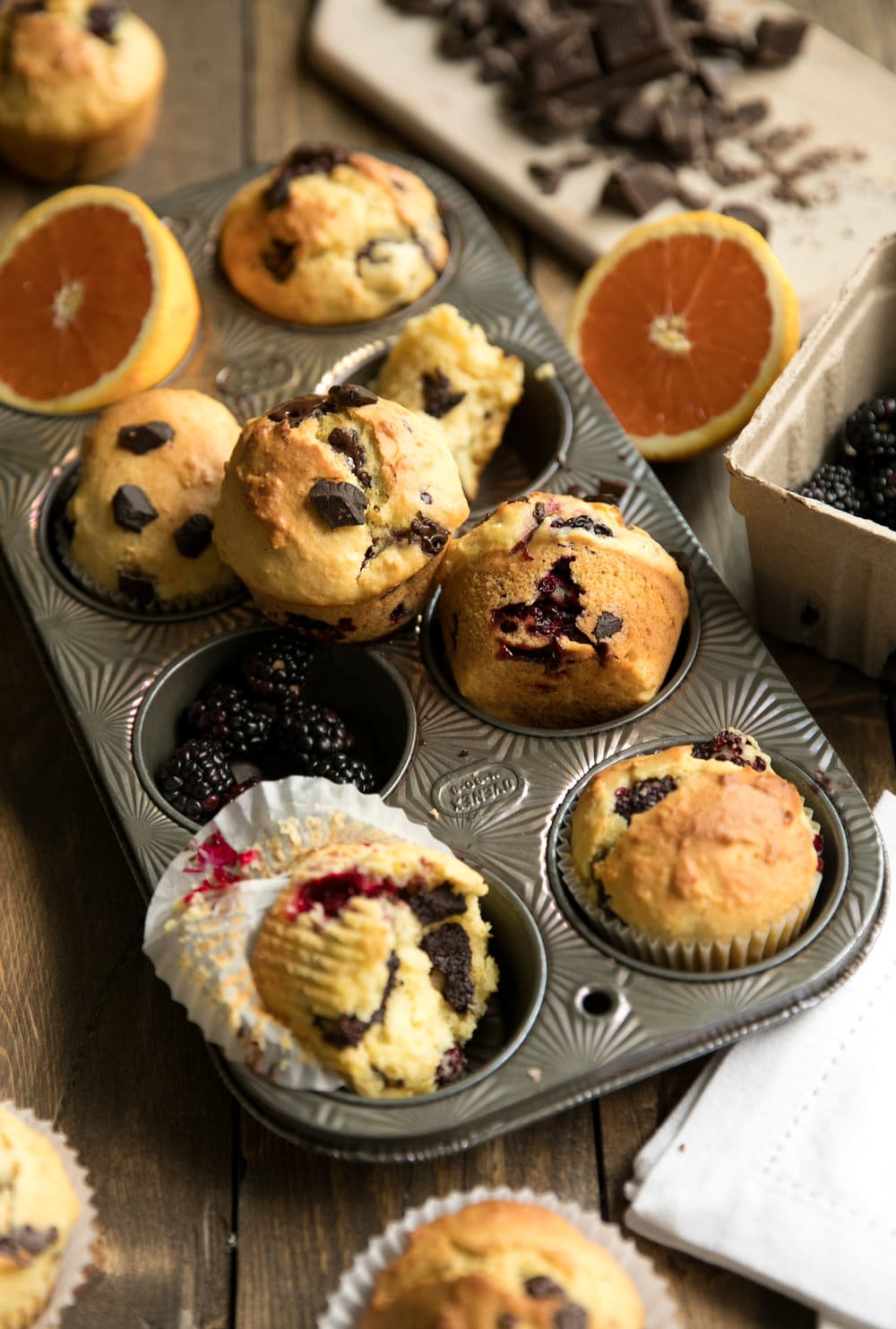 Octavian is officially enrolled in pee wee soccer. Do you guys know what this means?
I'm old.
Ok, aside from this?
It means I am officially a soccer mom. Truth be told, I have no idea what this means. I'm pretty new here. But, I can already tell it's going to involve a lot of dirty laundry, stinky shoes and food. I have looked forward to this motherhood milestone for years. Even before I got pregnant, my husband and I would joke about what kind of "crazy" soccer mom I would be. My husband, a soccer player throughout his school years, couldn't wait (although he would never admit it at the time). While we have no intention to pressure Octavian to play unless he wants to, he better want to.
Totally kidding! As long as he's not lazy, then whatever.
Fortunately, however, Octavian is pee-his-pants excited for soccer. So excited that every day for the past week my child has asked me, "Mama, is it soccer day yet?" We took him out to buy his very first pair of shin guards ("sin gards") and cleats. And, after an especially rough week at school last week, I bribed him with a soccer ball (of his choice!) if he didn't fight with any kids at school yesterday.
He picked pink. I love him.
So far, he's had two practices. His attention lasts until it is time to scrimmage, at which point he decides to run in the opposite direction from the ball or in circles around the field.
We're working on it.
Anywho, enough about soccer- plus my husband just put on an episode of Frontline about fish and fishing and I am totally distracted, so I better wrap it up before I start going off on a tangent about fish.
A few weeks ago, I had a sudden craving for muffins. I didn't want crazy healthy bran muffins or a sugar packed dessert muffin. I wanted a happy in between muffin.
Say hello to these Blackberry and Orange Muffins with Dark Chocolate Chips; the best muffins of your life. Ok, that may be a slight overstatement. I love a lot of different muffins. But these are definitely the BEST I have had in a long time. I was actually blown away by how amazing these muffins were. Of course I knew they would taste delicious, but THIS delicious? Let's just say, between my husband and me, they were gone within 36 hours.
Blackberry and Orange Muffins with Dark Chocolate Chunks
Learn how to make Blackberry Orange Muffins that have with Dark Chocolate chunks for good measure!
Ingredients
¼

cup

butter

-

melted and cooled

¼

cup

unsweetened applesauce

½

cup

milk

-

at room temperature

2

large eggs

1

orange zested

½

cup

sugar

2

cups

all-purpose flour

2

teaspoon

baking powder

1

teaspoon

salt

1.5

cups

fresh blackberries

½

cup

roughly chopped dark chocolate
Instructions
Preheat oven to 375 degrees F. Line a 12-cup muffin tin with liners and lightly spray with nonstick cooking spray. Set aside.

In a large mixing bowl prepare the batter by whisking together the butter, apple sauce, milk, eggs and orange zest. Beat well for 2-3 minutes until fully incorporated. Whisk in the sugar until combined.

In a separate bowl mix together the flour, baking powder and salt.

Using a rubber spatula gently gently mix together the dry with the wet ingredients until just mixed- no not overmix. Fold in the blackberries and chopped chocolate.

Scoop the muffin batter into the prepared muffin tin, dividing the batter evenly between the 12 cups. Transfer the muffin tin to to oven and bake for approximately 22-25 minutes, or until tops of the muffins are slightly golden and toothpick inserted comes out clean.

Remove tin from the oven and allow muffins to cool for at least 5-10 minutes before serving. Store leftover muffins in an airtight container or ziplock bag for 2-3 days.
Nutritional Information
Calories:
211
kcal
|
Carbohydrates:
31
g
|
Protein:
4
g
|
Fat:
7
g
|
Saturated Fat:
4
g
|
Cholesterol:
37
mg
|
Sodium:
245
mg
|
Potassium:
200
mg
|
Fiber:
2
g
|
Sugar:
12
g
|
Vitamin A:
220
IU
|
Vitamin C:
5.1
mg
|
Calcium:
62
mg
|
Iron:
2.1
mg
(Nutrition information provided is an estimate and will vary based on cooking methods and specific brands of ingredients used.)