Have you ever wanted to learn How to Make Bubble Tea? Here you'll find everything you need to know to make creamy, delicious, and surprisingly simple bubble tea right at home using simple ingredients like black tea, tapioca pearls, and sugar.
With shops selling this hip and trendy iced beverage on practically every street corner these days, I thought it would be fun to share everything I know about Bubble Tea with you guys.
Whether you're new to bubble tea, or you drink it all the time, in this post you'll find everything you need to know to make simple delicious homemade bubble milk tea at home. I love this version best because it isn't too sweet, the ingredients are super basic, and it's ready super fast.
What is Bubble Tea?
Bubble tea is a Taiwanese tea-based beverage that goes by the names milk tea, pearl tea, tapioca tea, boba tea, boba nai cha, foam milk tea, and several others.
Invented in the 1980s, the exact story of who invented Bubble Tea is somewhat debated, however, it is believed that Ms. Lin Hsiu Hui of the Chun Shui Tang Tea Shop in Taichung, Taiwan, came up with the drink when she randomly poured fen yuan into her iced tea during a meeting in 1988.
Fast forward three decades and this discovery of milk tea mixed with tapioca balls have evolved into hundreds of different unique bubble tea flavor combinations. Bubble tea shops are seemingly everywhere these days (I know of at least three within two miles of my house) and the color varieties, thanks to all the different flavors (like green tea, strawberry, taro, and mango!) seem to keep getting cooler and cooler.
What is Boba?
Often synonymous with bubble tea, Boba is actually the little black balls that sink to the bottom of your bubble tea.
Boba pearls are made from partially cooked tapioca flour – the refined starch extracted from the cassava root. Boba is gluten-free and, in its natural state, flavorless. Loved for its chewy texture, Boba can be added to both hot and cold drinks including hot teas or smoothies.
What is Bubble Tea Made Of
Tea: I used a simple English Breakfast Black Tea. High in caffeine (how I like it), it's what I had on hand and it worked perfectly. Oolong tea would also work nicely, or any other robust black tea. Don't worry about over-steeping your tea since you will be adding milk (or cream) and some sugar.
Milk: I like to use whole milk or half-and-half. Heavy cream is too heavy and low-fat milk doesn't quite add enough creaminess. Dairy milk and creamer, or full-fat coconut milk are my top picks, but other plant-based milk alternatives (soy milk, almond milk, oat milk) will work, too. For an extra creamy treat, try adding sweetened condensed milk.
Sweetener: The benefit of making bubble tea at home is that you can add as much or as little sugar as you like. The total amount will vary depending on the type of milk you use, how long you steep your tea, and personal preference. In this recipe, I used granulated white sugar, but simple syrup, honey, or agave would also work.
Ice: Of course, these days bubble tea may come either hot or cold. However, in this case, you'll need ice. Depending on how cool your tea gets will determine how much ice you'll need.
Tapioca Pearls (or boba) This is the boba that I used to make this bubble tea recipe. It is the fast-cooking kind, which means that they don't take over an hour to cook. In fact, they take just 5-10 minutes. There is one very important thing to note about quick-cooking tapioca pearls – do not make them ahead of time. After just 1-2 hours they will start to stiffen and dry out.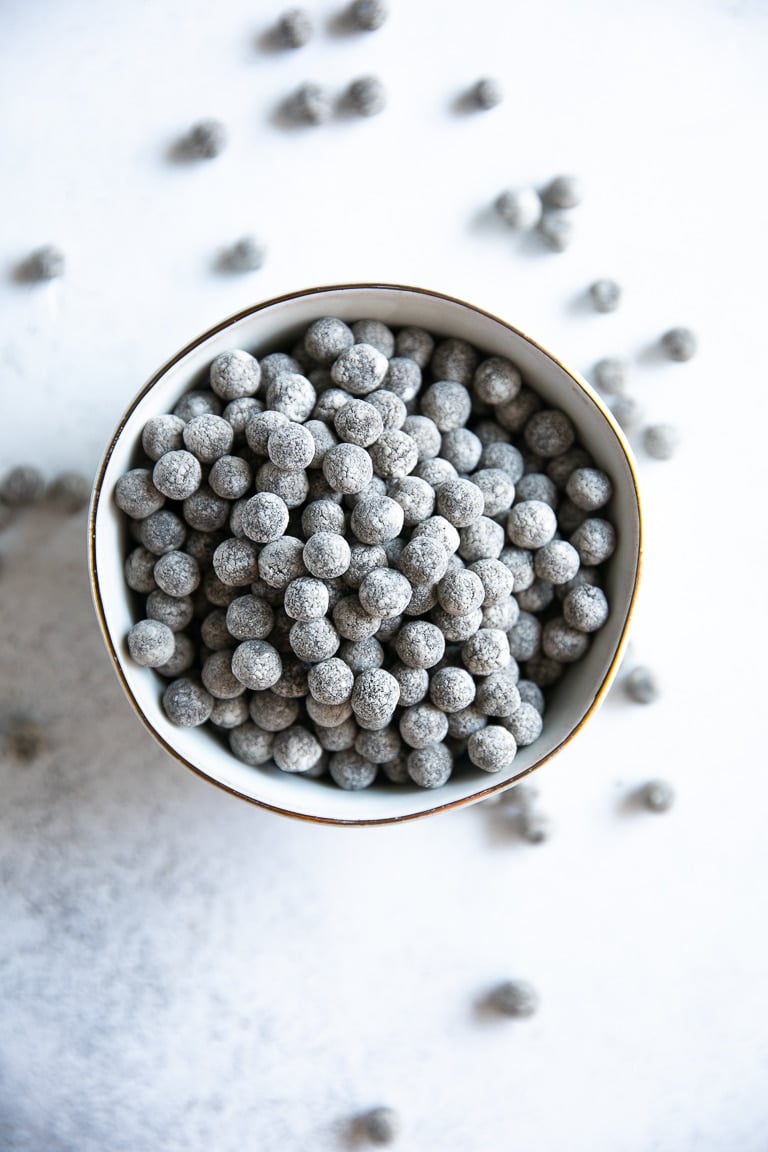 How to make Bubble Tea
1. Steep the tea:
Bring approximately 6 cups of water just to a boil and remove from heat. Stir in the sugar and add the tea bags(for this recipe, I added approximately 1 tablespoon of sugar per glass of bubble tea). Allow the tea to steep and come to room temperature.
If you're in a hurry, you may either prepare the black tea ahead of time or transfer the steeping tea to the refrigerator to speed up the cooling process.
Allow the tea to steep for at least 15-25 minutes.
2. Prepare the boba (tapioca pearls):
Approximately 15 minutes before you plan to serve your bubble tea, bring a small pot of water to a boil. Add the boba and stir well to prevent them from clumping and sticking together. Allow the boba to cook for approximately 5-7 minutes (they should be floating on the surface and super chewy).
Drain and rinse under cold water – don't worry, they won't fall apart.
3. Assemble:
Grab four glasses (any glass will work, just make sure they're large enough to hold approximately 2 cups of liquid) and divide the cooked pearls between them. Fill each glass with ice and pour approximately 1 to 1 1/2 cups of room temperature black tea into each. Add approximately 2-3 (or more) tablespoons of milk or half-and-half to each glass and stir well to combine.
Is it sweet enough? Add additional sweetener if needed.
Serve with fat straws and long spoons.
Tips and Tricks
Tapioca balls, while fun to chew, are also a choking hazard. Especially for kids. As such, I recommend serving with both a reusable straw and a long spoon that can scoop out all those delicious boba balls.
This bubble tea recipe is best enjoyed as soon as possible, or, at the very least on the same day.
If you want an extra cold bubble tea, combine the milk, tea, and a few ice cubes (but not the boba!) in a cocktail shaker. Shake vigorously (like you would if you were making a cocktail) and pour into a glass filled with boba and ice. This is actually the more "traditional" way of making bubble tea (shaking, rather than stirring, that is).
Have fun with other flavors and teas like matcha, green tea, or Thai Tea.
Bubble Tea Frequently Asked Questions
Is Bubble Tea Healthy?
Bubble tea – even this recipe with limited amounts of added sugar and no added food coloring – isn't really healthy. Tapioca pearls offer no nutritional benefits and are filled with sugar. It's best to enjoy this delicious drink in moderation.
What are the bubbles in bubble tea?
The bubbles in bubble tea are the tapioca pearls, aka boba, which are made from tapioca starch.
Where can I buy boba (chewy tapioca pearls)?
I purchased these quick-cook tapioca pearls on Amazon, but you can also find them in most Asian supermarkets.
Is bubble tea gluten-free?
This bubble tea recipe is gluten-free. Take care when ordering from a bubble tea shop as many of the flavors or additives may contain gluten.
Bubble Tea Flavors
Head to your favorite boba tea shop and you'll find countless flavor combinations and toppings. Some of the most popular include:
Honeydew
Lychee
Grass jelly
Passion fruit
Aloe
Coffee
Coconut
Taro
Strawberry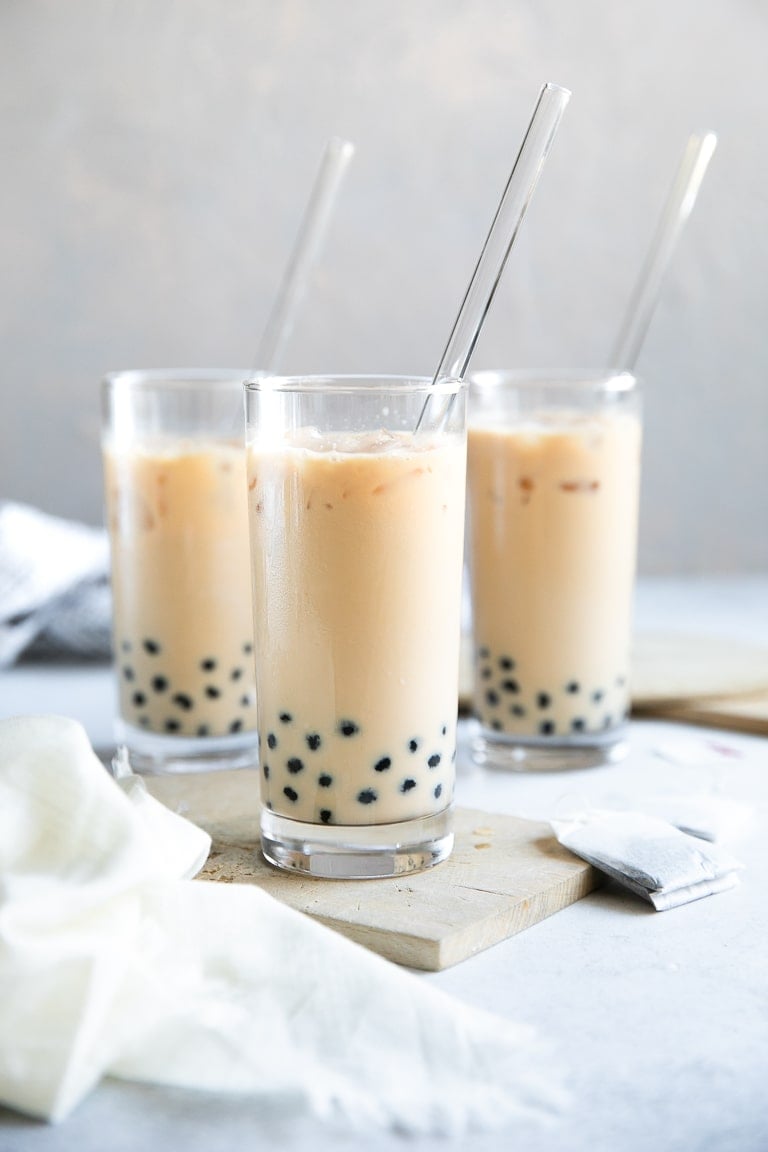 Have you tried making this Bubble Tea Recipe?
Tell me about it in the comments below! I always love to hear your thoughts. And tag me #theforkedspoon on Instagram if you've made any of my recipes, I always love to see what you're cooking in the kitchen.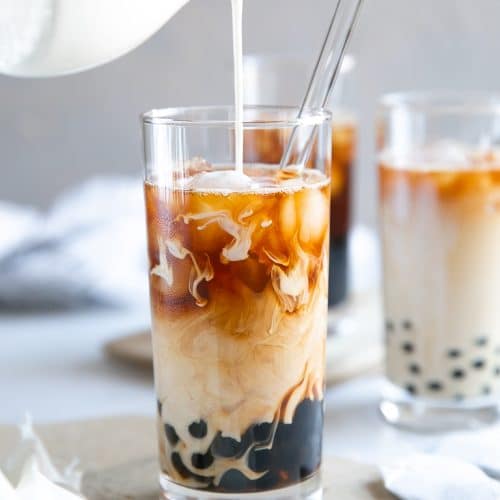 Bubble Tea Recipe
Learn How to Make Bubble Tea with this creamy, delicious, and surprisingly simple Bubble Tea Recipe!
Ingredients
6

cups

boiled water

4

tablespoon

granulated sugar (or your choice of sweetener)

-

plus more as needed

8.8

ounces (1 bag)

quick-cooking tapioca pearls

whole milk or half-and-half

-

plus more as needed
Instructions
Prepare the tea. Bring 6 cups of water to just a boil. Immediately remove from heat and add the tea bags and sugar to the water. Stir well to combine and steep until the water reaches room temperature (see notes).

Prepare the Boba. Approximately 15 minutes before serving, bring a small pot of water to a boil. Add the tapioca pearls (boba) and stir immediately to prevent them from sticking together. Allow them to cook for approximately 5-7 minutes (they should be floating on the top and chewy). Drain and rinse under cold water. Transfer to a clean bowl.

Assemble. Divide the cooked boba between four drinking glasses and top with ice. Pour approximately 1 1/2 cups of black tea into each glass and top with approximately 2-3 tablespoons of milk or half-and-half. Mix well to combine and taste for sweetness. If desired, add additional sugar or sweetener until desired sweetness is reached. Serve with large boba straws or long spoons.
Jessica's Notes
To speed up the cooling process, simply stick your pot with the steeping tea bags in the refrigerator and allow it to chill until the desired temperature is reached.
Nutritional Information
Calories:
269
kcal
|
Carbohydrates:
67
g
|
Protein:
0
g
|
Fat:
0
g
|
Saturated Fat:
0
g
|
Cholesterol:
0
mg
|
Sodium:
0
mg
|
Fiber:
0
g
|
Sugar:
14
g
|
Calcium:
12
mg
|
Iron:
1
mg
(Nutrition information provided is an estimate and will vary based on cooking methods and specific brands of ingredients used.)