I didn't really care for cauliflower until the past couple years. I can't remember my parents cooking with it much growing up; however, when they did, it was just steamed, mushy and bland. As I entered into adulthood, I always thought of cauliflower as a boring vegetable best dipped into ketchup.
I'm finally starting to learn, however, that cauliflower is one of the best vegetables ever. So good it's creeping its way right up there with zucchini and butternut squash as my all-time favs. I've made the oh-so-trendy cauliflower rice, cauliflower soup, curries, etc. But, sometimes, I just want to eat my vegetables as they are, but flavorful and still intact rather than bland and mushy. Curry and lime oven roasted cauliflower florets sounded like just the thing. With a curry mayo dip on the side I knew it would be a winner.
You guys, these little bits of curried vegetable goodness are like heaven to my mouth. And the mayo dip? ah-maz-ing. You can increase or decrease the amount of cayenne powder depending on how spicy you like your food (I like my food spicy, so add less if you aren't a fan of heat).
I made this for lunch one afternoon while my mother-in-law was over helping with Octavian. She was born and raised in India, and while she has a very unique style of cooking, it is usually fairly obvious when I've made something good. She loved this. Phew! Even better, Octavian even loved it (sans mayo dip). I loved it so much it was all I ate for lunch. I could not stop. It is a piece of cake to prepare and delicious out of the oven or leftover the next day. Pick up a rotisserie chicken and cook some rice, and viola! dinner is served.
You're welcome.
But seriously, this cauliflower… pieces of heaven.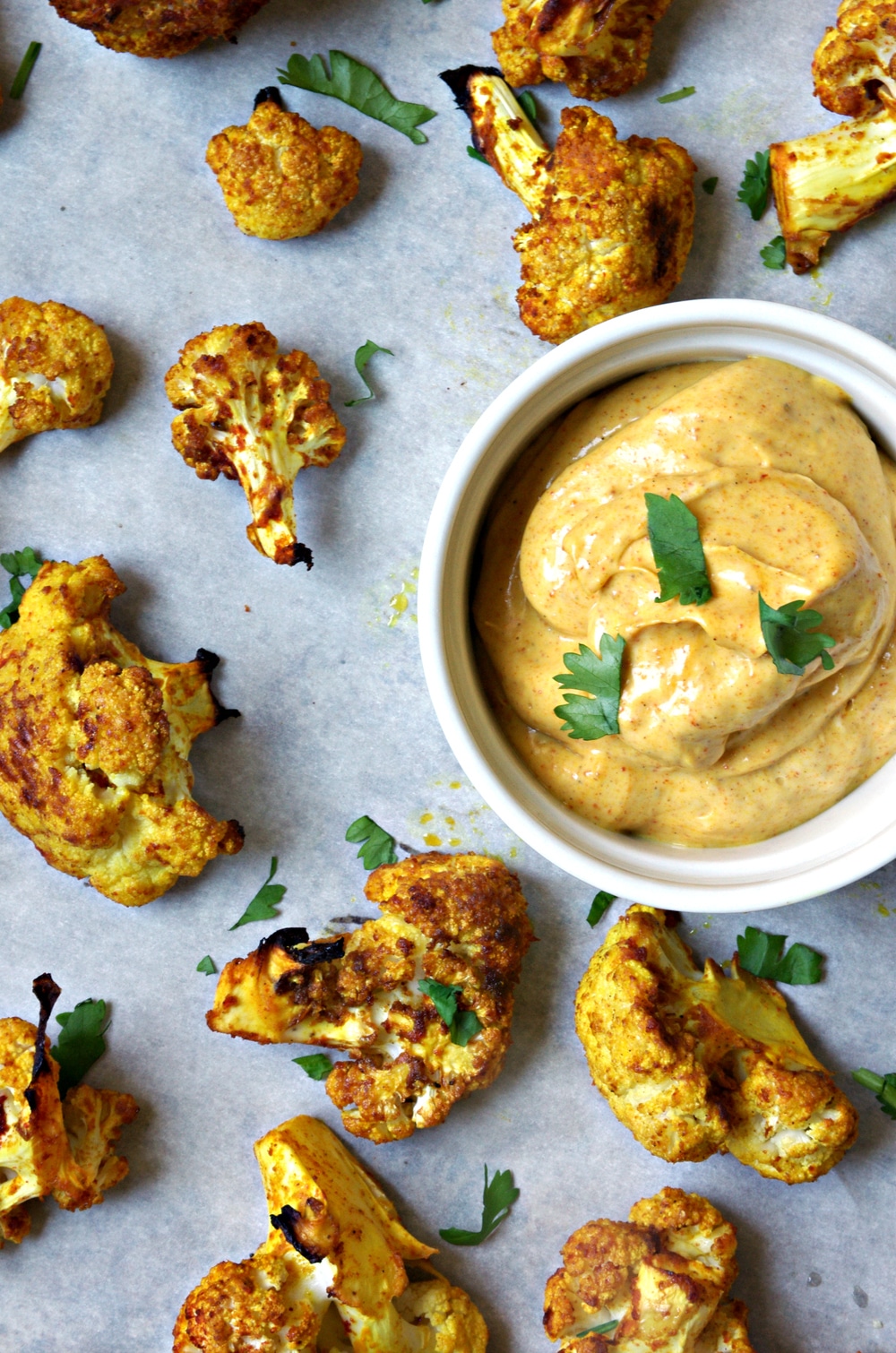 Try my Buffalo Cauliflower!
Oven Roasted Curried Lime Cauliflower with Curried Mayo Dip
Curried Oven Roasted Cauliflower are flavorful treat as both a side, snack or appetizer.
Ingredients
For the Curried Mayo Dip:
Instructions
Preheat your oven to 425 degrees F.  Line a large baking sheet with parchment paper.

Place your cauliflower florets in a large mixing bowl and drizzle with olive oil.  Toss the cauliflower until evenly coated.  Pour on the lime juice and toss again.

In a separate, smaller bowl combine all your spices.  Sprinkle half the spice mixture over the cauliflower and toss, then pour the remaining spice mixture and toss until each cauliflower floret is evenly coated.  Transfer the cauliflower to your lined baking sheet and bake for 30 minutes, turning halfway.

While your cauliflower is baking, prepare your curried mayo.  In a small bowl mix the mayo, Greek yogurt and spices until thoroughly combined.  Taste and add any additional spices (or salt!) you find necessary.

Cauliflower is done when it is easily poked with your fork and florets are starting to brown on the top.  Drizzle with fresh squeezed lime juice and dunk in the curried mayo dip!
Jessica's Notes
Adapted from The Endless Meal
note: If you do not care for spicy food, reduce cayenne pepper by half (of more if you're especially sensitive).
Nutritional Information
Calories:
242
kcal
|
Carbohydrates:
6
g
|
Protein:
2
g
|
Fat:
23
g
|
Saturated Fat:
3
g
|
Cholesterol:
12
mg
|
Sodium:
484
mg
|
Potassium:
181
mg
|
Fiber:
2
g
|
Sugar:
1
g
|
Vitamin A:
345
IU
|
Vitamin C:
18.2
mg
|
Calcium:
42
mg
|
Iron:
1.7
mg
(Nutrition information provided is an estimate and will vary based on cooking methods and specific brands of ingredients used.)
Enjoy!