Learn how to easily make Homemade Fruit Roll-Ups without a dehydrator!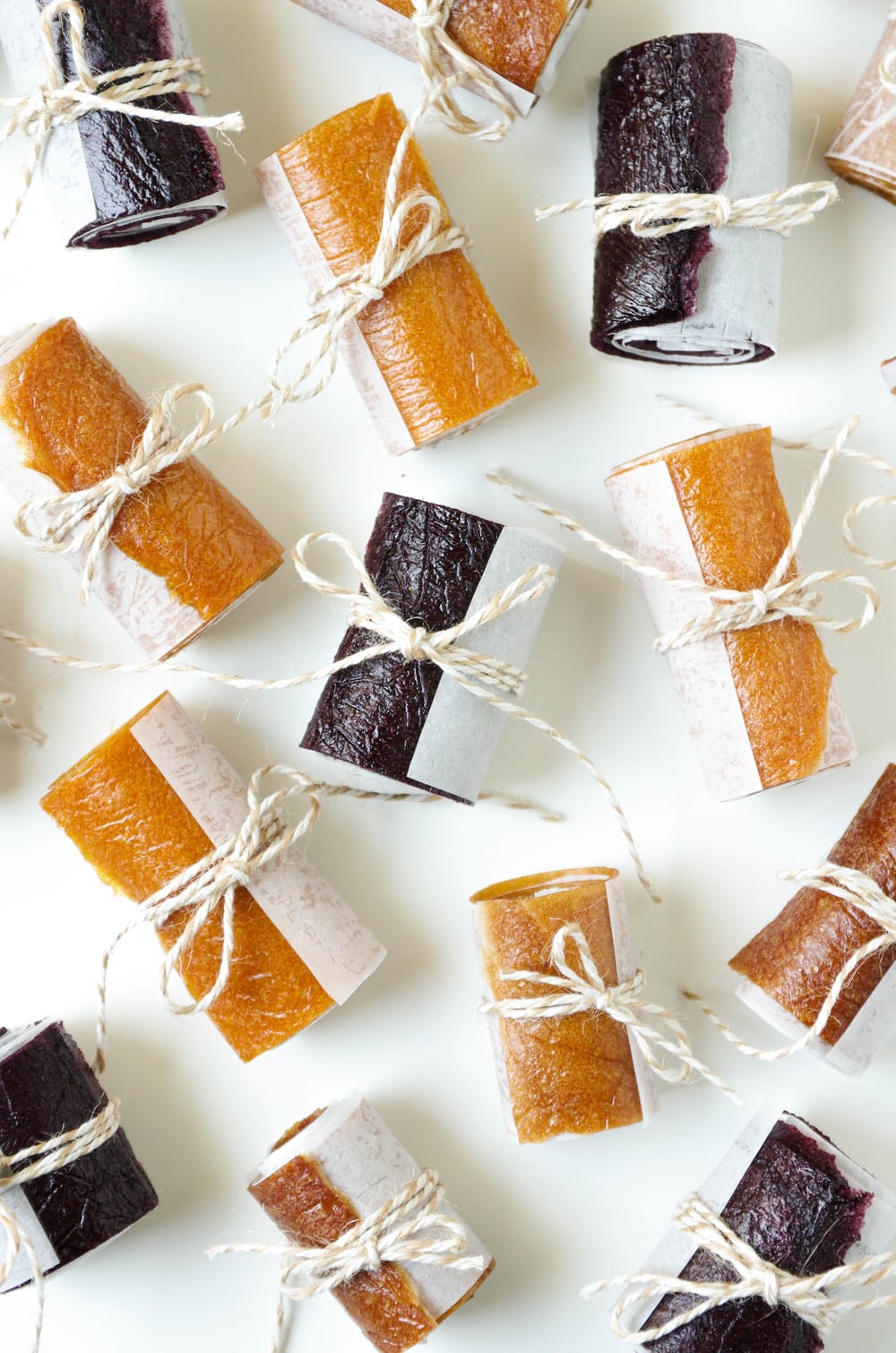 A few months ago O became obsessed with fruit snacks. Since fruit snacks have zero nutritional value to them, I reserved these treats for extra good behavior or moments of desperation (bribery). But every time I fed them to Octavian, the more he wanted them. And, of course, one pouch was never enough, resulting in an epic meltdown because I wouldn't let him eat just fruit snacks for dinner.
I decided to never again buy a Costco sized box of fruit snacks again, and make my own instead.
Yes, let's state the obvious- these are not fruit snacks. These are fruit roll ups. I know. And I will get around to making actually heart or bear shaped fruit snacks one of these days, but man, fruit roll ups are so much easier. Mostly, I just didn't want to go out and buy the shape molds and didn't want to wait for them to come in the mail (since, you know, 2-day Prime shipping just isn't fast enough).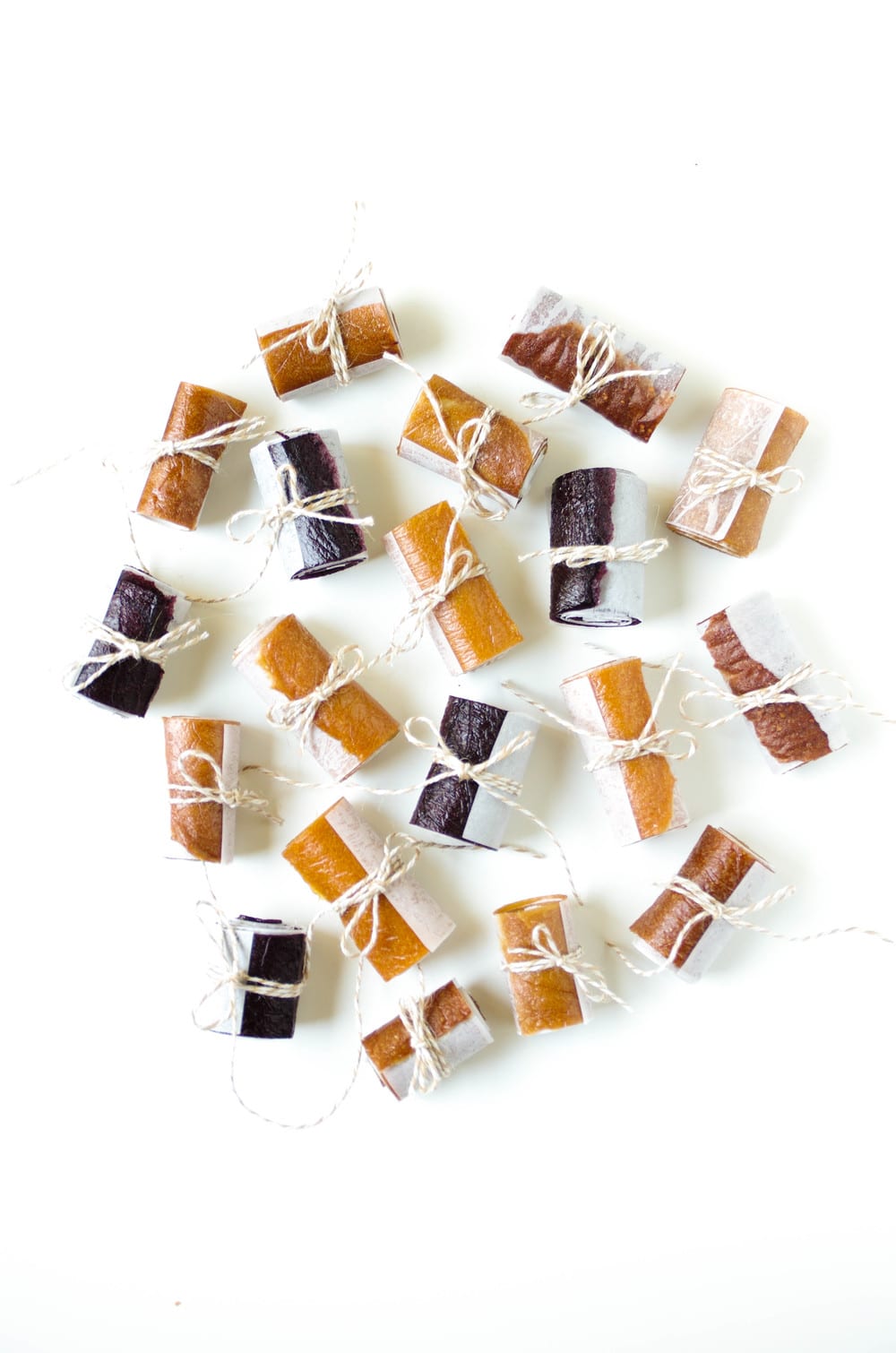 The best part about these fruit roll ups is that they are made with only 3 ingredients- fruit, lemon juice and (optional) sweetener, such as honey. And, you can get super creative with your fruit combos, too! My favorites include,
Simple Apple Fruit Roll Ups
Mixed Berry Fruit Roll Ups
Mango Fruit Roll Ups
Mango/Peach Fruit Roll Ups
Strawberry Fruit Roll Ups
Strawberry Apple Fruit Roll Ups
And you don't have to limit yourself to just fruit. You can also add chia seeds, fresh herbs like basil or mint and spices. I haven't taken my fruit roll ups to the next level yet, but I am fairly confident that Octavian would be happy with a little cinnamon or chili powder added to his favorite snack.
Homemade Fruit Roll Ups
learn how to easily make Homemade Fruit Roll Ups without a dehydrator!
Ingredients
4

cups

fruit

-

mixed berry/strawberry/mango, chopped

1.5

tablespoon

honey -

optional

2

teaspoon

fresh lemon juice
Instructions
Preheat oven to lowest temperature, 170 degrees F (that was the lowest setting on my oven). Line 2 or 3 12x18 inch jelly roll pans with parchment paper, good-quality plastic wrap or silicon baking mats (I have tried all 3, the baking mats are BY FAR the easiest to prep and peel).

Combine ingredients in a blender or food processor and process until smooth. If desired, strain liquid through a mesh strainer into a clean bowl (this is not necessary, but if you or your kiddos prefer your fruit roll ups without seeds, this step is recommended). Discard solids.

Divide mixture between your prepared baking sheets, using an offset spatula to create a very thin, equal layer. I found that tapping the side of the pan against the counter helped in equally spreading the pureed fruit.

Bake for 4-6 hours, checking periodically. Rotate pan every 1-2 hours for more even cooking. Your fruit roll ups are done when the puree is dry to the touch and pliable (note: the exterior part of the fruit roll ups may dry sooner than the middle).

When finished baking, remove from oven, peel off parchment or mat and gently transfer to a cutting boards. Slice into desired sized, roll with parchment paper or wax paper and store in an air-tight container for up to one week.
Nutritional Information
Calories:
26
kcal
|
Carbohydrates:
6
g
|
Protein:
0
g
|
Fat:
0
g
|
Saturated Fat:
0
g
|
Cholesterol:
0
mg
|
Sodium:
2
mg
|
Potassium:
35
mg
|
Fiber:
0
g
|
Sugar:
5
g
|
Vitamin A:
120
IU
|
Vitamin C:
1
mg
|
Calcium:
2
mg
|
Iron:
0.1
mg
(Nutrition information provided is an estimate and will vary based on cooking methods and specific brands of ingredients used.)