This Thai Pumpkin Soup is filled with Asian flavors like lemongrass and ginger!
The husband and I decided to celebrate Valentine's Day this year by adding a new member to our little family.
No, no, NO! I am not pregnant and no we did not decide to start trying. Ha! scary! (clearly I'm not ready for #2 yet)
BUT we did get a puppy!
You guys, I have wanted a puppy for pretty much my entire life. Every Christmas and birthday I would ask for a puppy, but year after year, no puppy friend for me. I was pretty much heartbroken over this all throughout middle school years, but then I entered high school, got a boyfriend and found my heart breaking for other reasons besides a dog.
Nevertheless, I have still always wanted a dog.
After months and months scouring local shelters and craigslist, we finally found our puppy through Stonecliffe Animal Rescue.
Since Octavian is very cautious around dogs, we wanted a baby that would grow up with him, especially since we wanted a medium to large dog. I wanted a Golden Retriever, but didn't want a purebred and really hoped to adopt from a shelter. Basically my chances of getting a Golden were zero. Since my husband grew up with an Aussie Shepard we were hoping to get an Aussie Shepard mix.
Meet Juniper (although Octavian sometimes calls her Lola). She is a 3.5 month old Aussie Shepard / German Shepard Mix (but really we have no idea). She is such a sweetheart. Nighttime has been much easier than we anticipated, however she likes when she can hear the husband and I talk or, even better, when the husband sings her to sleep.
not.even.kidding.
Anyway, back to the food…
Even before traveling to Thailand I loved Thai food, but after living there for nearly two months, I was completely hooked. Not much compares to good Thai food.
Over the past couple years I have tried to replicate some of my favorite Thai dishes and bring the flavors of Thailand home by incorporating them into some of my favorite recipes.
It's no secret that I love soup. I also love sweet potatoes and ginger and coconut milk. These ingredients are great in a curry, so why not make it into a soup? In fact, since making it into a soup, it's like eating a bowl of rich creamy curry, but healthier (yay!). More vegetables, less cream.
This is one of my favorite soup recipes. It's light and creamy, but filling. And oh my is it comforting!
All the smells and flavors of Thailand come rushing right back.
The memories, you guys, they are good ones.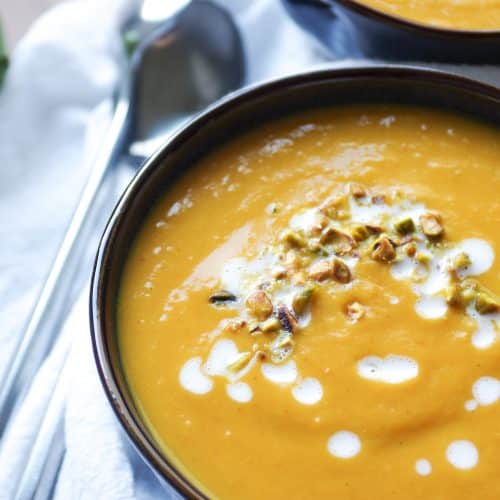 Thai Sweet Potato Soup with Lemongrass + Ginger
This Thai Pumpkin Soup is filled with Asian flavors like lemongrass and ginger!
Ingredients
1

tablespoon

coconut oil

2

shallots

-

chopped

1

large yellow onion

-

chopped

8

cloves

garlic

-

chopped

½

cup

ginger

-

peeled and chopped

⅓

cup

lemongrass

-

chopped fine

2

jalapeno

-

chopped (omit for less spicy soup)

1

teaspoon

yellow curry powder

½

teaspoon

turmeric

2

teaspoon

cayenne powder -

start with less if you prefer more mild food as cayenne can be spicy

1

teaspoon

salt

8

cups

vegetable stock

-

plus more if needed

2

pounds

sweet potatoes

5

large carrots

-

peeled and chopped

15

oz

pureed pumpkin

-

one 15 oz can

2

tablespoon

soy sauce

1

tablespoon

fish sauce -

optional

1

tablespoon

brown sugar

3

tablespoon

fresh lime juice

-

plus more for serving

¾

cup

coconut milk

-

or coconut cream
Garnish
chopped pistachios

fresh lime juice

coconut milk

chopped green onion

cilantro
Instructions
In a large soup pot or Dutch oven, heat coconut oil over medium high heat. Once hot, add the chopped shallot and onion and cook for approximately 2 minutes, or until just turning soft, stirring frequently. Add the ginger, garlic, lemongrass, and jalapeno and stir. Lower heat to medium and cook for approximately 5 minutes, or until fragrant and just starting to turn golden; continue to stir frequently to prevent burning. Add the yellow curry powder, turmeric, cayenne powder and salt and stir well. Still stirring, cook for an additional minute or two and add the vegetable stock.

Turn heat to high and bring pot to a boil. Carefully add the sweet potatoes, carrots and pureéd pumpkin. Reduce heat to low and simmer, uncovered, for approximately 20 minutes, or until potatoes are fork tender.

Pureé soup until very smooth, being careful not to overfill your blender with hot, boiling, steaming soup (I usually only fill mine half way full). I usually do mine in several small batches. Return to the stove over medium heat.

Gently stir in the soy sauce, fish sauce (optional, but HIGHLY recommended), brown sugar and fresh lime juice. Taste and adjust seasonings, as necessary. There is no magic formula here, so play around until you find what balance suits you.

Finally, stir in the coconut milk. Some may argue to do this before you add the soy sauce, fish sauce and sugar, however, I always add it last. I added 1/2 cup coconut milk to this pot of soup, but feel free to add more for a creamier, richer soup if that's what you desire (my husband prefers more coconut milk, so he will usually drizzle a tablespoon or two over the top of his bowl at serving).

Garnish with chopped pistachios, chopped fresh cilantro or green onion, lime juice or coconut milk.
Nutritional Information
Calories:
315
kcal
|
Carbohydrates:
56
g
|
Protein:
6
g
|
Fat:
9
g
|
Saturated Fat:
7
g
|
Cholesterol:
0
mg
|
Sodium:
2342
mg
|
Potassium:
1066
mg
|
Fiber:
9
g
|
Sugar:
17
g
|
Vitamin A:
41970
IU
|
Vitamin C:
21.9
mg
|
Calcium:
103
mg
|
Iron:
3.9
mg
(Nutrition information provided is an estimate and will vary based on cooking methods and specific brands of ingredients used.)