The Best Salisbury Steak Recipe made with tender, juicy beef patties smothered in a homemade onion and mushroom gravy sauce. Classic comfort food loved by all ages, enjoy this mouthwatering 30 minute Salisbury Steak Recipe with your favorite mashed potato recipe and a scoop of green peas for a complete meal!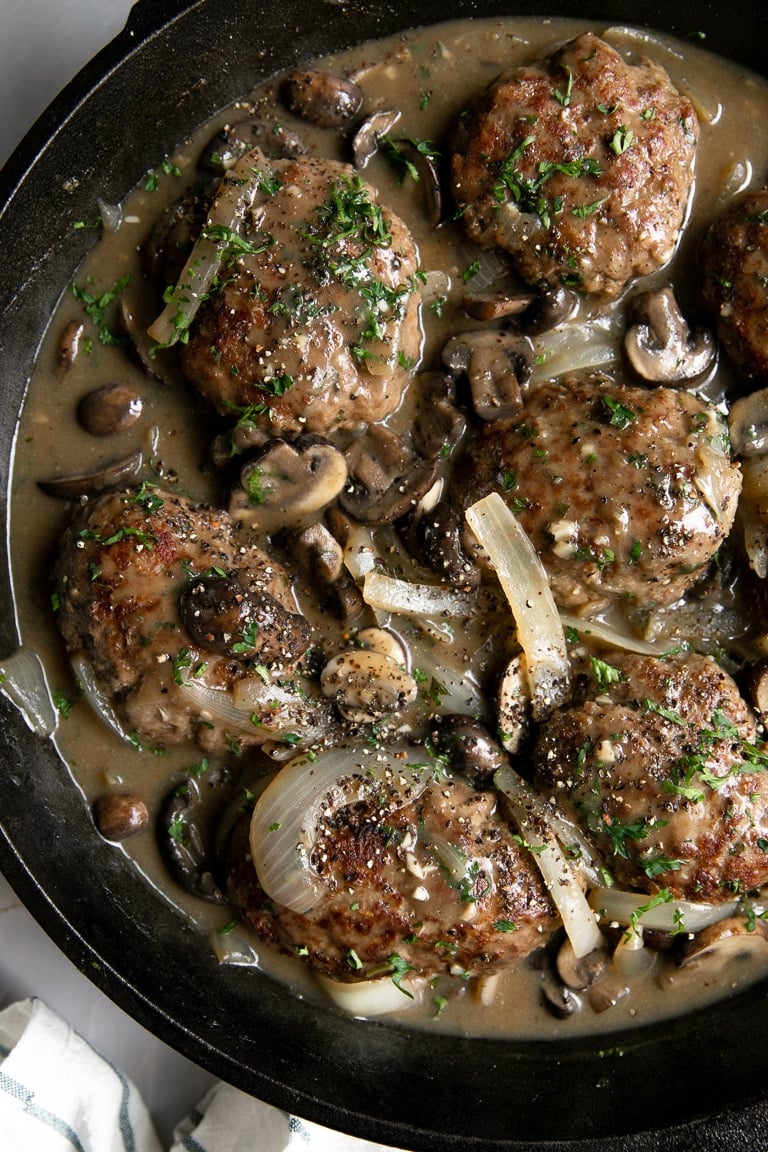 Salisbury Steak
Delicious, comforting, and familiar, Salisbury steak was one of my favorite dinners growing up- and still is whenever I need something extra cozy! Golden brown meat patties smothered in an irresistible homemade onion and mushroom gravy, the whole family loves this classic comfort food.
Quick, easy, and perfect for busy weeknights, this Salisbury steak recipe cooks together in one skillet and in just 30 minutes!
My family loves to serve this with our favorite Mashed Potatoes and a side of peas. However, other fan favorites also include egg noodles, pasta noodles, roasted carrots or Brussels Sprouts. For lower carb options try serving this recipe with riced or mashed cauliflower.
What is Salisbury Steak
The most simple definition for Salisbury steak is that it is a dish consisting of ground beef and other ingredients typically served with some kind of gravy or brown sauce.
The term Salisbury Steak was created by the physician J.H. Salisbury and was introduced in 1888. J.H. Salisbury believed that certain foods, particularly starches, vegetables, and fruit, were the cause of many illnesses and diseases. As such, he created the Salisbury steak, or ground beef flavored with onion and seasoning and then either fried or boiled and served covered with gravy or brown sauce.
In this "Salisbury diet" he suggested that people should consume Salisbury steak three times a day with lots of hot water to flush the digestive system. In other words, Mr. Salisbury was one of the very first advocates for a low-carb diet.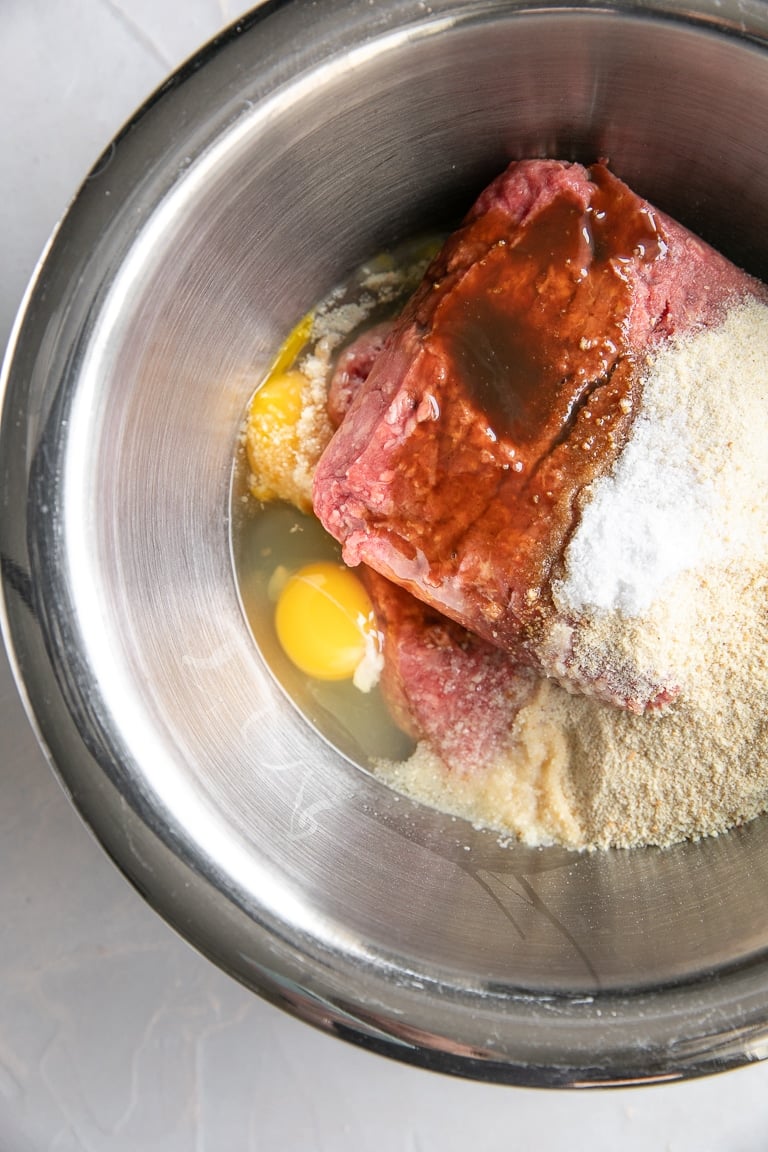 What is the Difference between Salisbury Steak and Hamburger Steak?
Although sometimes used interchangeably, there is a difference between Salisbury steak and Hamburger steak. I've tried all three of the below- have you?
Hamburger– typically formed into a much more uniform rounded shape and served on a bun, the hamburger steak by USDA labeling standards must only contain beef and minimal spices. If the hamburger contains additional binders (breadcrumbs, etc), it will no longer be considered a "Hamburger" but instead must be labeled as a "beef patty".
Hamburg(er) Steak– much like the hamburger, this round and thick beef patty are made almost entirely from ground beef and simple seasoning. However, it is served with a thin gravy or sauce and is not served on or with any sort of bun.
Salisbury steak– can contain as little as 65% meat and 25% of it can be pork. Usually, it will contain binders such as breadcrumbs or vegetables such as onions, mushrooms, or bell peppers. Unlike the Hamburger steak, a Salisbury steak is somewhat misshaped, more oval than round, and is served with sides such as mashed potatoes, pasta, and gravy.
What are the Ingredients in Salisbury steak
All of the ingredients needed to make an epic skillet of Salisbury steak are super easy to track down. In fact, I'm guessing you probably have many of the following ingredients already in your home.
Ground beef – You can use all ground beef or a ratio of ground beef and ground pork. It's completely up to you and your own personal preference. I recommend using lean ground beef.
Breadcrumbs and Eggs – Breadcrumbs and eggs act as a binder for your meat patties. Be sure to pick gluten-free breadcrumbs if you're sensitive to gluten.
Worcestershire sauce – a flavor must, this sauce adds a hint of umami flavor to the overall dish.
Seasoning (onion powder, garlic powder, mustard powder) – It's important to add flavor to each step of a recipe. Onion, garlic, and mustard powder are a great way to add loads of easy flavor to meat patties.
Oil + Butter – I like to add a mix of both olive oil and butter when cooking comforting recipes like this skillet Salisbury steak. Keep in mind that butter has a lower smoke point compared to olive oil

and will burn

, so it's important to add a bit of olive oil if you're using butter to sauté vegetables.
Onions – Chopped or sliced, onions are an absolute must in this recipe.
Garlic – Because garlic goes in all the things and adds so much amazing flavor.
Mushrooms – Mushrooms add a ton of flavor to the gravy.
All-purpose flour – You'll need something to thicken the gravy. I used all-purpose flour. Make your gravy gluten-free by skipping the all-purpose flour and add approximately 1 tablespoon corn starch mixed with one cup of stock before adding to the sauce.
Broth – Beef broth, bone broth, chicken broth, or even vegetable broth.
Do you have to add the mushrooms?
Some of you may be wondering if the mushrooms are a must-have ingredient. Truthfully, no. You do not have to add the mushrooms. However, the mushrooms play a big part in adding an extra layer of flavor to the gravy which will be lost if the mushrooms are left out. If you're not a huge fan of mushrooms but don't mind picking them out, I suggest cutting the recommended amount in half.
How to make Skillet Salisbury Steak
To make this Salisbury steak recipe follow these step-by-step instructions,
Before starting the gravy, you want to mix together the ground beef, breadcrumbs, eggs, Worcestershire sauce, onion and garlic powder, salt, mustard powder, and black pepper in a large mixing bowl. Use your hands to shape the beef mixture into oval(ish) shaped patties (unlike hamburger patties, these don't have to be perfect). This will be enough to make 6 very large patties or 8 regular sized Salisbury steak patties.
Heat the oil (or butter) in a large skillet over medium-high heat. Add as many patties as will fit comfortably and cook for approximately 1-2 minutes per side, or until golden brown. Remove to a clean plate and repeat with any remaining patties.
Return the skillet to medium heat. Add 1 tablespoon butter and onions, and cook, stirring often, until the onions have softened and start to turn golden. Add the mushrooms and continue to cook for an additional 3-4 minutes before adding the garlic. Mix well and cook for 1 minute.
Stir in the remaining butter and sprinkle the onions and mushrooms with flour. Stir continuously to remove any lumps. Slowly add the broth, stirring continuously, and removing any lumps that may form. Bring to a simmer and add the Worcestershire sauce, salt, and pepper, to taste.
Reduce heat to low, cover, and simmer for approximately 10 minutes, or until the gravy starts to thicken. Stir often.
Remove cover, tuck the Salisbury steak patties back into the gravy and continue to cook for an additional 5-10 minutes, or until heated through. Season to taste.
Is Salisbury Steak good leftover?
Yes! absolutely!
As you may imagine, my family of three had quite a bit of this leftover Salisbury steak. Fortunately, this recipe tastes fantastic warmed up for lunch or dinner up to 2-3 days after it is prepared. Personally, I love having leftovers as it makes the rest of the week a complete breeze.
To store leftover Salisbury steak – transfer patties and gravy to a large container with a tight-fitting lid and keep stored in the refrigerator until ready to eat. Serve with leftover mashed potatoes or another favorite side of your choice.
Tip – If you prefer not to cook all 8 patties at the same time, you may freeze any extras for later use. The easiest way to do this? Form all patties and place them on a baking sheet lined with parchment paper. Cook as many as you would like and freeze the remaining Salisbury steak patties by transferring the baking sheet directly to the freezer. Once the patties are frozen, transfer them to a freezer-safe ziplock bag and store in the freezer for up to 6 months.
What to serve with Salisbury steak
Growing up my family always served this recipe with a side of creamy mashed potatoes and buttered peas, corn, or carrots. In my family, that was our go-to combination whenever we were eating something like beef or baked chicken for dinner.
But that doesn't mean you have to enjoy your Salisbury steak with these things! Other delicious recommendations to help you sop up the mouthwatering mushroom gravy include rice, butter noodles, or other favorite grain such as quinoa and barley.
I also love to serve this yummy family meal with,
More beef and steak recipes –
If you try making this Easy Salisbury Steak Recipe, please leave me a comment and let me know! I always love to hear your thoughts.
LOOKING FOR SOMETHING SPECIFIC? CLICK HERE TO SEARCH BY INGREDIENT
REMEMBER TO SUBSCRIBE TO THE FORKED SPOON NEWSLETTER FOR FREE AND RECEIVE WEEKLY RECIPE NOTIFICATIONS DELIVERED STRAIGHT TO YOUR INBOX!
If you try a recipe, please share it using the hashtag #theforkedspoon or by tagging @theforkedspoon on
INSTAGRAM
! Follow The Forked Spoon on
FACEBOOK
|
INSTAGRAM
|
PINTEREST
for all of the latest recipes and updates.
Skillet Salisbury Steak Recipe
Made with tender, juicy beef patties smothered in a homemade onion and mushroom gravy sauce, Salisbury Steak is a classic comfort meal loved by all ages.
Ingredients
For the Onion and Mushroom Gravy
3

tbsp

butter

(divided)

2

medium

onions

(sliced)

5

cloves

garlic

(minced)

16

ounces

mushrooms

(sliced)

1/3

cup

all-purpose flour

4

cups

broth

((chicken, beef, vegetable))

2

tbsp

Worcestershire sauce

salt and pepper

(to taste)

Fresh parsley

(to garnish)
Instructions
In a large mixing bowl combine the ground beef, breadcrumbs, eggs, Worcestershire sauce, onion powder, garlic powder, salt, mustard powder, and black pepper. Mix well to combine and shape into 6-8 equal sized oval-shaped patties.

Heat a large skillet over medium-high heat. Add the oil and swirl to coat the entire surface of the skillet. Add the patties (you may not be able to cook all the patties at one time- work in batches as needed) and cook until browned and sides are crispy. Flip the patties and cook on the other side (approximately 1-2 minutes each side).

Remove from the skillet and set aside to a clean plate. Repeat with any additional patties as needed.

As soon as the Salisbury steak patties have finished browning, return the skillet to medium heat. Melt 1 tablespoon of butter and add the onions. Cook the onions, stirring frequently, until they are soft and golden.

Stir in the mushrooms and cook for an additional 4-5 minutes, stirring often. Add the garlic and cook for 1 minute more.

Stir in the remaining 2 tablespoons of butter and sprinkle the onions and mushrooms with the all-purpose flour. Stir continuously to remove any lumps.

Slowly stir in the broth, whisking continuously to remove any lumps that may have formed.

Add the Worcestershire sauce and season with salt and pepper, to taste.

Reduce heat to medium and simmer until the gravy starts to thicken (approximately 10 minutes). Stir often.

Tuck the Salisbury steak patties back into the gravy and cook until the patties are cooked to desired doneness (approximately 5-10 minutes), gently stirring the gravy around the patties every few minutes. Season with additional salt and pepper, to taste.

Serve patties topped mushroom sauce. Enjoy!
Jessica's Notes
This recipe makes 8 Salisbury steak patties for a total of 8 generous servings. Should you decide to cut the recipe in half, you may cut the entire recipe in half or just the total amount of Salisbury steak (4 patties rather than 8) and keep the extra gravy (highly recommended).
I used this 13.25 inch Lodge Cast Iron Skillet.
Originally published January 28, 2019
Nutritional Information
Calories:
466
kcal
|
Carbohydrates:
17
g
|
Protein:
25
g
|
Fat:
32
g
|
Saturated Fat:
12
g
|
Cholesterol:
144
mg
|
Sodium:
1011
mg
|
Potassium:
636
mg
|
Fiber:
1
g
|
Sugar:
4
g
|
Vitamin A:
460
IU
|
Vitamin C:
4.9
mg
|
Calcium:
64
mg
|
Iron:
3.8
mg
(Nutrition information provided is an estimate and will vary based on cooking methods and specific brands of ingredients used.)