Sweeten up your next breakfast or brunch with these easy to prepare and totally good-for-you Cinnamon Baked Oatmeal Stuffed Acorn Squash with Almond Butter.
I have a deep love for all things made using rolled oats- bars, overnight oats, cookies, old-fashioned oatmeal, soup… Rolled oats are simply one of those items that I always keep well stocked in my pantry so that I never have to worry about running out.
And then there's the acorn squash. With squash season seemingly coming to a close (at least in the food blogging world), I decided I should make one more recipe to finish out the year using this fantastic, underrated, and often forgotten fruit.
Long story short, once again, I went to the market with a list and a plan and came home with a bunch of additional items. To be fair, this doesn't always happen. Making a list and a meal plan does help. However, shopping with my very opinionated 4-year-old who is still forced to sit in a shopping cart can be a total sh*t show sometimes. It is easier than allowing him to run free, this is true.
So, the other day as we were grocery shopping and he was (quite literally) demanding that I buy ALL the smoked salmon packages, I turned my back for one second and found him trying to open the package for the ground turkey…with his teeth. Can you even imagine if I let him run around free?
Anyway, I nearly DIED! and nearly gave the lady shopping near us a heart attack.
Side note- when do kids stop putting every effing thing in their mouth? because I'm over it.
Anyway, moral of the story? Life with kids is a sh*t show (whoa, I'm cursing a lot today. sorry, not sorry).
Also, it's impossible to buy just one acorn squash. Oh yes, and this Oatmeal Stuffed Acorn Squash with Almond Butter should definitely be on your next weekly meal plan!
If you love this Oatmeal Stuffed Acorn Squash, you may also enjoy these recipes–
Potato Hash Stuffed Acorn Squash with Sausage and Eggs
Acorn Squash with Sausage, Mushroom and Cranberry Stuffing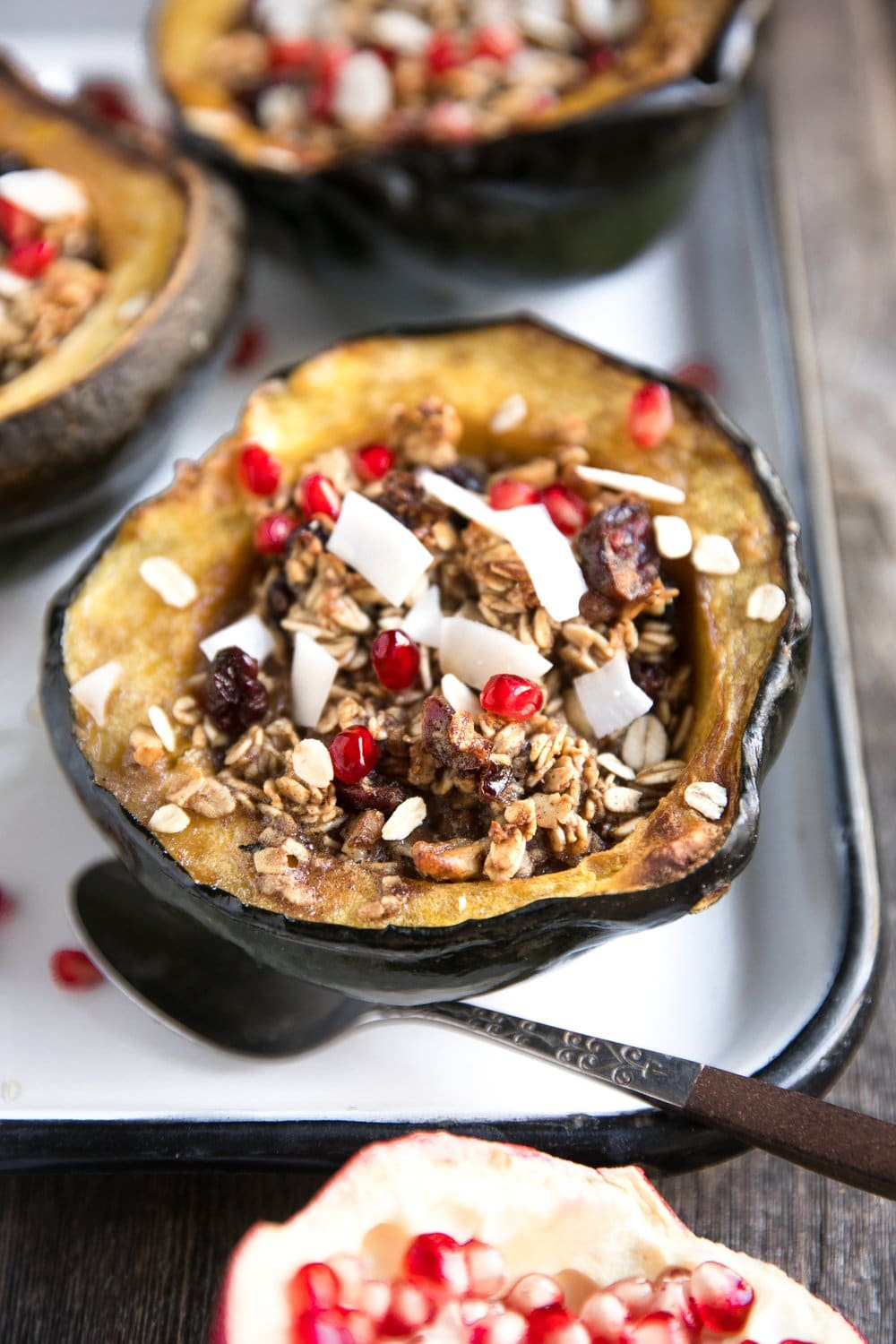 Sweet Cinnamon Baked Oatmeal Stuffed Acorn Squash with Almond Butter
Sweeten up your next breakfast or brunch with these easy to prepare and totally good-for-you Cinnamon Baked Oatmeal Stuffed Acorn Squash with Almond Butter.
Ingredients
For the acorn squash
2-3

acorn squash

-

halved and seeds removed

4

tablespoons

butter

-

melted

1/4

cup

brown sugar
For the baked oatmeal
2

cups

rolled oats

1/4

cup

brown sugar

1

teaspoon

cinnamon

1

teaspoon

baking powder

1/2

teaspoon

salt

2.5

cups

milk

-

of choice, plus more for serving

1

large egg

1

teaspoon

vanilla

1/2

cup

dried cranberries

pomegranates

-

fresh, for serving

coconut

-

shredded, for serving

Maple syrup -

for serving

Almond Butter

-

for serving
Instructions
for the roasted acorn squash-
Preheat oven to 375 degrees F.

Use a sharp, sturdy knife to cut the acorn squash in half from stem to tip. Use a metal spoon to scrape out the seeds and stringy bits from the inside of the squash.

Place the squash cut-side-up in a roasting pan or jelly roll pan. Brush the entire surface of the acorn squash halves with melted butter, salt and pepper and 1-2 teaspoons of brown sugar.

Bake for approximately 45-60 minutes or until tops are nice and golden brown and the squash flesh is soft and cooked through.  It is better to slightly overcook your acorn squash than undercook it, so if you are unsure if it's cooked, add more time.  When done, remove from the oven and allow time to cool before serving.
for the oatmeal-
As the squash is roasting, prepare the oatmeal filling. Add the oats, brown sugar, cinnamon, baking powder, and salt in a medium mixing bowl and mix to combine. Add the milk, egg, vanilla, and dried cranberries to the mixing bowl and mix well.

Once squash has finished cooking, remove from the oven and lower heat to 350 degrees F. Fill each squash with the prepared oatmeal filling and return to the oven to cook for an additional 20 minutes, or until the oatmeal is baked.
Serving-
To serve, remove the squash from the oven and top with pomegranate arils, maple syrup, almond butter, and additional milk or cream, if desired.
Nutrition
Calories:
605
kcal
|
Carbohydrates:
97
g
|
Protein:
13
g
|
Fat:
20
g
|
Saturated Fat:
10
g
|
Cholesterol:
86
mg
|
Sodium:
489
mg
|
Potassium:
1248
mg
|
Fiber:
8
g
|
Sugar:
44
g
|
Vitamin A:
1445
IU
|
Vitamin C:
23.7
mg
|
Calcium:
345
mg
|
Iron:
3.8
mg
(Nutrition information provided is an estimate and will vary based on cooking methods and specific brands of ingredients used.)
Did you Make this Recipe? Tag it Today!
Tag @theforkedspoon with hashtag #theforkedspoon and please leave your star rating in the comment section below.