Back when I lived in Germany as an AuPair in 2012, my friend Kerrie and I decided to leave behind the sausage and beer for a week and travel to the land of wine, pizza and gelato. Our first stop was Verona, Italy. A short train ride from Munich will bring you right to the heart of this well known city in Northern Italy. Actually, I had never heard of Verona, but it came highly recommended by my host family, so we decided to make it our first stop.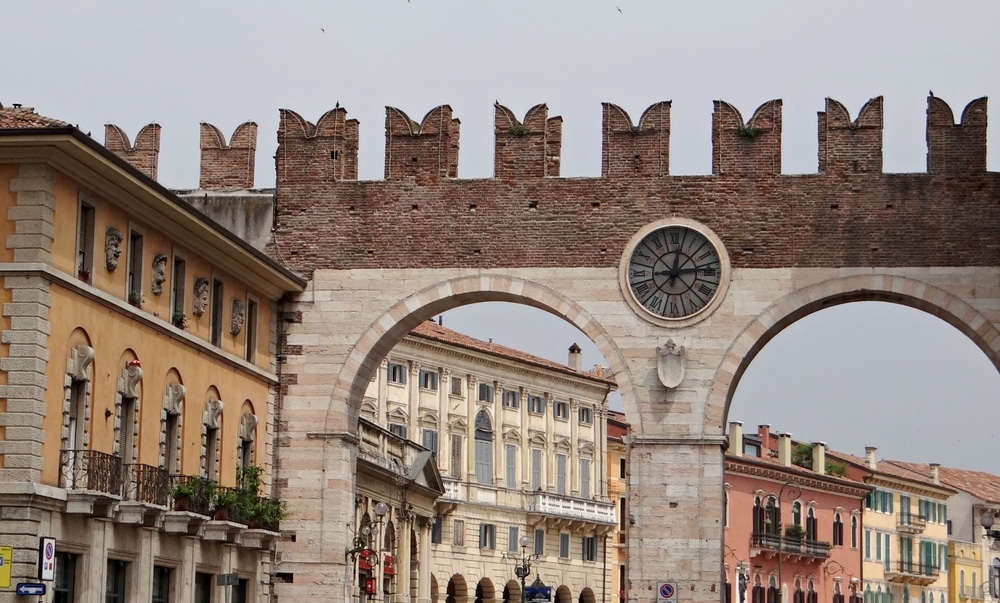 Unfortunately I did zero research on this Italian city before our visit, so I knew nothing about the history. For example, I had no idea that three of Shakespeare's plays are set in Verona- Romeo & Juliet, The Taming of the Shrew (my fav) and The Two Gentlemen of Verona. The extent of Verona's history extends back much further than Shakespeare's time, but there are plenty of other websites and books out there far more knowledgeable than I on the subject (my retention of historical facts is about 2.5 seconds, but I will remember what you wore the first day we met a decade earlier).
We arrived in Verona late in the afternoon and went straight to our hotel. To save a few euro we booked a hotel about 15 miles outside of Verona center and closer to the airport. It was much newer and clearly catered to individuals on business. The appeal of the place was the free wifi (so we could Skype with our boys), free breakfast (so we could stash extra fruit and pastries and, therefore, free lunch) and the reasonable rate. With a bus stopping right in front of the hotel and at at the train station it seemed almost too good to be true.
It was.
The night we arrived, finding a bus to the hotel was easy. However, we were told the next morning that the buses were not running and we would either have to get a taxi or ride a bicycle to Verona center. ummm, what?! It was June and hot! Riding a bike along a busy road didn't sound appealing- although, I was lavishing in all the deliciousness Italy had to offer and could use the exercise. More than anything else, having a monthly salary of 280 euro did not leave much room for luxuries like a 20 euro taxi ride.
We decided to ride the bikes. Yes, this is what it meant to travel on a budget and, unfortunately, sacrifices had to be made. Looking on the bright side, at least this way I could get that extra gelato with a little less guilt. More than anything, just a day into our trip and I already realized how lucky I was to be traveling with such a cheerful and easygoing friend (yes, kerrie, you! If you're reading this, thank you for making Italy so amazing).
An hour or two later (I can't recollect the exact amount of time) we made it to the historical center. I can't recall my expectations of Verona, but, I was a bit let down. Although there were some really fantastic historical spots, so many of the long streets were filled with generic stores you might find in a shopping mall. Verona lacked charm (contrary to the few photos I did capture). Sadly, I did not leave Verona with any intention to ever return and would have been perfectly content to skip it all together. Perhaps my attitude would have been different if we had stayed in the historical part of Verona itself, but even then I am not so sure.
Personal views of Verona aside, I had a great visit. Kerrie and I spent the afternoon exploring the city while trying to avoid modern day commercialism. We found our way up to a lookout where we admired far-reaching views of Verona and beyond. I confess, I'm the person always looking for the highest view. I imagine it has something to do with my love for mountains.
By late afternoon we rode our little bicycles back to our hotel. I was thankful for our one afternoon in Verona, and knew that anymore time would have been too long. Details of the rest of the night are a bit fuzzy, but I do recall drinking wine, nearby restaurants being closed and eating cereal for dinner, and an earthquake.
The next morning we were set to take a short 45 minute train to Lago di Garda.
Have you been to Verona? What were your thoughts?